Sunday, December 30, 2012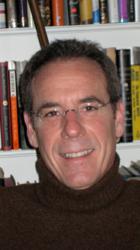 August 30, 2012 -- Ken Wright has assumed one of the most prestigious posts in children's publishing in taking charge of Viking Children's Books for the Penguin Group.
"This is where my real passion lies," said Wright. "Children's and young-adult publishing serves a very robust marketplace, and it's where I think some of the most creative work is being done in the industry right now."
A member of the Advisory Board for Southern New Hampshire University's MFA in Fiction & Nonfiction program, Wright is a 27-year veteran of the publishing industry. He began as an editorial assistant at Oxford University, and from there moved up the ladder to editorial and executive positions at Simon & Schuster, HarperCollins, Henry Holt, Routledge, and Scholastic.
Most recently Wright worked as a literary agent at Writers House. There he represented authors and illustrators of children's books—among them Printz, Caldecott, and Newberry award winners—as well as a small group of adult book authors.
Wright is well known as a panelist and speaker on issues in the publishing industry. As an Advisory Board member for Southern New Hampshire University's MFA program, he teaches workshops at program residencies and consults one-on-one with students.
"We're thrilled to have Ken as a member of our board, and thrilled also about this new job at Viking," said SNHU MFA program director Diane Les Becquets, herself the author of award-winning young-adult novels. "Young adult fiction has become a very important track in our curriculum, and to have someone like Ken Wright advising us at both the faculty and student levels represents an incredible resource for us."
At Viking Wright now oversees a team of authors, artists, and editors that will publish some fifty books each year.