YA Novelist Jo Knowles Joins SNHU MFA Faculty
If omens don't come in threes, they should. For Jo Knowles—the award-winning Young Adult novelist just named to the faculty of Southern New Hampshire's low-residency MFA in Fiction and Nonfiction program—the first omen was the sound of her older sister's voice as she read aloud to her.

"Stephanie was three years older than me, an avid reader, while I was the opposite, more of a listener," said Knowles. "She read beautifully. We started off with picture books and kept going, even into my high school years. When she was at college she'd call and read assignments for her creative writing class to me over the phone."

Stephanie was calling from Boston's Simmons College, and Knowles went there as well. She majored in English, and the next omen was an undergraduate course on children's literature that she took on Stephanie's recommendation—a course she found nothing less than electrifying.
"All of those stories of the heart that she had read aloud came back to me in such a powerful manner that it changed my life," she said. "I knew that I wanted to stay involved with these stories, either as a librarian, perhaps, or an editor in a publishing house. It never occurred to me that I could actually write any."

She earned her bachelor's in 1992, and then continued at Simmons for a master's at the college's Center for the Study of Children's Literature. She took a writing course, "just for fun," as part of that program, and wrote an unfinished draft of a Young Adult novel for her master's thesis.

The third and final omen—that is, if they do come in threes—occurred in the summer of 1995, in front of a bulletin board at the Hatfield public library in western Massachusetts. Knowles wanted to get into children's book publishing, but her husband had taken a job teaching at Mt. Holyoke, far from the big publishing houses. Her own job at the library was part-time, minimum wage, and involved keeping the bulletin board tidy and up-to-date.

As Knowles peeled back layers of old announcements, she came to a flyer that asked, "Do you want to write for children?" The flyer was put out by a group called the SCBWI. She had no idea what the initials stood for, but a voice in her heart told her that she wanted to do just that, actually, and to find out who these people were.

Which turned out to be a lucky moment for a lot of young readers. The Society of Children's Book Writers and Illustrators was represented locally by a group of writers, published and otherwise, who met regularly, traded manuscripts, and offered feedback. Knowles dusted off her old master's thesis, completed it with that writing group, and put it away. She kept up with the group, though, and kept on writing.

Twelve years later Knowles published her first YA novel, "Lessons from a Dead Girl," with Candlewick Press. That has been followed by "Jumping Off Swings" (Candlewick, 2009), "Pearl" (Holt, 2011), "See You at Harry's" (Candlewick, 2012), and coming in September from Candlewick, "Living With Jackie Chan."

Some of the awards those books have won include a New York Times Editor's Choice and Notable Book of 2012, Amazon's Best Middle Grade Books of 2012, an International Reading Association Favorite 2012 Book, an American Library Association Notable of 2012, an SCBWI Crystal Kite Award (what goes around, comes around), the PEN New England Children's Book Discovery Award, and YALSA's Best Fiction for Young Adults.

Her sister's voice, a galvanizing college course, a random flyer: all these have conspired in the success of one of the bright young writers in YA literature today—and someone who feels privileged to write for that audience.

"Children's and YA stories speak to the soul in such a deep, simple way," she said. "And with teenagers, you have readers who are in the middle of such a frightening, exhilarating, tumultuous time of life. I remember from my own teen years how much I appreciated the books that spoke to that experience."

MFA program director Diane Les Becquets is herself an award-winning YA novelist, and she could not be more pleased to add a writer like Jo Knowles to an already impressive faculty—particularly in YA.

"Jo will help fill the void left by Jacquelyn Mitchard, who has been a Faculty Fellow for two years, and of course we still have novelist Robin Wasserman," said Les Becquets. "YA is a burgeoning part of the literary marketplace now, and for us to be joined by a writer of the talent, stature, and sensitivity of Jo Knowles is wonderful for us all, faculty and students alike."

Since so much of her own life has hinged on moments of inspiration, Knowles looks forward to providing the same to her students at Southern New Hampshire University. "It's exciting just to think about," she said. "You come in with a blank page, searching for a voice—I want to be part of that for these students, in it from the beginning."

Like a big sister, you might say.
Explore more content like this article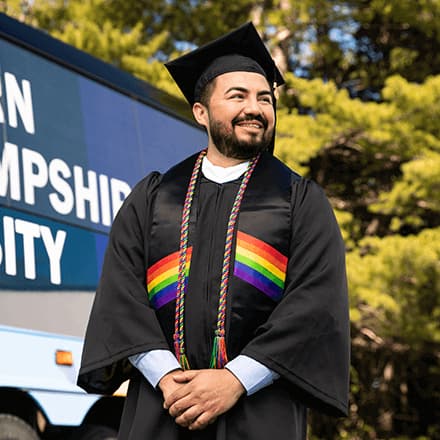 July 19, 2021
The moment Jesús Suárez '21 received his diploma in the mail was one he and his family will never forget. This was more than a degree—it was a cap to an incredible journey. While there was a series of hardships along the way, there was a persevering sense of love and accomplishment.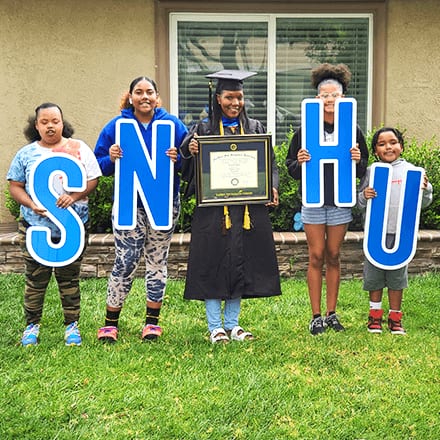 July 12, 2021
Latisha Aguilar '21 has always wanted to be a voice for special needs students and advocate for them. With the goal of becoming a middle school guidance counselor, she said finishing her psychology degree later in life allowed her more time to figure out what she wanted to do with her education.
July 01, 2021
Interested in starting a new job or advancing in your current field? An Associate of Arts (AA) degree can give you the broad-based education and in-demand career skills you need to reach your goals. Learn more about earning an AA degree and what you can do with one.