General Education for the Adult Learner
As a freshman entering my college orientation, I was ushered into a lecture hall with several hundred students and asked to review my program requirements and fill out my class schedule. I asked my freshmen orientation advisor (who was slightly older than I was) what the general education courses were about and which courses I should take. The response I received was both exciting and frightening. It was up to me — and I didn't know what I was doing.

I could see courses were arranged by discipline and each discipline was coded on my program evaluation so that I would know when a course fulfilled a requirement, but the sense that these courses were connected in any way to my program or to any skills I would need later in life were left for me to discern. As I developed a solid social group and became more experienced in my studies, the consensus amongst my peers was that general education courses were a checklist of something to get through and complete rather than something of value to their lives or careers.

The experience described here is reminiscent of many traditional students' experiences when entering college. With more knowledge gained through education and my career in academic administration, I can look back on this experience with some value. At 18 years old, the age of most traditional on campus students being 18 to 22 years old, I didn't realize what I did and didn't know or what questions to ask. Exploring different disciplines and topics to see what I was interested in was exciting, made sense, and taught me the essential skills of inquisitiveness and learning how to learn.

While there was no explicit assessment of the skills I acquired from these courses, a buffet-style general education curriculum did acculturate me to various topics and skill sets that would prove valuable as I entered the workforce and a world beyond the communities I had grown up in.

The SNHU Online student demographic is much different than the traditional college student experience. Our students are working adults, averaging in age from their early to mid-30s, have full-time jobs they are looking to advance in or are thinking about changing careers, have full-time family responsibilities, and are possibly returning to college after many years of professional and social engagement in the world at large. Many of them are new to online education as well. My colleague Matthew Belanger has described these students within the context of the First Year Experience very well in his blog The First Year Experience in an Online Environment. Further examination into our students and their very specific needs, motivations, and reasons for obtaining their degrees leads us to reconsider the purpose of our general education curriculum and our student's first-year experience.

Creating a Framework

In 2014, members of the SNHU Online academic leadership team began discussions around how to make our general education program more relevant to our adult student population and how to measure student learning of the general education program outcomes. The guiding question we started with is "how would someone who comes to college with more life experience and is already invested in a professional occupation and looking to advance their career find value in this same type of undergraduate experience?"

Initially, some years before even 2014, Southern New Hampshire University and SNHU Online built their general education program framework around the Association of American Colleges and University's (AACU) Liberal Education and America's Promise (LEAP) Initiative. Part of the LEAP initiative was the development of four Essential Learning Outcomes, utilized by higher education institutions as a way to align and measure general education competencies. As the discussion and planning toward implementing a standard set of general education program outcomes progressed, SNHU felt it was important to highlight other subsets of outcomes regarding communication, critical and creative thinking, quantitative literacy and ethical reasoning. These additions manifested through the creation of six General Education Program Outcomes that served as SNHU Online's framework for the development of its general education curriculum.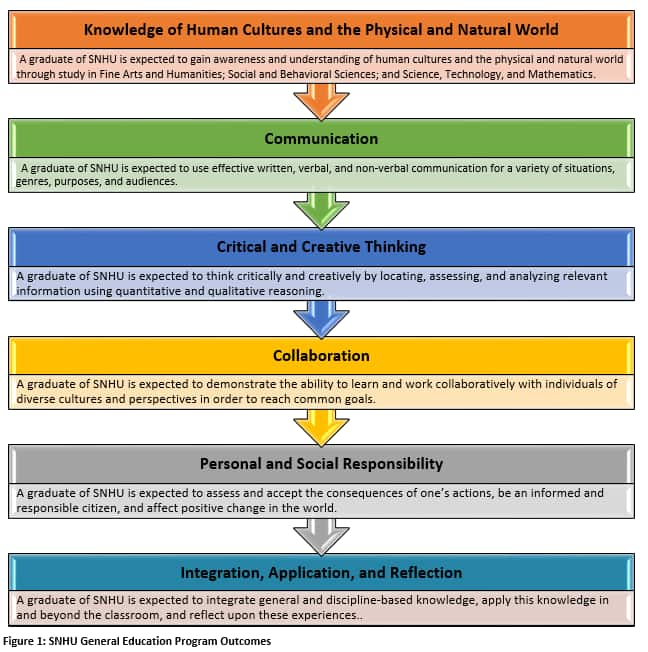 This new program outcome framework was placed within a distribution model for students to complete their undergraduate coursework. The traditional distribution model for general education (where students take courses from various disciplines "a la carte" style) has been the basis of a liberal arts education for many years. Recently, many institutions of higher education, including SNHU Online, are rethinking the distribution model for appropriateness and relevancy toward preparing adult learners, and our specific SNHU Online demographic, for dealing with issues they will likely face in both their professional and personal lives (Inside Higher Ed). This has been a core question: Does the "general" in general education refer to the population (a sort of least common denominator for all student performance) or to the curriculum (the breadth of exposure to various areas of study)?

The development of a new, more relevant general education program framework began with SNHU Online investigating new learning models that allow for knowledge acquisition and discipline investigations through the perspective of humanistic, historical, social, scientific, and empirical lenses. While the traditional college-age student can greatly benefit from a distribution model with a focus on discipline explorations, we wanted our SNHU Online nontraditional students to develop more mature skillsets that would enable them to appropriately apply what they had learned about academic inquiry through appropriate but varied worldviews. Rather than focus on things that would be forgotten in six months, the goal has been to equip them with life skills that would enable them to interact through these lenses:


The relationship between man/woman as creator, his/her creations, and the process of creation as an expression of the human condition.
The uses and limitations of rational and empirical methods in defining and predicting phenomena related to the natural world.
The integration of quantitative and qualitative evidence to understand human behavior, societies, cultures, and institutions.
The ability to communicate effectively through writing, reading, speaking, and listening.
The mastery of measurement, the conversion and collection of observations into numerical representations, and the subsequent systematic, appropriate, and purposeful manipulation of these numeric representations to solve problems and present solutions.
The incorporation of both descriptive and normative approaches to begin a systematic search for reasons behind human beliefs, conclusions, actions, or feelings. Analysis at this level should include mastery of the skills of critical thinking, the solving of open-ended problems, reflection, and an understanding of the most common patterns of fallacious thinking that can hinder mastery of these skill sets.
In this model our goal is to equip students to interact daily in the ways that adults interact with information. It's the skill sets that enable them to engage in conversations, watch the news, or teach their kids about the complexities of the world and life. In this paradigm, WHAT you read or watch is not important. HOW you read or watch is. Whether you read Shakespeare or Tolkien or Stephen King is irrelevant. That you are able to do so critically regardless of what is in your hands is.

Levels of Learning

Within this framework, SNHU seated our requirements around three levels: foundations, exploration, and integration. The Foundation-level courses are designed to anchor students in writing, reading comprehension, quantitative literacy, information technology literacy, and introductory research skills they will need to move through the rest of the general education coursework and program curriculum.

The second level, Exploration, is designed to give students an opportunity to use and expand their Foundation-level skills through the critical examination of various disciplines of study. Within the exploration are three major areas of study: Fine Arts & Humanities; Social and Behavioral Science; and Science, Technology, and Mathematics.

The third and final level of the general education curriculum is the Integration area. This is where students would be expected to synthesize all of their Foundational and Exploration skills and investigations in a culminating interdisciplinary, seminar-style experience.

To this end, SNHU Online has developed a more prescribed general education curriculum that uses principles of learning science and new course user interface (UI) prototypes and technology for delivering curriculum and impacting student learning, permits the translation of knowledge to professionally relevant applications with authentic assessment experiences, and accurately measures student learning of a prescribed set of course outcomes aligned to the general education program outcomes, and connected directly to student's program of study.




Our ultimate goal is to provide our students with an experience much more relevant to their chosen professions and life experiences. Rather than the one hundred or so options, students now have within their general education program a more structured curriculum that is focused on the big questions centered on humanistic, social scientific, historical, and scientific inquiry.

For our students at SNHU Online, this will provide them with an intentional general education program that demonstrates its relevance and benefits in helping students achieve transparent outcomes as well as have a transformative experience that fosters personal growth and engagement in their academic studies, professional careers, and communities.
Explore more content like this article
May 26, 2021
The world is over a year into the COVID-19 pandemic and some people are growing tired of public health measures. What are some of the things that can be done to combat pandemic fatigue?
March 25, 2021
The importance of empathetic teaching in an online environment cannot be understated. Students appreciate when instructors show concern for what is happening in their lives, and having an instructor with a teaching approach that focuses on empathy helps them navigate anxiety or uncertainty.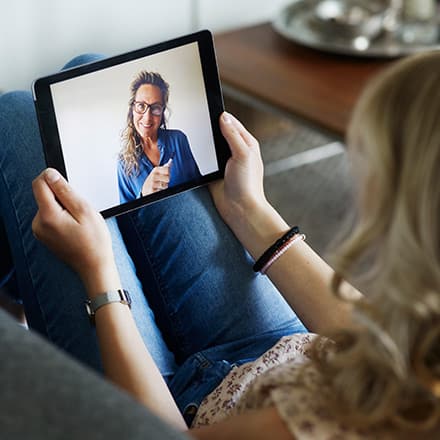 February 11, 2021
Consider what your role might be as a mental health advocate; someone who gives a voice to the problems and potential solutions related to mental health and mental health awareness. To advocate means more than just giving voice; it means to fight.