SNHU and Boston Celtics Unveil Sixth Technology Lab
The Boston Celtics and Southern New Hampshire University teamed up again this week to unveil another state-of-the-art technology lab, this time at Rochester Middle School in Rochester, New Hampshire. Boston Celtics center, Tyler Zeller, mascot "Lucky" the Leprechaun, and SNHU's chief of staff, Wil Zemp joined students and staff to unveil the new lab and talk with students about the importance of technology and education.
"At Southern New Hampshire University, we are serious about providing access to education not only for college students, but for students of all ages," said Zemp, "Our partnership with the Celtics to open these new tech labs is all about being a good neighbor and helping students use technology to learn new skills and take their creativity to the next level."
"The ability to have technology nowadays is a necessity, so it's great to have this in a school," said Zeller. "My high school never had anything like this, and I think having the kids be exposed to this everyday will really help them grow."
The new technology lab, named the 'Timberwolve Technology Den' by students, is the sixth lab opened by the Celtics and SNHU in the greater Boston area. The lab is fully equipped with 13 Apple iMacs and iPads, one Apple TV, a 65" Vizio HDTV and mount and other supplies. The Celtics and SNHU fully renovated the room and hung wall graphics depicting landmarks from the city of Rochester and logos from both organizations. Zeller and Zemp also signed the wall in the room with their favorite inspirational quotes, "Be Great Every Day!" and "Good, Better, Best, never let is rest," respectively.
The tech lab will be available for Rochester Middle School students and its teachers during and after school.
Explore more content like this article
A Message from a Cape Town Refugee and SNHU Student
June 20, 2019
There are currently 68.5 million displaced people worldwide. Today, on World Refugee Day, SNHU is proud to introduce Julia Oduol, an SNHU student currently living and studying in Cape Town, South Africa. A recent associate degree graduate, Oduol is now earning her bachelor's degree in business.
SNHU in the Southeast: Celebrating Students, Building Community
June 17, 2019
Not a single fish tale was told when Southern New Hampshire University celebrated more than 200 students and alumni on Saturday at Atlanta's Georgia Aquarium. Yet the Oceans Ballroom was awash in personal stories of incredible feats by those special guests.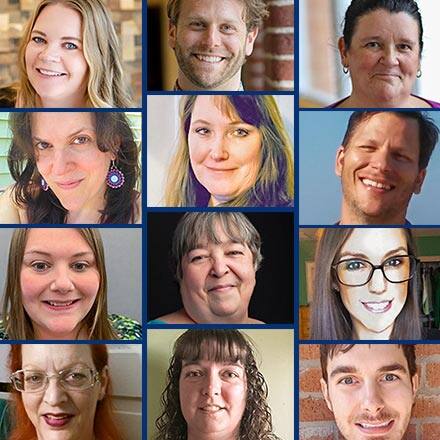 8 Benefits of Being a Student Advisory Board Member
June 13, 2019
Hailing from states near and far, including Massachusetts, Arizona and Colorado, eight Student Advisory Board members spent a long weekend in New Hampshire for their 2019 retreat. During their busy weekend, they reflected on the benefits of being involved in the SAB.