Online Health Information Management Program Student at 2016 HIMSS
Meet Stacy Fuller. She's been on a professional journey over the past decade in the healthcare field, and it's been one that continues to evolve as she works toward her career goals and a bachelor's degree. Let's see where she's been and where she's heading now.
While Fuller began in the kitchen of a skilled nursing facility, she later moved on to working in medical records. The last five-plus years in that role have brought a wealth of new professional experiences, as well as a part-time role at a local hospital that she took on to broaden her resume.
In tandem with her current 60-hour workweek, Fuller is also a student at Southern New Hampshire University (SNHU), earning her bachelor's degree in the online health information management program. Her professional experiences combined with her education and desire to grow in the field led her to serve as a program assistant earlier this year at the 2016 HIMSS Annual Conference and Exhibition in Las Vegas.
The five-day event gathers more than 40,000 health IT professionals, clinicians, executives and vendors from throughout the world, who engage in over 300 education programs, complete with featured keynote speakers, thought-leader sessions, roundtable discussions, e-sessions and workshops. This is the premier annual event for HIM professionals and is organized by the Healthcare Information and Management Systems Society (HIMSS), a cause-based nonprofit that provides thought leadership, professional community building, professional development, public policy and events.
The Benefit of SNHU's Affiliation Agreement with HIMSS
Pamela Varhol, faculty lead for SNHU's online Health Information Management program, said, "SNHU has an affiliation agreement with HIMSS. Students enrolled in the nursing and health professions courses can get a free membership to HIMSS." As such, students in these courses are provided with a breadth of professional resources, networking opportunities and access to free webinars and continuing education opportunities.
It was through one of those SNHU courses that Fuller learned of the opportunity to apply to be a program assistant at the annual conference. "Once I applied, I had to wait a few months to get an answer whether I was picked or not," she said. As it turned out, she was chosen, and according to Varhol, "It is an honor for a student to be selected to attend the national conference. We were thrilled for Stacy."
Fuller's Conference Experience Led to New Goals
As a program assistant, Fuller was tasked with running education session rooms. "This involved checking the speakers in and out, making sure that their slide presentations were up and running and solving any issues in the room prior to each session," she said. "I had a table outside of the education room and was there to answer any questions for all attendees and guide them to the area they were looking for."
As she was working with two additional program assistants, Fuller and the others were able to take turns in visiting any education sessions that were of interest and attend the activities in the exhibition hall. She also volunteered to help attendees at the opening reception, which was open to the thousands in participating in the conference.
Fuller explicitly enjoyed working at the education sessions, as it allowed her to not only facilitate attendees' experiences, but also to also take in many of the sessions which were of tremendous benefit for her work and studies.
"This was the best experience I have had in my professional life and I met many wonderful people who I now consider my friends," Fuller said. "A lot of the other student volunteers are going for their master's or PhDs, and after speaking with them I have considered going back for my master's when I am done with my undergrad." This was a revelation for her, as prior to the conference, she hadn't seriously considered it. Fuller is now considering a master's degree in information technology with a concentration in healthcare informatics. She has also accumulated some valuable experience to add to her burgeoning resume.
Experience Drove Desire for Education
Fuller's work in medical records led her to pursue her online bachelor's in health information management. She's found her background to be quite helpful in the success of her courses thus far, and she feels that there are many directions she can go in with her degree. At present, she's still researching which direction she'll take.
"I have really enjoyed my time here at SNHU," said Fuller. "My professors have been really helpful and they will make themselves available to answer any questions and concerns their students have." She especially likes that deadlines are the same each week, which makes it helpful to remember and not turn in late assignments.
Working 60 hours a week, Fuller knew she needed an online program to earn her degree. Her brother had been influential in her decision, as he had heard good things about SNHU and the television commercials factored in too. "Affordability was the next deciding factor," she said - and SNHU is within close enough geographic proximity that she'd be able to drive to New Hampshire for commencement when her program is complete.
Support Throughout the SNHU Community
Who's had her back throughout? "My advisor, Anna Bloomberg, has been very helpful on my path to my bachelor's degree in HIM," said Fuller. "She checks in on my progress a few times each term and is always available if I have any questions or concerns. My professors and peers have also been very helpful. I have found that the SNHU community is very helpful, and for that I am grateful."
Fuller is appreciative of the experience she's gained through her full-time work at the skilled nursing facility and the part-time role at the hospital. "I am glad I took the part-time job because I have learned about the hospital environment and learned a whole new Electronic Health Records System," she said. "I now have experience in a hospital and a nursing home, which is great for my resume. I work 60 hours a week and go to SNHU online full time. I am very busy, but I know in the end it will all be worth it."
Despite a packed schedule, Fuller still manages to find time for fun, spending time with family, her boyfriend, friends and her dogs; she also enjoys reading, swimming and taking Zumba classes.
Learn more about SNHU's online health information management program.
Pamme Boutselis is a writer and content director in higher education. Follow her on Twitter @pammeb or connect on LinkedIn.
Explore more content like this article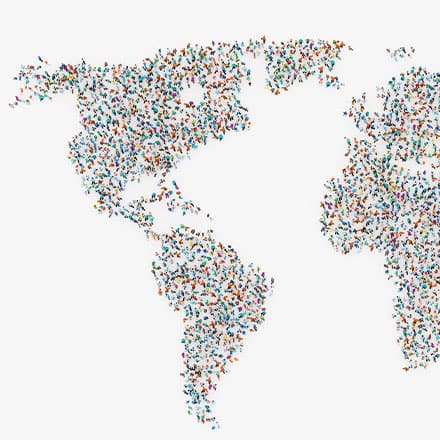 July 23, 2021
Population health management is the process of studying and facilitating healthcare and its delivery in order to create improvement for a population of individuals.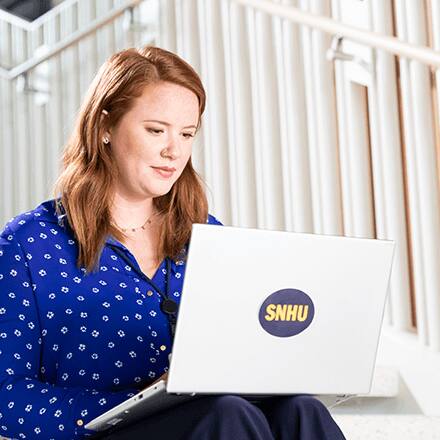 July 15, 2021
Like many high school graduates, Ali Lamoureux wasn't sure of her next steps. After kickstarting a career in healthcare, she eventually found her passion in hospital administration and came to realize that she would need a college degree to advance in the field.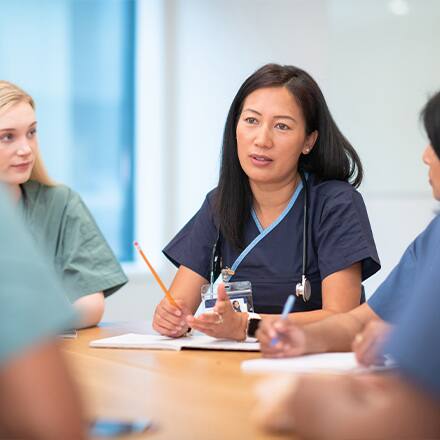 July 13, 2021
Leaders are found everywhere. You name the setting; we look toward leaders at the helm, and the nursing profession is no exception. Leaders in nursing are influencing healthcare organizations at all levels, and in every setting and discipline.