SNHU Alumni Timothy Woodward, Author of LGBT Young Adult Fiction Book
Timothy Woodward '08MFA grew up in a small town in the White Mountains of New Hampshire. He earned Bachelor of Arts degrees in film and writing from the University of Southern California and a Low-Residency MFA from Southern New Hampshire University. "If I Told You So," an LGBT Young Adult novel, is his first published book. These days, Woodward is working predominantly on screenplays. He said "If I Told You So" may find its way to the silver screen in the future. Here, he shares some of his experiences as a writer.
What led you to pursue a career as a writer?
I like to say that writing pursued me. I went to film school with the intent of taking books and turning them into movies. However, my favorite film class was actually a screenwriting seminar, and I enjoyed it so much I decided to double major in film and creative writing. When I found myself teaching high school English after college, pursuing an MFA in writing made sense because it enhanced my teaching credential and continued the path I had started as an undergrad.
Your first book, "If I Told You So," debuted in 2012. Can you tell us how this book came about and what your process was in writing it?
"If I Told You So" started as my MFA thesis at SNHU. When I joined the program, I knew I wanted to write LGBT young adult fiction. From working with high school students, and drawing from my own experiences, I was keenly aware of the need for quality literature aimed at LGBT and questioning youth. At the time there just wasn't a lot out there, and what was available was often of pretty low quality or not relevant to the experiences of my students.
The idea for the story came out of a conversation I had with an SNHU classmate on the first or second day of classes. The actual manuscript was the result of a lot of invaluable insight and guidance from the MFA faculty. In the SNHU MFA program, you write the manuscript 30 pages at a time, meeting a monthly deadline that is submitted to a faculty mentor. I would do most of my writing in short intense bursts; I'd set aside one weekend a month and pretty much write non-stop. I'd spend 8-10 hours at the Starbucks near my house, go home when they closed and spend another few hours writing into the night. And then I'd do it again the next day. I'm not a solitary writer. I like to be visually stimulated when I am writing, so writing in a public place like Starbucks worked out great for me, but it's not for everyone.
I was teaching at the same time as I was writing, which was very difficult. Teaching is very creatively draining, and there wasn't always much left at the end of the day to put into writing. However, for someone writing YA fiction, a school is also a wealth of material. Whole characters and scenes in the book are taken directly from my experiences while teaching. After four semesters of this process, I had completed a novel, which passed the requirements of the SNHU MFA program for graduation. I was one of the first nine graduates from the program, and it felt like a huge accomplishment. That was 2008, so there was a four-year gap from that point and publication, and I have to admit, I found a publisher almost by accident.
Can you tell us a bit about your experience in finding a publisher?
My path to publication is a long story (typical) full of lucky breaks (not so typical).
After graduation I did send out my manuscript to several agents, and even had a few follow-ups, but no one shared my vision for the story. The first agents I talked to wanted several changes to the story, and not only did I not necessarily agree with the changes, after two years in the MFA program, I was burned out on making any more significant alterations to the manuscript. I didn't think it was perfect; I just didn't have the motivation to do a major rewrite.
So, "Purple Cow" - as it was called at that time - ended up in the proverbial drawer. I was busy with a new job, and I figured a break was healthy. I didn't query anybody else that whole winter. It was the following spring that I was volunteering at the Greater Boston PFLAG (Parents, Families and Friends of Lesbians and Gays) annual Pride and Passion fundraising event. I had been on the GBPFLAG board of directors for a few years, and this was our biggest fundraiser, part of which was a charity auction. I ended up, quite by accident, winning an auction item to be a character in Suzanne Brockmann's newest book. I was only trying to bid the item up, not win it, but what a fortuitous mistake! Suzanne was very kind, and when she learned I had a completed novel, offered to send it to an agent friend of hers who was looking for LGBT Young Adult material. That was how I met Deidre Knight of The Knight Agency.
Deidre and I immediately hit it off. Her comments on the first few chapters of my manuscript were insightful, on point, and I could immediately see how her suggestions would enhance the storytelling. She didn't ask for major changes to the story; rather, she focused on craft and mechanics and ways to polish what I already had. It was obvious she believed in the book, but it was still two years till publication.
In fact, despite our positive exchanges, Deidre and I nearly parted ways about a year into the process. She wasn't taking on new clients, and though the manuscript was improved, the market had become much tougher. But before that happened, Deidre offered to send out the book, still titled "Purple Cow," to an editor friend. This was as a favor to me; I wasn't officially her client yet.
Amazingly, her editor friend, John Scognamiglio at Kensington Books, not only liked the manuscript, but he also offered to buy it. And just like that, I had a publisher and an agent. It would be one title change, two rewrites, 11,000 words and 15 months before publication, but that's how "Purple Cow" became "If I Told You So."
How active are you in the actual marketing of your book?
Kensington Books has a marketing department that does the sorts of things that are beyond my abilities: sending out press releases to everywhere, contacting LGBT publications and book clubs, communicating with book sellers like Barnes & Noble and Amazon. However, anything related to readings or signings is pretty much left up to me. I've joined the Las Vegas Writers Group and the New Hampshire Writers' Project. I met with the New Hampshire chapter of GLSEN (Gay, Lesbian, Straight Education Network) and I'm still working on an event with GBPFLAG. I created my own website, Facebook page and Twitter. It's been a huge learning experience, and I still have a lot to learn. Luckily, the growing network of SNHU MFA alumni has been an invaluable resource. There's a lot of expertise there!
What do you find the most challenging as a writer?
Finding motivation to write is by far my biggest challenge. I've got bunches of ideas and partially written stories, but it's so easy to find other ways to spend my time. Writing is a lot like exercise. Once you get in the habit, it's easy to maintain because it feels so good, but once you fall off the wagon, getting back on again is tough. You're out of shape, so it can almost be painful to get started again, and the first few times back are exhausting. I've come to the conclusion that the old adage about writing every day is important mostly because it's so hard to start again once you stop.
Do you feel you'll stay with the young adult genre or expand to other genres as well?
I love writing for Young Adults. It's such a flexible and adventurous genre because there are so few rules. The focus is more squarely on story and character and much less about language - more like writing a screenplay, which goes back to my roots - so it's more fun for me to write. Young Adult is also a great genre for experimentation. That said, I would never confine myself to one genre. My current project focuses on two characters, a teenager and an adult, so it's a bit of a crossover story. Time will tell what genre it ends up being.
As a writer, who or what influenced you the most?
I take a lot of inspiration from film. When writing, I think of myself like the director for the characters in my head, and I envision what the movie would look like. Some of my favorite directors are Alfred Hitchcock, Steven Spielberg, the Coen brothers, Danny Boyle and Hayao Miyazaki, storytellers all. Of course, I am also influenced by other writers. Writers whose work has great meaning to me include: John Steinbeck, Mark Twain, Rex Stout, Alex Sanchez and Stephen King. There are many, many others, but this list is a good start.
What are the favorites on your own bookshelf?
A somewhat random sampling, in alphabetical order by author: "Speak" by Laurie Halse Anderson, "Gentlemen and Players" by Joanne Harris, "On Writing" by Stephen King, "Motherless Brooklyn" by Jonathan Lethem, "Of Mice and Men" by John Steinbeck and "Too Many Cooks" by Rex Stout.
Pamme Boutselis is a writer and content director in higher education. Follow her on Twitter @pammeb or connect on LinkedIn.
Explore more content like this article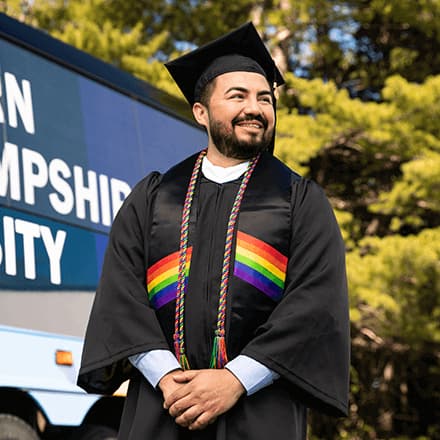 July 19, 2021
The moment Jesús Suárez '21 received his diploma in the mail was one he and his family will never forget. This was more than a degree—it was a cap to an incredible journey. While there was a series of hardships along the way, there was a persevering sense of love and accomplishment.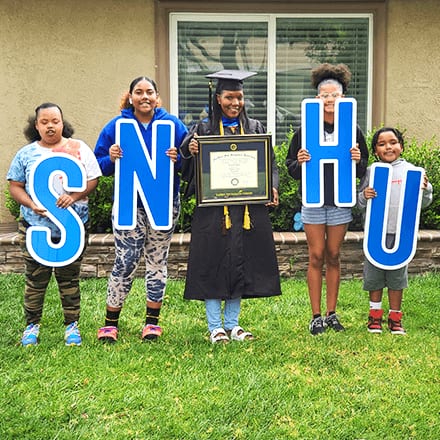 July 12, 2021
Latisha Aguilar '21 has always wanted to be a voice for special needs students and advocate for them. With the goal of becoming a middle school guidance counselor, she said finishing her psychology degree later in life allowed her more time to figure out what she wanted to do with her education.
July 01, 2021
Interested in starting a new job or advancing in your current field? An Associate of Arts (AA) degree can give you the broad-based education and in-demand career skills you need to reach your goals. Learn more about earning an AA degree and what you can do with one.