IT Student Faces Challenges to Attend Grace Hopper 2017
Meghan Hamlin hadn't even heard of Grace Hopper until she received an invitation from Southern New Hampshire University (SNHU) to consider applying for an opportunity to attend the annual Grace Hopper Celebration in early October.

Currently finishing up her associate degree in information technologies, Hamlin did apply and was chosen as part of the almost-30 women from SNHU who attended this year. The event, which honors technology legend Hopper, is a three-day conference and the largest gathering of women technologists in the world. Hamlin had a bit of trepidation about going, yet she came away with positive outcomes, excited about what she earned.
Combining Asperger's with a Professional Conference
While it can be a bit nerve-wracking to go to a professional conference for the first time in your chosen field of study, imagine that high-energy environment, with its booths, session rooms, keynotes and a heck of a lot of people and noise - and then add in Asperger's. You'll begin to understand Hamlin's initial concern, but also quickly admire her willingness to jump in and test the waters. She knew up front what some potential triggers might be and was prepared in advance to handle anything that might come up.

And she had an extra source of support - her mom, who traveled to Florida and allowed Hamlin a measure of comfort in knowing someone would be there at the end of each day. "...Being able to go back to a hotel room at the end of the day and talk to her, essentially unloading the entire day, helped a lot in maintaining my focus and stress levels," she said.

She also took note of specific areas, mapped out in the conference program as reflection rooms, "with information describing them as areas set up for people looking for a quiet space," Hamlin said. "I found other quiet areas around the conference for myself, but the reflection rooms seem like they would have also been a great place for someone with sensory issues and problems with crowds like myself to go to decompress."

Hamlin made others aware of her specific needs, too. She knew the crowded environment related to keynote speaker events might also prove challenging and felt she might have to leave in the middle of a speaker. "When I mentioned this to the staff directing everyone to their seats, they helped make sure I had an end seat so that I wouldn't have to climb over people," Hamlin said.
Facing Challenges, Finding Solutions
The conference was a challenge at times for Hamlin. "I only stayed for the entire keynote speaker the first day, as the noise and bright-colored lights in the room clashed with my sensory issues," she said. "I was expecting the crowd, which helped me deal with it overall. At times, it did become overwhelming though, and I found areas in the convention center where it was quiet to take breaks from it all."

She made a point of scheduling sessions and her time in the career fair so that there was always a break in between each, allowing her adequate time to process what she had just experienced before taking in something new. "I did choose to skip the Friday Night Celebration, as, by the end of the conference, I was reaching the end of what I could handle," Hamlin said. "After seeing pictures of the celebration later, I'm glad I skipped it as I'm sure it would have pushed me into sensory overload."

Dr. Gwen Britton, executive director of SNHU online STEM programs, also attended the conference and spent some time with Hamlin. "What impressed me the most about Meghan is her self-awareness and ability to recognize triggers, and create a plan for getting to a safe space (whether physical or emotional), so she could decompress and handle whatever experience she encountered," Britton said. "Meghan is a very smart young woman, with a great sense of what she is capable of accomplishing, and a trajectory to get there."
Finding Confidence and Career Assistance
Hamlin's career goals focus on IT, and she knows the value of internships when entering a field. She's not quite ready to pursue full-time work but is looking ahead at what opportunities might be available. Upon completion of her associate degree in late 2017, Hamlin will continue in the bachelor's IT program with a concentration in web development. The Student Opportunity Lab, held on the last day of the conference, was of great interest to her. "I went to three of the tables to learn more about web development as a career," she said. "One of the tables explained the differences between front- and back-end development, another talked about full-stack development and the third was focused on UI/UX."

Beyond specific career-related activities at the conference, Hamlin focused on personal and professional growth in some of the breakout sessions. "The two that stood out the most to me were 'Am I My Own Worst Critic?' and 'Confidence: How do I get more of that?'" she said. "I've never been a very confident person, and growing up with Asperger's, being bullied or discriminated against by people who don't understand me, while struggling with my own challenges and barriers, feeling out of place, severely damages one's self-confidence. The session helped me a lot, giving tips as well as helping me to see that I am far from alone when it comes to having low self-confidence."

Hamlin especially appreciated the response she received at the career fair booths. "When I told them I have Asperger's, [they] not only knew what it was, but also kept telling me things like how I'd fit right in, or in one case, responded back saying that she also has Asperger's," she said.

Caitlin Glennen, a program communication specialist in the SNHU Career team, also attend the Grace Hopper Conference. She said, "Meghan's ability to self-advocate was amazing to witness. Students that do not have Asperger's can struggle to network at the job fair and speak up about what they need in order to feel more confident. Meghan, on the other hand, was very willing to share with me her concerns and ask for what she thought would best help her."

Glennen commented on how well Hamlin knows herself and how that plays into achieving her goals. Together the duo went through what some of the companies at the job fair specialized in, beginning with smaller companies and then moving into larger entities like PlayStation and Google. They practiced networking skills and how to communicate Hamlin was on the lookout for a summer 2018 internship opportunity.
Valuable Takeaways
As for what Hamlin came away from the conference with, she feels the conference helped boost her confidence and feel more secure about the path she is currently on. "I've come home with many cards, fliers and packets about companies with potential internship opportunities for the future," she said. She's more motivated than ever before to do her best in her classes, too.

"Though I still feel uncomfortable around large groups of people, the conference was a great place to work on my social skills," Hamlin said. "I enjoyed talking to several different people when I was there, helping me to work on my social skills and confidence in social situations." She encourages any woman with a passion for technology to attend the conference and would offer her experience at the Grace Hopper Celebration and the impact it had on her as to why it's beneficial.

As she continues her online IT program, Hamlin said the strictly computer-related courses, such as Computer Platform Technologies and Fundamentals of Application Development, appeal most to her they "teach about the technical components, or programming, while staying very factual and logic based, and not straying as much into business."

She, somewhat surprisingly perhaps, also recently enjoyed another course, Perspectives in Social Sciences. "With Asperger's syndrome, social skills and interactions aren't something that I pick up on naturally and struggle to learn," said Hamlin. "I find social science classes particularly interesting and educational as they teach the very subjects that, with my disability, I have challenges in."

Early on, Hamlin tried the traditional route for college and experienced a great deal of difficulty -- from not being prepared to take on such a huge and independent situation to others' lack of understanding of the needs associated with Asperger's. An online certificate program in website design allowed her to see that she could find an environment that worked with her needs and a program to fulfill her goals. That, coupled with her ability to identify, communicate and overcome challenges -- along with her determination and degree work -- will continue to push Hamlin toward success.

"Meghan has figured out how to stretch herself outside of her comfort zone but she has managed to also figure out how to do it so there are no surprises," said Britton. "She's truly a remarkable person!"

Pamme Boutselis is a writer and content director in higher education. Follow her on Twitter @pammeb or connect on LinkedIn.
Explore more content like this article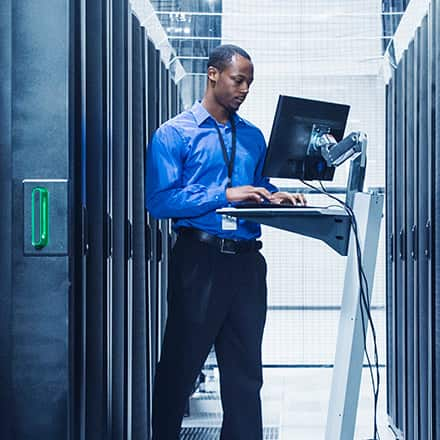 July 20, 2021
The field of cyber security is about leveraging top-notch problem-solving skills with technical aptitude to keep people and data safe. Despite being relatively new, the field of cyber security is here to stay.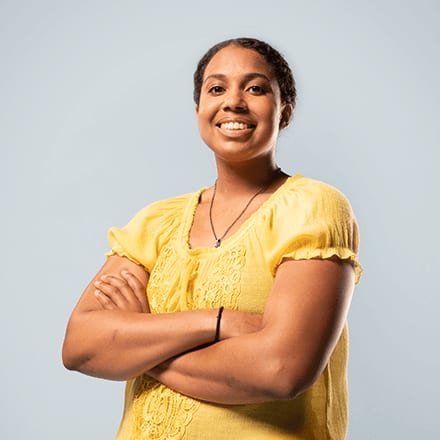 July 19, 2021
Even before she enlisted in the military, Bethanie Thomas knew she wanted to earn her degree. She even knew which field she wanted to study. The only thing missing was the right school.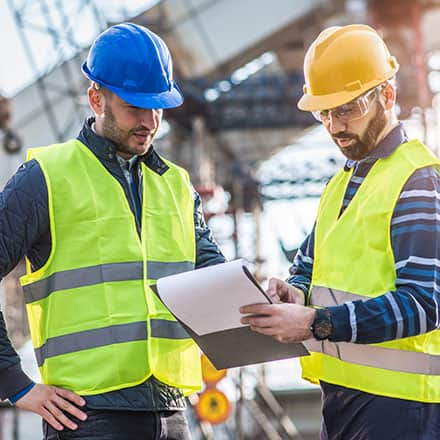 June 22, 2021
There are dozens and dozens of types of engineering. Because when it comes down to the basics, engineering is about using specialized bases of knowledge to solve a problem.