7 Years After Accident, Malafronte's Perseverance Pays Off
Nick Malafronte is rarely at a loss for words. But the surprise waiting for him at Abington (Massachusetts) Depot restaurant on Tuesday left him struggling to express himself.
About two dozen friends and family members, along with Southern New Hampshire University (SNHU) staff, surprised Malafronte to present him with his bachelor's degree in business administration.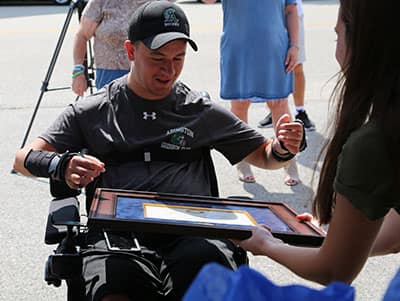 "I shouldn't get this much praise just for graduating," he said. "I'm not speechless very often. I'm very overwhelmed right now."
Malafronte's graduation is particularly notable because of an accident 7 years ago while he was working as a lifeguard at a local pool, leaving him paralyzed from the chest down.
Malafronte was home for summer break from Westfield State University. He wasn't able to return to school due to his injury and the intense recovery and physical therapy schedule his doctors recommended. He later enrolled in online courses at SNHU and finished his degree program this summer.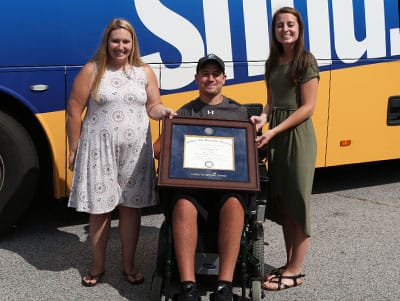 Malafronte may have tried to brush off the significance of his accomplishment. His family did not. His father, Vic Malafronte, contacted SNHU and shared more of his son's story. He said he's continuously impressed with Nick's positive attitude and absolute refusal to complain about his injury.
"He doesn't complain about anything. His life just keeps going," Vic Malafronte said. "He's living a regular life the best he can with the help of his friends and family and everybody. He's unbelievable."
Malafronte's mother, Diane Malafronte, said her son deserves recognition whether he thinks so or not.
"He thinks it's nothing, not a big deal because everyone graduates from college," she said. "It's important to me. He works hard, and I think he deserves to be noticed."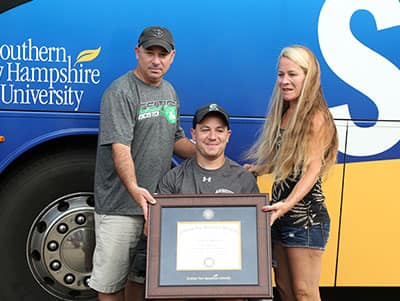 Before Malafronte and the two dozen or so supporters went inside the restaurant, former SNHU Chief Academic Officer Dr. Gregory Fowler, and the two academic advisors who worked with him during his time studying online, presented him with his degree. Because he's a huge Boston Celtics fan, team mascot Lucky was also on hand and presented Malafronte with a custom jersey bearing his name and the number 18 to denote his graduation year.
Hillary Flynn, one of Malafronte's advisors, said he was a crystal clear example of what students can accomplish if they are determined.
"It seems like Nick is the perfect example of staying positive in a situation when you could choose to be so negative," she said. "Nick inspires me because of his ability to remain positive in such a difficult situation. He's reached his goals when many people probably thought he couldn't, and that just shows the perseverance and the dedication that he has.
Another advisor, Caila Sturtevant, said being able to celebrate with Malafronte was a special moment.
"I am so excited to be here to celebrate this accomplishment with Nick. He's gone a long way and to be able to say he finally did it and finally received his degree is a huge inspiration," she said.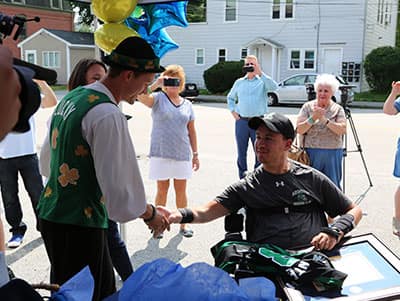 Fowler said he hoped Malafronte's story would resonate with other students who face their own challenges on a daily basis.
"This is such an inspiring story," he said. "We feel like this is one of those stories where Nick has inspired us, so if we share his story with other people, hopefully, it will inspire them as well to finish their degrees and do the things that they dream of."
Malafronte said he always knew he would earn his degree, even if it didn't happen the way he first planned. It shows, he said, that determination can mean everything.
"I've always been driven in what I do. I always knew I'd graduate college. Now it's on to therapy and a job and life," he said. "I just hope (others) know that if you just push and drive, you can accomplish anything - whether it's school or something at work. Anything in life - you just have to put your mind to it."
Joe Cote is a staff writer at Southern New Hampshire University. Follow him on Twitter @JoeCo2323.
Explore more content like this article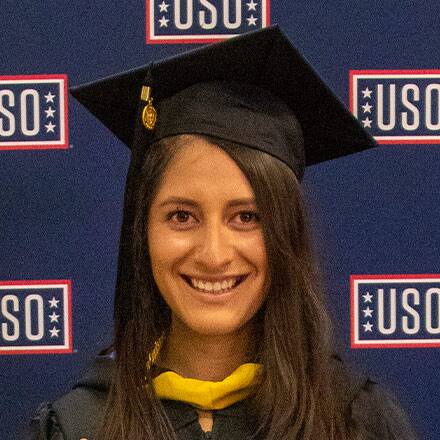 July 27, 2021
In Fort Shafter, Hawaii, Staff Sergeant Diana Tafoya Sanchez took her final steps toward her undergraduate degree. Working toward a bachelor's in business administration at SNHU while serving in the U.S. Army she celebrated her hard-earned success with a special diploma delivery.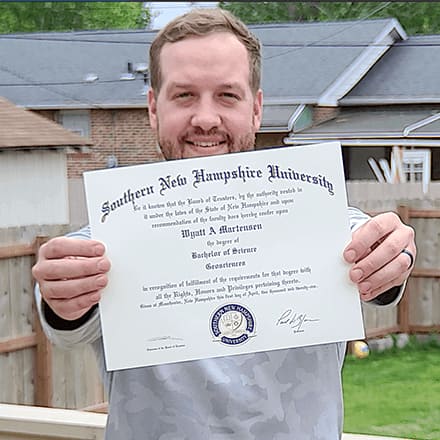 July 15, 2021
When your chief warrant officer asks you to do something with him, you're most likely going to do it. That's how Wyatt Martensen '21 tells the story of how he ended up returning to school to earn his bachelor's degree online.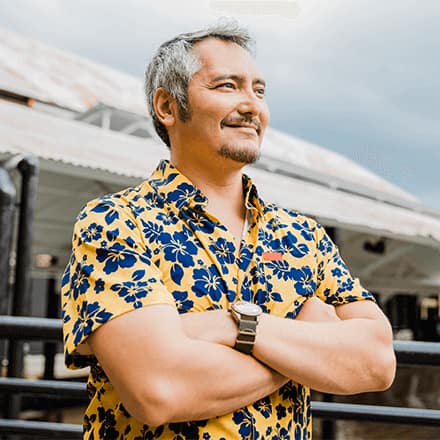 July 12, 2021
Armed with prior college credits but no degree, Derald Wise '14 '18G wanted to make meaningful connections as he finished his education. Like many military-affiliated students, he also knew he needed an online degree program that was flexible.