8 Essential Steps to Create a Culture of Continuous Learning At Your Company

Organizations built upon a culture of continuous learning naturally develop a highly skilled and more engaged workforce. The benefits of that can flow quickly to the bottom line.
Research several years ago from Bersin & Associates (now Bersin at Deloitte) documents the revenue-boosting impact a culture of continuous learning creates within an organization. Over the years the research firm has studied what it terms "high-impact learning organizations," or HILOs. By aggressively promoting and ensuring all workers have access to learning opportunities, HILOs exhibit several characteristics that set them apart from their peers.
For example, HILOs book profit growth three times greater than their competitors, and employee productivity rises by 37%. Those numbers shouldn't be so surprising, considering that HILOs are 58% more likely to have skilled workers able to meet the organization's future needs, which gives them leg up.
Simply put, high-impact learning organizations place a high priority on learning throughout the enterprise. They don't view it as a standalone function that resides only within the L&D unit.
The entire culture of the organization encourages every employee to improve their knowledge, skills and abilities, or KSAs, as Amy DuVernet, director of certification programs at Training Industry, Inc., said in an article for the Society for Human Resource Management.
More than training
Creating a culture of continuous learning involves more than just training, explained Stephen Gill, co-owner of Learning to Be Great, in an article for the Association for Talent Development. In those instances, the chief learning officer for the Learning and Development (L&D) department directs learning opportunities, and training becomes a top-down function.
In a culture of continuous learning, the opposite happens, Gill wrote. Knowledge acquisition becomes learner-centric as all employees take charge of their education. Learning becomes decentralized because the entire organization, from the C-Suite to middle managers and frontline workers, assumes responsibility for acquiring new skills.
More companies have shifted away from the old model of training and have adopted a culture of learning, or as Bersin terms it, "organizational capability development."
In other words, the goal of the learning initiative is not just to "train" employees, but to ensure each employee develops the knowledge, skills and abilities they need so they and the company can grow.
So how can organizations create a culture of continuous learning? There are several guiding principles.
1. Make it available to everyone
For a culture of learning to thrive, an organization must stress that educational opportunities are available to everyone in the workforce.
Many times companies inadvertently prioritize managers and other company leadership in their L&D investments. Ensure that you have a comprehensive program that allows frontline workers an opportunity to grow and advance.
Several studies document the benefits of investing in the education of frontline workers. In just one such study, Cigna Corporation realized a 129% ROI from their tuition assistance program for frontline workers, who achieved a 43% increase in their wages.
2. Promote a culture of learning from before the start
During the search and interview process, make sure HR personnel and managers talk to prospective employees about learning opportunities available at the company. Emphasize that it's expected they participate in activities that upgrade their skills while with the organization.
When onboarding new hires, provide them with a learning activity to reinforce the company's culture of learning.
3. Constantly market your learning opportunities
A one-time announcement from HR touting educational opportunities isn't enough to influence workplace culture.
Learning programs should be regularly communicated throughout the workplace. Rather than telling employees about the learning program, illustrate its value by circulating stories about how their colleagues have benefited from their learning experiences.
4. Get support from the company leadership
A culture of learning develops when upper management strongly advocates for it. If workers see top-level managers back the program, they'll recognize how important it is to the entire organization.
A supportive upper management team also recognizes the strong link between the organization's business goals and the learning effort: What skills and competencies do the employees need for the organization to succeed?
5. Get support from middle managers
Departmental managers play an important role in encouraging participation in learning programs. For example, if a tuition assistance program is something that managers aren't familiar with but is a benefit that employees should "go ask HR about," your company won't cultivate a culture of learning.
Managers play a key role in monitoring progress toward learning goals. In a sense, managers serve as mentors and coaches. Managers also must give workers the time and resources needed to complete their studies.
Not only does the frontline worker achieve new knowledge, but the middle manager gains a highly skilled worker who elevates the performance of the entire team as well. Middle managers don't have to go it alone.
6. Develop a learning plan for each employee
In conjunction with a yearly performance review, managers collaborate with employees to compile a detailed learning plan. This blueprint spells out what skills and knowledge the employee would like to pursue to advance within the company.
Whatever the plan, managers should also highlight how the skills relate to their current job — as well as the organization's overall goals. Plus, getting employees involved in mapping out their learning paths motivates them to learn.
7. Make workers accountable for their learning
In a culture of learning, the organization and its employees work as partners in advancing their knowledge. While the organization provides access to learning opportunities, workers can and should be held accountable for pursuing their education by meeting certain goals and communicating with their managers on their progress.
Further Reading: How a Culture of Learning Produces a More Engaged Workforce
Finally, a learning culture encourages workers to experiment even if they sometimes fail. It's more important workers at all levels in the organization know learning is as much a part of their job as any other daily task. Through continual learning, they just may come up with the company's latest innovation.
8. Get strategic and get aligned
A culture of learning only helps your company if the learning opportunities are aligned with your business goals. Many companies are spending resources on legacy L&D programs that have little to do with the current business climate they are working in or with how those companies want to differentiate themselves in the market.
Here's where effective partners for your learning programs are critical. You want to work with certificate and degree programs that can make a measurable impact on the skills most required in your workforce.
Offering more than 200 online degree programs, Southern New Hampshire University's Workforce Partnership programs can serve as your learning partner. We work with our partners to reach learners where they are and to help them succeed by delivering learning solutions that are built to meet personal, professional and organizational goals. Download our fact sheet to learn more.
Explore more content like this article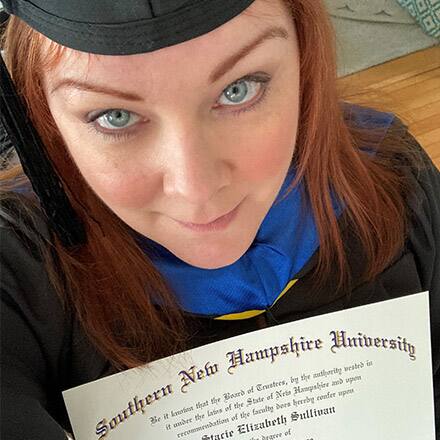 September 08, 2020
For years, Stacie Sullivan '19 felt stuck in her career, sensing her opportunities to advance were limited. After a series of challenging life events, Sullivan enrolled in the BS in Health Information Management program at SNHU.
July 01, 2020
Just a year after she decided to go back to school, Shereka Johnson-Bean '20 is preparing to submit the final project for her bachelor's degree.
June 12, 2020
Shannon Griffin's first job was as a crew member at a McDonald's restaurant. She's still working at McDonald's, but her role is a whole lot different thanks to her hard work and the degrees from SNHU.