Low-Residency MFA Program Welcomes Interim Director
With a writer for a father and a painter for a mother, maybe Adam Wilson was destined to be artistically inclined. After spending much of his childhood surrounded by books, it's no surprise that he followed in his father's footsteps and became a writer and a creative writing instructor.
"I don't really think anyone ever told me I could be anything else," Wilson said. "It seemed obvious ... because you see your parent doing this job."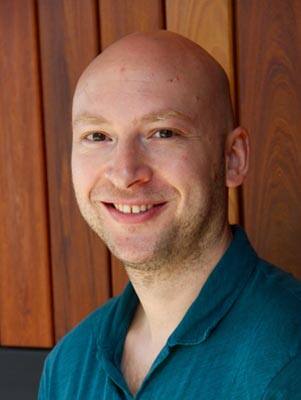 He's taught in many creative writing programs since publishing his debut novel, "Flatscreen," in 2012, including the Mountainview Low-Residency Master of Fine Arts (MFA) program at Southern New Hampshire University, where he's been a visiting writer for several years.
When the program's director, Benjamin Nugent, went on sabbatical, Wilson readily agreed to assume the interim director position, which he will fill until next year.
Growing Mountainview's Writers Community
Wilson's main goal is to continue to grow the program's sense of community through establishing The Mountainview Readings. This series will occur each semester and feature readings from faculty, alumni and current students.
"I hope the events can help showcase our amazing faculty, students and alums, and also fill the role of being reunions of sorts for our local folk who otherwise might only see each other twice a year at residency," Wilson said. The first event is in October at the Book & Bar in Portsmouth, New Hampshire.
He'll also coordinate the two residencies, recruit students and visiting writers, along with editing the program's literary magazine. He collaborates with faculty and continues to mentor a couple of students.
The Low-Residency MFA Works Well for its Interim Director, Too
Wilson enjoys working in a low-residency program because of the students it appeals to and its flexibility.
Many students have families and jobs that prevent them from enrolling in full-residency programs, which oftentimes means they have a range of life experiences to contribute to their writing and in class. "I think you get a really different type of student," Wilson said.
Students are also typically self-motivated, according to Wilson. This is important since students are required to turn in and revise writing with their mentors several times throughout the semester. By the end, this often amounts to 120 pages of their thesis.
Students and faculty primarily communicate online, except for two week-long residencies each year at the Mountain View Grand Resort, located in Whitefield, New Hampshire. "The nice thing about teaching in a low-res program is, you know, you can come in for the residencies and leave again and live anywhere."
The online component is beneficial to Wilson who conducts most of his interim-director duties virtually. Though he's from the Boston area, Wilson now resides in Brooklyn, New York, with his wife, Sarah, and their 4-month-old son, Julian. Between assuming a new career role and becoming a father, this was a summer of change for Wilson.
"It's been a lot," he said. "I started the job about a month after he was born, so it's a lot of new things to be taking on, and then, you know, trying to work on my own writing as well when I can, if I can."
A Wandering Writer
Change is something Wilson is familiar with, though. After completing his undergraduate degree in English, he moved from Newton, Massachusetts, to Austin, Texas, where he dabbled in film and wrote. A year later, he traded the heat for snowy winters as he went on to earn an MFA in New York, where he met his wife.
The couple moved to Brooklyn for a decade. During this time, Wilson's writing career took off. Harper Perennial published his first two books: "Flatscreen," a dark comedy, in 2012 and "What's Important Is Feeling," a short story collection, in 2014. He's now in the midst of finishing his latest novel. "It's set in a near future in which there's been another financial crash," he said. "It imagines a quite dark future, but it's also sort of a love story."
He credits some of his success as a writer to his employment at a now-closed bookstore, Book Court. Working there helped Wilson meet other writers and fueled his passion for reading.
Brooklyn is also a hub for the literary community. "I know some people have trouble actually getting writing done in that kind of situation where you're surrounded by other writers, and you feel that pressure, but that doesn't really affect me," Wilson said.
After a bout of restlessness overcame Wilson and his wife, the two picked up freelancing jobs and moved to Amsterdam in the Netherlands for a year that Wilson dedicated to writing. They returned to Brooklyn about a year ago, just in time to start a family.
Some of Wilson's homes have inspired the settings of his stories, and he draws most of his inspiration from his life and books he's read.
A Passion for Teaching
Being a reader is the key to becoming a good writer, Wilson said, and he tries to convey this to his students. "That's how you learn. You learn from imitating at first, and you learn just from seeing how books are made and put together," he said. "I think that's one of the biggest jobs as a creative writing teacher, to teach your students how to read books in a different way than they were taught, maybe, in their formal education."
When he teaches, Wilson challenges students to look carefully at a paragraph, a sentence and a word and consider what it contributes to the story. "It takes a lot of patience," he said, to learn to read like that.
Though he now has many other facets to his job as interim director, teaching remains the most enjoyable work for him. "I like interacting with the students, and I like reading their work," Wilson said. "And I like seeing them succeed."
Rebecca LeBoeuf '18 is a writer and editorial coordinator at Southern New Hampshire University. Connect with her on LinkedIn.
Explore more content like this article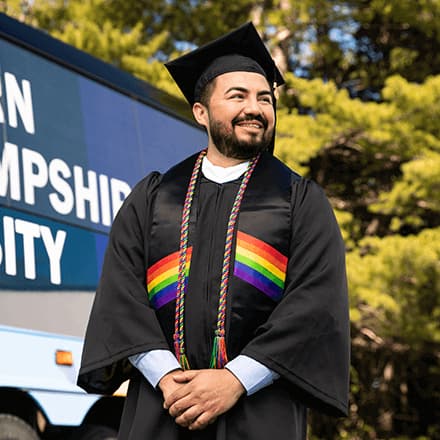 July 19, 2021
The moment Jesús Suárez '21 received his diploma in the mail was one he and his family will never forget. This was more than a degree—it was a cap to an incredible journey. While there was a series of hardships along the way, there was a persevering sense of love and accomplishment.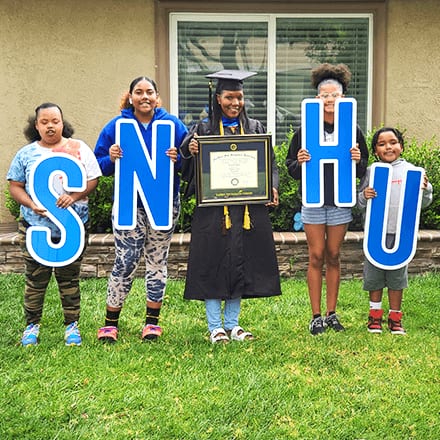 July 12, 2021
Latisha Aguilar '21 has always wanted to be a voice for special needs students and advocate for them. With the goal of becoming a middle school guidance counselor, she said finishing her psychology degree later in life allowed her more time to figure out what she wanted to do with her education.
July 01, 2021
Interested in starting a new job or advancing in your current field? An Associate of Arts (AA) degree can give you the broad-based education and in-demand career skills you need to reach your goals. Learn more about earning an AA degree and what you can do with one.