Student Spotlight: Boston Children's Hospital's Heather MacWhinnie

Heather MacWhinnie always wanted to earn her degree and wouldn't give up on that dream despite having children, launching a 20-plus-year career at a renowned children's hospital and a very busy life.
When she first approached a local college outside Boston, MacWhinnie was encouraged to earn a surgical technician certificate. She was a young single mother of a child with a chronic medical condition and wanted to work at Boston Children's Hospital.
"I took their advice and went for the (surgical technician) certificate but always thought I'd go back and get my degree," MacWhinnie said. "As time went on, life got busy and it just didn't seem like I could fit school into my life without something being neglected."
For the past 21 years, MacWhinnie has worked as a surgical technologist in Boston Children's Hospital operating room. She's currently a minimally invasive surgical equipment specialist. She also has two sons, one of whom is still a teenager, and takes care of her 95-year-old mother. But she's never lost her desire to earn a degree and was ready to take advantage of her employer's partnership with Southern New Hampshire University (SNHU).
MacWhinnie is studying for her associate in healthcare management degree through SNHU's College for America program. The program allows adult learners to earn their degree by completing projects to demonstrate their mastery of a series of competencies. The format is ideal for working adults because the projects can be completed online at any time of day or night and on the student's timeline.
"This program is unique in that you are truly able to do it on your own time schedule," MacWhinnie said. "You just have to have the motivation to keep plugging away at it. In a traditional program, I never would have been able to keep up with all the crazy things that have come up over the past several years."
MacWhinnie said being able to do her coursework at any time allows her to continue working full-time, take care of her family and the several marine fish tanks her family maintains. "I can listen to YouTube videos on my way to or from work. I can read some literature while I'm on my lunch break," she said. "It's great because I'm not restricted to what others are doing or when classes are scheduled."
MacWhinnie said she's already put to use some of what she's learned, particularly some software applications. "It certainly gave me a good overview of different ways to use Excel, and that has been a benefit to my current job," she said.
MacWhinnie actually began earning her degree through College for America through her husband's employer but was interrupted when he left that job. "When I found out Boston Children's Hospital was partnering up with College for America it was a no-brainer to go back and finish," she said.
She said she would encourage her colleagues to explore a College for America program if they are interested in earning their degree.
"Go for it!" she said. "It will be the best decision you ever make."
Explore more content like this article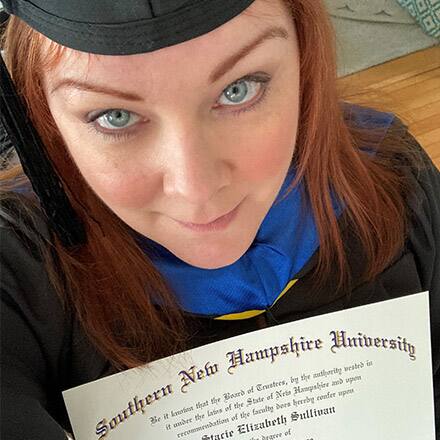 September 08, 2020
For years, Stacie Sullivan '19 felt stuck in her career, sensing her opportunities to advance were limited. After a series of challenging life events, Sullivan enrolled in the BS in Health Information Management program at SNHU.
July 01, 2020
Just a year after she decided to go back to school, Shereka Johnson-Bean '20 is preparing to submit the final project for her bachelor's degree.
June 12, 2020
Shannon Griffin's first job was as a crew member at a McDonald's restaurant. She's still working at McDonald's, but her role is a whole lot different thanks to her hard work and the degrees from SNHU.