Union, SNHU Launch Second U Attend Challenge
You can't win if you don't play the game. That's the message Philadelphia Union officials wanted to impart to a group of Chester, Pennsylvania students they want to encourage to spend more time in school.
Union team representatives - including team mascot Phang Union defender Matt Real - kicked off U Attend at the Chester Community Charter School this week. The program, co-sponsored by Southern New Hampshire University (SNHU), provides soccer-themed rewards for students who have perfect attendance during the school year.
"We want to incentivize the kids to come to school," said Gina Franz, senior coordinator of partnership marketing for the Union. "It's important to our partnership with (SNHU) that we do so ... get them on a path to higher education regardless of what that is. It starts with attendance and showing up."
Dedication to Helping Students
The Chester school is the second in the Union's backyard to host the U Attend program. Earlier this year, the team and SNHU launched their partnership by introducing the program to students at Tilden Middle School in southwest Philadelphia. Franz said administrators there have reported an increase in daily attendance and the team hosted Tilden students at Talen Energy Stadium for lunch and soccer activities - the first reward students can earn by reaching attendance benchmarks.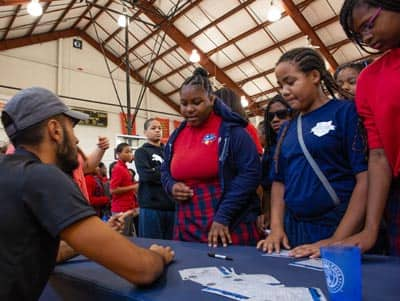 As Franz explained to Chester students this week, students who have perfect attendance for one trimester of the school year are invited to the stadium for a day of activities. A second trimester of perfect attendance earns them tickets to a Union match for themselves and a guest. Students who have perfect attendance all year will also be recognized on the stadium's video board during the match, Franz said.
"I want to see everyone at Talen Energy Stadium later this year for lunch. I want to see everybody at a game, and I want to see everybody's name up on that video board," she told students. "We're your neighbors. We want to see you guys succeed."
To kick off the program, the Union brought its "U on Tour" activities for students to try, including soccer drills, a large inflatable soccer pitch and more. Real also signed autographs and met with dozens of students.
Giving Back to the Community
Real, who recently began studying for his online degree at SNHU, said he appreciated the opportunity to meet with students and talk to them about decisions he made as a young person that led to his success.
"To me, it's always important to give back to the people around me, in my community," he said. "Showing up in school every day is important. Learning every day is important. Hopefully, down the line, they can become successful in whatever they choose to do."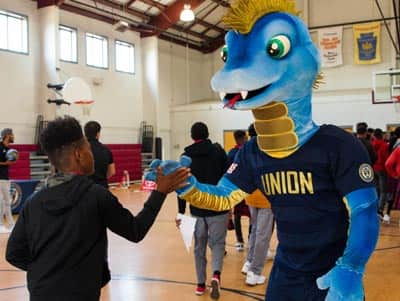 David Clark, the school's chief executive officer, said programs like U Attend and developing a relationship with the Union are good ways, "to encourage, motivate and incentivize children to come to school every day, on time, because it's extremely important for them to come to school to learn."
"It's important because if they don't come to school, they will not learn and they will not be able to be successful in life. This is extremely important," he said.
The U Attend program is part of the Philadelphia Union and SNHU's official partnership and serves both organization's mission to improve the lives of those in their communities. The Union also operates a full-time soccer academy and an accredited high school. SNHU is the education sponsor of Major League Soccer and has partnered with several MLS clubs to host activities designed to improve access to education for students across the country.
"Initiatives like U Attend help the further the university's mission of increasing educational opportunities for students of all ages," said Tamara Sherrod, SNHU partnership marketing program manager. "We hope the students will use this program as a springboard to set themselves up for long-term success."
Joe Cote is a staff writer at Southern New Hampshire University. Follow him on Twitter @JoeCo2323.
Explore more content like this article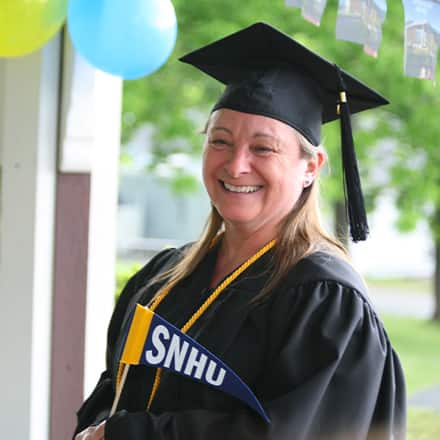 A Special Diploma Delivery for New Hampshire Grad
August 03, 2020
When SNHU's Commencement was postponed, Dr. Gwen Britton decided she would arrange a special ceremony for her longtime friend who had earned her bachelor's in information technology.