Donations for Goals as SNHU, MLS Team Up to Support USO
Many of the goals scored this weekend by Major League Soccer (MLS) players meant a little more than they usually would. In addition to determining winners and losers, Southern New Hampshire University donated $2,000 to the United Service Organization (USO) for each goal scored.
The fourth annual Operation: Back of the Net generated $124,000 donation to the USO through a unique partnership between the USO, MLS and SNHU. SNHU committed $2,000 for each goal scored during MLS games played in the United States between July 3-7. Social media posts using the hashtag #SNHUgoals, for which SNHU committed $1 per post, generated another $8,540.
SNHU is the Official Education Partner of the MLS and the Worldwide Education Partner for the USO. Since 2017, Operation: Back of the Net has raised more than $600,000 for the USO.
"Major League Soccer is excited to join forces with Southern New Hampshire University and the USO to honor, support and empower veterans, active-duty service members and their families," said MLS Vice President of Partnership Marketing Adrienne Barber. "We look forward to working with our partners to honor the men and women in uniform who selflessly serve our nation for many years to come."
In addition to the money promised for MLS goals and social media shares, SNHU awarded 6 full scholarships to military-affiliated MLS fans. Service members, veterans and military spouses from the U.S. Army and Army Reserve, Air Force Reserve, Marines and Navy were given the scholarships on the field during MLS games over the holiday weekend.
Mandee Cross received her scholarship during the Sporting Kansas City's match versus Los Angeles FC on July 3. Based at Fort Riley in Kansas, Cross is raising 3 children while her husband is deployed with Commanding Generals Mounted Color Guard. She plans to earn her bachelor's degree in healthcare administration.
"It means the world to me and my family for me to have received this scholarship," Cross said. "Not only do I get to receive a degree I could use, I get to show my children that no matter the obstacles life throws at you and no matter how big the mountain, it's never the wrong time to chase your dreams."
Another scholarship recipient and San Diego resident Oscar Lopez is serving as a member of the U.S. Air Force Reserve. He wants to earn his bachelor's degree in IT and a master's in cyber security. He said earning his degree will help him become more financially stable and able to focus more on raising his three children.
The scholarship, Lopez said, is "a second opportunity to make dreams into reality … by advancing academically and potentially economically."
Kimberly Hartgraves, a military veteran and spouse, is a certified therapeutic recreation specialist working with disabled individuals. She wants to use the scholarship she was awarded in Houston to pursue a master's in psychology to expand that work and increase awareness of the challenges those with physical and mental challenges face.
"Being a veteran, I can empathize with those who struggle with the reintegration process into civilian life after military service, and I feel quality of care can be improved for service members as well as their families," Hartgraves said.
Joe Cote is a staff writer at Southern New Hampshire University. Follow him on Twitter @JoeCo2323.
Explore more content like this article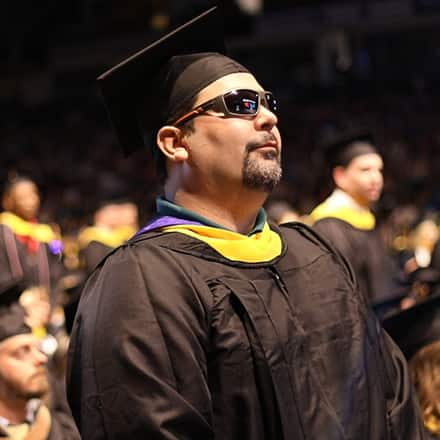 Loss of Vision Doesn't Deter IT Student from his Master's Goal
July 10, 2019
When Ricardo Scarello '19 crossed the stage to accept his diploma, his service dog Puck was by his side. Scarello didn't just earn his master's degree; he earned a master's in IT, by all accounts a challenging program for anyone, let alone someone that's vision impaired.
A Q&A with Newly Published Creative Writing Alumnus, Poet
July 09, 2019
In a little more than a month, Michael Garrigan '19G achieved two major goals. In May, he graduated with his MA in English & Creative Writing, and in June, he published his first chapbook. Ahead of the chapbook's presale, Garrigan spoke about the role his education played in his achievements.
Scholarship Awarded to Military Spouse with Passion for Community
July 01, 2019
Omoni Williams knows she pours a lot into others, often neglecting her own needs. It wasn't until her active duty husband went on tour for 17 months that she burned out. In a desire to do something for herself, Williams applied for a full-tuition scholarship to Southern New Hampshire University.