Top 10 Must-Ask Questions for College Tours
Asking good questions can help you get the most out of college tours. Among some of the questions you should ask, consider: What type of aid do you offer? What kind of academic support do you offer? What type of career services do you offer? What internships are available throughout my time in school?
Few things rank higher than choosing a college on a high school senior's "first adult decisions" list. So it's important for college-bound students to take the time to make the right decision – and that means asking the right questions on college tours.
Commonly referred to as the "golden mile," campus tours can feel heavy on sales pitch but light on actual nuts-and-bolts information. Don't let that stop you from learning as much about the school as the school may know about you. And remember, admission officers want you to ask questions so you're confident their school matches your goals.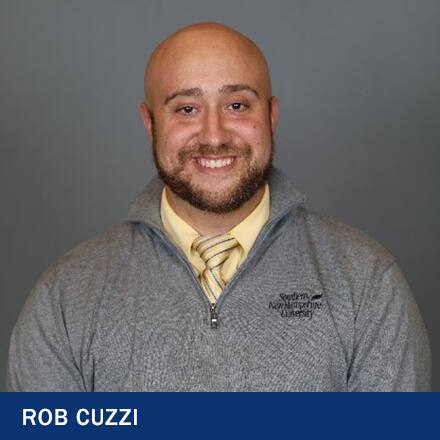 Not sure what to ask? Southern New Hampshire University's Senior Assistant Director of Freshman Admission Rob Cuzzi '11, '12G spent a year counseling incoming freshmen prior to his current role. As you might guess, Cuzzi has heard it all. Based on his experience, he shares his point of view on the must-ask questions for college visits.
What type of aid do you offer? Cuzzi said this question comes up more and more, and it's an important one for both prospective students and their parents. "Much more so than maybe years past, parents are concerned with the financial implications of higher education," he said. "Prospective students want to know more about scholarships, work on campus, and other means to ensure debt will be at a minimum."
What kind of academic support do you offer? This is a top 5 question for parents, according to Cuzzi, but it's a good question for prospective students, too. As a student, you'll want details on all the academic benefits a school has to offer, from first-year advising to diversity to wellness. Soak it all in even if you don't think you'll need them, because you never know when you might.
What type of career services do you offer? This is a question that's grown in importance over the past decade, and the best schools will have an answer like Cuzzi's: "SNHU offers myriad services related to the pursuit of careers. We want our students thinking about their future the second they step foot on campus. From internships, job placements, networking events and panel discussions with partner companies to mandatory courses specific to resume building and cover letters, our campus does a phenomenal job in building resources and opportunity for students."
What internships are available throughout my time in school? Internships haven't always been the hot topic they are today. "Lately," said Cuzzi, "there has been quite a bit of interest from students in making sure internships are available during their time at the university." If you can, dig deep to find out about corporate partners, how many students the school places in internships each semester and what they do to help you land the one you want.
How safe is campus? Campus safety is a common question from both prospective students and parents. Most tours will include this topic, but feel free to probe deeper. Ask about late-night transportation, building security and dorm policies.
What's the average class size? Limits on class sizes generally mean more 1-on-1 attention from professors, so it's smart to ask about this. Typically, professors don't take part in college tours, but prospective students will have opportunities to interact with them at other times. "Professors are fantastic about coming to our events throughout the year, such as Accepted Students Day and Open House," said Cuzzi.
How many students are active in clubs or organizations on campus? "Prospective students are always interested in learning more about the different clubs and organizations offered on campus," said Cuzzi. Beyond just learning about them, ask how many students actively participate. You'll be living there for a long time, so make sure you get a good sense of the campus culture and can envision how you'll spend your weekends.
How do dorms differ from first year to senior year? Along with "Can I have a car during freshman year?," this is one of the most common questions on college tours – and not just from students. Parents also want to know about living arrangements. Be sure your tours not only cover this area but get into specifics like dorm amenities and costs, parking availability (and any associated fees), housing lotteries and anything else that might affect where you live from year to year.
How would you describe the value of a degree from your school? Besides the cost of the institution, this is one of the most important questions you can ask. "Families and students want to make sure their intended major will lead to internships and good job prospects after their time at college," Cuzzi said.
What's unique about this school? Cuzzi said he hears this question a lot, and it goes hand in hand with the questions about value. With the commodification of the college experience, parents and students want to know what sets a school apart and why it's a solid choice. See if you can speak with current students about what makes the school special. Do they feel valued and supported and not just a random student? Are they surrounded by people who truly care about their well-being?
Keep these questions top of mind as you prepare for college tours and consider what matters most to you as a student. Feeling hesitant about speaking up? Don't. As Cuzzi says, there are no unimportant questions when it comes to decisions as important as choosing a college.
Betty Egan '17 is a freelance copywriter with 25+ years of experience across a diverse spectrum of industry sectors, including higher education. She lives and works remotely from the mountains of northern New Hampshire. Connect with her on LinkedIn.
Explore more content like this article
How to Study: 9 Study Tips to Boost Learning
March 27, 2020
Once you've determined what to study in college, the challenge becomes how to study effectively. Luckily, there are plenty of science-backed study habits that can help you boost your learning, improve retention and help you succeed in your degree program.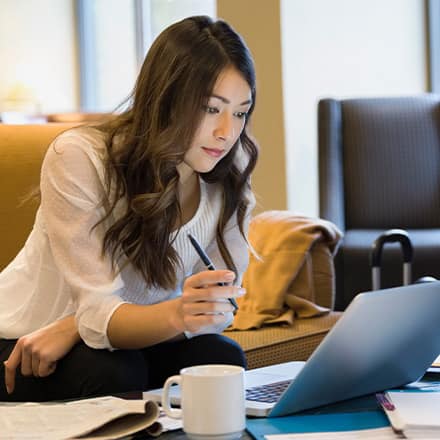 What is a Scholarly Source?
March 26, 2020
If you're not sure how to identify a scholarly source when conducting research, rest assured that you're not alone. Here are some important clues and techniques to help you identify which sources are credible, academic, and above all, scholarly.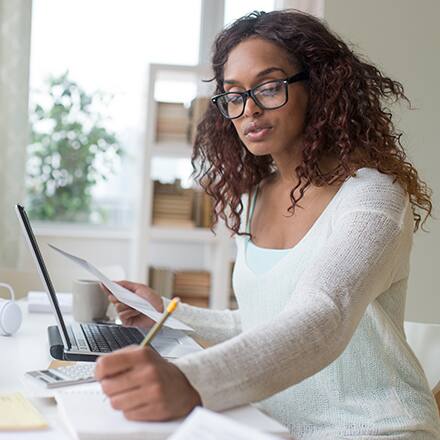 How to Get a Master's Degree
March 25, 2020
Interested in starting a new career or advancing in your current field? Boosting your career potential is one of the benefits of a master's degree. See yourself succeed by exploring how to get a master's degree, from the admission process to master's degree requirements for graduation.