Tunisia Native Forges New Path with Mental Health Counseling Master's
In 2011, Fatma Salem Pease was living in her native Tunisia, a place she described as male-dominated, where as a woman, she was expected to stay in her family's home until she married. On a whim, she looked into a program recruiting au pairs for families in the United States.
Soon she was living and working in the United States caring for her host family's children. She was enamored by the freedom she found here and began thinking about earning her degree and working toward a career.
Fast forward to Southern New Hampshire University's 2019 Commencement Ceremony where Salem Pease was on the SNHU Arena stage singing the "Star-Spangled Banner." She also walked across that stage to accept her master's in clinical mental health counseling.
"I feel like SNHU has provided so many opportunities throughout just the couple of years I've been here," she said. "When I look back at my experience with my program and look at the immense growth that I've come to achieve throughout the only two years that I've been in the program, I am really amazed."
Salem Pease had worked in the United States for about two years when she began thinking about going back to school and forging a career here. She remembers, as a child, how her family's door was always open to neighbors. Her mother worked at a local healthcare facility and dispensed advice to neighbors who needed help. Like her mother, Salem Pease wanted to help people, and had long been interested in psychology.
She enrolled in SNHU's online master's in clinical mental health counseling and became a member of the first cohort of students to graduate from the program. Salem Pease marveled at how differently she feels about herself after working so hard for two years and earning her master's degree.
"This is not an exaggeration. It's been life-changing for me," she said. "It was very validating. I'm still trying to process it now. It's so much hard work that's paid off – so many years of doubting myself and not knowing what's going to come of leaving my home and leaving my family."
Salem Pease said she sometimes hears from young girls in Tunisia who knew her or have heard her story. She said she hopes it inspires them to go after their dreams.
"I think my degree is impacting a lot of people, myself included obviously. It's certainly going to change my life," she said. "But it's also impacted a lot of my family members, other kids in Tunisia who look up to me, and I feel like I've inspired a lot of little girls in Tunisia who reach out to me through social media and tell me how much I inspire them that you can come to the U.S. You can still make the American dream come true."
Salem Pease is now completing an internship at a counseling agency in Manchester, New Hampshire, where she works with clients of all ages and a variety of diagnoses, including anxiety and depression, ADHD or a history of trauma. At the same time, she's applying to doctoral programs and putting in the hours she'll need to become a licensed mental health counselor.
"If I can achieve this, I can certainly achieve a lot more," she said. "I really need education to keep my brain sharp and keep learning. I feel like stopping education is kind of stagnant and keeps us in one place. It's just a great way to challenge myself and see how my perspective changes … and how much I change as I evolve."
Joe Cote is a staff writer at Southern New Hampshire University. Follow him on Twitter @JoeCo2323.
Explore more content like this article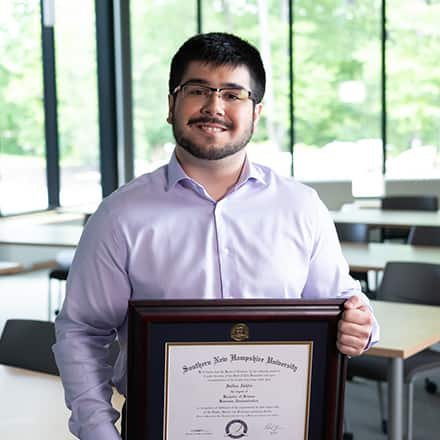 From Gamer to Game-Changer & First-Generation College Graduate
September 20, 2019
During an ice breaker exercise in Sultan Akhter's very first Southern New Hampshire University class, he said he was interested in gaming. Little did he know, he'd become a game-changer in college and discover a career path that will support students just like him.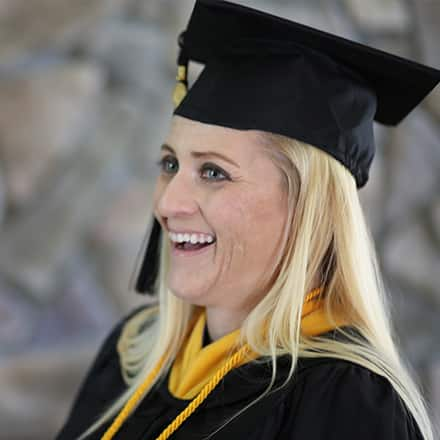 High Honors: Kimberly Cartier '19 Gave It Everything She Had
September 18, 2019
When Kimberly Cartier traveled to an over-55 community in Litchfield, New Hampshire on Monday with her parents, she thought the family was gathering in recognition of her grandmother, Ruth Roulx, a resident at the community. Little did she know a surprise diploma delivery was in the works, along with a celebration in her honor.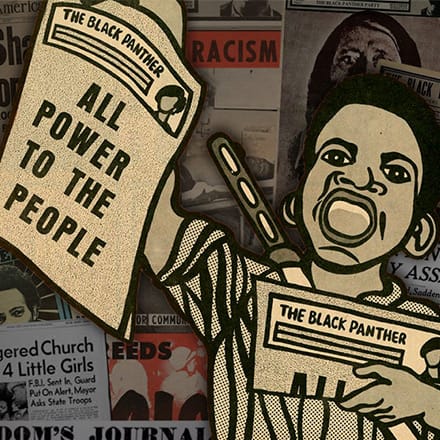 The 13th Black New England Conference to be Held at SNHU
September 06, 2019
The 13th Black New England Conference, BLACK INK: African American News from Slave Songs to Social Media, will be held at Southern New Hampshire University on Oct. 25-26. This is the first time the Black Heritage Trail of New Hampshire (BHTNH) is hosting the conference at SNHU in Manchester.