It's All Fun and Games at SNHU's 8th Annual Homecoming Weekend
Southern New Hampshire University's (SNHU) campus erupted with Penmen pride this weekend as more than 2,500 students, staff, faculty and alumni made their way to Manchester, New Hampshire, with their families to celebrate Homecoming.
For some, this trek is an annual tradition, while others set foot on campus for the first time. Regardless, a competitive spirit floated through the crisp autumn air as the community faced off in a myriad of events, from board games and scavenger hunts to team sports and annual tournaments.
Eight years ago, SNHU decided to merge it's family and alumni weekends to form one massive weekend of events and celebrations for all ages. Combined with regional and virtual events that allow community members to get involved wherever they are, Homecoming Weekend offered more than 50 activities spanning 32 hours.
Coming Home
Though Ashlee Lindsey '18 finished the Business Administration Bradley Honors Program a year and a half ago, she picks up right where she left off when she returns for Homecoming Weekend.
"I've just been so closely connected that it still feels like home when I walk on campus… I still feel like I belong," she said.
As a former Student Government Association (SGA) president, Lindsey was also a student representative on the Alumni Association Board at SNHU, a board she hopes to rejoin in the next couple of years.
Intending to work in higher education on an alumni engagement team, she volunteered her time to help the weekend run smoothly, from distributing shirts to escorting Petey Penmen around campus. She knew this would help her foster community and maximize the number of people she would see throughout the day.
"Being behind the scenes and shaping other people's experiences is what makes me happy," Lindsey said. Volunteering for a community she's loved for the last five years made it extra special.
While campus saw the return of many young alumni, it also welcomed back some who hadn't been there in years. Amey Houtchens '69 decided to make the long trip from her home in Fairbanks, Alaska, to Homecoming in honor of her 50th class reunion.
Though she didn't recognize the others from her class right away, they quickly began pointing each other out in their yearbook and swapping stories about their time at SNHU, then known as New Hampshire College of Accounting and Commerce.
When the group graduated, the Manchester campus didn't yet exist. They earned their degrees above a grocery store in downtown Manchester.
"I came here in '79 for the 10-year reunion, and there were buildings on the north side of River Road," Houtchens said. "There were 4 or 5 of them, all relatively looking alike."
Now, 40 years later, the campus has grown exponentially, encompassing 300 acres and more than 30 buildings. "This is overwhelming when you first see it," Houtchens said. More recently, an athletic stadium, a state-of-the-art facility to house the College of Engineering, Technology and Aeronautics and two new residence halls – Kingston and Monadnock – have been added to the map.
Alumni Awards
Each year, the Alumni Association hosts a reception to recognize several community members for their dedication to the SNHU community with the following awards:
Young Alumni Award
This year, the Young Alumni Award went to Barbori Streibl '16G for her efforts in online engagement. Living in Canada, she leads Global Days of Service projects, hosts webinars and continuously encourages others to get involved.
"I'd like to thank SNHU for all their help and time and for continuing to create these opportunities as well, (and) to be creative and innovative in thinking of ways to engage with alumni who are located in different geographical areas, and I really enjoy being a part of that," Streibl said.
Distinguished Service Awards
While the two recipients of the 2019 Distinguished Service Award hail from campus, they remain engaged in two very different ways. Dr. Heather Lorenz '98G, vice president of Student Affairs and Dean of Students, was celebrated for her ongoing commitment to SNHU campus students over the last 23 years.
"SNHU has given me so much as a professional, and this is really where my whole career has been," she said. "... I love coming to work every day, and it's really kind of humbling to be recognized."
Wade Philbrick '85 might have moved to Los Angeles for work, but he hasn't forgotten his SNHU roots. He plays a crucial role in establishing the SNHU community in Southern California.
"We're doing it one graduate at a time. We try to vary our events around Southern California… hoping to drive someone's passions, someone's interests," Philbrick said.
From planning social meetups to service projects, Philbrick's dedication built a student engagement model 3,000 miles away from campus.
"That university pride is there, so now we just have to find a way to harness that pride and get them actively involved on an ongoing basis," he said. "We're going to do that, and (then) what we're going to do is make Southern California a learning lab, and we're going to take what we're learning and drive it across the rest of the United States."
Alumni Hall of Fame Award
Last year, Laurie Chandler '89MBA and her husband, Clark, made a generous gift to the community and civic engagement office on campus, now named The Chandler Center. She's achieved great success in the world of finance and has served on many organizational boards, including SNHU's Board of Trustees.
This year, Chandler was honored with the Alumni Hall of Fame Award for her legacy of service to the university.
"I'm humbled and overwhelmed by this," she said. "... I have to say, it's easy to give back when all that you've received is what got you to where you are, and this university has not only given me my education, but it's given me my values."
A History of Giving Back
Service was a common theme for Homecoming Weekend as people expressed their desire to give back and help others.
Service Projects
Caylin Vites and Chloe Rich, student workers in The Chandler Center, coordinated a community project to benefit the Pass Along Project, a nonprofit that donates clothes to foster families to help offset the cost of taking in a foster child.
A Homecoming tradition, Rich thinks the appeal of the service projects such as this is the feeling of impact. "People just like the way that they feel, knowing that they're doing good and knowing that they're helping and giving back to the community," she said.
While not everyone can afford to make a financial donation to help their community, Rich said they can still make a difference by giving their time to a service project.
Golfing to Support Scholarships
More than 100 golfers teed off Homecoming Weekend with a tournament to benefit the Alumni Leadership Scholarship. Raising more than $29,000 this year, the annual Alumni, Family and Friends Golf Tournament provides financial support to students who exhibit qualities such as leadership skills, academic success, and student involvement.
Tiffany Mikles, an AS in Business Administration student from Kentucky, and Latricia Maddox, a BS in Business Studies student from Georgia, were two of the 2019 scholarship recipients.
Volunteering Time
It takes a lot of power to ensure all the Homecoming activities run smoothly, and thanks to 50 volunteers who devoted their time to others this weekend, they did.
This year is the fifth time online MS in Organizational Leadership student James O'Brien '16 '18G volunteered with Homecoming. Traveling from Keene, New Hampshire, O'Brien jumped from station to station to ensure everyone was having a good time.
From monitoring the children's bounce house to running check-in at the Ultimate Frisbee Tournament, O'Brien comes back each year to see staff and colleagues he met over the years. "It's just fun to reconnect with everyone," he said.
It's also an opportunity to take his student involvement to the next level, sharing his knowledge of campus with others visiting for the first time.
For alumnus Travis Coley '18, who completed his online BS in Sport Management degree, this year's Homecoming was his first time setting foot on the SNHU campus. "To actually be here is a great experience," he said.
He flew in from Rochester, New York, and saw his daylong volunteer experience as a way to give back to the SNHU community and meet new people, too. "Hopefully, I can make some connections that stay with me throughout my life," Coley said.
Celebrations Beyond Campus
Some volunteers brought Homecoming far beyond its Manchester campus, taking on the role of coordinator for regional meetups. Seven socials spanning the country – Southern California, Phoenix, Dallas/Fort Worth, San Antonio, Atlanta, Hartford and Boston – gave students and alumni a chance to celebrate closer to their homes.
Boston, Massachusetts
When Michael Gillespie '18G moved to Boston for work as a financial planner, he didn't know a lot of people, but he knew the city had to have a large alumni population. So, he reached out to Alli Pudvah '16, assistant director of Alumni Engagement, to see if they could find it.
"I said, hey, I'd love to get involved. I'm very outgoing. I love meeting new people. I love building relationships. Let's see if we can do something in the Boston area," Gillespie said.
Unknowingly, the brewery he planned a meetup at had SNHU alumnus, Steven Hearn '13G, on staff. "We were welcomed with… lots of love," Gillespie said. "It was really good."
Several people came to the event knowing no one, Gillespie included, they left with each other's contact information and new friends.
"The more we can do and the more people we can get involved, I'm thinking we could really establish an awesome network down here," Gillespie said.
Dallas/Fort Worth, Texas
Online MBA student, Lydia Alonci '18, loves to throw parties, so she decided to throw one for the SNHU community living near Dallas/Fort Worth for Homecoming.
"I am completely grateful for all the time and support spent on me (at SNHU)," she said. "Because of all that, and my passion to help other(s) reach their goals, I try to stay as connected as possible to my SNHU community, both locally and abroad."
In support of Hot Dogs & Hope, an alumna-affiliated nonprofit that serves the homeless population in Fort Worth, the meetup combined happy hour with community service. In exchange for a personal hygiene donation, attendees received a raffle ticket for SNHU swag.
"I think it is awesome and revolutionary that an online college has initiated this much connection amongst its students," Alonci said. "The community they've built is truly impressive."
Hartford, Connecticut
Jess Camera '18 coordinated a bowling night near her home in Hartford, Connecticut, bringing 24 community members in the area together. As a former campus student, she'd like to find common ties between her home at SNHU and her home in Hartford. "Connecting with the SNHU community in Hartford is important to me because Hartford is now a place I consider home," she said.
"I also think it's really important to be able to connect with student(s) and alumni from SNHU because it shows them (that) SNHU still cares about us and wants to continue to be in our lives.
By the end of the social, Camera had people asking her when the next event in Connecticut would be.
Phoenix, Arizona
Kurt Tautenhan, the assistant director of Academic Alliances at SNHU, has worked remotely in Phoenix for the last four years, so coordinated a Homecoming event in Arizona to connect with other SNHU community members in the area.
He planned a fall activity with a southwestern flair. Online students, alumni and their families spent an evening meeting one another at a Pumpkin Chili Party, sharing conversation and roasted marshmallows over a bonfire.
"We have a lot of SNHU folks in the Arizona area, and I thought it would be an excellent opportunity to bring us all together," Tautenhan said. "I love being able to still have an impact as a remote employee."
Virtual Events
For those who couldn't attend the campus or regional celebrations, a host of virtual options were available. "Feeling a connection is so important, especially for a student who lives many miles away, so being able to participate in events virtually or in their area is an amazing opportunity for them," Mandy Seibel, associate director of Online Engagement, said.
They could participate in a book club discussion via Facebook and sponsor a bundle of clothes to support the service project on campus. If they wanted to tune into the celebrations on campus, they could even watch a live stream of the alumni reception and men's and women's soccer games, or take a virtual tour of the campus to learn the stories behind the names of nine buildings and offices.
Joining the 40 runners from the Homecoming 5K Run/Walk on campus, 150 people in 38 states and in countries as far away as Saudi Arabia, South Korea, Belize and Russia downloaded bibs intending to run in their area.
A Weekend to Celebrate
Regardless of geographical location or stage in life, Homecoming Weekend allowed the SNHU community an opportunity to come together and have fun connecting and reconnecting with other Penmen.
"I think Homecoming is celebrating the SNHU spirit, legacy and community," Colleen Lubin, associate director of Student Involvement and Homecoming co-chair said. "It encompasses everyone that makes the entire community special: online students, campus students, faculty, staff, alumni and families."
Rebecca LeBoeuf '18 is a staff writer at Southern New Hampshire University. Connect with her on LinkedIn.
Explore more content like this article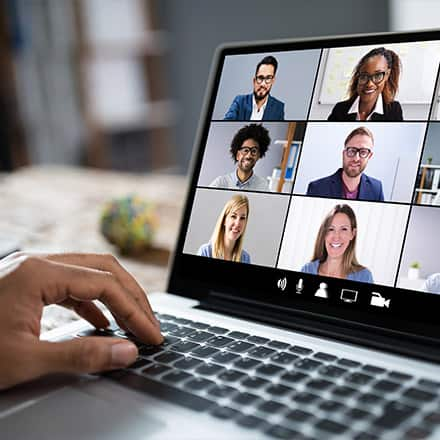 February 17, 2021
Thousands of SNHU educators from various disciplines virtually convened for the university's second annual Gather Conference. The three-day conference focused on online instruction approaches and other developmental opportunities.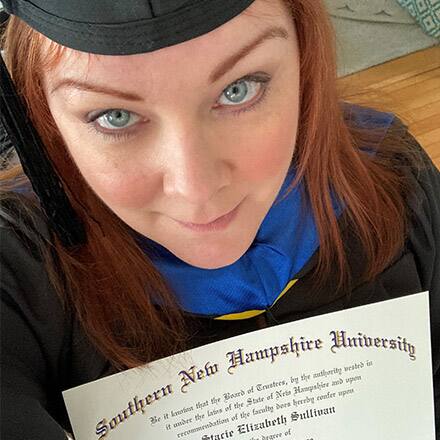 September 08, 2020
For years, Stacie Sullivan '19 felt stuck in her career, sensing her opportunities to advance were limited. After a series of challenging life events, Sullivan enrolled in the BS in Health Information Management program at SNHU.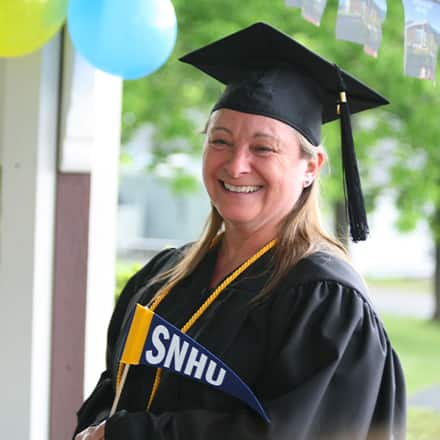 August 03, 2020
When SNHU's Commencement was postponed, Dr. Gwen Britton decided she would arrange a special ceremony for her longtime friend who had earned her bachelor's in information technology.