Summer Reading 2020: What Our Writers are Reading
If there's one thing we know about writers, it's that they're always reading. Who better to ask for summer reading recommendations? We tapped some of the talented writers among SNHU's community of academics, students and alumni to offer suggestions for great summer reading – or just what they're looking forward to cracking open themselves. Here's what they had to say.
Jo Knowles
Adjunct Instructor and Author of "Where the Heart Is"
A quick but memorable read I was recently moved by is "The Hard Tomorrow" by Eleanor Davis. It's a timely look at our troubled country, and how hope and fear are messily entwined, shaping how we often struggle to function in our daily lives, while daring to want more for ourselves, our country, and the planet.
Jacob Powers
Associate Dean of Liberal Arts
I highly recommend Ibram X. Kendi's "How to Be an Antiracist," which argues that "there is no neutrality in the racism struggle. The opposite of "racist" isn't "not racist." It is "anti-racist." To truly fight racism, one must be proactive in identifying and describing racist policies, thoughts, and actions. Only then can we as a collective begin to dismantle them. Part auto-biography, part history, part sociology, and part ethics, "How to Be an Antiracist" is a captivating and enlightening book that every American should read. And, if you have the time, I recommend picking up Kendi's other book, "Stamped From the Beginning: The Definitive History of Racist Ideas in America," which threads the narrative of racist policy from the founding of this country to our present moment.
I also recommend reading Daniel Immerwahr's "How to Hide an Empire: A History of the Greater United States." We often do not describe our country as an empire, but Immerwahr's book gives a detailed and revealing history that is hard to put down. The first part tells the stories of our colonization of territories in a pre-World War II era, across continent and ocean, laying bare objective and circumstance; the second part focuses on the country's postwar movement from the larger territorial colonization towards a pointillist empire, where millions of U.S citizens aren't treated as such, to this day. A fast-paced, engrossing narrative, the book is sure to surprise many Americans of a history that is often forgotten, revised or ignored, intentionally or not.
Michael Garrigan '19G
MA in English & Creative Writing
Two books I would highly recommend everyone to pick up and read this summer are "One Long River of Song" by Brian Doyle and "Thieve" by Joe Wilkins. "One Long River of Song (Notes on Wonder)" is a collection of essays by the incredible writer and person Brian Doyle. This is the perfect book to always have with you, to just pick up and randomly turn to a page and read. You will enter Doyle's world of lyrical beauty, of long meandering thoughts and stories that tie you to a stronger sense of what it means to live and love a life. We need Brian Doyle's writing right now.
"Thieve" is the newest collection of poetry from Joe Wilkins. In it, Wilkins explores the lives and landscapes of rural Montana and Oregon and the issues surrounding the deep ecological, cultural and political divides that exist in our country. Through Wilkins' compassionate and nuanced writing we grow into a fuller understanding of each other, we become better equipped to give mercy when it is needed. These poems help build deeper connections with actual human life, and it is through these actual, direct connections that we become neighbors and old friends. Both of these books speak to the need for love, mercy, compassion, empathy – that deep connection to people and place – that the world needs right now.
Dawn Langley
Adjunct Instructor
I'll tell you what's on my bedside stand that I hope to crack soon: Gish Jen's "The Resisters." It's a book that was released at the very beginning of the pandemic, and as a dystopian novel, it really fits the world we currently inhabit. I'm looking forward to exploring the world Jen has built. The book has received kudos and unbelievable reviews, and since I know Jen through the Boston writing community (I grew up in Boston), I'm interested to see what she's come up with and how she has created a world that's unique and fascinating.
Christopher Sullivan
Adjunct Instructor
Here are my two picks: Stephen King, "On Writing: A Memoir of the Craft." I love, love, love this book. Although it is 20 years old, it is timeless. It offers incredible insight into King's psyche and his approach to writing. Very inspiring!
Dan Brown, "The Da Vinci Code." This book is well worth a summer read! Brown balances wonderful imagery, dialogue, and tension throughout this classic suspense novel. Outstanding!
Marjorie Lewis '16MFA
"House of Stone" by Novuyo Rosa Tshuma – I'm reading books written by women I've had the pleasure of presenting with at book festivals over the last two years. "House of Stone" is a fictional account based on turmoil in modern Zimbabwe, a nation seeking identity amid persistent oppression.
"Sugar Run" by Mesha Maren – Set in rural West Virginia, "Sugar Run" is a novel about a woman newly released from prison who falls in love with a troubled young mother and together they encounter the difficulties of starting over.
"The Last Year of the War" by Susan Meissner – "The Last Year of the War" is historical fiction of the life of a teenage girl from Iowa whose father, a German immigrant and American citizen of two decades, is arrested under suspicion of being a Nazi sympathizer. The family is uprooted and sent to an internment camp.
Jennifer Loring
Adjunct Instructor
A book I'm looking forward to finally reading in full is "Invisible Chains" by Michelle Renee Lane, published by Haverhill House Publishing. I had the privilege of attending grad school with Michelle and was one of her critique partners for several semesters, so I was able to see this book in its formative stages. I think "Invisible Chains" is important as a slave narrative and as a work of horror fiction by a black author. And who doesn't love a good vampire story?
Marcella Prokop
Adjunct Instructor
There are many books to recommend for summer reading, but two that seem crucial to me for the summer of 2020 are non-fiction. The first is "Writing to Change the World" by Mary Pipher. Whether I'm teaching Composition I, II or a creative writing class, I know my students are all capable of changing the world through their writing. As Pipher says in this book, "Good writing enlarges readers' knowledge of the world, or empowers readers to act for the common good, or even inspires other good writing. We all understand the world from our own point of view, our own frames of reference, that allow us to make sense of what our senses take in. Writers help readers construct larger, more expansive frames of references so that more of the world can be accurately perceived."
I think we need more writers doing this kind of work, so I'd love for others to pick up this book and apply some of Pipher's suggestions and insights to their writing.
The other book I'm eager to read but haven't started yet is "How to Be an Anti-Racist," by Ibram X. Kendi. I think he's done exactly what it is that Pipher talks about in her book: He's helping enlarge people's frames of reference and asking them to reflect on what they see and how they act when it comes to racial justice.
Angelina Oberdan
Adjunct Instructor
"The Remains of the Day" by Kazuo Ishiguro has been on my shelf for years, and a friend encouraged me to pick it up recently. Focusing on the butler of an English estate, Mr. Stevens, the novel is lovely in the way "Downton Abbey" is: the sprawl of the English countryside, the decorum of the British class system, the drama of the lives in an upstairs/downstairs manor. In many ways, Mr. Stevens is a man who carefully constructed his life to fit the rules of his station and who is slowly destroyed as those rules change. The tone lends itself to a summer read, but for the more literary, it also subverts some usual fiction constructs. This summer, as our world and our perspectives are so quickly changing because of coronavirus and the murder of George Floyd, there is some comfort and wisdom in Ishiguro's portrayal of Mr. Stevens.
Alexandra Lazar '20MFA
I just completed my MFA in Creative Writing, which means in the last few months, I finished my thesis novel and wrapped up my final courses. As thrilling as it is, it's also quite stressful. Compounded with a worldwide pandemic and multiple social justice crises – well, let's just say I'm not feeling my calmest. When my stress goes up, it can be difficult to concentrate on reading. That's when I reach for my favorite books from my childhood and teen years. Right now, I'm re-reading the "Kingdom Keepers" series by Ridley Pearson: a middle-grade series about a group of teenagers who protect the Disney parks from villains known as the Overtakers. If you're feeling overwhelmed, too, try picking up whatever book gives you a warm, fuzzy dose of nostalgia. (Just be prepared to tell the analytical, time-to-write-a-discussion-post part of your brain to quiet down and let you enjoy it.)
The Black Lives Matter movement has brought attention to many aspects of systemic racism, including disparities in the publishing industry. In addition to protesting, signing petitions, and donating, there's a very fun way to support the movement, especially for those in the YA literary community: supporting black authors! The next two books waiting on my shelf are "Tristan Strong Punches a Hole in the Sky" by Kwame Mbalia, and "Shuri: A Black Panther Novel" by Nic Stone. The former is a middle-grade fantasy published by Rick Riordan Presents (which means it's sure to be enjoyed by fans of mythology and Percy Jackson) and the latter is a middle-grade novel about the tech-genius princess of Wakanda, who happens to be my favorite character in "Black Panther." I can't wait to read them!
E.M. Franciso
BA in Creative Writing & English
My recommendation for a summer read would have to be "Fangirl" by Rainbow Rowell. In addition to being one of my all-time favorite books, it's light and funny, so it's the perfect read for summer, especially in such dreary times! The story follows Cath, a college freshman and world-famous fanfiction author, and how she learns to come out of her shell and come to terms with growing up and growing apart while still learning to stay together. It's a beautiful story about love and acceptance of yourself and others, in addition to being a love letter to fandoms, and I highly recommend it to anyone who loves the culture of fandoms.
David Moloney '17MFA
Mountainview Low-Residency MFA in Fiction
For summer reading, I recommend "Godshot" by Chelsea Bieker. The novel is about a cult in Peaches, California. It is gross and funny, sad but hopeful. It follows Lacey May as she tries to track down her mother. I read this book in two days. The writing is addictive.
I also recommend the literary thriller "Before Familiar Woods" by Ian Pisarcik. A father returns from Iraq and finds his world much different than when he left. The book is about what it means to be a parent. It feels like a quiet book, but much is happening between words. Both of my summer reads books are about the relationships between children in parents and how to deal with moving on.
Destiny Rinder
I'm looking forward to rereading Gavin de Becker's #1 bestseller, "The Gift of Fear." It's an eye-opening, self-help book that teaches readers how to identify when their fear is warranted and how to use underrated survival instincts to their advantage. I found the book incredibly relevant and captivating, and I appreciated the real-world examples in the text. It really changes the way you think! As the author puts it, "This book can save your life."
Amanda Rabadeux '18G
MA in English and Creative Writing
This year has been one for the history books, and while it could be easy to let thoughts get weighed down by the gravity that is 2020, Ross Gay's collection of essayettes in "The Book of Delights" is a snap from this heavy reality into another – a joyful one. The concept for Gay's book came to him one July: write an essay about something delightful each day for one year. And so he did, and in doing so Gay takes the reader by the hand and slows down time. He shows us the delight in the simplest of human connections in airports and on street sides. He shows us the delight in worshipping lilies and nurturing fig trees (even if the way he waters them may be unconventional at times).
Gay shows us the delight in stopping to notice the details of existence which are all around us. He says of writing this book that he developed a "delight radar…the more you study delight, the more delight there is to study." Gay helps us hone our own delight radar, and he does so through the lens of poet, gardener, music lover, dreamer and black man living in modern America. While he doesn't shy away from his unpleasant experiences which show that many in our country still have much growth to do, he reminds us just how magical the process of growing can be. No book could be more relevant right now than Ross Gay's "The Book of Delights."
Nadia Owusu '17MFA
Mountainview Low-Residency MFA in Nonfiction
I would recommend "Real Life" by Brandon Taylor. It's a sophisticated campus novel peopled by characters who feel very real. Taylor's protagonist, Wallace, is a black, queer man – a demographic rarely found in campus novels. Wallace is often at odds with his university, and particularly the biochem department, just by nature of who he is. There are slights and humiliations. Throughout, Wallace asks himself that question so central to coming of age: Is this my real life? The answers, for Wallace, are complex – the stuff of a great novel.
Joe Cote is a staff writer at Southern New Hampshire University. Follow him on Twitter @JoeCo2323.
Explore more content like this article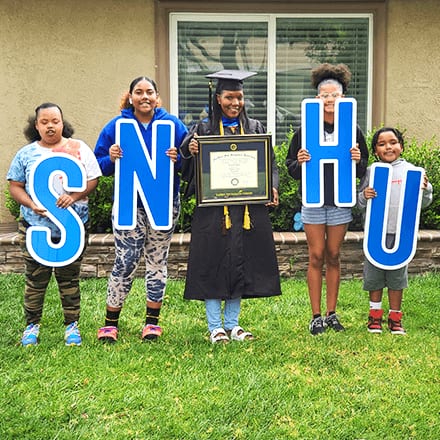 July 12, 2021
Latisha Aguilar '21 has always wanted to be a voice for special needs students and advocate for them. With the goal of becoming a middle school guidance counselor, she said finishing her psychology degree later in life allowed her more time to figure out what she wanted to do with her education.
July 01, 2021
Interested in starting a new job or advancing in your current field? An Associate of Arts (AA) degree can give you the broad-based education and in-demand career skills you need to reach your goals. Learn more about earning an AA degree and what you can do with one.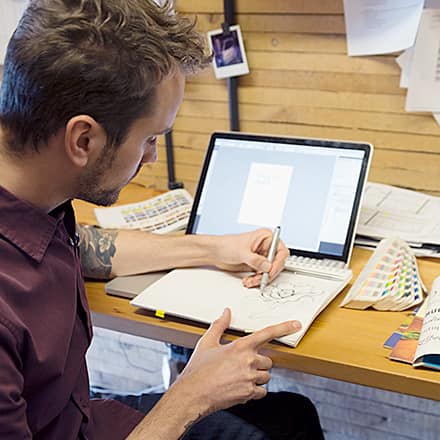 June 24, 2021
Learning how to create a graphic design portfolio is an important step toward preparing to find work as a graphic designer. Learn the best portfolio building tips from experienced graphic designers.