Gain Financial and Accounting Expertise with a Business and Accounting Major
Accounting is one of the nation's fastest-growing professions. Learn how to solve business challenges by helping organizations manage their finances when you pursue a Bachelor of Science in Business Administration with a concentration in Accounting.
Businesses recognize employees who have sound financial, accounting and management knowledge as well as language and computer skills. Professionals with adequate accounting knowledge work with middle and upper management and in public accounting, where complex financial transactions are analyzed and reported. The accounting concentration is ideal for students who wish to supplement their business administration major with specialized accounting skills.
See Yourself Succeed in Accounting
At Southern New Hampshire University, you'll take core courses that provide a well-rounded business administration foundation and dive deeper into specific disciplines to enhance your skill sets, preparing you for a variety of positions in accounting.
As a private, nonprofit university, SNHU has one mission - to help you see yourself succeed. The benefits of majoring in business administration at SNHU include:
Supportive community. Join the SNHU campus community of students who are closely connected with faculty and staff dedicated to your success.
Affordability. It's our mission to make higher education more accessible. That's why, SNHU is one of the most affordable private, nonprofit universities in New Hampshire.
Innovative programs. Study abroad at little or no extra cost.
Accessible faculty. Learn from highly credentialed faculty members who are experts in their fields and interact with you in the classroom, dining hall, fitness center, and anywhere else you need them.
Opportunity. Tap into our nationwide network of alumni and strong connections with employers for internship and career opportunities.
Campus experience. Enjoy more than 50 student clubs, Division II athletics, and fun events on our 300-acre campus in Manchester, N.H., named a "Best Place to Live" by Money magazine.
​Internships & Outcomes
With your specialized business administration degree from SNHU, you're in a great position to begin a career in public accounting and private industry. SNHU faculty, alumni and our career development staff can help connect you with experiential learning opportunities that prepare you to enter the business world.
A business administration degree with a concentration in accounting from SNHU will help prepare you to pursue a wide variety of business and accounting-related careers. According to the U.S. Bureau of Labor Statistics, employment in accounting and auditing is expected to grow 10% by 2026.*
Curriculum
The business and accounting degree curriculum provides both an accounting and general business course of study. With the accounting concentration, you'll develop knowledge and skills in financial accounting practices, complete the accounting cycle, prepare complex financial statements, identify and correct financial reporting issues, create budgets, and conduct ratio analyses to assess financial information.
Courses To Prepare You For Your Career
SNHU's bachelor's in accounting program includes:
General education
Business core
Degree-specific courses
General Education Program
Our programs are designed to equip you with the skills and insights you need to move forward. In recent years, employers have stressed the need for graduates with higher order skills - the skills that go beyond technical knowledge - such as:
Writing
Communication
Analysis
Problem solving
All undergraduate students are required to take general education classes. Through foundation, exploration and integration courses, students learn to think critically, creatively and collaboratively, giving you the edge employers are looking for.
Business Core Program
Programs in the School of Business require learners to complete the business core program, which includes a variety of business-specific courses. This program focuses on 10 core competencies to prepare you for success wherever you go.
List of Courses
Courses May Include
BS in Business Administration Accounting
ACC 215
Fundamentals of Financial Accounting
This course is designed to give students an introduction to financial accounting and reporting techniques and concepts including an overview of the accounting cycle, financial statements and ethical responsibilities of accountants in business.
ACC 207
Cost Accounting
Examine the accounting concepts and practices used in the recording, classifying, and reporting of cost data. Analyze the behavior of costs and its use to management in the planning and control process. Examine budgeting, standard cost, job order and process, along with special problems in cost accounting.
ACC 307
Intermediate Accounting I
Review introductory concepts including the accounting cycle, journal and adjusting entries. Learn to address more intricate accounting scenarios such as recording more complex financial statement elements. Apply theoretical frameworks and various accounting standards and regulations to the proper preparation of financial statements.
ACC 308
Intermediate Accounting II
Apply accounting rules and methodologies for increasingly complex transactions and elements to create more extensive financial statements. Assess a company's financial performance using appropriate ratio analysis to support informed decision making.
ACC 345
Financial Statement Analysis/ Business Valuation
Explore the theories, tools, and techniques used to perform fundamental valuations and analyze publicly traded companies. Evaluate a corporation's future prospects through the computation of free cash flows, interpretation of notes to financial statements, and the integration of information provided in various SEC filings.
Total Credits: 120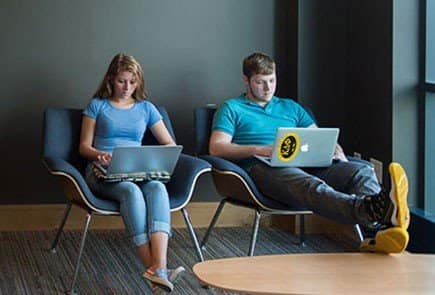 Our Manchester campus aims to keep tuition and related costs low for our students so that you can pursue your degree and your goals.
This program and its concentrations are accredited by the Accreditation Council for Business Schools and Programs (ACBSP). Student achievement data can be found on College Navigator.