Make Data Science Your Business with a Business Analytics Major from SNHU
In the information age, data changes everything. Businesses now gain a competitive edge by generating and collecting massive amounts of data on a daily basis - and that amount continues to grow at an exponential rate. The ability to correctly analyze this data and apply the resulting conclusions to real-world business strategies is a highly sought-after skill.
A Bachelor of Science in Business Administration with a concentration in Business Analytics from Southern New Hampshire University will build the skills you need to help businesses grow and compete in a data-driven world. The SNHU faculty will work closely with you to ensure that you have every opportunity for experiential learning. With classes taught by expert professors who care about the success of their students, this business analytics program will position you for a long and fruitful business career.
See Yourself Succeed in Business Analytics
Southern New Hampshire University's Bachelor of Science in Business Administration with a concentration in Business Analytics program combines core business concepts with data analytics - empowering you to find, create and analyze data that can influence stronger organizational outcomes. As the need for skilled and experienced analysts grows, the knowledge you gain in the classroom and experience you gain outside of it will make you a prime candidate for post-graduation employment.
As a private, nonprofit university, SNHU has one mission - to help you see yourself succeed. The benefits of majoring in business administration include:
Supportive community. Join the SNHU campus community of students who are closely connected with faculty and staff dedicated to your success.
Affordability. It's our mission to make higher education more accessible. That's why, SNHU is one of the most affordable private, nonprofit universities in New Hampshire.
Innovative programs. Study abroad at little or no extra cost.
Accessible faculty. Learn from highly credentialed faculty members who are experts in their fields and interact with you in the classroom, dining hall, fitness center, and anywhere else you need them.
Opportunity. Tap into our nationwide network of alumni and strong connections with employers for internship and career opportunities.
Campus experience. Enjoy more than 50 student clubs, Division II athletics, and fun events on our 300-acre campus in Manchester, N.H., named a "Best Place to Live" by Money magazine.
​Internships & Outcomes
SNHU's career services teams will help guide you through graduation and beyond. We also offer access to experiential learning opportunities such as workshops, internships and other great resume-builders that employers want to see.
Graduates with a background in business analytics have a wide variety of potential employment options open to them. Companies often seek business analytics majors in diverse fields such as:
Analytics consulting
Business intelligence
Business strategy
Data analytics
Data mining
Management consulting
Optimization consulting
Predictive analysis
Statistical analysis
Many of these jobs are projected to grow faster than the national average, according to the U.S. Bureau of Labor Statistics. Prospects for management consultants, for example, are predicted to climb 14% through 2026.*
Curriculum
Your courses at SNHU will provide you with the knowledge base you need to analyze data and predict business outcomes. The faculty members at SNHU are experts in their fields, and they will teach you to put what you have learned into practice.
Courses To Prepare You For Your Career
SNHU's bachelor's in business analytics program includes:
General education
Business core
Degree-specific courses
General Education Program
Our programs are designed to equip you with the skills and insights you need to move forward. In recent years, employers have stressed the need for graduates with higher order skills - the skills that go beyond technical knowledge - such as:
Writing
Communication
Analysis
Problem solving
All undergraduate students are required to take general education classes. Through foundation, exploration and integration courses, students learn to think critically, creatively and collaboratively, giving you the edge employers are looking for.
Business Core Program
Programs in the School of Business require learners to complete the business core program, which includes a variety of business-specific courses. This program focuses on 10 core competencies to prepare you for success wherever you go.
List of Courses
Courses May Include
BS in Business Administration Business Analytics
QSO 250
Business Analytics
This course will provide you with the fundamental concepts and tools needed to understand the emerging role of business analytics in organizations. You will learn how to apply basic business analytics tools in a spreadsheet environment, and how to communicate with analytics professionals to effectively use and interpret analytic models and results for making better business decisions.
QSO 260
Descriptive Analytics
You will learn how to analyze historical business data to uncover relationships that can be used to guide predictions about the future and business decision making. JMP statistical and data visualization software will be used to apply tools for analyzing business data.
QSO 320
Management Science through Spreadsheets
Apply management science techniques to analyze data to inform business decisions that align to strategic organizational objectives.
QSO 370
Predictive Analytics
This course introduces the techniques of predictive modeling and analytics in a data - rich business environment in order to predict future business outcomes and associated risks. It covers multivariate and other techniques to implement predictive models for a variety of practical business applications.
Total Credits: 120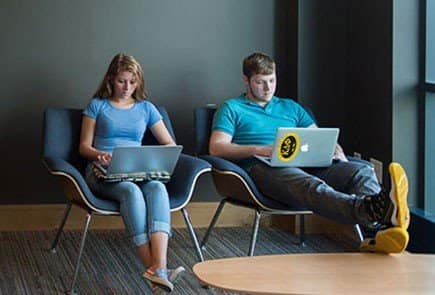 Our Manchester campus aims to keep tuition and related costs low for our students so that you can pursue your degree and your goals.
This program and its concentrations are accredited by the Accreditation Council for Business Schools and Programs (ACBSP). Student achievement data can be found on College Navigator.