Manage Technology for Organizational Efficiency with a Business and MIS Major
Most businesses depend on technology, and knowing which systems to invest in and how to use them effectively is key in this fast-paced, competitive landscape. When you pursue a Bachelor of Science in Business Administration with a concentration in Management Information Systems, you can learn how to analyze and communicate information system solutions that optimize business operations.
See Yourself Succeed in Management Information Technology
At Southern New Hampshire University, you'll take core courses that provide a well-rounded business administration foundation and dive deeper into specific disciplines to enhance your skill sets, preparing you for a variety of positions in management information systems.
As a private, nonprofit university, SNHU has one mission - to help you see yourself succeed. The benefits of majoring in business administration at SNHU include:
Supportive community. Join the SNHU campus community of students who are closely connected with faculty and staff dedicated to your success.
Affordability. It's our mission to make higher education more accessible. That's why, SNHU is one of the most affordable private, nonprofit universities in New Hampshire.
Innovative programs. Study abroad at little or no extra cost.
Accessible faculty. Learn from highly credentialed faculty members who are experts in their fields and interact with you in the classroom, dining hall, fitness center, and anywhere else you need them.
Opportunity. Tap into our nationwide network of alumni and strong connections with employers for internship and career opportunities.
Campus experience. Enjoy more than 50 student clubs, Division II athletics, and fun events on our 300-acre campus in Manchester, N.H., named a "Best Place to Live" by Money magazine.
Internships & Outcomes
With your specialized business administration degree from SNHU, you're in a great position to begin an internship or career in management information systems. SNHU faculty, alumni and our career development staff can help connect you with experiential learning opportunities that prepare you to enter the business world.
Getting a business administration degree with a concentration in MIS from SNHU will help prepare you to pursue a wide variety of business and MIS-related careers. According to the U.S. Bureau of Labor Statistics, employment of computer and information managers is projected to grow 12% by 2026 with computer systems analysts jobs projected to grow 9% in the same time period.*
Curriculum
The Bachelor of Science in Business Administration with a concentration in Management Information Systems teaches students how to improve business operations using information systems. You'll gain knowledge in the areas such as client systems and support, structured query language, data and information management, and business intelligence and reporting.
Courses To Prepare You For Your Career
SNHU's bachelor's in management information systems program includes:
General education
Business core
Degree-specific courses
General Education Program
Our programs are designed to equip you with the skills and insights you need to move forward. In recent years, employers have stressed the need for graduates with higher order skills - the skills that go beyond technical knowledge - such as:
Writing
Communication
Analysis
Problem solving
All undergraduate students are required to take general education classes. Through foundation, exploration and integration courses, students learn to think critically, creatively and collaboratively, giving you the edge employers are looking for.
Business Core Program
Programs in the School of Business require learners to complete the business core program, which includes a variety of business-specific courses. This program focuses on 10 core competencies to prepare you for success wherever you go.
List of Courses
Courses May Include
BS in Business Administration Management Information Systems
CIS 255
Applied Data Structure and Database
This course reviews the data structure concepts such as link lists, stack and queues, binary trees, graph representation and traversals, sorting, and hashing. The course is also an introduction to the basic principles and practices underlying the analysis, design, and implementation of the database, as they are used in the contemporary business environment. Students will learn the major approaches used in designing database applications. Students will also learn the details of the logical and physical design techniques of data modeling. The course has an extensive hands-on technical component using Structured Query Language (SQL).
CIS 315
Information System Requirements and Design
This course focuses on software engineering principles and practices underlying the analysis, design, implementation and management of computer-based information systems. The course involves use of the unified modeling language (UML) and Agile (SCRUM) methodology, through the vehicle of a student group project, applying various elements to the system development life cycle. This course is writing and lab intensive, as project teams are required to submit a comprehensive project, with report and presentation.
CIS 335
Business Systems Applications
This course covers a variety of business types and the appropriate information systems to help run them. Students will demonstrate an ability to identify and model a business process with the goal of improving the process with a business system application. Examples include systems to assist in customer relationship management (CRM), enterprise resource planning (ERP), helpdesk management, payroll, accounting, decision-making, supply chain management, and other business functions. The course also covers the pros and cons of various means of acquiring information systems, for example using cloud services, purchasing software, using public domain software, building software in-house, and integrating multiple business applications into a whole. Students will gain hands-on experience with several business system applications, gain experience in proposing and justifying recommendations of information systems for particular businesses, and gain experience in quantifying the effectiveness of a business system applications.
CIS 355
Business Intelligence Applications
This course introduces concepts in business intelligence and explores how business intelligence (BI) applications can help improve management effectiveness through better decision-making in various scenarios. The benefits of BI and appropriate applications are discussed. Students use current BI tools to develop realistic solutions and gain hands-on experience. Current trends are discussed, as is the growing role of big data.
CIS 410
Enterprise Systems
Enterprise Systems are now essential infrastructure to organizations of all sizes, as well as they remove the need to have individual business systems within functional departments. This course examines the implementation process of enterprise systems and how these systems fit into business operations. Functionalities of enterprise systems will be presented and analyzed, including enterprise resource planning (ERP) systems, customer relationship management (CRM) systems, and supply chain management (SCM) systems. Topics covered include business processes, implementation tools and methodology, project planning, enterprise systems integration, vendor/product selection and web services.
Total Credits: 120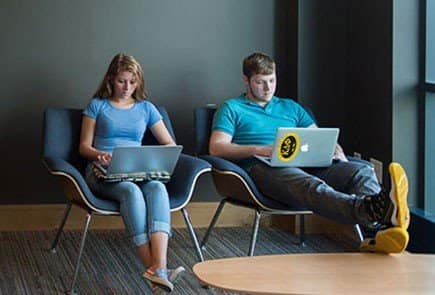 Our Manchester campus aims to keep tuition and related costs low for our students so that you can pursue your degree and your goals.
*Bureau of Labor Statistics, U.S. Department of Labor, Occupational Outlook Handbook, on the Internet, at https://www.bls.gov/ooh/management/computer-and-information-systems-managers.htm and https://www.bls.gov/ooh/computer-and-information-technology/computer-systems-analysts.htm (viewed online April 9, 2018). Cited projections may not reflect local and/or short-term economic or job conditions and do not guarantee actual job growth.