Learn How to Reach New Audiences as a Business and Marketing Major
Marketing is the driving force of business and organizational success. When you pursue a Bachelor of Science in Business Administration with a concentration in Marketing, you'll learn how to implement innovative marketing and business strategies that grow companies. Earning a marketing-focused business degree can help prepare you for a variety of careers in the dynamic, creative, results-oriented field of marketing.
See Yourself Succeed in Marketing
At Southern New Hampshire University, you'll take core courses that provide a well-rounded business administration foundation and dive deeper into specific disciplines to enhance your skill sets, preparing you for a variety of positions in marketing.
As a private, nonprofit university, SNHU has one mission - to help you see yourself succeed. The benefits of majoring in business administration at SNHU include:
Supportive community. Join the SNHU campus community of students who are closely connected with faculty and staff dedicated to your success.
Affordability. It's our mission to make higher education more accessible. That's why, SNHU is one of the most affordable private, nonprofit universities in New Hampshire.
Innovative programs. Study abroad at little or no extra cost.
Accessible faculty. Learn from highly credentialed faculty members who are experts in their fields and interact with you in the classroom, dining hall, fitness center, and anywhere else you need them.
Opportunity. Tap into our nationwide network of alumni and strong connections with employers for internship and career opportunities.
Campus experience. Enjoy more than 50 student clubs, Division II athletics, and fun events on our 300-acre campus in Manchester, N.H., named a "Best Place to Live" by Money magazine.
Internships & Outcomes
With your specialized business administration degree from SNHU, you'll be in a great position to begin an internship or career in marketing. SNHU faculty, alumni and our career development staff can help connect you with experiential learning opportunities that prepare you to enter the business world.
The U.S. Bureau of Labor Statistics reports various employment opportunities in marketing are expected to increase by 10% through 2026.* In 2016, about 34% of advertising and promotions managers worked for advertising and PR agencies.*
Curriculum
The Bachelor of Science in Business Administration with a concentration in Marketing curriculum provides students with the opportunity to concentrate on a specific area of business and the flexibility to tailor their degrees to meet their specific needs.
Courses To Prepare You For Your Career
SNHU's bachelor's in marketing program includes:
General education
Business core
Degree-specific courses
General Education Program
Our programs are designed to equip you with the skills and insights you need to move forward. In recent years, employers have stressed the need for graduates with higher order skills - the skills that go beyond technical knowledge - such as:
Writing
Communication
Analysis
Problem solving
All undergraduate students are required to take general education classes. Through foundation, exploration and integration courses, students learn to think critically, creatively and collaboratively, giving you the edge employers are looking for.
Business Core Program
Programs in the School of Business require learners to complete the business core program, which includes a variety of business-specific courses. This program focuses on 10 core competencies to prepare you for success wherever you go.
List of Courses
Courses May Include
BS in Business Administration Marketing
MKT 265
Social Media & Marketing Communications
This course is designed to give students an understanding of the concepts involved in integrated marketing communication (IMC) which includes a focus on social media and the role they play in advertising, public relations, branding, and corporate communication strategies. This course focuses on the planning, research and creative skills needed to reach promotional objectives.
MKT 337
Marketing Research
This course compares and contrasts secondary and primary research with emphasis on the latter. Students explore different types of primary research as well as the basic research methods. It focuses primarily on the survey.
MKT 345
Consumer Behavior
This course explores the behavior that consumers display in searching, purchasing, using,evaluating and disposing of products.
Total Credits: 120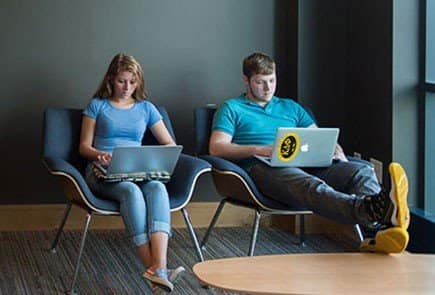 Our Manchester campus aims to keep tuition and related costs low for our students so that you can pursue your degree and your goals.
*Bureau of Labor Statistics, U.S. Department of Labor, Occupational Outlook Handbook, on the Internet, at https://www.bls.gov/ooh/management/advertising-promotions-and-marketing-managers.htm (viewed online April 9, 2018). Cited projections may not reflect local and/or short-term economic or job conditions and do not guarantee actual job growth.