Lead the Pack by Majoring in Business and Project Management
Pursuing a Bachelor of Science in Business Administration with a concentration in Project Management helps students develop the knowledge and skills needed to succeed in managing operations and projects within an organization. Students will learn how to plan, assess and implement organizational projects - all while adhering to business standards.
This degree is ideal for transfer students who want to maximize transferable college credits, switch to business from another discipline, or supplement an associate degree with an undergraduate degree in business.
See Yourself Succeed in Project Management
Learn about the business world from expert faculty who bring real-world experiences and business applications into the classroom. Develop your business knowledge, gain an international perspective and understand your social and ethical values. Use cutting-edge technology and hone your critical-thinking and problem-solving skills while learning to be an effective leader.
As a private, nonprofit university, SNHU has one mission - to help you see yourself succeed. The benefits of majoring in business administration include:
Supportive community. Join the SNHU campus community of students who are closely connected with faculty and staff dedicated to your success.
Affordability. It's our mission to make higher education more accessible. That's why, SNHU is one of the most affordable private, nonprofit universities in New Hampshire.
Innovative programs. Study abroad at little or no extra cost.
Accessible faculty. Learn from highly credentialed faculty members who are experts in their fields and interact with you in the classroom, dining hall, fitness center, and anywhere else you need them.
Opportunity. Tap into our nationwide network of alumni and strong connections with employers for internship and career opportunities.
Campus experience. Enjoy more than 50 student clubs, Division II athletics, and fun events on our 300-acre campus in Manchester, N.H., named a "Best Place to Live" by Money magazine.
​Internships & Outcomes
Put your course study into practice with internships that give you valuable hands-on business experience. SNHU faculty, alumni and our career development staff can help connect you with experiential learning opportunities that prepare you to enter the business world.
The Project Management Institute reported an average annual salary of $105,000 for project management jobs in 2017.*
Curriculum
This project management degree program will help students explore project management methodologies, practices, standards and tools to effectively create and complete organizational projects.
Courses To Prepare You For Your Career
SNHU's bachelor's in project management program includes:
General education
Business core
Degree-specific courses
General Education Program
Our programs are designed to equip you with the skills and insights you need to move forward. In recent years, employers have stressed the need for graduates with higher order skills - the skills that go beyond technical knowledge - such as:
Writing
Communication
Analysis
Problem solving
All undergraduate students are required to take general education classes. Through foundation, exploration and integration courses, students learn to think critically, creatively and collaboratively, giving you the edge employers are looking for.
Business Core Program
Programs in the School of Business require learners to complete the business core program, which includes a variety of business-specific courses. This program focuses on 10 core competencies to prepare you for success wherever you go.
List of Courses
Courses May Include
BS in Business Administration Project Management
QSO 340
Project Management
As modern organizations have become more complex, they have also become more project-driven. This course uses a basic project management framework in which the project life-cycle is broken into organizing, planning, monitoring and controlling the project. You will learn the methodologies and tools necessary at each stage for managing the projects effectively in terms of time, cost, quality, risk and resources.
QSO 349
Project Contracting and Procurement
This course addresses the process of acquiring products, resources, services, or results from outside the project team. How to plan procurement management, conduct procurements, control procurements, and close procurements is covered.
QSO 355
Resource Estimating and Scheduling
Project managers are responsible for keeping projects on time, on budget, and within scope. This course reviews the critical processes of activity definition, resource estimating, and scheduling.
QSO 420
Integrated Cost and Schedule Control
This course reviews cost and schedule control techniques that are integrated with project scope as well as overseeing a cost and schedule plan aligned to that scope. The importance of measuring a project's performance using Earned Value Management (EVM) is reviewed.
QSO 435
Adaptive Project Management
Adaptive project management recognizes the nature of changing business processes and goals and the need for iterative techniques to ensure business results are achieved. Agile frameworks including Scrum are reviewed.
Total Credits: 120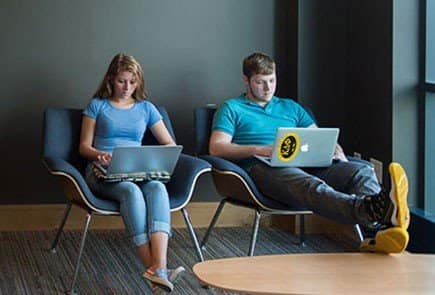 Our Manchester campus aims to keep tuition and related costs low for our students so that you can pursue your degree and your goals.
*Project Management Institute, Job Growth and Talent Gap 2017 – 2027, on the Internet, at https://www.pmi.org/-/media/pmi/documents/public/pdf/learning/job-growth-report.pdf (viewed online April 6, 2018). Cited projections may not reflect local and/or short-term economic or job conditions and do not guarantee actual job growth.