Step Up Your Game as a Sports Business Major
The business of sports is on the rise. The North American sports market is expected to grow to $75.7 billion by 2020.* And with that growth comes the need for well-trained professional managers. Majoring in business administration with a focus on sport management can help you set yourself up for success.
With SNHU's Bachelor of Science in Business Administration with a concentration in Sports Management, you can take your passion for sports and turn it into an exciting career with endless possibilities. This program is ideal for students who want to maximize transfer credits, switch to business from another discipline, or supplement a technical degree or background with an undergraduate degree in business.
See Yourself Succeed in Sports Business
Since 1932, SNHU has provided students with the business education they've needed to succeed as they begin their careers. By adding a specialized sport management concentration to your business major, you give yourself the edge over others competing for entry-level sports jobs upon graduation.
As a private, nonprofit university, SNHU has one mission - to help you see yourself succeed. The benefits of majoring in sports business at SNHU include:
Supportive community. Join the SNHU campus community of students who are closely connected with faculty and staff dedicated to your success
Affordability. SNHU is one of the most affordable private, nonprofit universities in New Hampshire, and students who qualify could receive up to $20,000 in grants and scholarships. (This scholarship amount is only for students who do not need a visa to study in the U.S.)
Innovative programs. Study abroad at little or no extra cost
Accessible faculty. Learn from highly credentialed faculty who have industry experience and are experts in their fields and interact with you in the classroom, dining hall, fitness center and the stands
Opportunity. Tap into our nationwide network of alumni and strong connections with employers for internship and career opportunities
Campus experience. Enjoy more than 50 student clubs, champion Division II athletics and fun events on our 300-acre campus in Manchester, N.H., named a "Best Place to Live" by Money magazine
​Internships & Outcomes
As the industry continues to grow, the need for qualified professionals grows with it: Sports and entertainment occupations could see an increase of 10% through 2026.** Management occupations are projected to jump 8% in that same period.**
Your sports business major can lead to career opportunities, including sales, marketing, sporting goods manufacturers, operations and finance management for professional sports organizations, parks and recreation departments, intercollegiate athletics, and fitness facility management.
Curriculum
Complement your business education with the courses you need to develop your sports management skills. Classes like Sport, Society and Ethics and Sport Marketing can help you launch your career.
Courses To Prepare You For Your Career
SNHU's bachelor's in sport management program includes:
General education
Business core
Degree-specific courses
General Education Program
Our programs are designed to equip you with the skills and insights you need to move forward. In recent years, employers have stressed the need for graduates with higher order skills - the skills that go beyond technical knowledge - such as:
Writing
Communication
Analysis
Problem solving
All undergraduate students are required to take general education classes. Through foundation, exploration and integration courses, students learn to think critically, creatively and collaboratively, giving you the edge employers are looking for.
Business Core Program
Programs in the School of Business require learners to complete the business core program, which includes a variety of business-specific courses. This program focuses on 10 core competencies to prepare you for success wherever you go.
List of Courses
Courses May Include
BS in Business Administration Sport Management
SPT 111
Introduction to Sport Management
This introductory course emphasizes the management principles related to the business of sports. It includes personnel, programs, marketing, media, financial management and an overview of career possibilities in this growing field.
SPT 208
Sport Marketing
Students study current sports marketing problems and apply marketing techniques to develop an effective sports marketing plan. Writing Intensive Course.
SPT 333
Sport, Society, and Ethics
This course examines the major issues and controversies of sport in society. Students will develop an appreciation of the ways sport in society contributes to analyzing and understanding human behavior in sports contexts; and a basic understanding of the theories and principles related to socio-cultural issues and ethics and morality in the sport industry.
Total Credits: 120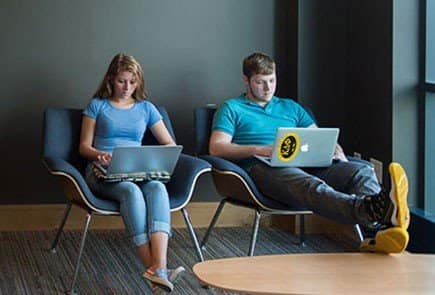 Our Manchester campus aims to keep tuition and related costs low for our students so that you can pursue your degree and your goals.
Southern New Hampshire University is a private, nonprofit institution accredited by the New England Commission of Higher Education (NECHE) as well as several other accrediting bodies.
*Forbes, on the internet, at https://www.forbes.com/sites/darrenheitner/2016/10/10/north-american-sports-market-to-reach-75-7-billion-by-2020/ (viewed April 10, 2018)
**Bureau of Labor Statistics, U.S. Department of Labor, Occupational Outlook Handbook, on the Internet, at https://www.bls.gov/ooh/entertainment-and-sports/home.htm and https://www.bls.gov/ooh/management/ (viewed online April 10, 2018). Cited projections may not reflect local and/or short-term economic or job conditions and do not guarantee actual job growth.