Higher Education, Lower Cost
An affordable path to your college degree.
College Redesigned to Fit Your Life
Earning your degree can be challenging with a busy work/life schedule. So we've partnered with SEIU to reinvent higher education your way – offering quality online college programs that aren't just affordable, but flexible. Now it's easier than ever to gain the degree or work-relevant skills you need to succeed.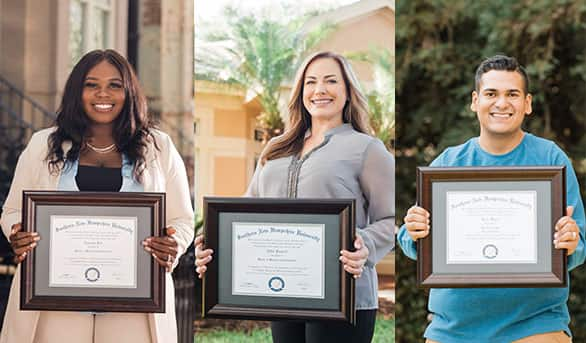 Why Earn Your College Degree?
Earning Potential

Career Advancement

Earning your degree or certification can put you on track for promotions or a better career path.

Personal Growth

Gain confidence and satisfaction, make your loved ones proud and learn new skills for the future.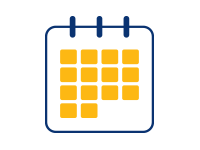 What's it like to earn your degree online?
Earn your degree on a predictable schedule. Access course materials weekly – like quizzes, discussion boards and papers – and complete assignments when it's convenient for you ahead of set due dates.
Work with instructors and classmates to complete weekly assignments and earn letter grades that count toward your final grade.
Take 1-2 classes during 8-week (undergraduate) or 10-week (graduate) terms.
Get credit for the college work you've already done. Transfer up to 90 undergraduate credits to save time and money.
Time to graduation depends on how many classes you need to take.
Choose from 200+ online undergraduate and graduate programs designed for working adults with busy lives.
Online Programs
Certificate (# options)
Take the next step toward earning an advanced degree or complement an existing one with SNHU's online certificate programs.
Average time to complete at one course per term: 1.2 years
Available programs:
Associate Degree (# options)
Take the next step toward earning an advanced degree or complement an existing one with SNHU's online associate programs.
Available programs:
Bachelor's Degree (# options)
Take the next step toward earning an advanced degree or complement an existing one with SNHU's online bachelor's programs.
Available programs:
Master's Degree (# options)
Take the next step toward earning an advanced degree, or complement an existing one with SNHU's online master's programs. Please note that some of our programs - such as the online MS in Business Analytics - are not eligible for partnership discounts at this time.
Available programs:
Affordable Tuition for SEIU Members
Degree programs for SEIU members and their families are designed to be highly affordable. In fact, they feature some of the lowest online tuition rates in the nation.
Tuition for SNHU's online degree programs is $720 per course (undergraduate) or $1,411 per course (graduate), which reflects a 25% tuition discount. Also, learn more about the online tuition discount SEIU extended to your family members through SNHU.
Your individual cost will vary based on chosen degree level, transfer credits and other factors, so submit the online form, and an SNHU admission counselor will be happy to contact you with additional details.

I know my SNHU degree is what got me the phone call.
Aaron Gill Degree In Finance (MS)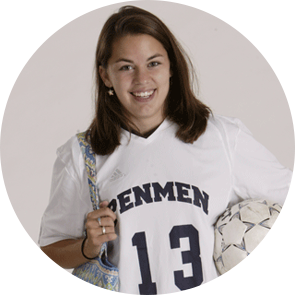 You have to be willing to work hard and gain experience.
Abbi Newton Degree In Sport Management (BS) 2008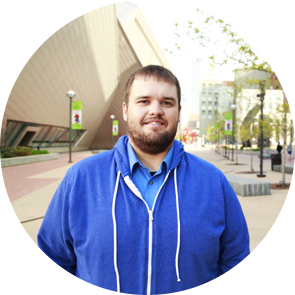 This degree has allowed me to set the groundwork to move forward in becoming a teacher to help other children... .
Adam Waters Degree In General Studies (BA) 2015
A Degree from One of America's Most Innovative Universities
A private, nonprofit and accredited institution currently serving 170,000 learners, Southern New Hampshire University is recognized as the "Most Innovative" regional university by U.S. News & World Report for its commitment to flexible degree pathways for working adults. SNHU provides unparalleled support and service in its mission to expand access to education and meet the unique needs of all people – in all 50 states, and in countries worldwide.
Frequently Asked Questions
Am I eligible to enroll?
Anyone with a high school diploma or GED can enroll in SNHU's online degree programs. As an employee of an SNHU partner, you may be eligible for tuition benefits or a tuition discount through your employer. Check with your benefits specialist about any education benefits that apply.
How do I get started?
Filling out our online form only takes a few moments. After you submit it to SNHU, we'll get in touch with you soon – no charge or obligation.
What is the application process like?
Whether you're applying for an undergraduate or graduate program at SNHU, you'll start with two simple steps:
Complete the online application
Speak with an SNHU admission counselor, who will walk you through the rest of the process
There is no fee to apply for any undergraduate degree program. For graduate programs, there is a non-refundable $40 fee. You can learn more at 1-888-387-0861 or enroll@snhu.edu.
How much will it cost to earn my degree?
SNHU online classes are among the most affordable in the nation. Here's some basic information:
Tuition is charged per credit, at a rate of $320 for online undergraduate degrees and $627 for online graduate programs.
Each online course is 3 credits.
The number of courses you'll need to take depends on your chosen degree level and how transfer credits you have.
These rates may be discounted for you depending on your employer's tuition benefit. Other ways to lower your costs include scholarships, grants and additional forms of financial aid. We encourage learners to file a Free Application for Federal Student Aid (FAFSA) to determine their eligibility for federal, state, and institutional aid programs. After you fill out this free application, an SNHU Student Financial Services specialist can work directly with you to customize a plan specific to your unique financial needs.
How long will it take me to earn my degree?
Completing SNHU's associate degree online typically requires 60 credits or around 20 courses. This degree usually takes two years to complete. A bachelor's degree takes 120 credits, which is around 40 courses. Earning a bachelor's degree typically takes four years, but may vary depending on your previous education, transfer credits, and whether you're a full- or part-time student. Earning a graduate degree typically requires 36 credits, which is around 12 courses. Earning a graduate degree can typically be done in under two years, but varies based on previous education, transfer credits, and whether you're a full- or part-time student.
Will my current credits transfer?
SNHU will accept as many as 45 credits of previous coursework if you're working toward an associate degree, up to 90 credits towards a bachelor's degree and up to 12 credits toward a graduate degree. Courses with a grade of C- or higher at an accredited institution are usually eligible to be transferred. If you have questions, just gather your unofficial transcripts and contact us to request a transfer evaluation free of charge.
Is SNHU Online a good fit for me?
At SNHU, our mission is to provide flexible, affordable, achievable education for all—including adults with busy lives just like you. With flexible degree options, best-in-class Admission & Advising support, and generous transfer credit policy, we've helped more than 160,000 alumni from around the country reach the finish line. Talk to an Admission counselor to get more details.