Building SNHU Community Through Alumni Engagement
@WorkingPenmen Twitter Takeovers
With a network of more than 66,000 SNHU alumni across the globe, members of our community are working on some pretty exciting things. The @WorkingPenmen Twitter Takeover program is a new initiative managed by the Office of Alumni Engagement, in partnership with the Dorothy S. Rogers Career Development Center, which allows the entire SNHU community to follow along in a virtual job shadow as an alumnus/a provides an insider's look into his or her workday.
Throughout a takeover, an alumnus/a shares advice on breaking into a particular field, memories of SNHU, and how academic and experiential education helped propel him or her along a career path.
The program launched on September 28 with Maura McNamee '12, corporate events manager at TeamBonding. McNamee earned her undergraduate degree in communications and is currently working on her graduate degree online with SNHU. She brought the SNHU community through one of her typical workdays (which would probably be considered off-the-walls for most other professions!), including a dance break to the Spice Girls en route to a corporate team-building scavenger hunt. She advised aspiring interns to share their passion with potential employers, and encouraged students to explore their options with the Career Development Center.
Sam Whittier '14, a fifth-generation owner of Whittier Farms in Sutton, MA, finished her hospitality degree a semester early and quickly found her way back to her family farm as its public relations and event coordinator, handling social media, farm tours, special events, community/industry engagement and marketing. But she's quick to point out that as a farmer, her daily tasks could very well include cooking, working the register, gardening, milking cows, operating heavy equipment or general labor. Her takeover highlighted the flexible skills she learned in her studies as well as in her roles as a Penmen Women's Soccer star and a caller in the Telefund program: teamwork, crowd management, sales and communications.
On the Boston Celtics' opening day on October 28, @WorkingPenmen followers were treated to a behind-the-scenes view of the organization, thanks to the SNHU team in place: Mike Chroney '15G, Morgan Munson '13, and Lenny Valdez '15, who all work in Group Sales. They shared the view from a VIP seat of all the banners hanging from the rafters, as well as some of the youth entertainment programs they helped to plan for their guests... with a bonus video of Lucky, arguably the most athletic person in the Garden, doing some impressive gymnastics while waiting for the game to start. Did you know that Lucky, aka Kristopher "Kit" Ackermann, is an online SNHU graphic arts student as well as the Celtics' mascot?
To meet superstar alumni, follow @WorkingPenmen on Twitter. To view the full lineup of past @WorkingPenmen Twitter Takeovers, please visit alumni.snhu.edu/workingpenmen. If you are interested in signing up for a takeover, or would like to nominate an alumnus/a, please contact Erin McGonagle (or 603.629.4655).
SNHU Homecoming 2015, October 16-18
The Southern New Hampshire University Office of Student Involvement and the Office of Alumni Engagement would like to extend a huge THANK YOU to the entire SNHU community for making Homecoming 2015 a truly magical weekend.
October 16-18 saw record numbers of alumni, students, faculty, staff and friends from near and far join in-person and virtual events throughout the weekend. There were sold-out crowds at the paintbars and cooking classes on campus, and more guests at the Street Fair than ever before.
The Homecoming 5K had more than 100 runners on the scenic campus course, and another 60+ participants joined the first-ever Virtual 5K, where SNHU community members from 28 states and two countries (Rwanda and Italy) could print their own SNHU Homecoming race bib and share photos of their run on social media.
SNHU President Paul LeBlanc hosted his annual President's Reception, where he shared a 'State of the University' update before Tim Gerardi '04, Alumni Board President, presented the 2015 Alumni Awards:
Rachael (Kuzmick) Comstock '10 and Ryan Comstock '12, Young Alumni Award
Distinguished Service Award, Tiffany (Lyon) Fifer '00 '02
Alumni Hall of Fame Award, Robert A. Freese '89
Rachael and Ryan Comstock joined the Alumni Board in 2014 with the goal of creating a more formalized mentoring program to enrich the student experience. They've helped to pilot a one-on-one mentoring program with students in the Signature Leadership Program and alumni from a variety of industries, and they've also been instrumental in helping the Office of Alumni Engagement and the Career Development Center launch an online, self-service mentor directory and explore the development of regional communities across the country.
Tiff Fifer has worked to build community at SNHU for nearly twenty years in a variety of roles, from student to employee, first in Alumni Engagement, then in Student Involvement, and now in her current role as the director of online student engagement. She is absolutely committed to helping students create their own success, often through cultivating a network of peers and mentors to deepen the sense of community.
Rob Freese is a member of the SNHU Board of Trustees, and his passion for his work and alma mater are palpable. He is committed to leveraging the alumni network to strengthen the student experience at SNHU, and has invested considerable time and resources into the SNHU community. In partnership with the SNHU Student Government Association in 2013, Freese made possible a major renovation to the Student Center on campus, which has been transformed into a vibrant hub of activity at the heart of campus.
View photos from the weekend on Facebook and Flickr; and watch the Homecoming wrap-up video produced by the Media Services team.
Donor Appreciation Day, October 21
Students celebrated the third annual Donor Appreciation Day in October, expressing their thanks to the donors and volunteers who enrich the SNHU experience. More than 200 students wrote messages on a board that will be displayed on campus as a reminder of the power of giving back.
SNHU is currently on a mission to redefine giving, expanding the meaning of giving back to celebrate the many different ways our alumni and donors engage with the SNHU community: supporting scholarships, mentoring and career coaching, hiring SNHU grads and interns, speaking in classes, performing community service, building connections in regional communities and serving in leadership roles on the Alumni Board. President Paul LeBlanc said last spring that the strength of any great university is a tale told by the engagement of its alumni.
SNHU students are certainly aware of the contributions to their education and experience by alumni, and had some beautiful messages to donors:
"Thank you to all the donors who have supported us with their time, their volunteering, and their scholarship dollars. It's greatly appreciated by all of us." - Cece Mitchell, Class of 2018
"It's a sense of family here at Southern New Hampshire University. That's why I'm still here, and that's why I'm thankful for the donors and those who contribute their time. Because without them, this school wouldn't be the way it is." - Jacques Omumbu Okuka, Class of 2018
"Having someone that students can go to with interviewing tips and resume tips... it's a really nice way to communicate with someone in our field of study. I want to personally thank all of the alumni who donate their time back to the community here at SNHU." - Becca Hardin, Class of 2017
"To all the donors: I want to send out a huge 'thank you.' Your support is much appreciated. It's made it possible for me to not only earn a great education, but I've also been able to immerse myself in an amazing community and really discover my passion for helping people." - Alicia Frazier, Class of 2016
See the video message from students at alumni.snhu.edu/thankyou.
SNHU in SoCal, October 20-21
You can find members of the SNHU community in every state and countries all over the world. In October, representatives from the New Hampshire headquarters made a trip out west to share Penmen Pride in California.
Over the span of two days, members of the SNHU Online Student Success team, the SNHU Career advising team and the Office of Alumni Engagement partnered together to offer four unique event opportunities for local students, faculty and alumni to connect in person. These events included a leadership speaker and book signing with John C. Maxwell, a networking dinner, a breakfast meet-up and a cocktail party.
Throughout the two days, we met with nearly 80 students, guests and adjunct faculty who wanted to share their online experience and learn more about the overall operation of the university. Adjunct professor Greg Salyer attended the breakfast meet-up in Los Angeles and had important and meaningful conversations with both a graduate online student in his academic program of English and Creative Writing, as well as with an undergraduate online student who is thinking about pursuing his master's degree in the same field. These conversations came naturally and mirrored those we see our faculty on campus having with students each day.
Student Janice Cooper attended the leadership speaker and networking dinner and had this to say: "It was a tremendous pleasure meeting everyone and having the opportunity to make so many local connections with SNHU students here in my own back yard." Janice, like other fellow online students, was excited to take part in the events, which gave members of the SNHU community in California the opportunity to connect in person with each other as well as those who traveled from the main campus in Manchester, NH.
New alumna Ariana Refsdal '15 completed her degree in psychology at the Manchester campus last spring, and headed to L.A. to pursue her dream of getting involved in film production. The bonds she made with her peers and professors on campus easily translated to the new connections she met at the SNHU events in California, where she volunteered as an alumni ambassador, helping to check in guests. "When I was in school, I felt fortunate enough to be able to connect with so many students and faculty who inspired and encouraged me. I hope I can help the online students, as well as my fellow alumni, to feel as connected to SNHU as I did."
SNHU in Arizona, October 23-24
The Southern New Hampshire University Men's Ice Hockey team opened its 2015-16 season with a pair of games on October 23 and 24 against Arizona State University, a Division-I program in its first year of NCAA play. While the Penmen ultimately fell to the Sun Devils in both matchups, the community experience of bringing together students, families, alumni, faculty and fans to fill the stands with Penmen Pride is what resonated.
Penmen Athletics partnered with the Office of Alumni Engagement and the Office of Online Engagement to create a series of events throughout the weekend, giving members of the SNHU community in Arizona the opportunity to connect in person with each other as well as those who traveled from the main campus in Manchester, NH.
Both the Friday and Saturday games were played in front of sold-out crowds at Oceanside Ice Arena in Tempe. Penmen fans wore their blue and yellow with pride and made sure the SNHU section was the loudest... especially when Petey Penmen made a surprise appearance.
Head Coach Ken Hutchins '87 said that the trip was an exciting way to kick off the season. "These guys have been working their tails off to prepare for this, both on and off the ice. This was the first time the Penmen have ever played in Arizona, and we knew that going up against a D-I squad was going to provide a good challenge and something we'll need to play up to."
Senior Forward James "Gabs" Gabrione says that playing a powerhouse like ASU let his team lay it all out on the ice. And seeing the crowd of Penmen fans was an unexpected bonus. "We started a crowdfunding project to help offset the costs we'd typically pay out of pocket for a trip like this, and we were completely overwhelmed with the response and support of SNHU families and alumni," Gabrione said. The team blew past its initial goal of $5,000 thanks to the generosity of 73 donors who gave a grand total of $9,595. Many of the donors also made the trip to Arizona to show their support in person.
Hutchins said that his team's experience was deepened by the opportunities to connect with local fans, many of whom never thought they would meet someone from their online program in person, let alone in a section full of fans.
Service at SNHU: Building Community & Expanding Horizons
The Center for Community Engaged Learning (CCEL) at SNHU has a busy annual itinerary, from coordinating immersive service experiences for students looking for something more rewarding than the typical spring break trip, to developing community-focused courses that combine education and service, to creating local service opportunities. The Office of Alumni Engagement has begun partnering with CCEL to more closely involve the SNHU alumni network in these valuable pursuits.
Executive Director of Alumni Engagement Kristi Durette says the goal of this partnership is to broaden and strengthen the SNHU community as a whole. "We're layering in the opportunity for alumni and students to connect on common ground. Sometimes that's through the value of networking around a common major or industry, and sometimes it's on a personal level, sharing stories around a common interest such as service or college experience."
Alternative Break (AB) trips are life changing for students, says Elizabeth Richards, CCEL Director. "Students prepare for weeks before leaving campus, exploring the root causes of the social problems they will face and attempting to understand the political and cultural landscape they are entering. They are exposed to different parts of the world and challenged to explore some big questions about privilege and power."
This year, students have four AB trips planned: during winter break in January, groups are headed to Miami to help fight gender-based violence and to the Dominican Republic to empower children through education; and in March during spring break, groups will go to Cincinnati to examine the intersection of race and poverty and to Nicaragua to study community development and clean water.
Alumni and local online students have contributed their time to service projects and met for networking mixers with students in the midst of their service trips in New Orleans, Washington, D.C., and Brooklyn in the last year. Assistant Director of Alumni Engagement Sara Telfer, who helps bring together local alumni and students with the campus students and trip coordinators, says that plans are in the works for similar mixers in Miami and Cincinnati this year.
This year, junior Rachael Straehle is one of the program coordinators, helping each of the trip coordinators plan a meaningful experience for participants and ensuring that the work will have a lasting impact on the community. Straehle says that among the many invaluable experience on each trip, one of her favorite parts is meeting with alumni. "It's such a great opportunity to have a conversation you might not otherwise have, with an alum who has been where you are and can give you the best advice about where you want to go."
To learn more about getting involved with local service events, please contact Sara Telfer (603.629.3165).
Explore more content like this article
Health Professions Clinical Faculty Darla Branda: A Faculty Q&A
December 13, 2019
After spending 4 years in the military, Darla Branda earned her degree and began working in health information management. She's since joined the faculty at SNHU, and we asked her to share her thoughts about teaching, the importance of education and more as part our Faculty Spotlight series.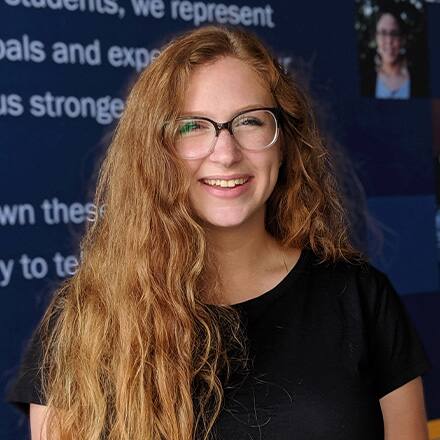 Student Travels to Poland to Help Restore Jewish Cemetery
December 11, 2019
For Vivianne Schill, service runs deeper than an interest. It's part of her identity. While she's participated in many types of service projects, Schill recently completed one that was especially meaningful for her.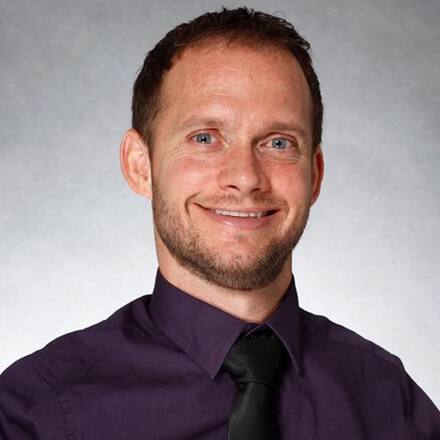 Clinical Mental Health Instructor Dr. Damion Cummins: A Faculty Q&A
December 06, 2019
Dr. Damion Cummins found his passion for counseling during his recovery from a life-altering sports injury. Now he teaches students in Southern New Hampshire University's master's in clinical mental health counseling so they can begin careers counseling others.