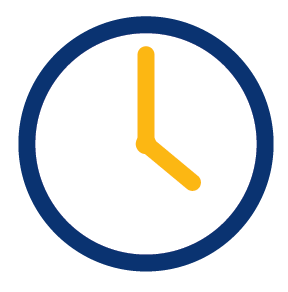 Undergrad Start Date:

October 23
Grad Start Date:

December 04
Online Admission
The SNHU application couldn't be simpler. At Southern New Hampshire University, it's easy to enroll in an online program. We'll walk you through the admission process so you know exactly what you need.
How to Apply in 2 (or 3) Easy Steps:
1. Submit your online application.
Our online application only takes 5 minutes. Plus, you don't need to submit test scores or application fees. An admission counselor will connect with you to talk through next steps. You can also call 888.327.SNHU or email enroll@snhu.edu to speak with admission directly.
2. Complete an attestation form.
An attestation form confirms undergraduate students have graduated from high school or received a GED. For graduate students, it confirms your undergraduate GPA and conferral date. Your admission counselor will send you the form after submitting your application.
3. Got college credits? Submit transcripts from any previous schools.
SNHU isn't your first school? No problem. We can help request your transcripts for you – for free. Just fill out the transcript request form provided by your admission counselor – one for each school you've attended, even if you don't think it will count.
A small handful of SNHU programs have additional requirements that your admission counselor will go over with you. Check out your program page for more information.
Talk to Student Finance
Financial aid is available for those who apply and qualify. Complete the Free Application for Federal Student Aid (FAFSA). SNHU's school code is 002580.
You can also chat with a student finance counselor about other ways to pay for college at 877.455.7648 or studentfinance@snhu.edu.
Choose Your Start Date
Acceptance decisions are made throughout the year for our 6 undergraduate terms and 5 graduate terms. View the upcoming academic calendar, and get started sooner than you think.
Review GPA Requirements
Our mission is to make education accessible to everyone. We have inclusive GPA requirements and acceptance options that encourage continuing education, regardless of where you left off.
Undergraduate Admission: there is no GPA requirement.
Graduate Admission: a minimum undergraduate GPA of 2.75 is required for full acceptance or 2.00 for provisional acceptance (unless otherwise noted by the program). Completion of a post-bachelor's degree takes the place of this requirement.
Transfer to SNHU
No matter where or when you started, SNHU can help you cross the finish line.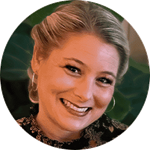 What SNHU Students Are Saying
Corey Marrone Brizak '19
"SNHU admissions contacted me… and quickly answered all my questions. This one phone call sold me on the idea that I could do it and be successful with SNHU."
The More You Transfer, The More You Save
For an associate degree:
Up to 45 credits
For a bachelor's degree:
Up to 90 credits
For a master's degree:
Up to 12 credits
Visit our Transferring Credits page for more on what makes SNHU a transfer-friendly school.
If you're coming from a community college, we might have a partnership that makes your transfer even easier. Check out our Transfer Credits from Community College page for a full list.
Have work or life experience you'd like to get college credit for? SNHU wants you to get credit, too. Learn how to cash in on experiences like exams, certifications or training with Credit for Prior Learning.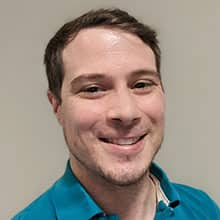 "The admissions staff at SNHU really were supportive and acted as if they really wanted me at the school," said James Stuart '21. "Rather than just telling me to provide the necessary transcripts and forms, they chose to be an active part of my journey to enroll."
"Because of their help, I was fortunate to have nearly 90 of my course hours accepted, leaving me with just over a year left of courses," he said.
Applying as an International Student
As an international student, you'll apply with the same online application that U.S. students use. If you'd like to attend SNHU on campus, apply using the international student application.
If your native language is not English, you'll need to provide proof of English proficiency (TOEFL scores) as part of admission requirements. SNHU's code is 3649. The following language proficiency score requirements are for the online program only.
For the campus language proficiency requirements, visit our international admission requirements page.
Undergraduate Admission Requirements
TOEFL: 79 iBT with a minimum of 15 on each section (81 for BBA program)
IELTS: 6.5 with a minimum of 5.5 on each section
PTE: 56
ELS: 112
EF: C2-1
Michigan: 90
Duolingo: 110
Graduate Admission Requirements
TOEFL: 79 iBT with a minimum of 15 on each section
IELTS: 6.5 with a minimum of 5.5 on each section
PTE: 56
ELS: 112
EF: C2-1
Michigan: 90
Duolingo: 110
---
Hear from real students why SNHU is the school for you.
---
Frequently Asked Questions
Can you apply for college online?
Yes! Each college will have its own admission process to follow, but most schools offer an online application.
At Southern New Hampshire University, we make it easier than ever to apply online – fast and free.
Just submit the 5-minute online application and an admission counselor will walk you through the next steps.
You can also call 888.327.SNHU to speak with an admission counselor and complete your application over the phone together.
Do I ever need to travel to NH?
We'd love to have you visit! But you don't have to. If you attend SNHU online, we meet you where you are—with classes that are 100% online for the vast majority of our programs, so you can earn your degree in a way that fits your life. Many of our students do choose to attend our graduation ceremony—from places like Texas, California, North Carolina, New York and many more states across the country and beyond!
How long does it take to get accepted to SNHU online?
You can get an acceptance decision within days of submitting everything. Once you've submitted the application, you'll receive a short checklist of action items from your admission counselor that outlines exactly what you need to move forward.
All programs require a signed attestation form. For undergraduate students, this form states you graduated from high school or received your GED, and for graduate students. it states that you've received a conferred bachelor's degree.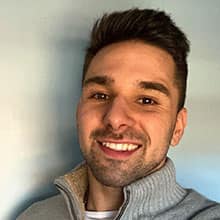 If you've attended other colleges, you'll fill out a transcript request form, too.
A small number of our programs might have additional requirements, like a resume, depending on the field. The sooner everything is received, the sooner you'll receive your admission decision.
"I transferred credits to SNHU and the transfer was very quick and took less than a week," said Nick Martucci '21. "I was able to pick my classes easily before the start of the term."
And with 6 undergraduate terms and 5 graduate terms per year, there's always an opportunity to get started.
Is it hard to get into SNHU online?
SNHU is tirelessly working toward a world where everyone has access to higher education. So our goal is to remove obstacles that stand in your way.
That's why there are inclusive GPA requirements, no test scores and the application is free. Plus, you'll have a dedicated admission counselor assisting you through the enrollment process.
Whether you're a first-time student or you're finishing something you've already started, you'll have first-class support from day one to graduation.
How do I get into SNHU online?
The process is simple. First, you'll submit the online application. Then, you'll submit the required materials for your program. A short checklist of admission requirements will be provided by your admission counselor once you've applied, specific to you and your program.
All undergraduate students need to submit an attestation form stating they've graduated from high school or received a GED equivalent.
All graduate students need to submit an attestation form stating they've received a conferred bachelor's degree from an accredited 4-year university (with a GPA of 2.0 or higher).
If you've attended other colleges, you'll also submit a transcript request form so Southern New Hampshire University can request your previous transcripts for you – for free!
Some programs may have additional requirements, depending on your field. Not sure which program is right for you? Check out the program finder or speak with an admission counselor (888.327.SNHU).
Is an SNHU online degree respected?
Absolutely. Southern New Hampshire University is regionally accredited by the New England Commission of Higher Education, Inc. (NECHE). All programs offered by SNHU are accredited, meaning they have been reviewed to meet a certain set of academic standards.
In addition to the institutional accreditation, certain SNHU undergraduate and graduate programs carry specialized programmatic accreditations. Check out our accreditation page for more information.
Do employers recognize SNHU?
Yes. In fact, student Philip Hudnall '20 found his SNHU degree to make him a more qualified candidate for projects and promotions at his company.
"My direct supervisors have been impressed by the amount of personal and professional growth that I have experienced during my time at SNHU," said Hudnall. "My professional experience mixed with my newly found educational one has made me a much stronger candidate for projects and promotions in the future, and, in many cases, way more qualified versus others in my field."
If you're still searching for your dream job, we can help with that, too. SNHU career advisors will work one on one with you to help you reach your career goals, even after graduation. With career path resources, individualized career coaching and more, you'll have access to all you need to succeed. Explore the career service page to see what else you can take advantage of.
Do online degrees say online on the diploma?
Nope! Your degree will not indicate whether it was earned online or on campus. It will read from Southern New Hampshire University no matter where you did your learning since the education you're receiving online is held to the same academic standards as our campus courses.
All online and on campus students will also have the opportunity to celebrate during our shared graduation ceremony weekend.