Certificate Programs Online and On Campus
Take the next step toward earning an advanced degree or complement an existing one with SNHU's on campus or online certificate programs.
The benefits of earning your certificate from SNHU include:
Flexibility. Complete your certificate on campus or online.
Affordability. Committed to making education accessible and affordable, SNHU keeps tuition low.
Expert instruction. Learn from accomplished faculty who bring real-world experience to the classroom.
Dedicated advising. From day one, you can count on support from dedicated academic and career advisors.
Student support. Take advantage of tutoring and tech support.
An undergraduate certificate can be the fastest option to earn documentation of progress on the road to a higher-level degree, or it can be an opportunity to learn a new skill that can support career advancement or change.
A graduate certificate can be an opportunity to learn new skills that support your career or keep your existing skills up to date.
Ready to learn new skills to advance your career? Explore our on campus and online certificate programs below.
Gain an Edge with a Certificate
Earning a microcredential, like a certificate from an accredited university, is just another step you can take to gain a competitive edge in your field. SNHU offers certificates at both the undergraduate and graduate levels, giving you the opportunity to refresh your skill set – and your resume – at any point in your career and educational journey.
Earn educational credits for professional exams: For example, the courses in SNHU's Accounting Graduate Certificate count toward the credit hours needed to sit for the Certified Public Accountant (CPA) certification exam. Another example is SNHU's Project Management Graduate Certificate: The program can satisfy the educational requirements needed to take the Project Management Professional (PMP)® exam.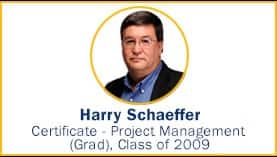 Harry Schaeffer '09 realized that, while pursuing his MBA at SNHU, he was gaining valuable information from his project management coursework. He made the decision to earn a Project Management Graduate Certificate, as well. "One thing is true about operations: Somewhere in time, you're going to be asked to run projects," he said. "The question is whether you have the tools you need to increase your probability of success. That's what I think this certificate program brings: the tools to be successful."
A certificate from SNHU can help you increase your expertise and take your career to the next level. Request information today.
"Project Management Professional (PMP)" is a registered mark of Project Management Institute, Inc.