SNHU is accredited by the regional accreditor the New England Commission of Higher Education (NECHE). The university also carries specialized accreditations for particular programs.
But what does that mean, exactly?
Accreditation matters—here's why
As you decide which school is right for you, one of the most important things to consider is the university's accreditation. That's because accreditation is a measurement of an academic institution's quality of education. Like a health inspector for a restaurant, a university's accreditation is a check by an independent organization to see if it meets certain standards of quality.
So if you see that a college or university is accredited, that means they've:
undergone an independent review,
met specific standards of quality,
and have the tools and resources necessary for students to be successful.
---
To learn more about what it means to be accredited and how that should factor in your decision when finding the right school, check out the video below.
---
In addition to meeting standards of quality, there are even more reasons why choosing an accredited school may be beneficial:
Transferring credits:
If you switch schools and want to transfer credits from one school to another, your university's accreditation helps to facilitate that work you've done will be recognized by other accredited institutions, reducing the likelihood of retaking classes and spending more time and money.
Check your university's transfer policy or work with an admission counselor to know exactly which credits you've earned will transfer to your new program.
Federal Financial Aid:
Attending an accredited institution can help with your ability to secure and receive federal financial aid or other grants and scholarships.
The Job Market:
If you're already in the workforce or planning to enter it after graduation, accreditation helps convey to potential employers that you've received a degree from an institution with verified academic standards for your field of study.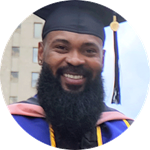 What SNHU Students are Saying
Kemar Reid '18 '20G
"Accreditation played a significant role in determining that SNHU was the school for me."
Degree Granting Approval:
New Hampshire Department of Education, Division of Higher Education - Higher Education Commission
It's important to note that there are different types of accreditations: institutional and programmatic
Institutional
Institutional means that the university as a whole is accredited. Institutional accreditation is either national or regional, depending on the rigor and requirements of the accreditation process.
Programmatic
In addition to institutional accreditation, your chosen program of study may also carry a Programmatic Accreditation—meaning the degree program itself meets a certain set of quality standards specific to that area of study.
SNHU's Institutional Accreditation – Regional:
New England Commission of Higher Education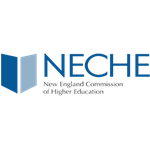 New England Commission of Higher Education
Southern New Hampshire University is accredited by the New England Commission of Higher Education (formerly the Commission on Institutions of Higher Education of the New England Association of Schools and Colleges, Inc.).
Inquiries regarding accreditation should be emailed to accreditation@snhu.edu.
Individuals may also contact:
New England Commission of Higher Education
301 Edgewater Place, Suite 210
Wakefield, MA 01880
info@neche.org
The New England Commission of Higher Education (NECHE) is recognized by the U.S. Department of Education as a reliable authority on the quality of education for the institutions it accredits. The Commission is also recognized by the Council for Higher Education Accreditation (CHEA), affirming that its standards and processes are consistent with the quality, improvement, and accountability expectations that CHEA has established. Recognition by the Department of Education provides access to federal financial aid for U.S. students attending institutions accredited by the Commission.
SNHU's Programmatic Accreditations:
Frequently Asked Questions
Is SNHU an accredited school?
Yes. Southern New Hampshire University is accredited by the New England Commission of Higher Education (formerly the Commission on Institutions of Higher Education of the New England Association of Schools and Colleges, Inc.).
Regardless of how you learn (in person or online), you'll earn a diploma from a respected, accredited university.
What is the difference between national and regional accreditation?
Institutional accreditation is provided by regional and national organizations and there are several such entities in the United States. Nationally accredited schools are often technical or religious colleges, while regionally accredited institutions are typically traditional universities.
SNHU is accredited by the regional accreditor the New England Commission of Higher Education, and this accreditation applies to the institution as a whole.
Does an accredited degree matter?
When it comes to college degrees, accreditation matters. Accreditation is a standard of quality in the academic world. And although accreditation is voluntary, schools can assure students that their programs meet certain quality standards by going through the accreditation process. Having a degree from an accredited school will especially matter when applying to jobs or graduate school.
What is the best accreditation for an online school?
Credible online schools are nationally or regionally accredited. Depending on your degree of choice, programmatic accreditation may be beneficial to you as well.
It's important to remember that accreditation is based on a school meeting certain quality standards, not on the way education is delivered. So regardless of whether classes are in person, online, or a combination of both, accreditation is based on the school, its programs, and the resources they have to help students be successful. In fact, the same organization that provides SNHU's accreditation, the New England Commission of Higher Education, accredits a wide range of universities. Many of them, like SNHU, offer both campus and online programs.
Do online universities have credibility?
Yes, many online universities are credible and respected institutions. In fact, some of the oldest colleges in the world now provide their programs online. If you are concerned about the quality or reputation of a school, you should look into its accreditation. Any college or university you enroll in should have regional or national accreditation.
How do I know if my online degree is accredited?
You can see if your university or degree is accredited by checking your school's website. This information is usually accessible under an "accreditation" or "about" section. If you can't find the information there, you can search the U.S. Department of Education's Database of Accredited Postsecondary Institutions and Programs.
Assessment
All Southern New Hampshire University programs complete a comprehensive review on a 5-year schedule, unless otherwise needed as a result of industry or accreditation reasons. Program reviews include an analysis of program outcomes, curriculum and student support, involving multiple constituents across the University including faculty, assessment committees, academic leadership, and external stakeholders. These program reviews comprise all student populations and all delivery methods. The University continually fosters transparency within program and course creation, assessment and evaluation, and alignment of program outcomes. In addition, all Southern New Hampshire University faculty are either academically or professionally qualified to teach, per the institution's credentialing requirements.