Choose from 200+ flexible, affordable online degree programs.
At SNHU, your success is our mission. As an accredited, nonprofit university, we've helped thousands of students reach their goals with flexible, career-focused online degree programs—and some of the lowest online tuition rates in the nation. Find your program to see how SNHU can help you succeed.
Ready to take the next steps? See Term Start Dates, Request More Information or Apply Now.
Courses Only
If you're not looking for a full degree program, you can still earn college credit by taking individual online courses. They're a fast, flexible, and affordable way to take a class you need, get skills for your career, or just explore the online learning experience.
FAQ About SNHU Online College Degree Programs
How much do online classes cost?
We recognize that achieving your education goals is about more than just finding time, it's also about hurdling financial barriers. That's why we've paved an accessible path for you by freezing our online tuition at its 2012 rate, a fact that helps Southern New Hampshire University maintain some of the most affordable undergraduate and graduate tuition costs in the nation.
What's it like to take an online class?
Southern New Hampshire University is a leader in online education. Our online programs are developed by subject matter experts and professionals in online learning. Each program is designed to deliver relevant, applicable course outcomes that can help prepare you to succeed in the workplace.
SNHU's online instructors are industry leaders who have relevant, real-world experience and are accomplished in online learning and course delivery. You'll have specially trained instructors in your early classes who are adept in helping you develop your skills and enhance your academic success.
Want to know what it's like to take an online course at SNHU? Find out more about the courses, support system and flexibility of an online college education.
One of the fastest growing and most dynamic private, non-profit universities in the nation, SNHU has become a leader in providing high-quality, transformational pathways for learners. At SNHU, you can earn a degree from a private, nonprofit, NECHE accredited university. Meet your dedicated academic advisors who will provide guidance, encouragement and practical help so you can stay focused on your goals. Work with our career advisors services to find career and internship opportunities leveraging our corporate partnerships and growing alumni network of over 75,000. Learn from instructors who balance real-world expertise with a passion to educate. Take advantage of world-class online education services that include an online library, tutoring and 24/7 tech support, all developed specifically with a busy adult in mind.
U.S. News & World Report has continuously named us the "Most Innovative University" in the north, and our programs are regionally accredited - which means they meet rigorous academic standards. That's because Southern New Hampshire University has exhibited an unceasing pursuit of academic excellence since its founding in 1932.
In addition to offering an easy online admission process, we strive to get you the transfer credit you deserve by accepting up to 90 undergraduate credits for bachelor's degrees and up to 45 toward associate degrees. You may also be eligible to save time and money by getting credit for work or life experience.
Ready to take the next steps? See Term Start Dates, Request More Information or Apply Now.
What's the difference between an in-person and online class?
Whether in-person or online, SNHU classes are designed to help prepare you for real world success.
The major difference is that SNHU online classes have no set time in which you need to be in front of your computer. This allows you the flexibility to create your own schedule. You'll still participate – only instead of in-person lectures, it will be through weekly online assignments and discussion boards.
Online classes are no more or less difficult than campus classes – just different.
As one SNHU grad points out: "The assignments are definitely challenging, but they're manageable." From the support of your academic advisors and instructors, to tutoring services and the writing center, and even technology assistance from the SNHU Help Desk, we're here to help when you need it.
Are there benefits / advantages to taking online classes?
There are many benefits to enrolling in online classes. SNHU believes in affordable, accessible education that caters to learners' schedules so that you can reach your goals. Our online platform allows you to personalize your college experience to how you work best, and the projects you'll work on and the technologies you'll use are applicable to today's workplace settings.
Do online classes meet at certain times?
In most cases, online classes at SNHU don't meet at all. That's one of the reasons so many people are opting to become an online student. You can do each week's assignments on your schedule, turning them in at specified deadlines throughout the week – typically Thursday and Sunday nights.
Are all programs 100% online?
While many SNHU programs can be completed 100% online, there are exceptions. Aside from traditional campus degree programs, a few may require blended learning (both online and in-person classes). Our master's in counseling is one such example.
If you have questions about whether your program of choice is accessible online, on campus or both, please feel free to contact us or take a look at our program finder for details
What assignments are typical for an online class?
Assignments vary throughout the programs. Students typically have a discussion board post and responses each week. Other work may include papers, individual or group projects, presentations, labs and assessments.
What are the minimum system requirements to take online classes at SNHU?
Getting started with online courses is easy at SNHU. You'll need some basic software programs and will want to ensure that your computer operating system meets some minimum requirements. Most laptops manufactured in the last few years will be enough to help you begin your academic journey. Some degree programs may require additional hardware or software so you should be sure to review the recommended system requirements for your specific degree program.
SNHU'S Online Education Services
The Online Writing Center offers a variety of resources to aid in all aspects of the writing process, from simple grammatical questions to more complex writing challenges.
Take advantage of free 24/7 online tutoring from Smarthinking Tutoring Services. With more than 2,000 tutors, Smarthinking can help you develop learning strategies and succeed in your classes.
A free, full-service career development team, SNHU Career offers one-on-one career counseling, webinars, resources and weekly postings from SNHU Recruit, our employment database.
Get the support you need to succeed from a dedicated academic advisor, your central go-to person who can help with everything from course recommendations to time management.
SNHU Technology Help Desk offers 24-hour tech support, 365 days a year, via phone, online form or live chat. We can help with any technical problem, software- or hardware-related.
Online Accessibility Center
At SNHU, we comply with the guidelines of Section 504 of the 1973 Rehabilitation Act and the Americans with Disabilities Act by making reasonable accommodations on a case-by-case basis for eligible students with disabilities and active duty military students who experience accessibility issues.
Need research material? Get full online access to the Shapiro Library's collection of books and journals, plus magazines, newspapers, white papers and e-books from leading databases.
SNHU Wellness promotes wellness and fosters a healthy lifestyle by providing wellness education, information and resources to our online community.
Order your e-books and textbooks from the SNHU Online Bookstore. We're committed to keeping costs low and providing you with the best customer experience.
Attending school online means making it work on your terms. But did you know the same can be said for interactions with your classmates?
SNHUconnect is a private online community created exclusively for students in our online programs. Share interests, join clubs and learning communities, receive academic support, gain career guidance and connect with 15,000 peers who are active every month. Being an online student is more than earning your degree. At SNHU, you can also join online clubs, leadership organizations and honor societies. Network with students in your current or desired career field. Discover upcoming events and activities in your area. Succeed in academic learning communities.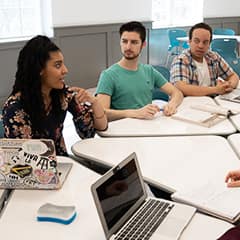 We have academic clubs that include Communication, Creative Writing Review, Health Information Management Student Association, HR Management Collegiate Association, Law and Disorder Club, Public Health Student Association and Psychology Club. We also have social clubs that include art, book, christian, health and fitness, mental health awareness, nerd unite, outdoors, paranormal research and positive connection. Some professional organizations include Association for Computing Machinery Student Chapter and the Institute of Management Accountants Student Chapter. Current students can visit SNHUConnect for more details.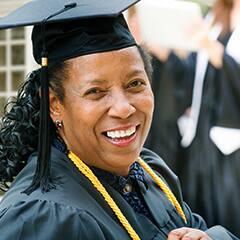 Honor societies are invitation-only online student organizations and require the payment of a one-time, lifetime membership dues to join. Some options include: Alpha Sigma Lambda for adult learners, Delta Mu Delta for business majors, National Society of Leadership and Success, Pi Lambda Theta for education students, and Sigma Tau Delta for English and creative writing majors.
We know how crucial it is for new and current students to receive support, guidance and social connections at SNHU. That's why we've started the Student Engagement Council. The council is a group of online undergraduate and graduate students who volunteer their time and energy to help other students succeed by informing the administration about the student experience as well as supporting, engaging and interacting with fellow students in SNHUconnect.
Members of the Student Engagement Council report on the student experience – positive and negative – and provide feedback on topics that affect students. This online student organization works to improve the student experience, listen to student feedback, inform change, raise awareness within the student body, provide support to peers, support groups and learning communities and increase student engagement.
The council is a voice and an informing body, but not a decision-making group, when it comes to university policies. The council represents the student voice regarding student services, resources and the academic experience, and discuss concerns or issues that impact the online student experience with SNHU administrators.
Experience the programs used in the real world – before you even launch your career. SNHU offers you the technology you need in your courses in our virtual environment , a cloud-based path to software applications and virtual desktops. It's also easy to access and could save you money.
What Our Students are Saying About SNHU
No Better Place Than SNHU
Hear real SNHU online students describe how they're finding success and why there's no better place to earn your degree than Southern New Hampshire University.
Family of Success
At SNHU, you're part of a family. Your academic advisor and faculty members are always there for you.
Fit and Flexibility
We're committed to ensuring our students have the flexibility to learn and to be successful regardless of where they study or how hectic their schedules might be.
Choosing a Nonprofit University
Nicole wanted to learn how to better serve the West African communities where she was volunteering. Here's why she chose SNHU, a nonprofit university.