Prepare for the career you want by enrolling in an associate degree program online or on campus. You'll learn from industry experts and gain the knowledge and skills you need to advance in your career. You'll have the support of academic and career advisors who are dedicated to your success, and can take advantage of some of the lowest online tuition rates in the nation.
The benefits of earning your associate degree from SNHU include:
Transfer-friendly programs. Transfer credits toward your bachelor's degree. Once you've earned your associate degree, you can seamlessly transfer up to 90 credits toward your bachelor's.
Convenience. Whether you're looking for 24/7 access to coursework online or the traditional classroom experience on campus, you can choose the program that best fits your learning style.
Affordability. SNHU is committed to making education accessible and affordable. We keep our tuition low and offer financial aid to those who qualify. Plus, our business associate degree has one of the highest ROIs in the country!3
Expert instruction. Learn from instructors with relevant, real-world experience.
Earning your associate degree at SNHU will help prepare you for entry-level positions or promotion opportunities. Or, you can choose to continue your education seamlessly with one of our bachelor's programs.
Explore our associate degrees today.
Why Earn Your Associate Degree?
Whether you're looking to get ahead in your current job or break into a new field, earning an associate degree is a great step in taking your career to the next level. Designed to be completed in as little as 2 years – or even faster if you have transfer credits – the associate degree is an attractive option for learners looking to further their education.
Standing Out in a Competitive Job Market
With the job market becoming increasingly difficult to maneuver, earning an associate degree can open doors to new opportunities. According to the U.S. Bureau of Labor Statistics, jobs requiring at least an associate degree are expected to rise 6% through 2032.1
After taking time off school and struggling to find her niche in healthcare, Emma Gilbert '14 decided to branch out and enroll in an associate degree program at SNHU. "My supportive husband suggested I should take some courses in business administration to broaden my scope of practice," she said. Shortly after beginning her schooling, Gilbert received a job offer.
Her story isn't a coincidence, either. On average, people who have earned an associate degree are less likely to be unemployed than those who didn't pursue a degree beyond high school.2
Climbing the Career Ladder
It isn't just entry-level job seekers who are affected by the demand for candidates with college degrees. Increasingly, adults with workforce experience are enrolling in associate degree programs to help advance their careers.
Beyond opening doors to more job opportunities, earning your associate degree is a good way to invest in yourself. On average, associate degree holders earn 18% more than those with only a high school degree 2020.2
Stepping into Your Bachelor's Degree
An associate program is also a great option if you're on the fence about pursuing your bachelor's degree. Some students choose to use their associate degree as a stepping-stone to earn general education credits that can later be put toward a bachelor's program of choice.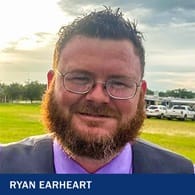 After bringing in credits from his time in the military, Ryan Earheart '21 got his AS in Digital Photography in less time than he thought he would.
"I started my associate degree in July 2018 and finished it November 2019 – which for me seemed fast," he said. "So I decided to go for my bachelor's (in digital photography) from that November 2019 to August of 2021. It was very quick."
The good news is when you earn your associate degree at SNHU, choosing to continue your education isn't a chore – you can seamlessly transfer your credits to one of our bachelor's programs down the road.
Want to learn how SNHU can help you see yourself succeed? Request information today.
What to Expect as an Online Student
No set class times: Asynchronous classes let you do your coursework when and where you want
Pick your pace: Choose between full time (2 courses) or part time (1 course) each term
Student support: 24/7 access to online student services like the library, tech and academic support
How long does it take to earn an associate degree?
An associate degree is considered a 2-year program, but attending online allows you the convenience to earn your degree at your own pace.
Southern New Hampshire University's associate degree programs are 60 credits, typically broken down into 20 3-credit courses. As a full-time student, you'd be able to take 2 classes per term – giving you the opportunity to earn your degree in less than 2 years. If you attend SNHU part time, you'll take one class over each 8-week term.
One common way to reduce the time it takes to get your online associate degree is by transferring credits you've previously earned. At SNHU, we accept up to 45 credits toward your associate degree. That means you could take as few as 5 classes at SNHU and earn your degree here.
You'll also want to consider other factors when you decide how quickly you can realistically finish your program. If you're working full time, are busy with a family or have a packed schedule, you'll want to speak with your academic advisor, who can help you create a timeline so you can successfully meet your career goals.
How much is tuition for an online associate degree at SNHU?
The cost of online tuition at Southern New Hampshire University is $320 per credit hour – one of the lowest online tuition rates in the nation.
An associate degree typically requires 60 credits to complete, making the total cost of the program $19,200. There are usually other fees for books or other materials, as well.
But there are a few ways to reduce the already-low cost of an online degree at SNHU.
Because SNHU has such a large population of students who've transferred in from other institutions, it's common that they've also brought in a number of previously earned credits. SNHU accepts up to 45 credits (75% of your degree) toward your associate program. That means with each class you're able to transfer in, that's $960 less you need to pay.
Another way you can save money on your educational investment is through financial aid. By completing your Free Application for Federal Student Aid (FAFSA) – and any student can apply, no matter your circumstances – you can learn more about how much money you're eligible for. Plus, when you work with our Student Financial Services team, a counselor can walk you through the process to create a financial plan and even ensure that you aren't borrowing more than you need to.
You'll also want to see if your employer offers tuition reimbursement. Many organizations across the country do so, wanting to see their own employees succeed and move up the ranks. Talk with an HR representative at your company to learn more.
What SNHU Students Are Saying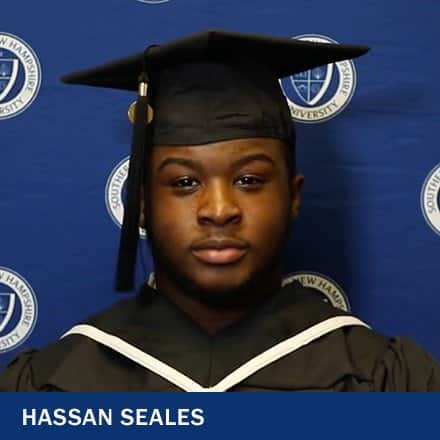 "I am the first young adult in my family to graduate high school and also college. So, SNHU has really shown me that this is not the ending. This is the beginning of my journey."
Hassan Seales '23
Associate of Arts in Liberal Arts

"Since I was a kid, I wanted to be in law enforcement, and because many law enforcement agencies require some kind of degree, I chose to pursue my associate degree."
Cody Voye '21
Associate of Science in Criminal Justice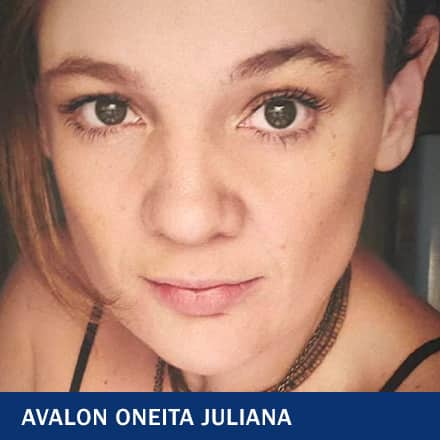 "I chose to start with an AA in Liberal Arts as it covered the basics and would lead me to any bachelor's program I'd like to join."
Avalon Oneita Juliana '22
Associate of Arts in Liberal Arts
Frequently Asked Questions
Can I get an associate degree online?
Yes. Just like at a traditional brick-and-mortar institution, you can earn your associate degree online. Southern New Hampshire University offers a variety of associate degrees, in business, STEM and liberal arts.
SNHU believes both students online and on campus deserve quality programs. No matter which format you use to earn your degree here, you can always count on earning a quality, accredited degree. As such, our campus and online diplomas are identical.
When you begin at SNHU, you'll receive login information that gives you access to your courses. Once you're in, you'll see that each week's assignments are laid out in modules. Because of the 24/7 access of the online environment and no mandatory login times, you can work on your readings, projects and assignments when it's most convenient for you – not at a scheduled time that doesn't work for your life.
And you can still feel a connection to others when you attend college online. Your instructor and academic advisor – only a few of the many people here in your support system – are just an email or phone call away. And you'll have the opportunity to get to know your classmates through weekly discussion board posts, which allows you to discuss class topics and learn about different views from all over the country – and the world. You'll also have access to SNHUconnect, a private online community exclusively for our online students, where you can join clubs and organizations remotely.
Plus, an online associate program can be a building block for your career. Just like at a traditional campus, you can use the credits you've earned for your associate degree and put them toward a bachelor's degree later on if you choose to continue your education.
Do online degrees say "online"?
At Southern New Hampshire University, every graduate – whether online or campus – receives the same diploma. A number of institutions do make the distinction right on the diploma – a necessary notation because their online curriculum may differ vastly from their campus coursework, but at SNHU, we believe all of our students have put in the work to succeed both here and in the future, and therefore deserve the same recognition. Our degrees earned online carry the same accreditation and value as a campus degree.
Students who get their degrees online also have the opportunity to take part in a major life event that every college graduate should try to experience. All online and campus students are invited to attend the university's commencement ceremony to receive their diploma – walking across the stage as their name is called to make the honor even more official. It's a special chance to meet thousands of other online students like you who understand the significance of earning your degree.
Is an online degree recognized/respected?
Yes. As the popularity of convenient, online college degrees has grown over the past few decades, so has the mainstream acceptance of them.
Many online programs were born out of traditional colleges with campuses – such as the one at Southern New Hampshire University. Founded in 1932 as a two-room business school, the college went on to gain accreditation, become a nonprofit, build out more programs and continue to meet the needs of the workforce.
SNHU began its online programs back in 1995 – mainly as a way to help service members earn their degrees despite their unusual schedules and regular moves around the country and world. Seen as an innovative leader among online programs, today SNHU has over 170,000 online learners throughout the globe.
SNHU has always focused on student success and has been recognized nationally with many awards, including:
"Most Innovative" regional university honors from U.S. News & World Report each year since 2015
A $1 million grant from Google.org to explore soft skills assessments for high-need youth
Recognition as a 2017 Digital Learning Innovator by the Online Learning Consortium
SNHU is also institutionally accredited by the New England Commission of Higher Education (NECHE), covering all 200+ of our associate, bachelor's and master's programs that meet high academic standards. In addition, many of our programs carry programmatic accreditations. For more information, visit our accreditations page.
References
Sources & Citations (1, 2)
1Bureau of Labor Statistics, U.S. Department of Labor, Occupations that Need More Education for Entry are Projected to Grow Faster Than Average, 2021, on the internet, at https://www.bls.gov/emp/tables/education-summary.htm (viewed Sept. 25, 2023).
2Bureau of Labor Statistics, U.S. Department of Labor, Employment Projections, Unemployment rates and earnings by educational attainment, 2022, on the internet, at https://www.bls.gov/emp/tables/unemployment-earnings-education.htm (visited October 19, 2023)