SNHU Community Comes Together for the Unveiling of Monadnock Hall
Just over a year ago, trees were being cleared from campus, making way for Monadnock Hall. Now, the dorm's first-ever residents are getting settled into their new home, preparing for the upcoming year.
The four-story, apartment-style residence hall, which was named by the student body, is Southern New Hampshire University's (SNHU) newest addition to campus and will house 300 students.
To celebrate its opening, the SNHU community gathered together for a ribbon cutting ceremony and open house on September 1. Nearly 100 staff, faculty, student-athletes, and residence assistants joined SNHU President Paul LeBlanc and Dean of Students Heather Lorenz for the unveiling.
Monadnock Hall was designed to be a student-centric living and learning environment, and consists of 75, four-person apartments; most have two doubles and a few have four singles. All of the apartments include a private bathroom with a separate shower stall, and an open-concept kitchen, living and dining room.
During the design process, SNHU asked students what their "dream dorm" would look like and used the feedback to incorporate elements throughout the building.
"We used students to tell us what they wanted and [the architectural and construction teams] made it happen," said Lorenz.
Throughout the center of the building, also known as the "knuckle," there is an array of amenities, including a fitness center with wheelchair accessible equipment, a game room, public and private study spaces, staff offices and laundry facilities on each floor. The hall also has an abundance of natural light and walls made of exposed stone, which was intended to represent that natural elements found in New Hampshire.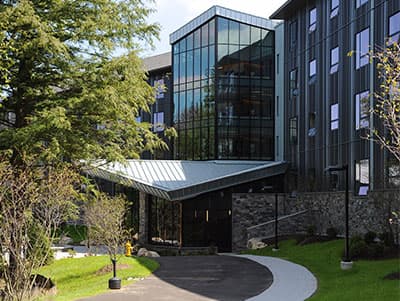 As part of the university's commitment to create a more inclusive environment, Monadnock Hall is Americans with Disabilities Act compliant to accommodates students with disabilities, and also has the campus's first Autism Spectrum Disorder-compliant rooms. These rooms, housed in a single apartment, have increased acoustical protections and lights that can be dimmed.
"If there's anything that (SNHU is) committed to today, it's that we're committed to the success of every student," said LeBlanc. "We embrace everybody for what they bring to the table and this is part of that embrace."
Monadnock may be SNHU's newest addition to campus, but it is definitely not its last.
Following the dorm's unveiling, SNHU opened its CETA Annex, the home of the university's new College of Engineering, Technology and Aeronautics. In addition, SNHU plans to open Penmen Stadium this fall, and construction is already underway for another residence hall.
"It's always fun in October at Homecoming when people who haven't been here in a couple of years come back and they sort of don't recognize their campus. Right? It's this amazing change," said LeBlanc.
Explore more content like this article
President's and Dean's List Summer 2019
September 25, 2019
It is with great pleasure that Southern New Hampshire University (SNHU) recognizes the following students' academic achievement in being named to the President and Dean's List for the summer 2019 semester.
SNHU Recognized as a "Great College to Work For" 12 Years in a Row
September 16, 2019
For the 12th consecutive year, Southern New Hampshire University (SNHU) has been recognized as one of the nation's "Great Colleges to Work For." SNHU, the only recipient from New Hampshire, is one of two institutions in the country that has earned this distinction every year since the award's inception, and is among 85 institutions that received the award this year.
SNHU Named the Most Innovative Regional University, a Top College for Adult Learners
September 09, 2019
Southern New Hampshire University (SNHU) has recently been recognized as a top university by two national publications. U.S. News & World Report announced today that SNHU has been named the most innovative university in the north for the fifth consecutive year. In late August, SNHU was also recognized as a top institution for adult learners by Washington Monthly.