Penmen Stadium Officially Opens on SNHU Campus
After many long months of anticipation and excitement, Southern New Hampshire University officially announced the opening of Penmen Stadium with a ribbon-cutting ceremony on Saturday, Feb. 24. The event marked the culmination of more than a year of planning, construction and refinement by SNHU, with the end goal of creating an athletic facility in which students and faculty alike can take pride.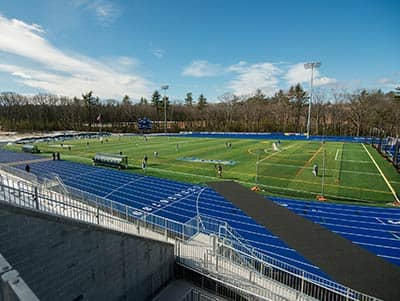 "It's an honor, really, to work with a group that never, ever puts anything before students," Dr. Paul LeBlanc, president and CEO of SNHU, said at the ceremony. "We make these investments to honor the work you do on the field and on the court. This is really not about 'hey, look at this great thing we've done for you.' It's what you've done for us. What you do for us every day with your dedication, your discipline."
Penmen Stadium is prepared to accommodate a wide range of sports. The facility boasts a 1,500-seat FieldTurf stadium able to host soccer, lacrosse, and field hockey matches. State-of-the-art lighting, sound and scoreboard systems will ensure that spectators will feel connected to the action. Surrounding the field is an eight-lane track, certified by the International Association of Athletics Federations (IAAF).
In addition to the field itself, the facility is also home to six new tennis courts, a 5,200-square-foot strength and conditioning center, a training room, locker rooms, offices for coaches and administrators, and even a Penmen Club area ideal for comfortable viewing of the events on the field. These beautiful, modern amenities will allow Penmen athletes and their coaches to work, train and play with pride and confidence.
"With what our student athletes do, and the work of our trainers, the work of our coaches, and everyone who supports the program ... this is the best athletic program in the NE-10 by far," LeBlanc said.
Penmen Stadium represents SNHU's continuing dedication to improving campus, providing students with new and exciting resources, and making the university feel like home.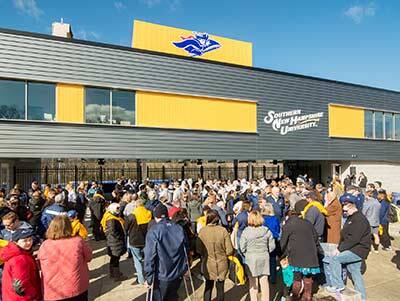 "In my 11 years at this institution, I have watched this campus transform," University College President Dr. Patty Lynott said. "And here's what I know. Space matters. Space impacts how our students learn. Space impacts how our athletes perform. And space has the power to actually shape a community's thinking or perspective. And all the space on this campus makes us incredibly happy, incredibly confident and incredibly proud. So adding this incredible athletic complex really heightens the pride we have in Southern New Hampshire University."
Those who attended the ribbon cutting didn't have to wait long to see Penmen Stadium in action. Immediately following the ceremony, the SNHU men's lacrosse team played their opening game of the season within its confines. The Penmen defeated Georgian Court University 14-11, making a positive first impression on both their fans and their new home.
Shane Carley is a writer and content developer in the Southern New Hampshire University marketing office. Connect with him on LinkedIn.
Explore more content like this article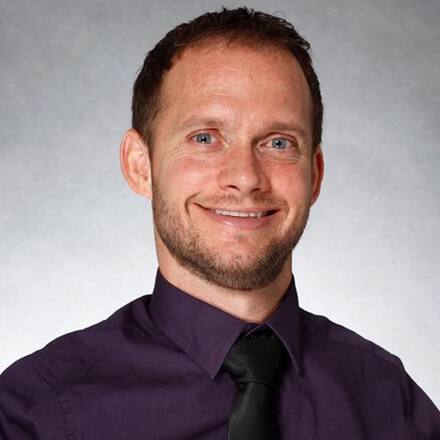 Clinical Mental Health Instructor Dr. Damion Cummins: A Faculty Q&A
December 06, 2019
Dr. Damion Cummins found his passion for counseling during his recovery from a life-altering sports injury. Now he teaches students in Southern New Hampshire University's master's in clinical mental health counseling so they can begin careers counseling others.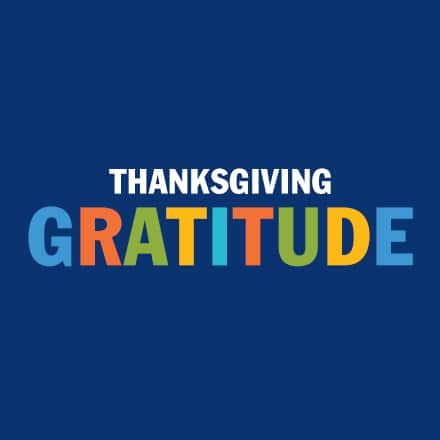 Dear Past Me: Thanksgiving Gratitude to My Past Self
November 27, 2019
The core of Thanksgiving is gratitude - to our loved ones, to ourselves, to the beauty of life and new experiences. SNHU faculty and staff were asked this question: If you had a chance to thank your younger self for something you did, what would it be and why? Here's what some had to say.
Global Citizens Circle Addresses Civility in Politics
November 25, 2019
Two political veterans visited Southern New Hampshire University to discuss the current state of political conversation in America and how having difficult conversations can still be beneficial.