The 13th Black New England Conference to be Held at SNHU
The 13th Black New England Conference, BLACK INK: African American News from Slave Songs to Social Media, will be held at Southern New Hampshire University on Oct. 25-26. This is the first time the Black Heritage Trail of New Hampshire (BHTNH) is hosting the conference at SNHU in Manchester, an opportunity the university welcomes said SNHU's Senior Vice President and Chief Diversity and Inclusion Officer Jada Keye Hebra.
"The work BHTNH does to raise awareness of New Hampshire's historic diversity is exciting important," Hebra said. "The opportunity to bring this event to our students, faculty and staff was too good to pass up."
What's Happening at the Conference?
The October conference will explore the varied ways African Americans have produced and shared news, examining the roles African American have played in the mainstream media, covering politics, sports, money and social issues, alongside the role Black publications like Ebony and Jet played in shaping class aspirations.
Through oral communication, print, websites and social media, Black news has and will continue to shape African American understanding of themselves and resist the often racist narratives told about them. The future of Black news and how it might reimagine what it means to be Black in America will also be a focus, according to BHTNH.
"In this moment of national doubt about what is fact and what is fiction, people are concerned about who controls the media, the implications of an unfree press and the danger of social media echo chambers, and silenced voices" – these are just some of the reasons why Hebra said this conference should matter to SNHU students, staff and faculty.
"I think it will be instructive and enlightening to reflect on how these issues played out in the past during similar times of doubt, fear and unrest," she said. "I suspect people will walk away with a lot to process and discuss."
Who's Coming?
The two-day event brings academics, artists, activists and community members together to share insights and research on Black experiences, past and present, in New England and beyond – and is considered both an academic conference and a celebration of Black life and history.
Hebra encourages members of the SNHU community to attend "because they'll surely learn something new at this academic conference designed to lift up nuanced, often unknown aspects of our American history as well as to celebrate Black American heritage with keynote speaker April Ryan and a fashion show that is expected to be incredible."
Ryan, a White House correspondent and CNN political analyst, has a unique vantage point as the only Black female reporter covering urban issues from the White House. The fashion show, "Hot off the Press," features clothing from African-American designers, drawing inspiration from media sources dating back to Negro spirituals, which served as a communication tool to today's use of social media as movements to discuss civil liberties for all.
Conference Registration
Conference registration is now open, and includes various options from the first-day bus tour – to Milford, New Hampshire to explore the town's famous resident, the first female African-American author in North America, Harriet E. Wilson and the Abolition Movement in Milford – or just the fashion show to all events throughout the two days.
Space is limited, and preregistration is suggested and available online. To register for the conference, please visit: http://blackheritagetrailnh.org/2019bnec2/. For more information please email: info@blackheritagetrailnh.org.
Pamme Boutselis is a writer and content director in higher education. Follow her on Twitter @pammeb or connect on LinkedIn.
Explore more content like this article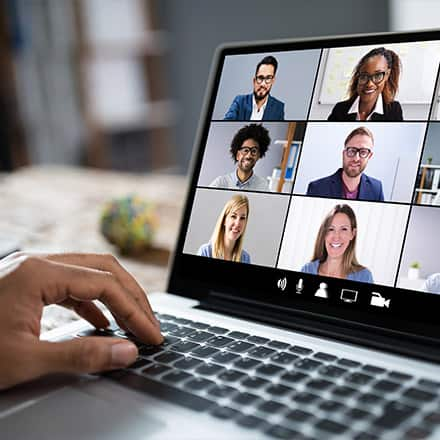 February 17, 2021
Thousands of SNHU educators from various disciplines virtually convened for the university's second annual Gather Conference. The three-day conference focused on online instruction approaches and other developmental opportunities.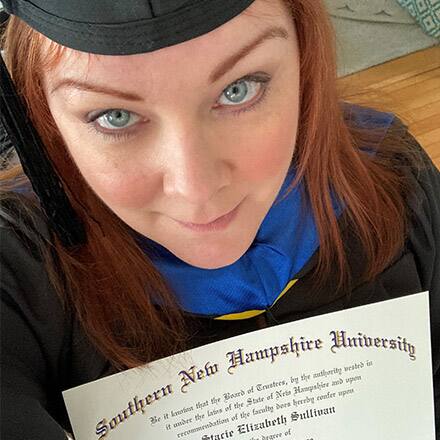 September 08, 2020
For years, Stacie Sullivan '19 felt stuck in her career, sensing her opportunities to advance were limited. After a series of challenging life events, Sullivan enrolled in the BS in Health Information Management program at SNHU.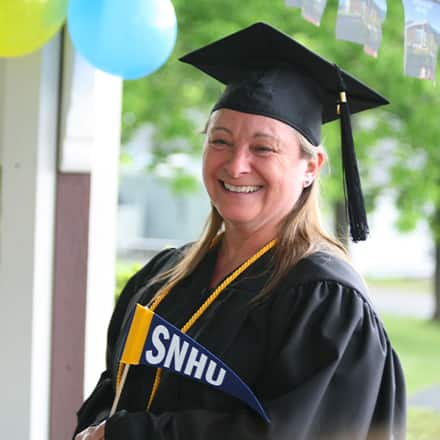 August 03, 2020
When SNHU's Commencement was postponed, Dr. Gwen Britton decided she would arrange a special ceremony for her longtime friend who had earned her bachelor's in information technology.