Tito Jackson: A Definition of Social Justice

Global Citizens Circle (GCC), a nonprofit organization dedicated to diversity, discussion and constructive change and located on the campus of Southern New Hampshire University (SNHU), welcomed Tito Jackson as the first discussion leader in its new series, "Walking the Talk," on Friday, Oct. 19 at the Walker Auditorium at SNHU's Manchester, New Hampshire campus.
---
More than 100 students, faculty, staff and community members listened intently as Jackson, a former Boston city councilor, mayoral candidate and current CEO of Verdant Medical, shared his unique story. It served as a launching pad from which he and those in attendance went on to have a conversation on race, inclusion, equity and activism.
One could hear a pin drop as he spoke of his entry into this world, born to a 13-year-old child who was sexually assaulted, and his development into a socially conscious, community-minded, active and proud black man. He credits his adoptive parents, Rosa and Herb Jackson, with instilling in him from a young age a commitment to justice and an attitude of grace. Jackson has successfully navigated the streets of his Roxbury, Massachusetts neighborhood, the halls of his diverse Brookline high school, the predominantly white classrooms of his alma mater, the University of New Hampshire, and the corridors of the Massachusetts State House and Boston City Hall.
A Call to Action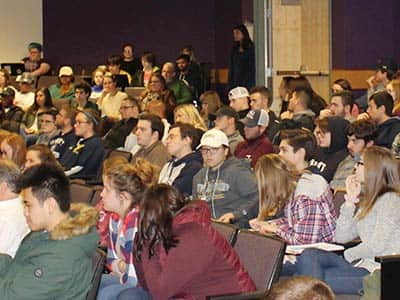 In telling the story of his birth mother, Jackson connected it to his work for gender equity and called on the young men in the audience to use their male privilege to be an ally to women and work to eliminate violence against women.
This wasn't his only call to action that afternoon. Several times, he reminded students that positive change, the change they want to see in their world, lies in their hands. "The cavalry isn't coming to save us," he warned. As Jackson told the audience of Dr. Martin Luther King, Jr.'s relative youth during his years of leadership of the civil rights movement, he said, "It is young people who change the world."
A Look at Finance and Health by Race
Addressing many of the difficult issues of race that SNHU first-year students have been grappling with in their required First Year Seminar (FYS), Jackson asserted that "racism is alive and well." A lifelong Boston resident, he shocked some in the audience with facts he cited from the Federal Reserve Bank of Boston that the median net worth of African-American households in Boston is $8, while it is $247,500 for white households. Jackson emphasized that $8 figure, saying he didn't mean $800 or $8,000, but that the $8 net worth of African American households in Boston speaks to the lack of opportunities to build assets over generations.
He spoke of the 30-year life expectancy gap between those living in Back Bay, a predominantly white area, and Roxbury, a predominantly black area. Both are in the district Jackson represented as a city councilor, and he emphasized that there is a mere two-mile separation between the two.
Understanding How Real Change Occurs
Many of the first-year students in attendance had just read about and discussed in their classes, the 1955 murder of Emmett Till and how his accuser had recanted in the past year. Jackson reminded them that, while we might think of the circumstances surrounding Till's murder as history, just several days prior, on Oct. 16, 2018, there had been a news story of a white woman calling 911 to report that she had been sexually assaulted by a 9-year-old black child when his backpack inadvertently brushed up against her in a crowded deli.
How does positive change occur given these harsh realities? Jackson told the students that "real change only occurs when those who are in the majority start speaking up, sticking up and start fighting for those who are in the minority." With a passion that inspired and a personality that captivated, Jackson told the students, "We need you."
Social Justice in Action
Jackson is now taking his fight for social justice to his new role in the cannabis industry as CEO of Verdant Medical, Inc. Paying his employees $15 an hour and giving formerly incarcerated individuals a second chance by hiring them to work for him has given an opportunity to those who have been underserved and left behind.
It is for this reason that Tito Jackson believes that service to our communities needn't come only through a career in public service, but that, in fact, social responsibility in the private sector is also a critically important piece of a life well-lived. He concluded the discussion with this thought: "On your headstone is your name, date of birth - date of death. The only thing that matters is the 'dash' line between entry and departure: What did you do with it? Go forward!"
Global Citizens Circle will be bringing more changemakers like Jackson to SNHU for further discussions in its "Walking the Talk" series. If you missed this program, GCC streamed it on its Facebook page, and you can watch selected clips on GCC's YouTube channel. If you are interested in learning more about the organization or have ideas for other changemakers you'd like to hear, please contact Theo Spanos Dunfey, president and executive director, at t.dunfey@snhu.edu.
Explore more content like this article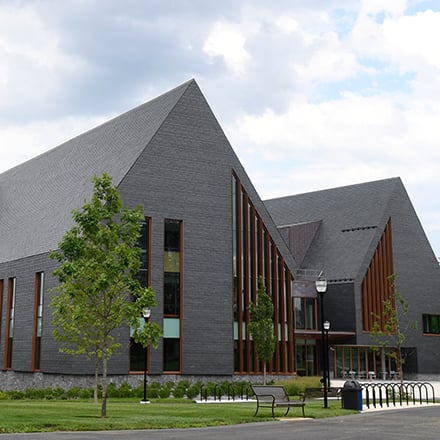 Dr. Kyle Viator has been connected to SNHU in one way or another since his undergraduate days, and most recently he became the dean of the university's School of Engineering, Technology and Aeronautics (SETA). In a Q&A, he shared a bit about his background, the SETA programs and more.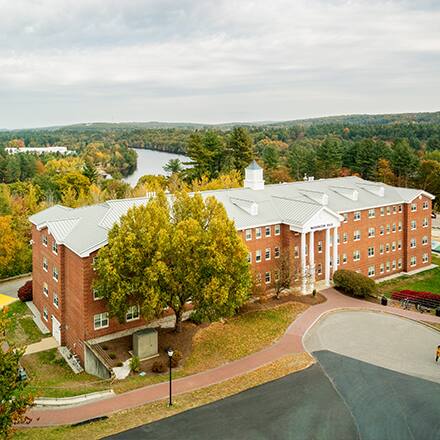 Bringing a lifelong passion for economics, backed by a doctorate and nearly two decades working in higher education, Dr. Diego C. Nocetti recently joined the ranks at SNHU as the dean of the School of Business on campus. He shared his personal experiences in education, advice for students and more.
Coming from a background of teaching political science and overseeing other programs within the social sciences and education disciplines, Dr. Ben Cole, SNHU's dean of the School of Arts, Sciences and Education on campus, reflected on his growth as a leader, SNHU's programs, the future and more.
About Southern New Hampshire University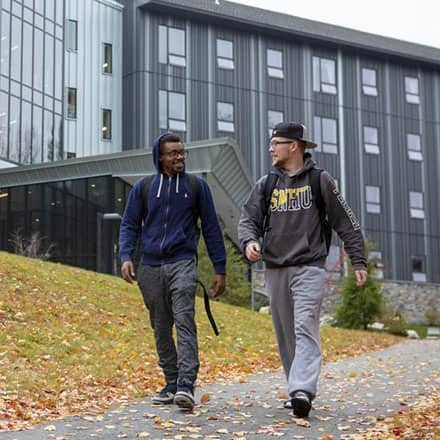 SNHU is a nonprofit, accredited university with a mission to make high-quality education more accessible and affordable for everyone.
Founded in 1932, and online since 1995, we've helped countless students reach their goals with flexible, career-focused programs. Our 300-acre campus in Manchester, NH is home to over 3,000 students, and we serve over 135,000 students online. Visit our about SNHU page to learn more about our mission, accreditations, leadership team, national recognitions and awards.