International Student Emmanuel Audu Finds Community at SNHU
Emmanuel Audu came to Southern New Hampshire University from Nigeria with a dream of playing soccer. But when an injury sidelined him, he knew he had a greater purpose: to succeed academically and give back to his community. Audu, who arrived at SNHU in August 2015, says that the very first thing he saw on campus was the soccer field. "It made me so excited. I thought, God is telling me this is the place for me," he said.
But things did not fall into place as easily as he hoped. Back home, an economic recession sent the value of the Nigerian naira plunging, and his family warned that they weren't sure how long they could pay his tuition. An old hip injury flared up and left Audu unable to play soccer. Alone and 8,500 miles from home, Audu was faced with a choice: ask for help, or give up his dream of an American education.
Little did he know that the SNHU community would soon embrace him. Staff members in the President's office helped him get financial assistance through scholarships, including as a recipient of the Sponsored Scholars program and through the Charles and Barbara Bickford International Scholarship for international students. These scholarships truly changed his life and allowed him to persist in his education, and he's been able to connect directly with the Bickford family to thank them for their generosity and impact.
His classmates, his professors, and staff members reached out to him, helping him find his way on campus, make friends, and even eat pizza for the first time. Their warmth and generosity touched Audu, who realized he wanted to give back to the people who had helped him financially and made him feel so welcome. "I consider them angels," he said. "My mindset of life has changed. I don't need to know you to help you."
He's poured his energy into his academics, and his grade point average soared from a 3.1 to a 3.67, landing him a spot on the dean's list and an internship at Globe Manufacturing with SNHU alumnus a Trustee Rob Freese '89. Even after his injury improved, he still put academics first. "This is about getting educated and getting wisdom from people," he said.
He's also devoted himself to helping other international students around campus by serving on the International Student Advisory Board. "Now if I see an African student, I walk up to him and I say, 'How you doing, you good? You need anything?'" It's not uncommon for him to invite students to his apartment for dinner as they get acclimated to SNHU.
Audu has embraced his new community, said Krista Leidemer, director of campus operations and the ombudsperson for student issues, who has helped Audu with everything from finding a new job when his hip injury acted up, to helping him connect with people throughout the SNHU community. "Many people find a strong connection to him, even after only knowing him for minutes," she said. "For me, it is his positive outlook on life despite many hardships, his genuine kindness to everyone he meets, and the way he goes above and beyond in every aspect of his life, never wanting to waste an opportunity, no matter how small."
Audu is a business administration major, and wants to learn how to start his own company. He's particularly interested in agricultural business, and has a vision of taking what he's learned back to Nigeria one day. He said, "Because of what people did for me, the help that I got-it makes me want to help people even more."
Rebecca Mahoney '11MFA is a freelance writer and editor from New Hampshire, with more than 20 years of experience writing for national publications. Connect with her on LinkedIn.
Explore more content like this article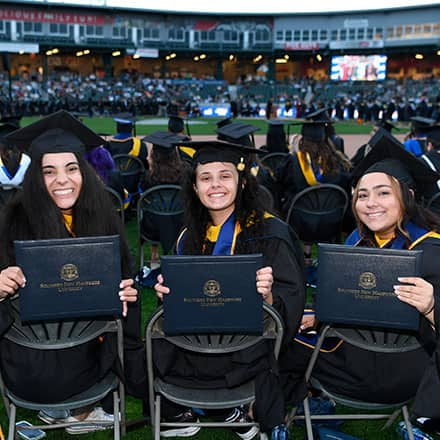 October 18, 2021
Southern New Hampshire University's Class of 2020 and 2021 campus graduates had their moment in the sun on Saturday when more than 400 celebrated their incredible achievements at Northeast Delta Dental Stadium in Manchester, New Hampshire.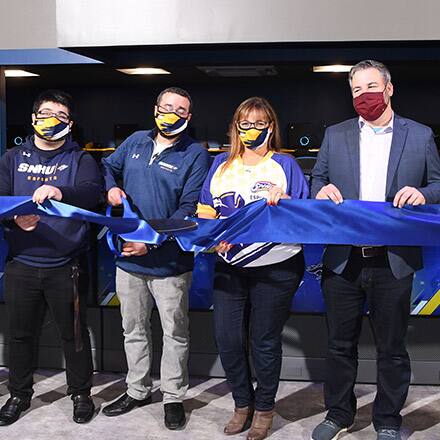 October 13, 2021
SNHU celebrated the grand opening of its esports arena on October 8th. A ribbon-cutting event marked the official opening to welcome the campus community and to see where esports players hone their gaming skills and compete against varsity-level opponents across the U.S. and Canada.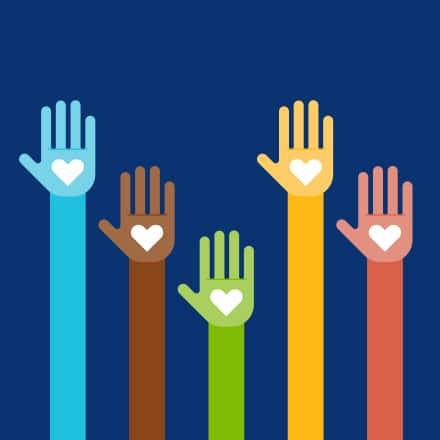 June 21, 2021
SNHU's 2021 Global Days of Service brought attention to a different societal issue each month: hunger, shelter, environmental justice and the pandemic's essential workers. Throughout the four-month-long event, Penmen from across the world shared their stories of service, community and strength.