SNHU Welcomes Global Citizens Circle Back to Campus
Now more than ever, Southern New Hampshire University (SNHU) sees increasing urgency to foster respectful and thoughtful conversations about the social, economic and political challenges we face around the globe. Whether it is to discuss homelessness, war, racial tension, women's rights, politics or the many other critical issues of our time, SNHU is committed to giving our community a platform to listen, learn and take sustainable actions to create positive social change.
As part of that commitment, the University is welcoming Global Citizens Circle (GCC), a nonpartisan, nonprofit organization that has cultivated honest dialogue around the world since 1974, back to campus.
"Since the late 1980s, GCC has played a critical role in fueling thoughtful discussion at SNHU, sparking action on campus and in the greater community," said Paul LeBlanc, SNHU president. "With its new home at SNHU, my hope is that GCC can, once again, help provide the SNHU community with a safe space for healthy debate."
Founded as New England Circle by the family of SNHU professor emeritus Eleanor Dunfey-Freiburger, the organization's mission is to convene individuals diverse in age, race, gender, education and economic backgrounds in respectful settings for honest dialogue. The process focuses on intergenerational listening, learning, and forging common ground of principled compromise - the only way people can create sustainable solutions for our community's and world's most pressing problems.
GCC's civil discourse concept draws on a nineteenth-century tradition - the Saturday Club. Great thinkers such as Emerson, Hawthorne, Holmes, Longfellow and Booker T. Washington gathered at the Parker House Hotel in Boston to probe issues of their day, moving members to bold action. In 1968, the Dunfey family acquired the Parker House and their discovery of the Saturday Club archives inspired them to revive the tradition.
Since its inception, more than 20,000 people have been invited to be participants in hundreds of GCC programs, called "Circles," including a young, little-known Barack Obama when he was a 1991 Harvard Law student. In an era of assassinations, the Civil Rights Movement, the Vietnam War and Watergate, the nonprofit set out to engage individuals in civil discourse addressing national and local issues. From 1972 on, through "The Troubles" and the Peace Process in Northern Ireland, GCC has worked behind the scenes to provide much needed, respectful settings for cross-community dialogue. It has also continued its efforts in the struggle against South Africa's apartheid system and that country's ongoing building of their democracy, among many other international issues.
The partnership between SNHU and GCC began in 1989 when Dunfey-Freiburger, co-chair GCC, incorporated the work of the nonprofit into campus and community outreach projects of her business ethics students. Soon, GCC began hosting programs with SNHU including Arn Chorn Pond, a child survivor of the Cambodian Killing Fields; Martin Luther King III, Archbishop Desmond Tutu, business leaders in corporate social responsibility such as Gary Hirshberg and Joe Keefe; social activist Bloods and Crips peacemaker, Aqeela Sherrills, and Rwandan genocide survivor, Immaculee Ilibagiza.
Programming continued on campus through 2016 while SNHU archived the GCC's history, keeping the two organizations connected. Now, the University has welcomed GCC back to campus and moving forward with its office in the Center for Teaching and Learning, in the Wolak Library Learning Commons.
"As GCC's 45th anniversary approaches, we are privileged to accept SNHU's invitation to work more closely with the campus community, its many departments and special initiatives, local and global, and other campus-based entities like the World Affairs Council, to address urgent contemporary concerns," said Dunfey-Freiburger. "Our goal is to listen and respond to critical issues that the campus and community seek to address; to be ahead of the curve in identifying issues, and behind the scenes in dealing with them. We know that programs don't create change. People do."
Throughout the academic year, GCC will collaborate with University departments, organizations and community members to advance the University's priority to foster civil discourse, providing for the safe exchange of ideas and debate. There will be many opportunities for SNHU students, alumni, staff and faculty to engage, in person and through "concurrent companion events" where people can watch Circles via livestream and actively participate in the global discussions.
GCC executive director Theo Spanos-Dunfey, a graduate of the Fletcher School of Law & Diplomacy at Tufts University and Brown University, has also joined the campus community. She has a wealth of global experience, most recently overseeing the Office of Citizenship and Civic Engagement at the University of New England, where she also taught courses in citizenship and led several student groups on global citizenship service learning trips abroad. Prior to that, she led the World Affairs Council of Maine and produced numerous global editorial conferences for The WorldPaper.
"I am very excited to meet and work with SNHU colleagues and students," said Spanos-Dunfey. "It is clear to me that the University is making respectful dialogue a priority, and to this end, I know that GCC will be an enthusiastic partner. We are also quite excited about our new 'digital wings' that will allow people from around the world, including the SNHU community, to participate in real time in every Circle via livestream, Twitter and other social platforms."
For information about an upcoming Circle in South Africa, visit https://globalcitizenscircle.squarespace.com, for GCC history, visit www.globalcitizenscircle.org; or contact Theo Dunfey t.dunfey@snhu.edu to learn about many ways to engage.
Explore more content like this article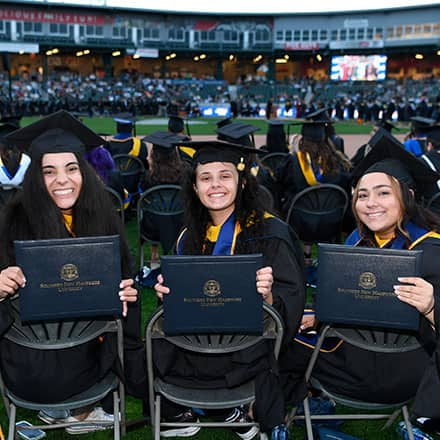 October 18, 2021
Southern New Hampshire University's Class of 2020 and 2021 campus graduates had their moment in the sun on Saturday when more than 400 celebrated their incredible achievements at Northeast Delta Dental Stadium in Manchester, New Hampshire.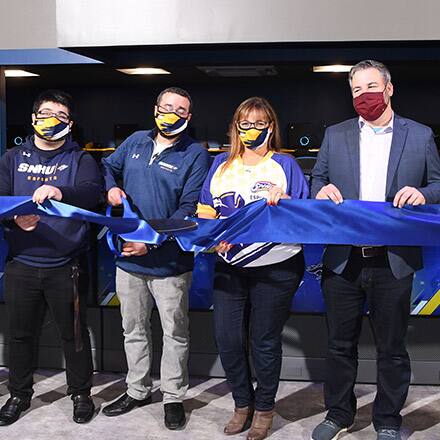 October 13, 2021
SNHU celebrated the grand opening of its esports arena on October 8th. A ribbon-cutting event marked the official opening to welcome the campus community and to see where esports players hone their gaming skills and compete against varsity-level opponents across the U.S. and Canada.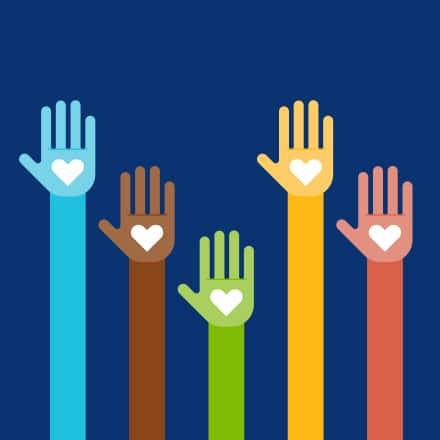 June 21, 2021
SNHU's 2021 Global Days of Service brought attention to a different societal issue each month: hunger, shelter, environmental justice and the pandemic's essential workers. Throughout the four-month-long event, Penmen from across the world shared their stories of service, community and strength.