SNHU Community Celebrates the Opening of Kingston Hall
In the fall of 1971, students arrived at Southern New Hampshire University (SNHU) - then New Hampshire College - to begin their studies on the college's brand-new campus on North River Road in Manchester, New Hampshire. These students were the first to call SNHU home and quickly got settled into the school's housing along the Merrimack River. Over the years, these residence halls have housed thousands of students, and countless memories were made along the way.
Now, nearly 50 years later, the university will welcome the first residents of Kingston Hall, a brand new 382-bed residence hall that was constructed where some of SNHU's original residence halls - Chocorua Hall, Winnisquam Hall and Kearsarge Hall - once stood.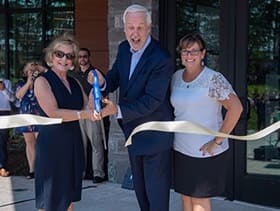 To celebrate the opening of the new residence hall, the community came together for a ceremonial ribbon cutting and open house on Aug. 29, just days before student move-in.
"We worked with a complete student-centered team [to build and design Kingston Hall]," said Heather Lorenz, vice president of student affairs and dean of students, University College, SNHU. "This building is inclusive. This building is for all of you, even if you don't live here."
The new 5-story residence hall, which overlooks campus and has stunning views of the Merrimack River, will house students in traditional double and single rooms. It's the first residence hall on campus to have the main level accessible to the entire SNHU community.
Throughout the first floor, there is an array of amenities, including a shuffleboard and pool table, private and public study spaces, a computer lab, an outdoor patio and a multi-purpose classroom where 14 classes are scheduled this academic year. There are also laundry facilities, study spaces and private and group bathrooms on each floor.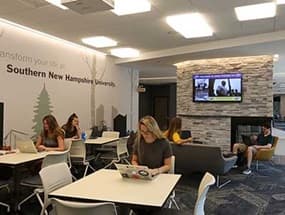 Unlike most traditional residence halls, Kingston has an open-style kitchen area on the main level with a stove, refrigerator, sink and cabinets. Students will be able to convene in this space, make meals together and connect with their peers.
The residence hall also has the university's second set of Autism Spectrum Disorder-compliant rooms, which have increased acoustical protections and lights that can be dimmed.
"The fact that in my almost 11 years here, we have basically added a new building every year speaks volumes about the incredible path this institution has taken," said Patty Lynott, campus president, SNHU. "I thought last year, 'nothing's going to top Monadnock [Hall], nothing.' I don't know, I think [Kingston] might top it."
Melanie Plourde '16 is a communications coordinator at Southern New Hampshire University.
Explore more content like this article
Ashley Franklin, a published author and SNHU English composition instructor, wants all underrepresented children to be able to see themselves in the stories around them. She's made it her mission to support them, with the hopes of allowing all kids to dream big about their futures.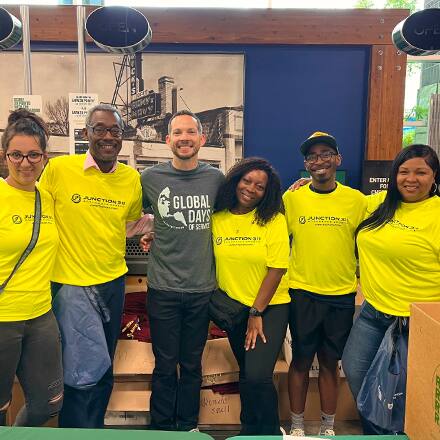 More than 1,648 SNHU students, staff, faculty, alumni and volunteers contributed over 9,196 hours of service during the university's 8th annual Global Days of Service. Participants had the opportunity to join an official project in their area or take part in a do-it-yourself project this spring.
SNHU's 2023 spring Commencement saw many students realize their dream of graduating with a degree. Among these graduates were grandmothers, mothers and daughters, including some who shared their journeys throughout their degree programs and walked across the stage together.
About Southern New Hampshire University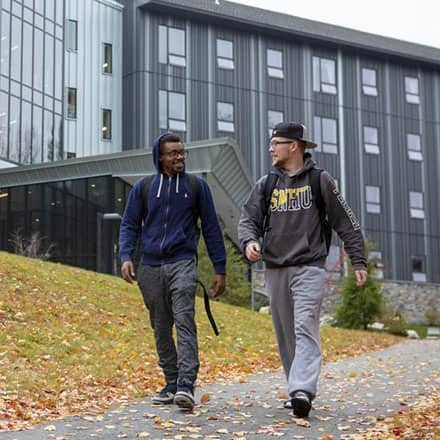 SNHU is a nonprofit, accredited university with a mission to make high-quality education more accessible and affordable for everyone.
Founded in 1932, and online since 1995, we've helped countless students reach their goals with flexible, career-focused programs. Our 300-acre campus in Manchester, NH is home to over 3,000 students, and we serve over 135,000 students online. Visit our about SNHU page to learn more about our mission, accreditations, leadership team, national recognitions and awards.