A Special Diploma Delivery for New Hampshire Grad
When Fiona Mathiesen '20 arrived at the gazebo near the Sunapee, New Hampshire, harbor recently, she thought she was there for a socially-distant discussion about "The Silent Patient" by Alex Michaelides with her book club. Instead, she found her long-time friend Dr. Gwen Britton – also a member of her book club – dressed in full academic regalia, just as she would be at SNHU's Commencement ceremonies.
"Then my husband showed up around the corner, and I was like, 'You sneak,'" Mathiesen said.
Britton, the associate vice president of STEM professions at Southern New Hampshire University (SNHU), and Mathiesen's friends and family had planned a surprise graduation event to celebrate Mathiesen's recently completed bachelor's in information technology.
"They completely surprised me. I had no idea," Mathiesen said. "They totally threw me for a loop."
Britton wanted to celebrate Mathiesen's achievement since SNHU's Commencement was postponed due to the COVID-19 pandemic. First, she planned the gathering by emailing Mathiesen's family and creating a secret email string with book group members in addition to the usual club communication string. Then she made a small podium as well as a miniature version of the iconic SNHU bus.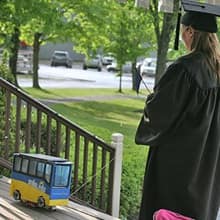 "The level of detail she did was amazing," Mathiesen said.
The gazebo is big enough for club and family members to stay 6 feet apart – which they did while the rain poured – and listened to Britton's short speech and presentation of Mathiesen's diploma. For the delivery, Britton attached it to the miniature bus. Mathiesen pulled on a string, and the bus "delivered" her diploma.
"It was exciting," she said. "It kind of affirmed what I've been doing for 5 years. And to have my parents and family there as well was really nice. It was great. It was very personal. And to have it right in my hometown as well was great. The main reason I wanted to march was for my parents."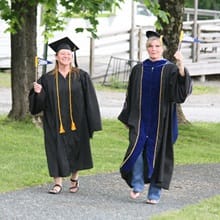 While her bachelor's degree had been long-awaited, it's not Mathiesen's first experience at SNHU. She earned her associate degree after high school back when SNHU was still New Hampshire College. Mathiesen said she began her career after earning that degree but always wanted her bachelor's.
"It was kind of a bucket list thing and the timing was just right when I decided to do it," she said.
Britton said she cheered her friend on during her journey and was thrilled to help her celebrate reaching the finish line.
"She was just so happy. She was just ecstatic," Britton said. "It was fantastic. It touched my heart knowing it was something she was looking forward to and she's worked so hard for so long."
Joe Cote is a staff writer at Southern New Hampshire University. Follow him on Twitter @JoeCo2323.
Explore more content like this article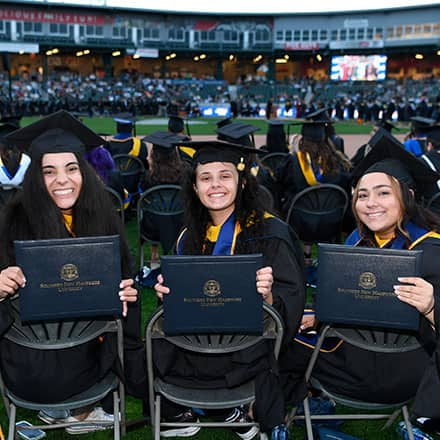 October 18, 2021
Southern New Hampshire University's Class of 2020 and 2021 campus graduates had their moment in the sun on Saturday when more than 400 celebrated their incredible achievements at Northeast Delta Dental Stadium in Manchester, New Hampshire.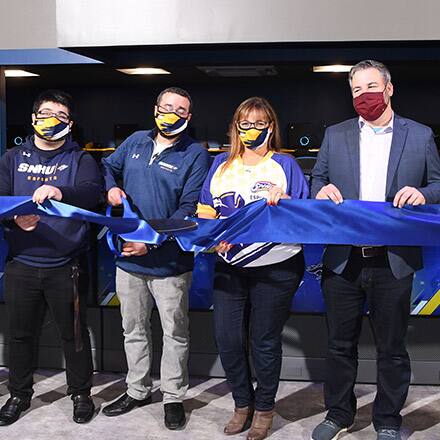 October 13, 2021
SNHU celebrated the grand opening of its esports arena on October 8th. A ribbon-cutting event marked the official opening to welcome the campus community and to see where esports players hone their gaming skills and compete against varsity-level opponents across the U.S. and Canada.
August 19, 2021
If you're wondering how to become a computer programmer, the field requires academic knowledge, a passion for math and engineering, adaptability and hands-on experience.