President's and Dean's List Winter 2021
It is with great pleasure that Southern New Hampshire University (SNHU) recognizes the following students' academic achievement in being named to the President and Dean's List for the Winter 2021 semester.
Full-time students who have earned a minimum grade-point average of 3.700 and above are named to the President's List. Students who have earned a minimum grade-point average of 3.500 to 3.699 are named to the Dean's List. Full-time status is achieved by earning 12 credits; undergraduate day students must earn 12 credits in fall or spring semester, and online students must earn 12 credits in either EW1 & EW2, EW3 & EW4, or EW5 & EW6.
President's List
Dean's List
Scott Aaron
Robert Aanstad
Ifeanyi Abajuo
Chris Abney
Sheila Abalos
Kenya Abraham
William Abalos
Daniel Abreu
Gloria Abaya
Kalie Abreu
Ariana Abbarello
Fernanda Abreu
Dhouha Abbas
Jillian Acevedo
Alyscia Abbascia
Edouart Achana
Sharisse Abbott
Skyler Ackerman
Benjamin Abbott
Quinn Ackerman
Chris Abbott
Oumar Adam Hassaballah
Hannah Abbott
Elizabeth Adams
Sabghatullah Abdali
Jason Adams
Ahmed Abdelaziz
Timothy Adams
Sara Abdelaziz
Stevie Adams
Shemshia Abdella
Brianna Adams
Hind Abdelouahid
Christine Adams
Fatima Abdi
Jackie Adams
Zakar Abdo
Shannon Adams
Imran Abdul
Ronald Adams
Jamil Abdulai
Laura Adams
Audrey Abell
Isaac Adebiyi
Christian Abella
Olasubomi Adeyemi
Amy Abellera
Kaylee Adkins
Amanda Aberle
Arthur Adney
David Abernethy
Collette Adolph
Salomey Ablakwa
Jalal Agouli
Caleb Abney
Adam Agran
Olivia Aboshar
Jesus Aguilar-Otero
Alaina Abramowski
Nicholas Aguirre
Ryan Abrams
Bobbie Ahern
Cassandra Abrams
Emi Ahlo
Joseph Abrams
Youseff Ahmad
Cesar Abreu
Amanda Ahumada
Julio Abril
Boston Aicher
Thomas Abruzzo
Anita Aidoghie
Victoria Abshire
Nina Aiello
Maryam Abubakar
Zarina Akhmedova
Lindsey Acampora
Brianna Akridge
Nicole Accornero
Laura Alartosky
Amber Aceto
Natasha Albee
Omayra Acevedo
Peter Alberico
Stephanie Acevedo
Nakoosha Albert
Adam Acker
Steven Albrecht
Allyson Ackman
Erin Alder
Celica Acosta
Anthony Alderete
Edwin Acosta Perez
Franklin Aldridge
Rachel Adair
Allison Alessandro
John Adamczyk
Melissa Alexander
David Adames
Boyce Alexander
Torie Adamonis
Adriana Alfaro Salazar
Samual Adamovich
Yulesis Alfayate
Victoria Adams
Violeta Alijaj
Melissa Adams
Kathleen Allard
Ashley Adams
Benjamin Allen
Kyle Adams
Paige Allen
Tiffany Adams
Xavier Allen
Emily Adams
Ashley Allen
Jamie Adams
Danielle Alloway
Marissa Adams
Jamie Alongi
ShaQuanna Adams
Brian Alpers
Nichole Adams
Josmer Altidore
Anthony Adams
Matthew Altomari
Megan Adams
Ximena Alvarado
Alisha Adams
Juan Alvarado
Hannah Adams
Roberto Alvarez
Carrie Adams
Brenda Alvarez-Nieves
John Adams
Mitchell Aly
Nicole Adams-Cupp
Gerry Ambroise
Sharon Adamson
Jeanne Amey
Melissa Adamson
Lindsey Amos
Kristen Adcock
Amanda Amos
Mackenzie Adcock
Jessica Amos
Amy Addis
Tarra Amos
Nathaniel Addonizio
Jose Andazola
Heather Ade
Kathryn Anders
Modupe Adebola
Samantha Andersen
Veronika Ademaj
Danielle Andersen
Oluwaseun Adeyeri
Henry Andersen
Januka Adhikari
Antoine Anderson
Chandra Adhikari
Kyla Anderson
Sana Adil
Taylor Anderson
Rachel Adkins
Diangelo Anderson
Lester Adkins
Rhonda Anderson
Micah Adkins
Clifford Anderson
Rachel Adrian
Abigail Anderson
Justin Aebi
Rachel Anderson
Rahman Aftab
Jimilynn Anderson
Christopher Aftowski
Janis Andino
Rachel Agazie
Yesenia Andrade perez
Kaliya Agee
Henry Andrews
Haig Aghjayan
Genevieve Angel
Jennifer Agnello
Eric Angione
Elsie Agoda
Trevor Anibal
Veronika Agoshkova
Aba Anison
Karen Aguilar
Devyn Anunta
Liliana Aguilar
Selenia Apodaca
Michele Aguilar
Deanna Appleby
Gabrielle Aguilera
Chad Arceneaux
Danielle Aguirre
Delana Archer
Aleksander Aguirre
William Archey
Christopher Aguon
Jules Archondous
Augustine Agyapong
Cameron Ard
Reza Ahadimajdabadi
Raul Arellano
Afifa Ahmad
Roberto Arellano
Juwairiah Ahmad
Rosalva Arenas
Barzan Ahmed
Corey Armstrong
Phyllis Aho
Lashawnda Armstrong
Peter Aho
Sarai Arnberg
Jean-Luc Ahouangonou
Jennifer Arnold
Juliette Ailes
Kaley Arnold
Marla Ailor
Arianne Arnold
Alexander Ainzuain
Makayla-Anne Arquero
Kimberly Airing
Andrew Arrington
Kimberly Aitken
Rolando Arzate Ambriz
Youssef Ajouaoud
Hagar Asamoah
Isabella Akeley
Michael Ashley
Amber Akerman
Natalie Asikainen
Prabash Akmeemana
Joel Asobo
Ifeoma Akobundu
Martha Atkinson
Omar Al Yousuf
Miria Atkinson
Abdulrhman Alamri
Scott Attardi
Frank Alar
Kathy Attieh
Matthew Alarie
Patrick Atwater
Brenda Alatorre
Kyra Atwell
Ellen Albanese
Samuel Austin
Alaina Albano
Catherine Austin
Allison Alberico
Shaquille Austin
Luci Albers
Ashley Auston
Lynn Albert
Austin Autrey
Pamela Albert
Carmella Aviles
Liliana Alberto
Janniza Ayala
Sara Albertson
Michael Ayodele
Mohd Albourini
Sydney Ayotte
Kelsey Albright
Diana Azeez
Emily Albright
Michelle Azzara
Melinda Albright
Bradley Baas
Sara Albuainain
Mohamed Babiker
Martha Alcala
Cory Bachan
Philip Alcantar
Hayley Badillo
Ryan Alcantara
Wilma Baez
Alfredo Alcazar
Carissa Bailon
Angela Alcutt
Alex Bak
Marco Aldana
Rebbecca Baker
Giovanna Aldana
Yanique Baker
Monica Aldeguer
Hillary Baker
Alex Alden
Peter Baker
Justin Alderman
Scott Baker
Briana Alderman
Michelle Baker
Garrett Aldrich
Morrice Baker
Ryan Aldrich
Christopher Baker
Arnold Aleanu
Mackenzie Baker
Eric Aleman
Brett Baker
Reagan Alewine
Michelle Balderas
Stephen Alex
Rudy Balderrama
Iyanna Alexander
Lindsey Baldwin
John Alexander
Kiara Ballard
Erika Alexander
Erica Ballard
Katlyn Alexander
Dalis Balmaceda
Lindsey Alexander
Alan Baltazar
David Alexander
Richelle Banas
Jennifer Alexander
Matthew Bankert
William Alexander
Krista Banks
Christopher Alfano
Frances Banks
Elizabeth Alfaro
Layton Bannister
Elizabeth Alford
Cristian Banos Valencia
Courtney Alford
Roy Banuelos
Madeleine Alford
Jacqueline Baran
Benjamin Alger
Miguel Barba
Kiana Algire
Maria Barbati
Raja Alkhafaji
Raul Barcenas
Thomas Allard
Max a Million Bard
Richard Allard
Sarah Bare
Robert Allard
Linda Barnes
Alexis Allard
Douglas Barnes
Keith Allen
Lisa Barnes
Jaclyn Allen
Alexis Barnes
John Allen
Alexandria Barnes
Linda Allen
Dallas Barnes
Garrett Allen
Brandon Barnhart
Sarah Allen
Tarra Barr
Jessica Allen
Ranie Barr
Adam Allen
Jamie Barrand
Norma Allen
Maria Barrera
Jessica Allen
Elizabeth Barrett
Marquis Allen
Heather Barrows
Christina Allen
Wesley Bass
Marcus Allen
Gaige Bassett
Sandra Allen
Shelby Baston
Crystal Allen
Madison Batchelder
Mary Allen
Jackson Batchelor
Shearlene Allen
Cody Bates
Courtney Allen
Chalysse Bates
Heather Allen
Jillian Bathke
Shawn Allen
Mayara Batista
Mary Allen
Samantha Battison
Wardell Allen
Brett Bauer
Lashawn Allen
Lyric Bauguess
Jerrimie Allen
Jacquelyn Bayer
Daniel Allen
David Beal
Kendra Allen
Chelsea Bean
Kelsey Allen Moon
Bradley Bean
Brianna Allevato
Derek Beard
Kenneth Allison
Matthew Beattie
Kathryn Allison
Shanell Becenti
Amanda Allison
Holly Beck
Jason Allred
Samantha Beck
Sarah Allred
Wendy Bedolla
Oleivy Almanzar
Morgan Beech
Lemia Almawri
Frances Behagg
Edith Almazan
Consuelo Beissel
Carmen Almendarez
Alison Beitler
Rafael Almodovar Sanabria
Hilda Bekoe
Julia Almonte
Demetrius Belizario
Rachael Aloia
David Bell
Camila Alonzo
Dakoda Bellomy
Heath Alphin
Clinton Bellon
Faisal Alrajhi
Alexandra BenDavid
Azhoun Al-Sada
Beatrice Benedict
Danielle Alston
Laura Beningo
Aidan Altamirano
Ashley Bennett
patrick althoff
Alan Bennett
Noelle Altman
Maggie Bennett
Chris Altman
Marissa Bennett
Mark Alvarado
Tiernan Benoit
Susana Alvarez
Jillian Benoit
Johenell Alvarez
Kayla Benoit
Cristian Alvarez
Falen Benson
Brandy Alvarez
Krista Benson
Johnny Alvarez
Patrice Benson
Melissa Alvarez
Nicole Benson-Ambler
Katelyn Alvaroe
Kimberly Bentson
Brooke Alverson
Isaac Benzing
Alisa Alvi
Kaylyn Berard
Heidy Amador
Matthew Berdeguez
Kakra Amanor
William Berger
Kathleen Amaral
Shawn Bergeron
Tiana Amaro
Heika Bergmann
Edgard Amaro Carrion
Jessica Bergquist
Daniel Amato
Paloma Bernal Mejia
Shilpa Ambadipudi
Stephanie Berry
Kayla Ambrosino
Alana Bertch
Ryne Ameden
Ciera Bertine
Jacob Ameen
Jenna Berting
Dorine Ament
James Bertrand
Barbara Ames
Madison Berube
Tara Ames
Jordan Berube
Brian Ames
Theresa Bess
Tyehimba Ames
Rebecca Best
Ivan Amezcua
Antonio Bethune
Michelle Amezquita Reyes
Trevor Bettano
Juliana Amico
Alaina Betts
Megan Amico
Sana Bibi
Owen Amigo
Marci Bickford
Levar Amis
Kara Big Crow
Richard Ammerman
Daniel Bilbraut
Courtney Amphavanna
Rachel Billetter
Agyemang Amprofi
Lee Anne Billings
Fathi Amran
Tiah Bilodeau
Alexandra Amrien
Chloe Binding
Jonathon Amundson
Caitlin Birch
Meredith Anastasia
Melissa Bird
Madeleine Anctil
Brittney Birgy
Sara Andersen
Carolynn Birilli
Holly Andersen
Kristle Bishop
Thomasina Andersen
Samantha Bitseedy
Amin Andersen
Jessie Black
Cristine Anderson
Tabrieka Black
Jennelle Anderson
Courtney Black
Kevin Anderson
Hannah Black
Ashley Anderson
Dallis Blackburn
Brianna Anderson
Shandalynn Blagg
Jeremy Anderson
Brianna Blair
Jimmi Anderson
Rasheed Blake
Sara Anderson
Sierra Blanchard
Shawna Anderson
Kyle Blanchard
Justin Anderson
Thomas Blankenship
Taylor Anderson
Harry Blankenship
Kellie Anderson
Chandler Blatnik
Osten Anderson
Janet Blauer
Raelene Anderson
Taylor Blauer
Steven Anderson
Kristen Bledsoe
Brandi Anderson
Clover Rukia Bliss
Bryce Anderson
Tiffany Bliss
John Anderson
Jamie Bloomfield
Kate Anderson
Matthew Blouin
Shane Anderson
Codey Blowers
Natasha Anderson
Joshua Bock
Olivia Anderson
MaKena Bodine
Arianna Anderson
Amanda Bogard
Robert Anderson
Amanda Bogoslofski
Mitchell Anderson
Amanda Boles
Robin Anderson
Shawn Bolin
Crystal Anderson
Kristina Bolio
Brittani Anderson
Katie Bollinger
Michael Anderson
Jaimie Boltz
Daniel Anderson
Marissa Bomboy
Craig Anderson
Abigail Bond
Chara Anderson
Sean Bongiovanni
Michael Anderson
Jessica Bonner
Elisabeth Anderson
Samantha Bono
Mariah Anderson
Sharonda Booker
Janet Anderson
Lance Boone
Carrie Anderson
Andrew Booth
Mathew Anderton
Kyle Borgailo
Griffen Andes
Vanessa Borkey
Adam Andexler
Andrew Borland
Melissa Andolina
Madeline Borneman
Alec Andrade
Marisol Borreli
Isabella Andrade Silva
Lena Borror
Pamela Andral
Sherri Bostick
Shelby Andres
Monica Botelho
Laura Andresen
Emaleigh Boucher
Abigail Andreson
Dylan Bouffard
Jason Andrew
Christopher Boulay-Russell
Sarah Andrews
Craig Bourassa
Alexander Andrews
Jocelyn Bourassa
Amanda Andrews
Lori Bourque
Keyata Andrews
Timothy Boutte
Kelsie Andrews
Jeremiah Bower
Stephanie Andrews
Aaron Bowers
Lauren Andrews
Cory Bowers
April Andrews
Nathan Bowers
Amanda Andrus
Carrie Bowers
William Angarella
Jeremy Bowling
Martina Angel
Stevi Bowman
Rebecca Angelastro
Brixx Bowman
Frank Angelico
Sidney Bowsky
Chad Angell
Stephanie Boyd
Jessica Angelo
Nicholas Boyd
Adam Angerer
Samuel Boyer
Kendria Angrand
Markita Boyles
Casey Angus
Mason Bozzo
Adam Angus
Jayne Bradd
Adediwura Anifalaje
Kayla Bradley
Alex Annutto
Gregory Brady
Nathan Ansel
Jennifer Brady
Sal Ante
Marilyn Brady
Kiana Anthony
Lily Branch
Xavier Anthony
Keri Brangman
Logan Anthony
Timothy Brannon
Areionna Anthony
Virginia Brassfield
Cheryl Antkowski
Kelsey Brayboy
Alison Antonacci
Izabela Brazinsky
Christopher Antonelli
Katelyn Breadmore
Janine Antonis
Alycia Breault
Stephanie Antonucci
Mark Breaux
James Antony
Colton Breininger
Candice Antosca
Vincent Brennan
Vincent Antwi
Keith Brenneis
Elizabeth Aoun
Christopher Brew
Raymond Aponte
Shanna Brewer
Alejandro Aponte-Gotay
Savannah Brice
Joshua Apostol
Zahara Brice
Grant Applegate
Armani Bridges
Jenna Appleton
Jason Bridges
Rico Applewhite
Richard Bridgewater
James Aptt
Zachary Briggler
Anthony Apuzzo
Kenlee Briggs
Razelle Aquino
James Briggs
Gabriella Arana
Matthew Briscoe
Kaven Arango
Heather Brisson
Mary Araque
Asia Britto
Kelly Arasa
Jennifer Britton
Bruk Araya
Kaylena Brock
Corey Arbogast
Andrew Brockway
Moises Arboleda Ramirez
Jessica Brockway
Abel Arce
Matthew Brokke
Kaitlyn Archambault
Martin Bronke
Jacob Archambault
Joshua Brooks
Christopher Archambault
Tifaney Brooks
Kayla Archambault
Adel Brosch Pinto
Jessica Archer
Samuel Brotherson
Noah Archibald
Rebekah Broughten
Hollis Archibold
Francis Broughton
Amanda Arcuri
Camiel Brown
Kelsi Ard
Carrie Brown
Dorielle Ard
Nichole Brown
Peyton Ardrey
Terra Brown
Anthony Arduino
Boris Brown
Jeffrey Arena
Austin Brown
Delilah Arenas
Eliana Brown
Gustaf Arfelt
Jasmine Brown
Benjamin Argersinger
Kiara Brown
Elizabeth Arhin
Ankeyar Brown
Armando Arias
Jermal Brown
Barbara Arizmendez
Jacqueline Brown
Shane Armbrester
Racardo Brown
Schauna Armendariz
Zachary Brown
Amanda Armendariz
Alyssa Brown
Kaylee Armstead
David Brownell
Montelle Armstead
Shayla Brubaker
Abigail Armstrong
Mathew Brubaker
Jennifer Armstrong
Kelly Bruce
Brittany Armstrong
Jeana Bruhl
Julie Armstrong
Martha Brumley
Amber Armstrong
Corey Brummond
Janet Armstrong
Shane Brunelle
Robert Armstrong
Rebecca Bruno
Lauren Arney
Carrielynn Bryan
Abigail Arnold
Tammy Bryant
Jacqueline Arnold
Eric Bryant
Sydney Arnold
Joel Bryant
Pamela Arnold
Krista Bryant
Ronald Arnold
Toni Bucaria
Valencia Arnold
Anthony Buchanan
Thomas Arnott
Mary Buckley
Brandon Aronoff
Rose Buckley
Will Aronson
Qiondra Bullock
Flor Arredondo
Joshua Bundy
Andres Arreola
Dylan Burbank
Jesus Arriaga
Megan Burgher
Aiyanna Arrick
Natasha Burgin
Michelle Arrindell
Tatiana Burke
Shykila Arrington
Sarah Burman
Alicia Arroyo
Alycia Burnham
Cecelia Arroyo
Andrew Burns
Joao Arruda
Haley Burns
Jacen Arruda
Anthony Burns
Devin Arsenault
Joshua Burns
Michael Arsenault
Olivia Burns
Braiden Arsenault
Ethan Burns
Evan Arsenault
Cheri Burns-Davis
Alexis Arsenault
Kristopher Burrill
Kelly Arteaga
Lesa Burrows
Megan Arthur
Dawn Burton
Bernat Arumi
Kirsten Burton
Jorge Ascencio
Shane Burton
Azul Andrea Ascencio Perez
Darryl Burton
Joseph Aschenbrenner
Samantha Bush
Mikala Ash
Aiyana Bush
Danielle Ashby
Keeley Bush-Mooty
Hayle Ashford
Ryan Bushnell
Cody Ashley
Emma Buswell-Wible
Dyllon Ashton
Monika Butcher
Courtney Ashwell
Ahtaveya Butler
Justin Ashworth
Brett Butler
Crystal Asiwe
Terry Butler
Rodney Askew
Molly Buys
Nicholas Assad
Kelsey Byrne
Eyleen Astbury
Michael Byrne
Jamie Astudillo
Denis Cabrera
Maxwell Asuncion
Asia Cabrera
Karen Atchison
Donovan Cacavas
Matthew Atencio
Alba Caccavale
Marissa Atherton
Jonathan Caesar
Brendan Atherton
Bryan Caisse
Wily Atil
Dylan Calandro
Monica Atkins
Michael Calderone
Sally Atkins
Gretchen Calderone
Michelle Atkins
Amber Caldwell
Jamie Atkinson
Michelle Caley
Nicolette Atkinson
Cynthia Calixte
Sharitha Attanayake
Brooke Callahan
Lisa Atwell
Jon Callahan
Steve Atwell
Shawn Callard
Candice Atwell-Plenty
Tiondra Callejas
Misty Atwood
Susan Calow
Kevin Au
Rachel Calve
Sherline Au
Cristy Camacho
Joshua Aubry
Catherine Camara
Justin Auclair
Jason Camardi
Anthony Auditore
McKensey Cameron
Elisabeth Augello
Julia Camire
Walter Augustine
Jayson Camp
Paige Auker
Jazmyne Campbell
Tiffany Aukes
Courtney Campbell
Megan Auld
Stephanie Campbell
Chelsea Aultman
Aidan Campbell
Amy Ausmus
Dana Campbell
Alex Austin
Lauren Campbell
Dawn Austin
Nicole Canaday
Ray Austin
John Canducci
Brandi Austin
Andreya Cano-Gordillo
Sierra Austin-Messersmith
Luis Cantu
Shamadevi Autar
Kevin Canty
Jay Authement
Clarice Capobianco
Lisa Av
Alexa Cappel
Manuel Avalos
Elisandra Caraballo
Daria Avant
Hayley Carbone
Kyle Avantagiato
Tanja Cardena
Claudia Lucia Avendano Coronel
Bradley Cardenas-Peek
Sheena Averill
Gabriela Carducci
Aaron Averitt
Edward Carey
Kristina Avery
Belem Carias Chacon
Annick Avery
Arnel Carigo
Callum Avery
Joshua Carlisle
Sherwood Avery
Alexandrea Carlson
Zojie Aves
Taylor Carlson
Breana Avila
Asa Carlson
Danielle Avila
Joseph Carlson
Michael Awe
Jordan Carlson
Alexandria Axline
Jame Carlton
Charles Axtell
Fabian Carmona
Shadalis Ayala
Cornelle Carney
Brenda Ayala- Castillo
Vanessa Carpentier
Leilani Ayers
Sherjuana Carr
Dale Ayers
Chance Carr
Melinda Ayers
Lily Carr
Ashley Ayersman
Jose Carrillo
Gregory Aylward
Camden Carroll
Arthur Aznive
Makayla Carson
Theo Baars
Melanie Carson
Sana Babar
Megan Carson
James Babatunde
Kaleigh Carter
Charles Babcock
Sophia Carter
Evan Baber
Billie Carter
Ashley Babich-Zacharias
Thomas Cartmill
Madison Babine
Kira Carusone
Jacob Babson
Peter Casanova
Andrian Babykin
Matthew Casey
Tiffany Baca
Yamila Cason
Michael Bachand
Esmeralda Castaneda
Lindsey Bacher
Jennifer Castaneda
Shantel Bachmeier
Aaron Castaneda
Teresa Bachtel
Anthony Castiglioni
Jessie Backoff
Victoria Castillo
Olivia Backus
Felix Castillo
Julie Backus
Carol Castillo
Glenn Bacon
Albert Castle
Briona Bacy
Brittney Castleman
Amy Baczewski
Victor Castorena
Brianna Badajos
Allan Castro
Heather Baddeley
Alicia Castro
Laureen Baddoo
Dillon Cate
Sarah Bade
Cassandra Catino
Amanda Badger
Richard Caudill
Nicky Badham
Collette Caulfield
Alexandra Baer
Larry Cauliflower
Petra Baer
Troi Cavanaugh
Michael Baez
Thomas Cawley
Jessica Baez
Floyd Caywood
Manny Baez
Amanda Ceriello
Sarah Bagby
Amanda Cervantes
Isley Baggett
Lylienne Cesard
Ira Baggett
Sabrina Chacon
Shant Baghramian
Madisyn Chamberlain
Daquandria Bagley
Veronica Chamberland
Edward Bagley
Heather Chambers
Assiatu Bah
Jennifer Chambers
Jack Bahia
Amanda Chambers
Maddison Bailey
Danielle Champion
Hannah Bailey
Tracey Champion
Josh Bailey
Felina Chandler
Zachary Bailey
Joanne Chandler
Ashley Bailey
Shania Chapman
James Bailey
Edward Chapman
Adrina Bailey
Michelle Chattman
Latoya Bailey
Nataly Chavelon
Mark Bailey
Kelly Chavez
Egypt Bailey-Samuels
Zachary Chavez
Manton Bailie
Jacob Chermok
Julia Bailinson
Phillipe Chery
Korin Baillargeon
Britney Chhouk
Rachel Baillie
Marissa Chiampi
Stephanie Bain
James Child
Kendra Baines
Frank Chin
Kelly Baird
Ashli Chisolm
Shiann Baird
Daniel Choquette
Alexis Baird
Ali Choudhry
Vera Bajah
Jarhym Christopher
Glenn Baker
Candis Christopher
Ryan Baker
Sebrina Christopher
Ashleigh Baker
Lindsay Christy
Hope Baker
Simone Chung
Rashard Baker
Jaymee Church
Raymond Baker
Michael Ciccone
Sierra Baker
Ashley Cifrodello
Joshua Baker
Nitzmarie Cintron
Rebecca Baker
Jessica Cintron-Nazario
Elizabeth Baker
Miguel Cisneros
Mariah Baker
Oumar Cisse
Amy Baker
Jacob Clack
Madeline Baker
Travis Claeys
Tiffany Baker
Shadonna Clark
Desiree Baker
Dannielle Clark
John Baker
Marvin Clark
Olivia Baker
Michael Clark
Kaylenn Baker
Jaclyn Clark
Shannon Baker
Autumn Clark
Donald Baker
Talicia Clarke
Chelsey Baker
Jennifer Clarke
Whittney Baker
Justina Clarke
Aicha Baki
Nicole Clary
Sarah Bakios
Garrett Claunch
Paul Bakjian
Janet Clemens
Angela Bakken
Spencer Cleveland
Abigayle Bakner
Hannah Clifford
Cody Bala
Maria Clifford
Kristin Balac
Rebecca Clingan
Lindsay Balaka
Jessica Clough
Amanda Balasco
David Cobabe
Doranny Balbuena
Charity Cobb
Terri Balcorta
Justin Cobbs
Adrian Balderrama
Faith Coburn
Stephen Balding
Trevor Cocheres
Joshua Baldwin
Dimitrios Cochran
Andrew Baldwin
Jennifer Cocorochio
Amanda Baldwin
Jennifer Coen
Joseph Baldwin
Steven Cognata
Michael Bales
Ashley Coker
Shelina Bali
Daniel Colangelo
Dawn Balkcom
Ana Colato
Carrie Ball
Ocean Colburn
Shane Ball
Christopher Coleman
Lenora Ball
Shanti Coleman
Toni Ball
Jacob Coleman
Elora Ball
William Coleman
Colin Ball
Leslie Coleman
Alexandria Ball
Sarah Colgan
Miranda Ballas
Lucas Colgrove
Tosha Ballinger
Hunter Collard
Jessica Balser
Gregory Collette
Sara Balsitis
Michael Collier
Wendy Bananas
Amanda Collins
Heather Bancewicz
April Collins
Amanda Bancroft
Alexis Colston
Delvia Banda
Michael Conant
Neluka Bandara
Julian Concepcion
Tyana Bandeira
Stephen Conigliaro
Jessica Bane
Melissa Conlon
Desolee Bang
Nancy Connelly-Cumming
Candise Banks
Travis Connolly
Elizabeth Banks
Juan Contreras
Akash Bansal
Victoria Conway
Daniel Barajas
Amber Conway
Susana Barajas
Steven Conway
Meghan Barany
Gregory Cook
Sean Barard
Sebastian Cook
Kayla Barassa
Kayla Cook
Sofia Barassi
Elijah Cook
Kimberly Barbaro
Anthony Cook
Chasity Barber
Macy Cook
Monica Barber
Talia Cooney
Cynthia Barber
Keenan Cooney
Anthony Barber
Alexis Cooper
Daniel Barber
Jeremy Cooper
Weston Barber
Tyyona Copeland
Callum Barber
Giovanni Copioli
Mark Barbere
Meghan Coppinger
Corinne Barbo
Dan Coprich
Secally Barbosa
Jack Corbeil
Carlos Alberto Barbosa Ortegon
Allen Cordell
Sarah Barboza
Jeffrey Cordero
Travis Barbur
Nathan Cordero
Brianne Barca
Victoria Corkery
Jamie Bardeen
James Cornelius
Heather Barden
Viridiana Corral
Amy Bardos
Thomas Corrigan
Joni Barefoot
Charleston Coryea
Alexis Bargen
Kayla Cosby
Stephanie Bari
Melissa Cosmah
Mason Barich
Alexia Costa
Michelle Barita
Giovanni Costanza
Rachel Barker
Gwyneth Costello
Michele Barker
Devin Costentine
Christi Barker
Michael Costin
Noella Barker
Jaynia Cotman
Erica Barker
Ellie Cottrill
Samantha Barker
Heather Coull
Tari Barker
Lauren Council
Suzanne Barker
Madison Couts
Sydney Barletta
Beau Couture
Philip Barletto
Heaven Covill
Samantha Barlow
Christalle Cox
Andrea Barlowe
Margaret Cox
Michael Barna
Anna Cox
Farrik Barnard
Cody Cox
Alana Barnes
Angela Coyne
Willow Barnes
Bethany Coyne
Rachael Barnes
Sarah Craft
Jocelyn Barnes
Kevin Craig
Lara Barnes
Whitney Craven
Courtney Barnes
Tori Crawford
Candice Barnett
Savannah Crawford
Jennifer Barnett
Meka Crawford
Jocelyn Barnett
Tiffany Creasey
Elliott Barnett
Jessica Crepeau
James Barnett
Zachary Creps
Angela Barnett
Lauriana Crespo
Jessica Barnett
Autum Cressionie
Isaac Barnette
Leah Creteau
Melissa Barnette
Angela Crews
Anthony Barnhart
Danny Critchfield
Lori Barnhurst
Kim Crockett
Donald Barnum
Lori Crockett
Elizabeth Baron
Mindy Cromwell
Jodi Barone
Daniel Cronin
Renee Barone
Evan Cronin
Kassie Barr
Michelle Cronin
Michele Barraco
Edward Cronin
Alfredo Barragan
Siarra Cronin
Victor Barraza
Brendan Cronshaw
Andrew Barrera
William Crook
Dillon Barrera
Angela Crook
Maria Barrera-Lopez
Cindi Crosier
Stefani Barrere
Shaylyn Cross
Ryan Barrett
Mandee Cross
Amanda Barrett
Valen Cross
Jacob Barrett
Laura Crossfield
Timothy Barrett
Mitchell Crow
Colleen Barrett
Ashlynn Crowley
Cody Barrett
Sean Crowley
Aidan Barrett
Kathleen Crowther
Joel Barrett
Taylor Cruz
Angela Barrette
Adrian Cruz
Jessica Barriga
Amanda Cruz
Julian Barrios
Ramon Cruz
Kristen Barrios
Elizabeth Cruz-Salazar
Melissa Barron
Christian Cuba
Christopher Barron
Ryan Culley
Natalia Barroso
Jeremy Cullum
Amanda Barrueta
Tara Culpepper
Destiny Barry
Juliano Cultrera
Lettie Bartels
Nicole Cunningham
Dianna Bartelt
Erik Curcio
Joshua Barth
Alec Cureau
Allison Bartholomew
Emily Curry
Tiffany Bartholomew
Alasthesha Curry
Erica Bartlett
Brandon Curry
Destiny-Rae Bartlett
Veronica Curry-Castelo
Morgan Bartlett
Ryan Curtin
Stephanie Bartlett
Tomasz Czubat
Dominica Bartlett
Christian da Cruz
Laurie Bartley
Hannah Daigle
Stacy Barton
Grace Dailing
Mitchel Barton
Jade Dalander
Bailey Barton
Kellan Daley
Nickolas Barton
McKenzie Daley
Gerald Barton
David Daley
Lynne' Barton
Abigail Dalicandro
Brian Barton
Adam Dallacorte
Rachel Barton
Matthew Dama
Nicholas Barton
Jeff Damefils
Saki Bartsch
Rachel Dams
Courtney Bartz
Arica Dancy
Kristopher Barwick
Alyce D'Andrea
Jason Barzee
Kevin Daniels
Denise Bashqawi
Jonah Dao
Maia Basiak
Daoud Daoud
Hunter Basil
Jessica Dapper
Alyssa Basile
Dominic Darlak
Audaysha Baskerville
Brandi Darocha
Mina Basnet
Sarah Dart
Amanda Bass
Benjamin Darwin
Jeffrey Bastian
Aimee Darwin
Jenelle Bastien
Alexia DaSilva
Ryan Bastien
Jessica Daugherty
Leetta Bateman
Haley Daugherty
Kelsey Bates
Devon Davati
Jason Bates
Matthew Davenport
Courtney Bates
Karl Davidson
Adrian Bates
Lillian Davidson
Kristie Bates
Natalie Davidson
Jessica Bates
Cameron Davies
Daniel Bates
Lillian Davis
Jackson Bator
Jennifer Davis
Kelly Battersby
Cassia Davis
Terry-Ann Batticks
Paula Davis
Vannica Battle
Eric Davis
Shawnica Battle
Anasia Davis
Bobbie Battles
Tamiko Davis
Quinn Baudouin
Alyssa Davis
Stephen Bauducco
Wayne Davis
Michael Bauer
Jennifer Davis
Allona Bauer
Terrence Davis
Erin Baughman
Kallie Daviscourt
Leah Baughman
Ashley Davison
Lea Baum
Danielle Dawes
Victoria Bauman
Sarah Dawson
Ryan Baumann
Gregory Dawson
Laci Baumgardner
Olga Cristina Daza Vanegas
Jana Baur
Jessica De Jesus
Mauricio Bautista
Jasmine De La Cruz
Jamie Bautista
Christopher De La Rosa
Pamela Bautista
Lissette De Leon
Nicole Bautista
Sofia de Matteis
Maria Bautista
Anthony Deamer
Heather Baxter
Sierra Dean
James Baxter
Katelyn Dean
Brittany Bayes
Samantha Deaven
David Bayles
Ethan DeBaker
Brandon Baylot
Aaron DeBellis
Ashley Beach
Haley DeBettencourt
Aislyn Beachum
Laura Debiase
Robert Beachum
Tiffany Deboer
Darci Beachy
Danielle DeBoskie
Gunner Beal
Maria Decastro
Marretha Beal
Jeanette Dechiara
Adrienne Beal
Andrea Deck
Deyondre Beale
Christopher Decker
Kristina Beam
Hanah Deering
Sally Beam
Roy Dees
Andrea Bean
Taylor Defa
Melanie Bean
Lacey DeFeo
Jenifer Beaney
Hannah Defever
Cassie Bear
Destinee Defillipo
Jordan Beard
Sean DeGrado
Brandon Beard
Deanne DeGroat
Sarah Beard
Jessica Dehner
Michael Beard
Felicia Deitz
Elizabeth Beasley
Leslie DeJesus
Timothy Beasley
Kevin Del Toro
Barrie Beasley
Kristi DeLabio
Nathaniel Beaston
Franklin Delacruz
Peter Beatrice
Laci Delahoussaye
Ciara Beattie
Alexis DeLeo
Christopher Beaucage
Efren Delgado
Amanda Beauchamp
Ambar Delgado
Alison Beauchesne
Takisha Delgado
Rebecca Beaudet
Seth DelGizzi
Cooper Beaudet
Jovanna Deloach
Cody Beaudin
Alexis DeLucia
Lydia Beaudoin
Michael DeMarco
Peter Beaugard
Haley DeMarco
Austin Beaulier
Tami DeMark
Scott Beaulieu
Ashley DeMello
Stephanie Beaulieu
Jillian DeMeo
Kayla Beaulieu
Kenneth DeMerchant
Melissa Beauvais
Mariah Dennis
Annette Beauvoir
Sam Depoorter
Tyler Beaver
Danielle DeSantis
Zeniff Beazer
Ryan Desaulniers
Jonathan Becerra
Brianna DeSimone
Oriana Becerra
Nicholas Desrosiers
Jacob Becerril
Brianna Devins
Matthew Becht
Jessica Devlugt
Jennifer Bechtel
Alexander DeVre
Austin Beck
Arissa DeVries
Timothy Beck
Niko Di Bartolomeo
Carly Beck
Camillo Di Lorenzo
Jonathan Beck
Brandon Dial
Samantha Beck
Alec Diaz
Thomas Beck
Joseph DiBartolomeo
Michael Becker
April Dickerson
Ashlie Beckett
Allen Dickey
Steven Beckett
Casey Dickson
Tatyanna Beckford
Lena Diep
Sandra Beckford
Melissa Dietz
Kimberly Becklehimer
Katelynn Diezel
James Beckley
Nicolette Digirolamo
Marina Beckman
Evan Dilgard
Jacob Beckmann
Alyssa DiMauro
Kevin Bedard
Heather Diodato
Wendy Bedard
Paule-Renee Dion
David Bedard
Haley Dionne
Anne Beddo
Nicole Diotte
Madeline Bedecker
Amelia DiPerri
Justin Bednarek
Amber DiPietro
Saleheddine Bedoui
Elizabeth Distefano
Ryan Beechler
Farhad Divecha
Kassady Beemer
Chase Dixon
Alisha Beenblossom
Patrick Dixon
Olivia Beer
Phuongnhung Do
Natalie Beerman
Eric Dobbs
Sarah Beers
Nicholas Dochych
Tracy Beers
Zachary Doehring
David Befort
Nina Doerr
Jonathan Begin
John Doiron
Keri Begin
Adam Dolce
Brianne Behrends
Jonathan Doles
Anne Beidler
Jacob Dolliver
Ashley Beier
Diana Dominguez
Sarah Beisel
Juanita Dominguez
Sabrina Beland
Patrick Donaldson
Michael Belanger
Lillian Donlon
Bj Belcher
Angela Donnerson
Matthew Belcher
Jason Donohoe
Brian Belcher
Taylor Donovan
Leizer Beldad
Brielle Donovan
Rachel Belisle
Adiana Doobay-Jones
Jonathan Belk
Caitlyn Doonan
Milana Belko
Braden Dorr
Lisa Bell
Sarah Doss
Marsha Bell
Colton Doty
Lee Bell
Abigail Doucet
Alison Bell
Robert Doucette
Hannah Bell
Kristie Doucette
Kentrice Bell
Brendan Dougherty
Andrew Bell
Hillary Douglas
Ruby Bell
Aline Douglas
Edward Bell
Michelle Dove-Lee
Timothy Bell
Samantha Dovey
Vincent Bell
Meghan Dowding
Lori Bell
Tiffany Doyle
Rochelle Bell
Kewanna Doyle
Johnathan Bellair
Zachary Doyon
Justin Bellamy
Rebecca Drager
Theodore Bellay
Joshua Drake
Riley Belleau
Allison Drazek
Natasha Bellemare
Amara Dreher
Madeline Bellico
Kassandra Drew
Renee Bellinger
Maurice Drewry
Samantha Bellis
Paul Driscoll
Addison Belliveau
Jaclyn Driscoll
Brandon Bellomy
Jason Drummond
Brittany Bellucci
Kimberly Drysdale
Anthony Bellville
Tiffany Duane
Norlex Belma
Alex Dubon
Bonnie Belot
Megan Duck
Marco Beltrame
Rebecca Dudley
Lisa Belviso
Megan Dufrene
Carleigh Belz
Katherine Dugger
Caitlyn Bemister
Crystal Duggins
Alex Bemrose
Kimberly Duhon
David Benbaruk
Matthew Dumont
Chad Bender
William Dumont
Mallory Benedetti
William Dunbar
Luke Benetos
Audrey Dunleavy
Farah Benevento
Robin Dunn
Casey Benfield
Stephanie Dunton
Megan Beni
Sandra Duran
Carlos Benitez
Samantha Durel
Alex Benito
Devin Durham
Mr Benjamin Lim Sin Mun
Brandon Durham
Sarah Benkert
Percenna Durham
Brittany Bennett
Daniel Dutremble
Katheryn Bennett
Jacob Duvall
Bruce Bennett
Antonia Dwyer
Tatiana Bennett
Chauncee Dydell
Kristina Bennett
Paul Dziedzic
Trey Bennett
Hayley Eager
Amber Bennett
Abbey Eakins
Jason Bennett
Kali Eames
Eryn Bennetter
Simran Ear
Emily Bennetts
Melanie Earner
Krystal Benoit
Danielle East
Glenn Benoit
Cara Easter
Beverly Benoit
Joel Eastman
Baylea Benoit-Wong
Jadalyn Eaton
Jessica Bensen
Jahina Eddington
Brianna Benson
Casey Edens
Danielle Benson
Corey Edgerton
Meredith Benson
Carl Edwards
April Benson
Anthony Edwards
Suzette Bentley
Iquisa Edwards-Mitchell
Lacy Bently
Gjreah Edwin
Shannon Benton
Martin El Koussa
Estella Benton
Tammy Elder
Rebecca Benton
Rodnel Eldor
Linda Bentsir-Williams
Bridget Eldridge
Jason Benullo
Rebecca Elliot
Brent Benvenutti
Kristi Elliott
Gy Ben-Yaakov
Zachary Ellis
Jacob Benzinger
Sandra Ellis
Andrew Bequette
Jaylyn Ellis
Brandon Beranek
Sean Elsik
Timothy Berard
Kendyl Elwell
Joycelyn Berbec
Gospel Emedom
Britney Berch
Luci Emerson
Shannon Bercier
Tracy Emilien
Annee Bercier
Cory Emken
Claire Berdik
Mal Emmett
Andre Berenzon
Brooke Emond
Amber Berg
Sydney Emond
Jacob Berg
William Endsley
Austin Berger
Alexandra Engel
Elizabeth Berger
Amber Englebert
Amanda Berger
Christina Englert
Bree Berger
Jacob Ercolano
Leasia Berger
Elizabeth Erdody
Harrison Bergeron
Cameron Erickson
Joshua Bergeron
Cameron Ervin
John Bergeron
Melissa Erving
Noah Bergeron
Joann Escobar
Tyler Bergerson
Amanda Espinosa
Melanie Bergherm
Juan Daniel Espinosa Rubio
Joseph Bergin
Shameka Espree
Steven Berglund
Alex Estrada
Anthony Berkowitz
Marlen Estrada
Kayla Berkvens
Turkessia Evans
Paul Berman
Kaci Evans
Staci Berman
Phillip Evans
Araceli Bernabe
Amanda Evans
Alisha Bernadis
Sydnie Evans
Danielle Bernal
Kelsey Evans
Lindsey Bernard
Kerina Evenson
Hannah Bernard
Shelby Evenson
Alyssa Bernard
Kylee Everett
Shae Bernard
Alexandria Everhart
Kelli Bernard
Andrea Luriz Evidente
Jennifer Bernasconi
Chelsea Fabrizzio
Kyle Bernelle
Gianfranco Facchineri
Jillian Bernhardt
Michael Fahey
Andrea Berning
Joshua Fairbanks
Johanna Berrio
Elizabeth Fajardo
Keagan Berry
Timothy Fajuyigbe
Janna Berry
Layne Faler
Kimberly Berry
Joseph Falkowski
Madeline Berry
David Fallon
Lacey Berry
Alex Fallon
Brittany Berry
Christian Fantau
Helena Berry
Islam Farag
Michael Berry
Alexis Farb
Christopher Berryman
Kayla Fardan
Ryan Berthiaume
Kevin Fargher
Mackenzie Berthiaume
Nada Farhat
Christina Bertolini
Christopher Farias
Brittany Bertsch
James Farley
Patricia Bertulli
Julie Farmer
Dominque Berube
Karlie Farmer
Kimberly Bess
Angela Farnsworth
Heather Bessette
Tanya Farr
Tracy Best
Cole Fateley
Latoya Best
Abbie Faulkner
Jasmin Betances
Zachary Faulkner
Joel Betances
Shayla Fay
Travis Bethke
Kaleb Fearon
Marissa Betit
Rachel Featherstone
Lorriane Betrosoff
Brianna Fedell
Matthew Bettencourt
Jeffrey Federico
Brooke Bettencourt
Teri Fee
David Betterly
Justin Feemster
Emily Bettis
Jose Feliciano
Lindsey Betts
Courtney Feliciano
Torianna Betzelberger
Maria Fellows
Justin Bevan
Spencer Fennell
Stephanie Bewley
Dayna Fennimore
Diego Bez Zambiazzi
Robert Fenwick
Miqueias Bezerra
Jessica Fergerson
Sudha Bhandari
Andrea Ferguson
Zaina Bhurgari
Shayla Ferguson
Corinne Biancavilla
Marcus Ferkranus
Tina Bianchi
Joseph Ferland
Gavin Bibeau
Laura Fermaint
Amber Bickerton
Gianna Fernandes
Laura Bicknell
Jessica Fernandez
Davis Biddle
Jake Ferrante
Anastasia Bieneman
Abriel Ferrara
Marye Bierbaum
Sharon Ferreira
Stasia Bierly
Lauren Ferrone
Nikolaus Biessman
Enricco Feys
Robert Bigford
Kazimiera Fichera
Mallory Biggs
Aryanna Fielding
Casey Biggs
Edith Figueroa
Nathanael Biggs
Rebecca Figueroa
Justin Bigler
Khris Figurelli
Meaghan Bihun
Christian Filion
Tara Bilecki
William Fillingim
Natan Biley
Douglas Fillmore
Matthew Bill
Tarah Fils-Aime
Tiffany Billig
Jessica Fincham
Rebeckah Billings
Amanda Fini
Emily Bilodeau
Mariah Finley-Gardner
Kevin Bindschusz
Jacob Finney
Joah Bingert
Alexis Finnigan
Darius Binion
Nikolas Fiore
Kaylena Binkerd
Mariah Fischer
Georgina Binkley
Sean Fisher
Orion Binney
Joseph Fisher
Bethany Binning
Kristine Fisher Boyce
Betsy Binns
Kevin Fitterling
Tianna Binns
Kayla Fitton
Emily Bintz
Brandon Fitzgerald
John Birch
Amanda Fitzgerald
Andrea Birch
Kayleigh Fitzpatrick
Sondra Birch-Hilts
Christopher Flaherty
John Bird
Alannah-Rae Flaherty
Daniel Bird
Jordan Flanigan
Keri Bird
Lisa Flatt
Sara Birmingham
Jenelle Fleary
Deene Birsner
Joseph Fleet
Taylor Birtch
Chelsea Fleig
Christopher Bisceglia
Dustin Fleischer
MacKenzie Bischoff
Jacob Fleischmann
Jared Bish
William Fleming
Hassan Bishil
Aaron Fleming
Nicholas Bishop
Tameka Fleming
Tai Bishop
Augustus Fleming
Autumn Bishop
Erika Fletcher
Barbara Bishop
Karl Flohrschutz
Linda Bishop
Jessica Flood
Richard Bishop
Nicholas Flood
Dylan Bishop
Bolivar Flores
Lindsay Bishop
Liana Flores
Arber Bislimi
Claudio Flores
Yevgeniya Bisnette
Victor Flores
Abygaelle Bissereth
Whitney Floyd
Sarah Bisson
Morgan Flynn
Tek Bista
Michael Flynn
Brandon Bittles
Taryn Foley
Sheila Bittner
Lance Foley
Katharine Bittorf
Danielle Foley
Michael Bjork
Sarah Follansbee
Isabella Bjork
Daniel Fontenot
Timothy Black
Jennifer Foor
Andrew Black
Alisha Foor
Donald Black
Rachel Forrest
Jennifer Black
William Fort
Ashley Black
Connor Fortier
Jordan Blackburn
Leah Fossett
Christopher Blackburn
Naki Foster
Natasha Blackburn
Isaiah Foster
Cynthia Blackmon
Lori Foster
Cadie Blackmon
Adam Foster
Britney Blackmon
LaTaBrione Foster
Erin Blackmon
Martina Fouad
John Blackwell
Marlana Fountain
Lexys Bladecki
Amy Fournier
Jonathan Bladen
Jack Foust
Ibrahim Blaik
Andrea Fowler
Courtney Blaikie
Glenn Fox
Jenna Blair
Colby Fox
Monique Blair
James Fox
Nicholas Blair
Robert Foy
Ashley Blair
Randy Frack
Kristina Blair
Jacob Fradillada
Briana Blair
Chanel Frammartino
Tim Blaisdell
Melissa Francis
Patricia Blake
Gail Francis
Nathan Blake
Wynee Francisco
Kendra Blake
Rachel Franco
Tanner Blake
Karrah Franklin
Breana Blake
Shaniece Franklin
Spencer Blake
Florine Franklin
Caitlyn Blake
Christopher Franklin
Oneka Blake
Alana Franks
Teresa Blakeslee
Brandy Franxman
Samuel Blalock
Chad Franz
Ezechiel Blanc
Maria Frazier
Jasmin Blanc
Lucas Frazier
Samuel Blanchard
Shantika Frazier
Ryan Blanchard
Nathan Frazier
Madelyn Blanchard
Emily Fredericks
Deandre Blanchard
Liam Freeman
Gabriella Blanchette
Brianna Freeze
Brittany Blanchette
Cameron French
Kyle Blanchone
Alexandria French
Jessica Blanck
Lauren Frenette
Brian Blanco
Kyle Frias
Willi Blanco-Garcia
Joseph Frietsch
Hayley Bland
Alysia Frith
Indira Blandon
Ashley Fritsen
Jamie Blanford
Sarah Frommling
Taren Blankenship
Travis Fruit
Aimee Blankenship
Todd Fuentes
Chase Blankenship
Allysson Fugitt
Chenoa Blankenship
Jeric Fule
Mary Blanton
Jonalynn Fuller
Megan Blatsioris
Kimberly Fuller
Charity Blattner
Deborah Fulte-Leclair
Angela Blay
Shinita Fultz
Madison Blazejowski
Amanda Funiciello
Michael Blazek
William Furdon
Jessica Bledman
Lea Furia
Ashley Blevins
Aaron Furman
Lindsay Bliss
Jeramy Fyffe
Taylor Blissett
Christopher Gagne
Christina Blocker
William Gagne
Virginia Blodgett
Julia Gagnon
Michael Bloom
Jacob Gagnon
Hannah Bloomfield
Shantel-Lynn Gagnon
Jillisa Bloomquist
Victoria Gaither
Tami Bloomquist
Wojciech Gajda
Madeline Blue
Liam Gallagher
Kerry Blum
Kyle Gallaher
Emily Blum
Devin Gallegos
Tracy Blume
Stacee Galvez
Melinda Blum-Schumacher
Matthew Gamble
Karen Blunt
Kya Gann
Bernard Blust
Melissa Ganucheau
Leeann Bly
Brian Ganz
Chelsea Blythe
Nichole Garbarino
Andrea Blythe
Jorge Garcia
Melanie Boal
Cesar Garcia
Noah Boardway
Cheyenne Garcia
Joshua Boardwine
Marcelina Garcia
Susan Bobb
Jessica Garcia
Audrey Bobbitt
Julia Garcia
Jenae Bobchak
Rafael Garcia
Eric Bobinski
Alyssa Garcia
Riley Bobo
Laticia Garcia
Ismith Bocaille
Andres Garcia
Anthony Boccia
Alena Garcia
Gabriella Bock
Jose Garcia
Joseph Bodenrader
Hillary Garcia-Mosher
Joseph Bodi
Daniel Gardner
Kristine Bodwell
Skyler Gardner
Alexander Boedeker
Kristen Gardner
Alexander Boehler
Jerrod Garduno
Rachel Boehnke
Jennifer Garland
Jason Bogda
Arian Garner
Adalia Bogert
Erin Garrett
Samantha Bogert
Tyreece Garrick
Shannon Boggess
Marc Gates
Laura Boggess
Amy Gates
Noah Boggs
Alycia Gauna
Tiffany Boggs
Alyssa Gaw
Meredith Bogue
Rahim Gaymon
Dominic Boguski
Heather Geary
Amanda Bohannan
Samuel Gee
Ashish Bohara
Amanda Geer
Adam Bohlman
Blake Geguzis
Terry Bohlmann
Desiree Genard
Benjamin Bohman
Russell Genet
Collin Bohn
Nicole Gentz
Kathryn Boilard
Sakia George
Eric Boilard
Ashley George
Alexis Boisvert
Charles George
Robert Bokemeyer
Kaileigh Geraghty
Lindsay Bolash
Jillian Gerard
Thomas Bolduc
Richard Germany
Simon Bolin
Chaim Gertsberg
Anastasia Bolinaga
Ryan Getherall
Evan Boling
Kristen Gettler
Grace Bolland
Brittany Giancola
Morgan Bolles
Kellianne Gibbs
Olivia Bolling
Alexis Gibson
Leiya Bollini
Bruce Gibson
Michela Bolstridge
Amanda Gibson
Nathan Bolt
Micah Gifford
Dejaris Bolton
Miranda Giglio
Jeffrey Bolton
Abigail Giguere
Taylor Bolton
Emily Gilbert
Whitley Bolton
Christopher Gilchrist
Stephanie Boltz
Autumn Gildea
Juliette Bombardier
Jacob Gill
Chantal Bonanno
Trey Gilles
Aliona Bonano
Janice Gilliam
Quinn Bond
Shoalynn Gilliland
Samuel Bond
Kimberly Gilton
Jennifer Bond
Michael Gilyard
Sterling Bond
Eric Ginder
Christopher Bond
Laurellea Gingerich
Melanie Bone
Robert Ginn
Nicholas Bonenfant
Jason Gionfriddo
Timothy Bonesteel
Joshua Giordano
Teresea Bongard
Sharon Gipson
Aaron Bonifacio
Jaime Giraldo Oliva
Antonio Bonilla
Mitchell Girao
Lesbia Bonilla
Andrew Girouard
Lynne Bonitatibus
Nicholas Girouard
Ryan Bonkowski
Lisa Giroud
Dorothy Ann Bonner
Nicole Giuliano
Manuella Bonomi
Maya Giusani
Beatrice Bonomo
Ashley Glass
Carlton Bookal
Jeremy Glatstein
Samantha Booms
George Glessner
Christopher Booms
Jordan Glik
Avery Boone
Elise Glogowski
N'Kole Borcherding
Danielle Gober-Norman
Terria Borden-Henderson
Zachary Goding
Melanie Bordonaro
Mary Goff
Bridgett Borelli
Landon Goguen
Jennifer Boren
Brittany Goins
Shanyder Borgelin
Natakoa Golden
Elizabeth Boring
Valarie Goldsmith
Indira Boris
Elysa Goldstein
Marie Borjon
Raquel Gomes
Caroline Bornstein
Colby Gomes
Kayla Borror
Salma Gomez
Charles Boshart
Jose Gomez
Alec Boskovic
Maurice Gomez
Johnathan Bosley
Caroline Gomez
Stanley Bosquet
Dennis Gonder
Michael Bosselman
Toni Gones
Christine Bossert
Nathan Gonsalves
Robert Boswell
Alicia Gonzales
Lisa Bott
Gabrielle Gonzales
Antonia Botticelli
Daniel Gonzales
Isabella Bottiggi
Christian Gonzales-Miles
Nicole Bouchard
Ernesto Gonzalez
Jacob Bouchard
Jasmine Gonzalez
Jasmine Bouchard
Ivan Gonzalez
Kaylan Bouchard
Gloria Gonzalez
Taylor Bouchard
Marco Gonzalez
Kelly Bouchard
Joshua Gonzalez
Matthieu Bouchard
Luis Gonzalez
Nichole Boucher
Christine Gonzalez
Nicholas Boucher
Laura Camila Gonzalez Romero
Nicholas Boucher
Robin Goode
Alex Boucher
Aaron Goodell
Kyle Boucher
Rachel Goodin
Brook Boucher
Janel Goodman
Amy Boudreau
Lindsay Goodwin
Madison Boudreau
Sydney Goodwin
Stephanie Boudreau
Kaeloni Goossens
Ariana Boudreau
Jasmine Gorby
Caroline Boudreau
Kenyon Gordon
Christopher Boughman
David Gordon
Johanna Boughton
Max Gordon
Zachary Boulay
Payton Gordon
George Boulden
Shantane Gordon
William Bounds
Chaon Gordon
Micheala Bounds
Julia Gordon
Katie Bourassa
Harrison Gordon
Bryanna Bourbeau
Megan Gorton
Judd Bourgeois
Heather Gosnell
Edmund Bourgeois
Alexandria Grable
Janean Boutin
Karyn Grabowski
Dalton Bouvier
Cate Grady
Edward Bova
Chad Graf
Teresa Bow
Jacqueline Graham
Alyssa Bowden
Avery Graham
Tia Bowden
Michael Graham
Kanesha Bowden
Jennifer Granic
Andrew Bowden
Jackson Grant
Petra Bowen
Irene Grasse
Bernadette Bowen
James Graves
Tristan Bowen
Dalton Graves
Christal Bowen
Lisa Graves
Stuart Bowen
Jamonica Graves
Nicole Bowen
Racheal Gray
April Bowen
Abigail Gray
Joshua Bowers
Mallory Gray
Kimberly Bowers
Evan Grayson
Khadija Bowers
Jenny Grebe
Corrie Bowers
Ryan Greeley
Tracy Bowes
Shirley Green
Tiffany Bowes
Heather Green
Logan Bowlby
Yelena Green
Dawn Bowles
Shantal Green
Nathan Bowles
Alyssa Green
Mathew Bowlin
Dillon Green
Amanda Bowling
Charli Green
Richard Bowling
Luke Green
Samantha Bowman
Sebrena Greene
Shelby Bowman
Thomas Greene
Cassandra Bowman
Kelly Greene
Lewis Bowman
Madison Greenhalgh
Holly Bowman
Alexander Greenham
Bethany Bowman
Jocelyn Greenwood
Bethany Bowman
Dustin Greer
Jessica Bown
Malinda Gregory
Katharine Bowser
Cassandra Gregory
Jasmine Bowyer
Jilissa Gregory
Heather Boyce
John Gregson
Justin Boyce
Elizabeth Greiner
William Boyd
Jessica Grella
Sandra Boyd
Peter Grennan
Jeffrey Boyd
Jacqueline Gress
Brianna Boyd
Danielle Grey
Heather Boyd
Misty Grgich
Karen Boyd
Briana Gricius
David Boyd
Jaelynne Griffieth
Meghan Boyd
Eric Griffin
David Boyd
Jasmine Griffin
Jacqueline Boyer
Connor Griffin
Ryan Boyer
Michael Griffin
Lauren Boyer
Rebecca Griffin
Berenice Boyer
Adam Griffith
Alexander Boyer
Nichole Griffith
Jasmine Boyer
Alessandra Grignano
Kenstarella Boyer
Kaitlyn Grigsby
Thomas Boyett
Tracey Grimshaw
Christopher Boykin
Paige Grove
Tiffany Boykins
Trevor Grubb
Joseph Boyko
Benjamin Gruenfelder
Jaimie Boyle
Evan Guay
Dyan Boyle
Shannon Guerrero
Jessica Boyles
Crista Gugliuzza
George Boyles
Nicholas Guidry
Melissa Bozeman
Vilner Guillaume
Stephanie Bracey
Mariana Guimaraes
Matthew Bracey
Mesut Guney
Michael Bracht
Clayton Guptill
Frank Brackat
Cori Gurney
Toria Bradford
Skyler Gustas
Destiny Bradford
Manuela Gutierrez Bermudez
Justin Bradford
Zayra Linett Gutierrez Solano
Yanlin Bradley
Ashley Gutshall
Maria Bradley
Edwin Guzman
Alex Bradley
Erik Haas
William Bradley
Casey Habhegger
Ryan Bradley
Bridgett Habich
Andrew Bradley
Sean Hackett
Brittany Bradley
Marc Haddad
Diana Bradley
Frank Hagan
Leon Bradley-Williams
Camille Hagen
Matthew Bradshaw
Nicole Hagler
Sarah Brady
Karen Hagopian
Heather Brady
Jeanna Hai
Katherine Brady
Jessica Hain
Christine Brady
Latasha Hairston
Christina Bragg
Bernice Hairston
Jamie Bragg
Ryan Haislip
Heather Brainard
Ashley Hale
Cassi Braithwaite
Tashina Hall
Monique Branch
Allison Hall
Debra Branch-Solomon
Katrina Hall
Max Branvall
Christen Hall
Emily Brashear
Dominique Hall
Lloyd Brasher
John Hall
Danyelle Brasley
Brooks Hall
Samantha Bratchell
Angela Hall
Ruby Bratcher
Alexandra Hall
Taylor Bratcher
Ericka Hall
Steven Brathwaite
Gregg Halstead
Sophie Bratt
Maria Hamadalla
Julia Brau
Matthew Hamann
Thomas Braun
Katie Hamann
Courtney Brazier
Intisar Hamdi
Timothy Breach
Amanda Hamel
Arie Breakfield
Matthew Hamel
Marla Breazeale
Damien Hamel
Jemeicka Breedlove
Autumn Hamilton
Christopher Breen
Annalie Hamilton
Ross Breen
Kenneth Hamilton
Zachary Bregman
Jordan Hamilton
Ashley Brehon
Jennifer Hamilton
Johanna Brekkan
Ashley Hamlett
Robin Breland
Eva Hammond
Abigail Brennan
Olivia Hammons
Erin Brennan
Tammy Hamrick
Kareena Brennan
Elizabeth Hamrick
Brittany Brennan
Brianna Hancock
Janelle Brennan
Thomas Hanifan
Liam Brenneis
Miranda Hanks
Patrick Brennick
Timothy Hanlon
Benjamin Brenninkmeijer
Shanlee Hannan
Darius Brent
Bryce Hanneman
Rachel Breton
Jade hansberger
Isabel Bretz
Tricia Hansen
Nicole Breunig
Emma Hansen
Bailey Brewer
Morgan Hansen
Karen Brewer
Jennifer Hansen
Laurie Brian
Kelly Hanson
Nicole Brianas
Vanessa Harden
Noah Bricker
Tia Hardin
Nicole Bride
Joseph Harding
David Brideau
Julianna Harding-Rogers
Seth Bridge
Sabree Hardy
Samantha Bridger
Samuel Hardy
Emily Brien
Briana Hargrove
Jacob Brien
Tyler Harley
Cooper Brien
Travis Harman
Jacob Briggs
Ryan Harmatys
Benjamin Briggs
Carissa Harmon
Ashley Brightman
Julia Harmon
Carissa Brimer
Brooke Harper
Richard Brimmer
Victoria Harrell
Matthew Brindle
Serena Harrington
Thomas Brindley
Kaleb Harrington
Roberta Briney
Bradley Harris
Nathaniel Brinich
Davinya Harris
Ryan Brink
Andre Harris
Katherine Brinson
Katara Harris
Jordan Brinson
Kimmie Harris
Spencer Brisson
Nikki Harris
Kelly Brister
Antwuane Harris
Jessica Brito
Roshae Harrison
Azain Brito
Emily Harrison
Anela Brittain
Erikka Hart
Victor Britto
Andrew Hartman
Eric Britton
Zachary Hartt
Larry Brizuela
Nicole Hartwell
Ryan Broad
Thomas Harvey
JoAnna Broady
Melissa Harvey
Brendan Brock
Webster Harvey
Anna Brock
William Hasseld
Catherine Brock
Stephanie Hatayama
Michelle Brockman
Isaac Hatfield
Christopher Brockus
Haylee Hathaway
Christina Brockway
Kayla Hatheway
Cara Brocx
Lynsey Haviland
Jamey Brodak
Alexxis Hawkins
Nicholas Brodbeck
Heaven Haycraft
Gina Brodeur
Alexandra Hayden
Emily Brodeur
Terry Hayes
Olivia Brodhead
Kristina Hayes
Matthew Brodo
Amy Hayes
Ellen Brodskiy
Michael Hayes
Courtney Brogdon
Anthony Haygood
Jeff Brondell
Denise Hayles
Kellie Brooker
Emily Haynes
Margo Brooker
Jeremy Hazelbaker
Shannon Brookhart
Zhibin He
Clare Brooks
Crystal Head
Kaylee Brooks
Edward Healey
Marissa Brooks
Franklin Heaton
Brittney Brooks
Justin Hebert
Corey Brooks
Lexi Heidenreich
Nicole Brooks
Ian Helmick
Paige Brooks
Lynda Helmke
Mark Brooks
Sterling Helton
Martinique Brooks
Steven Hemenover
Stevie Brooks
Andrea Henault
Adam Brooks
Jonathan Hendel
James Brooks
Tammy Henderson
Kevia Broomes
Jordan Henderson
David Brosnan
Julia Henner
Emerald Brotherton
Brian Henry
Daniel Brought
Kayla Henry
Emily Brovont
Luticha Henry
Jacob Brower
Patrick Hensley
Paul Brown
Caitlyn Herbig
Brandon Brown
Nicole Herdahl
Kiana Brown
Annie Herman
Nicole Brown
Emily Herman
Paul Brown
Edward Hernandez
Nicholas Brown
Kaitlyn Hernandez
Richard Brown
Alexis Hernandez
Matthew Brown
Luis Hernandez
Katelyn Brown
Anthony Hernandez Bonilla
Austin Brown
Javier Hernandez Diaz
Ashley Brown
Manuel Herrera
Tarisha Brown
Abinoam Herrera
Shane Brown
Alyssa Herrick
Kendall Brown
Callie Heselton
Xavier Brown
Tyler Hess
Mariah Brown
Samantha Heth
Kyle Brown
Kylie Hewitt
Starie Brown
Bradley Hibbs
Elizabeth Brown
Daniel Hibbs
Zane Brown
Natasha Hicks
Mary Brown
Shannon Hicks
Bradley Brown
Laura Hicks
Rebecca Brown
Brandon Hicks
Joseph Brown
William Hicks
Dane Brown
Elizabeth Hidalgo
Trisha Brown
Thomas Higgins
Danielle Brown
Matt Higgins
Jake Brown
Marisa Hightower
Kathleen Brown
Kempes Hileus
Renee Brown
Shantia Hill
Andrea Brown
Tiffany Hill
Emma Brown
Victoria Hill
Anthony Brown
Ethan Hilliard
Betty Brown
Amanda Hilligan
Harley Brown
Lisa Hilliker
Diane Brown
Kayla Hillman
Halle Brown
Emily Hills
Danielle Brown
Brian Hinds
Ashley Brown
Taylor Hinman
Tatiana Brown
Monique Hinnant
Samuel Brown
Stacy Hinojoza
Kevin Brown
Mina Hippert
Jeramiah Brown
John Hipwell
Jessica Brown
Jeffrey Hirschkorn
Marcus Brown
Tisha-Lynnette Hirst
Ashley Brown
Emily Hobaugh
Morgan Brown
Hailee Hobbs
Rachael Brown
Justin Hobby
Benjamin Brown
Hirayda Hochschild
Sarah Brown
Morgan Hodge
Mercades Brown
Oriane Hoeman
Kathryn Brown
Ella Hoenstine
Christopher Brown
Benjamin Hoff
Eva-Marie Brown
Stephanie Hoffman
Kayla Brown
Zoe Hoffman
Moya Brown
Michaela Hoffman
Caylee Brown
Stephanie Hoffman-Kuszmaul
Autumn Brown
Holly Hoffmann
Aundrea Brown
Ashley Hofmann
Michael Brown
Jennifer Hoke
Joshua Brown
Christopher Holder
Karissa Brown
Hernan Holguin
Michael Brown
Tamia Holland
Alexandria Brown
Timothy Holland
Joshua Brown
Carla Holler
Jeffrey Brown
Jedidiah Hollifield
Kyonna Brown McFarlane
Corey Hollins
Jennifer Browne
Marny Hollis
Jovella Browne
Crystal Hollis
Katelyn Brownfield
Alicia Holloman
Taylor Brownfield
Cameron Holloman
Carolann Browning
Angela Holmes
Shelby Browning
Kristina Holt
Steven Brownlow
Matthew Homich
Kaija Brown-Wessel
Tyler Honeycutt
Brandon Broxterman
Corey Honeycutt
Roxanne Broyles
Tymeshia Hood
Noah Broyles
Paul Hood
Gianna Brucato
Marie Hopkins
Danika Bruce
Tashia Hopkins
Miranda Bruce
Miranda Hopkins
Laura Bruce
Margarita Horiates
Megan Bruce
Anelia Hosein
Margaret Bruce
Beth Hoselton
Cheyla Bruce
Casey Hoskins
Amber Bruce
Anita Hoskins
Shelby Bruce
Robert Houghtalin
Kayla Bruce
Harl Housdan
Ryan Brucker
Leighanna House
Caroline Brucks
Stephen House
Mikhaela Brugger
Sedgwick House
Michael Bruneau
Lisa Householder
Desiree Brunelle
Nayah Houston
Nicolette Brunelle
Joale Howard
Lindsey Bruner
Mason Howard
Austin Brunet
Ronald Howard
Jennessa Brunette
Dejarbrina Howard
Petra Brungardt
Gayle Howe
Emma Bruno
Tristan Howell
William Brushaber
Kimberly Howell
Tiffany Brustowicz
Ann Marie Howell
Elizabeth Bruton
Leah Howell
Jorden Bryan
Mallorie Howell
Matthew Bryan
Lester Howlett
Kristen Bryan
Omid Howrang
Jonathan Bryant
Sammantha Hoyt
Jessica Bryant
Christopher Hreha
Jacey Bryant
Shea Huard
Andre Bryant
Kyle Hubbard
Kaylee Bryant
Christopher Hubbard
Shayla Bryant
Chanita Hubbard
Emily Bryant
Latrina Hubbard
Tyler Brydon
Thomas Hubert
Tristen Brzezinski
Kayla Hudgins
Chris Buamey
Ymmar Hudson
Lauren Buan
Jordan Hudson
Christopher Buccieri
Soleen Hughes
Barry Buchanan
Tyler Hughes
Ethan Buchanan
Emma Huhmann
Trisha Bucholz
Medina Hukanovic
Joshua Buck
Donald Hummel
Ryan Buckley
Jesse Hunt
Karl Buckley
Erianna Hunter
Christina Buckley
Carly Huntley
Kelli Buckley
Maxwell Hurley
Tanya Buckley
Christine Hurtault
Earlett Buckley
Melissa Husted
Benjamin Bucklin
Joshua Hutchins
Sean Bucklin
Andre Hutchinson
Brian Buckman
Billi Hutchinson
Elissa Buckner
Brian Hutchinson
Dennis Buckner
Chelsea Hutton
Matthew Buczkowski
Kaylee Hutzel
Alexander Budge
Heather Huval
Rachel Budge
Mah'nyiah Iglesia
Alaina Budzinski
MaKenna Iller
Kimberly Bueche
Catherine Imhoff
Jennifer Buentello
Sheinah Ineza
Joseph Buffa
Allison Inglis
Shareen Buffett
Reginald Ingram
Ronald Buffington
Anna Ingram
Arthur Bugarin
Scott Intondi
Hao Bui
Razvan Cristian Ionescu
Amelie Buigne
Jessica Ireland
Hector Bujanda
Kynthia Irizarry
Bryan Bulger
Theresa Irving
Elizabeth Bullard
Robert Irwin-Miller
Kyle Bullis
Jocelyn Isabelle
Shamiah Bullock
Sierra Isayev
Heather Bullock
Lakisha Iseah
Nathan Bulluck
Dylan Isgar
Heather Bulu
Kimberly Isla
Hannah Bumbaco
Britteny Itter
Sotharath Bun
Christopher Ivey
Abass Bundu
Jamar Izzard
Jesse Bunnell
Samantha Jackson
Laura Buntemeyer
Jasmine Jackson
Jordan Bunting
Adrienne Jackson
Valerie Bunting
Gary Jackson
Stephani Buonocore
Mikeisha Jackson
Ryan Buotte
Tiara Jackson
Natasha Buraszeski
Kamille Jackson
Edward Burbo
Regan Jackson
Mary Burby
Christian Jackson
Elizabeth Burchman
Dalton Jacobs
David Burden
Bryce Jacobson
Christina Burdick
Krysanie Jacobson
Elescia Burdine
Cassidy Jacques
Sacha Burdo
Nicole Jacqueson
Ashley Burdo
Madison Jade
Lindsay Buretz
Ashley Jakimowicz
Sean Burfening
Rajshekhar Jakkam
Jordan Burge
Fyka Jamil
Eric Burge
Aylin Janssen
Paul Burgess
Marlin Jaramillo
Myles Burgess
Brianna Jaramillo
Michelle Burgess
Seth Jarek
Candice Burgess
Tracey Jarmon-Woods
Curt Burgess
Anna Jarnagin
Jabari Burgess
Jason Jaroszewicz
Vernillia Burgher
Eynas Jarrar
Brittney Burgos
Alisha Jarrett
Mildred Burgos- Nwasah
Becklien Jarrett
Joshua Burk
Eric Jarvis
Nathanael Burke
David Jean
Rowdy Burke
Kelly Jean-Pierre
Lintonio Burke
Roger Jefferson
Abigail Burke
Shamar Jenkins
Shawna Burke
Deborah Jenkins
Karen Burke
Edward Jenkins
Kelly Burke
Savannah Jenkins
Lesline Burke Prayogg
Shalom Jenkins
Preston Burkhardt
Crystal Jennings
Meagan Burks
Beth Jensen
Seth Burks
Michael Jessup
John Burks
Muhammad Jilani
Ashton Burleson
Tiffany Jimenez
Krista-Lee Burnett
Darren Jio
Misty Burnett
Kendra Jiron
Kevin Burnett
Renaldo Joanis
Tanya Burnett
Shane Jobin
Collin Burnett
Lanisha Johnson
Sarah Burnette
Heather Johnson
Krysten Burnham
Madeleine Johnson
Josh Burnham
Tamara Johnson
Virginia Burnham
Alec Johnson
Rachel Burnham
Shanice Johnson
Jonathan Burnham
Justin Johnson
Geneva Burns
Alston Johnson
Sean Burns
Valerie Johnson
Ryan Burns
Amanda Johnson
Meghan Burns
Courtney Johnson
Lauren Burns
Amirah Johnson
Laura Burns
Ashley Johnson
Erynn Burns
David Johnson
Michael Burns
Joshua Johnson
RayChelle Burns
Malcolm Johnson
Kayla Burns
Maria Johnson
Myriam Burns
Paul Johnson
Jason Burns
Aron Johnson
Gavin Burns
Jolleen Johnson
Emily Burns
Amber Johnson
Aimee Burns
Mark Johnson
Bridget Burpo
Kimberly Johnson
Alexa Burr
Madilyn Johnson
Maurice Burrell
Kaleysa Johnson
Reginald Burrell
Gail Johnston
Bonnie Burris
Susan Johnston
Shana Burris
Carissa Johnston
Amy Burroughs
Christopher Jones
Miriam Burrow
Maritha Jones
Jacob Burton
Johnpaul Jones
Allison Burton
Corey Jones
Jill Burton
Raihana Jones
Shelby Burtscher
Grace Jones
Nicole Burwell
Brooks Jones
Kayla Busbin
Jenna Jones
Michelle Bush Hamilt
Skylar Jones
Blake Bussell
David Jones
Erika Bustamante
Tiffany Jones
Bryanne Bustead
Essence Jones
Francis Busuttil
Kevin Jones
Mary Buszek
Dominic Jones
Chelse Butcher
Henry Jones
Sheena Buteau
Rebekah Jones
Sabrina Buteyn
Rodney Jones
Richard Butler
Chase Jordan
Erin Butler
Donarose Jordan
Gregory Butler
Mary Jorgenson
Jacob Butler
Brianna Joseph
Justin Butler
Richard Joseph
Allison Butler
MaxBova Joseph
Jordan Butler
Michelle Jost
Amber Butler
Sean Joudrie
Shannon Butner
Paige Jourdan
Penelope Butterbaugh
Stacey Journagan
Heather Butterfield
Brendan Joyce
Jordan Butters
Lena Joyner
David Butterworth
Nicholas Jozwik
Eric Butts
Victoria Judge
Adrianna Buxrude
Braxton Judkins
Gabrielle Buyce
Kayla Juliano
Sara Buzzard
Alexander Juncosa
Shannon Buzzell
Zachary Justus
Kim Buzzendore
Assadour Kabajouzian
Bradley Byard
Terry Kabue
Sierra Bydlon
Virginia Kadam
Andrew Bydlon
Spencer Kalafus
Ashley Bye
Adria Kalla
Ryan Byerly
Aroon Kalladeen
Katrina Byers
Brigid Kalob
Susanna Byler
Raymond Kaminski
LaShae Byles
Joshuah Kancianich
Breanna Bynum
Kristen Kandefer
Brenda Byrd
Wesley Kane
Elizabeth Byrd
Erica Kane
Skylar Byrne
Hana Kang
Ryan Byrnes
Jack Kang
Jeffrey Byrum
Mason Kantor
Bianca Caballero
Heather Kantrud
Alayna Caballero
Brittany Kaplowitz
Amanda Cabaluna
Chastidy Kapp
Brenda Caban
Kristin Kappeler
Timothy Cabral
Elizabeth Kapustin
Jose Cabrera
Thomas Karas
Daniel Cabrera
Elvir Karic
Stephanie Cackowski
Charlcey Karm
Camio Cadwell
Solkeila Karnuk
John Cahoon
Michael Karpenko
Kari Cahoon
Tesia-ann Kaspar-Enbysk
Paulette Cain
Joshua Kates
Jonathon Cain
Cody Kauffman
Lisa Cain
Michael Kaufman
Caprice Cain
Ramneet Kaur
Nina Cain
Srijana Kc
Paul Cairrao
Peter Keane
Ryan Caisse
Zachary Keane
Matthew Caito
Jamie Kearns
Christian Cajigas Valentin
Amanda Keddrell
Antonio Cal
Kerri Kehoe
Devan Calapp
Jessica Keim
Jeffrey Caldarelli
Danielle Keller
Roshelle Caldeira Pacheco
Briana Keller
Bethany Calderon
Sterling Kelley
Elizabeth Calderon
Caitlin Kelley
Johnathan Calderone
Jennifer Kelly
Vanity Caldwell
Jamie Kelly-Snyder
Kayli Caldwell
Jared Kelsay
Steven Calfee
Nicholas Keniston
Daniel Calhoun
Samantha Kennedy
Anna Calkins
Madeline Kennedy
James Call
Zachary Kennedy
Ariel Call
Kevin Kennedy
Courtney Callagan
Bridget Kennerson
Emily Callahan
Cassandra Kenny
Tomas Callan
Ann Keough
Chayla Callaway
Zachary Kerby
Luz Calle
Natalia Kerr
Staci Callery
Alexa Kerry
Katherine Callery
Alfred Kerswill
Olivia Callery
Kinsley Kervella
Miriam Callihan
Holly Ketchum
Briana Calloway
Thepthai Khammun
Colin Calnan
Kendry Khater
Caleb Calvert
Marufdjon Kholmatov
Philip Camacho
Johnny Khoury
Jorge Camara
Jillian Kidd
Juliana Camazano Pacini
Elisha Kidd
Lara Camberg
Justin Kilstrom
Alysa Cambra
Megan Kilzer
Lauren Camella
Pyung Kim
Gabriela Camero
Chelsea Kimbro
Stephen Cameron
Natalie Kinder
Kaycee Cameron
April King
Chelsea Camillo
Olivia King
Dawn Camina
Destiny King
Alexandra Camirand
TChilandria King
Juliana Camizzi
Christopher King
Magdalena Cammack
Joshua King
Samantha Cammarata
Samantha King
Michael Camp
Cerie King
Michael Campanella
Ryan King
Janet Campbell
Tatianna King
Jennifer Campbell
Alexis King
Kyle Campbell
Barbara Kingen
Katheryn Campbell
Christian Kinney
Emily Campbell
Miley Kinney
Valerie Campbell
Jacob Kirby
Troy Campbell
Casey Kirkland
Hope Campbell
Brittny Kirsch
Sara Campbell
Cheryl Kissentaner
Colin Campbell
Chase Kito
Casie Campbell
Jessica Kittle
Ashli Campbell
Carlyle Klassen
Diana Campbell
Mikala Klemm
Jessica Campbell
Jacob Klemptner
Eric Campbell
Jacob Kline
Faith Campbell
Zelimir Kljajic
Kendra Campbell
Douglas Knapp
Madeline Campbell-Widmer
Robin Knight
Seth Campillo
Stephanie Knight
Michael Campisi
Michelle Knight
Alexus Campobasso
Christopher Knoll
Eric Campos
Kady Knott
Vanessa Campos
Elspeth Knowles
Shanelle Camp-Redic
Jenessia Knox
Zachary Can
Megan Knudsen
Camina Canada
Cortney Knudson
Teddy Candanedo Rivera
Alexandria Knutson
Stacie Candela
Tricia Kobal
Nydia Candelaria
MaryBeth Koenes
Azalea Candelaria
Stanley Koeppl
Tyler Candido
Jacob Koerkel
Elainet Canela Massiel Romero
Shakema Koger
Jennifer Canfield
Ariana Koivisto
Melissa Canfield
Benjamin Kolodny
Brian Canham
Jacob Koontz
Moriah Canida
Aidan Koornneef
Justin Canion
Nathan Korenak
Monet Cann
Douglas Korn
Ty Christian Cannon
Abigail Kotula
Johanna Cannon
Beneditte Kouetcha
Ann Cannon
Esnef Kovac
Benjamin Cannon
Rachelle Kozar
Timothy Cannon
Benjamin Kozireski
Evan Cannon
Lauretta Krakue
Paris Cannon
Darrell Kramer
Glinda Cannon
Catherine Kramper
Kellie Canright
Monika Kratz
Rachel Canright
Chelsea Krecko
Niklas Cantatore
Christopher Krepps
Faith Canterbury
Alexis Kruse
Allen Cantin
Sierra Kruse
Cheyenne Cantin
Jennifer Kubela
Robin Cantin-Jones
Daniel Kubkowski
Alice Cantrell
Marissa Kulz
Nicole Cantrell
Alexander Kurdoghlian
Judy Cantu
Denisha Kyle
Jacklyn Cantu
Michael La Rocca
Michelle Cantwell
Allison Labonte
William Cantwell
Jocelyn LaBoy
Trang Cao
Kayla LaCasse
Mathew Capaci-Roberts
Kenneth LaCour
Preston Caparanis
Jeanine LaCourse
Gianna Capio
Byron Laferriere
Maya Caple
Sawyer Laflamme
Frank Capobianco
Tanner LaFlex
Sarah Cappellina
Jeffrey Lafrance
Sara Capper
Dominic Lagle
Christian Capps
Elizabeth Lagueux
Michael Capps
Ryan Laird
Jose Caraballo
Sarah Lake
Jessica Caraciolo
Justin Lake
Gene Caraker
Courtney Lally
Amanda Carballo
Tyler Lamar
Christina Carbaugh
Stevie Lamas
Adam Carbone
Kristina Lamb
Stacy Carbonneau
Kody Lambert
Anne Card
Lori Lambuth
Jessica Card
John Lamora
Kathryn Carden
Shadae Lampkin
Rachel Cardenas
Devin Lampman
Jessica Carder
Carolyn Lancour
Addison Carder-Cannillo
Stefan Land
Ultara Cardosi
Jared Landry
Adalberto Cardoso
Carlos Lanfranco Jimenez
Vanessa Cardot
Alison Lanoie
William Cargile
Nicholas LaPaglia
Matthew Cariglio
Stacia LaPapa
Nicholas Carkin
Rebecca LaPierre
Kacy Carlberg
Dillon Laplante
Jacqueline Carlic
Samantha Lapoint
Angela Carlile
Cassie Laporta
Victoria Carlile
Morgan LaRock
Aaron Carll
Carmela Larry
Howard Carlseen
Caylah Larsen
Tyler Carlson
Mathew Larson
William Carlson
Jacinta LaSan
Delaney Carlson
John Lassiter
Hillary Carlson
Jarrod Latimer
Camryn Carlson
Benjamin Latin
Branden Carlson
Joseph Lattuca
Tania Carlton
Zachary Laudati
Ricardo Carmenatty
Dakoda Laursen
Faith Carmichael
Brian Law
Sean Carmichael
Corrine Lawrence
Raymond Carneglia
Leah Lawrence
Chance Carnes
LaDonna Lawson
Sydney Carney
Kaylene Lay
Megan Carney
Daniel Le
Eugene Carney
Ryan Leach
Chase Carney
Taylor Leach
Antonia Carnley
Sheri Leach
Brian Carnrike
Vincent Leadley
Sarah Carolan
Scott Leamy
Stephanie Caron
Stefanie Leaser
Bryce Caron
Luke Leavitt
Elizabeth Caron
Hayden Lebeau
Jarred Caroway
Zachariah LeCain
Michael Caroza
Eboni Lee
Roxie Carpenter
Alexis Lee
Katelyn Carpenter
Victoria Lee
Chandler Carpenter
Eric Lee
Cameron Carpenter
Teddy Leeks
Brandon Carpenter
Justin Legere
Amanda Carpenter
Trisha Leichty
James Carpenter
Samantha Leidheiser
Shirley Carpenter
Jason Leighton
Karisten Carpenter
Jessica LeJeune
Chelsea Carpenter
Joanna Lemoine
Ty Carpino
Michael Lemus
Megan Carr
Keilyn Lemus
Christopher Carr
Gerald Lenderman
Tyisha Carr
Joseph Lengele
Steven Carr
Amy Leonard
Patricia Carr
Melissa Leonard
Fatima Carraway
Toby Leos
Joice Carrawell
Kari Lermont
Kimberly Carreiro
Victoria Leslie
Chace Carreiro
Emily Leverich
Alexis Carrell
William Levesque
Dulce Carreno
Rebecca Levesque
Shantel Carrero
Nicholas Levy
David Carrier
Sagurria Lewis
Marcella Carrillo
Rochelle Lewis
Madison Carrillo
Sidney Lewis
Natalie Carroll
Nicole Lewis
Emily Carroll
Porcha Lewis
Gracie Carroll
Kelly Lewis
Michael Carson
Anna Lewis
Brady Carstens
Tatyana Lewis
Joann Carter
Stacey Lewis-Romero
Shylah Carter
Tawnya Leza
Terrence Carter
Brianna Libbey-Lajoie
Robert Carter
Gina Licona
Mary Carter
Katelyn Lilly
Steven Carter
Don Lincoln
Daniel Carter
Lauren Lintt
Tracy Carter
Gracie Lipscomb
Amber Carter
Julia Lira
Sara Carter
Steven Lisboa
Mason Carter
Kathleen Lisher
Hubert Carter
Sethra Little
Rachel Carter
Eddie Little
Jared Carter
Samantha Littleton
Christol Carter
Ryan Livingston
Taryn Carter
Daniel Lizcano Miquilena
Donald Cartier
Alma Llanos
Christian Cartin
Leandra Loaiza Alzate
George Cartrette
Jazmine Loayza
Alex Cartwright
Benjamin Lockwood
Melany Carvalho
Nicholas Loconte
Lauren Carvalho
Matthew Logue
Angelina Carver
Danyelle Lomakin
Joel Carvin
Justin Lombardi
Aaron Cary
James Long
Anna Casagrande
Christina Long
Mercedes Casanova
Daniel Long
Martino Cascio
Molly Lonon
Jeffrey Cascio
Suni Lopez
Jessica Case
Alba Lopez
Nikalus Casetta
Jayson Lopez
Emma Casey
Briana Lopez
Savannah Casey
Jaime Lopez
Christina Cash
Shania Lopez
Joslyn Cash
Brian Lopez
Alexandria Cash
Marlene Lopez
Wyndi Cashman
Sharolynn Lopez
Leigh Cashman
Areona Lopez
Jennifer Casillas
Diana Nahany Lopez Laguna
Madison Casillo
Troy Lord
Luis Caspellanos
Brandi Lord
Tara Casper
Paul Lorenzano
Gabrielle Casper
Christine Lorenzo
Brenden Cassar
Patricia Lori
Nicholas Cassaro
Tyler Loudon
Jaclyn Cassata
Tatianna Lovec
Patricia Cassata
Adam Lovelace
William Cassell
Christina Lovell
Courtney Cassels
Christine Lowe
Sara Cassidy
Nicole Lowe
Nicole Cassidy
Abigail Lowe
Jessica Castaneda
Gregory Lowell
Brandon Castaneda
Kylie Lowen
Angela Castanon
Bradley Lowery
Paige Castell
Evey Lowrimore
Nancy Castellaneta
Laura Lozano
Taylor Castellano
Cleveland Lucas
Jason Castellanos
Michael Ludwig
Natalie Castellanos
Tristan Lugo
Christopher Castellaw
Aida Lugo Ballester
Edward Castelo
Sandra Lujan
Sophia Castillo
Justin Luke
Kaylee Castillo
Skyler Lumbra
Marisol Castillo
Tyler Lundy
Tiffany Castillo
Abigail Lunger
Rhyan Castillo
Brad Lunny
Jocelyn Castillo
Xanthin Luptak
Jesus Castillo
Kristine Lussier
Angel Castillo-Pena
Matthew Lynch
Kallie Castle-Welton
Sarah Lynn
Emily Casto
Randy Lynn
Rosemarie Castore
Jeffery Lyon
Barbara Castro
Hailey Lyon
Jessica Castro
Andrea Lystila
Sylvia Castro
Megan Lyszaz
Veronica Castro
Chancelvie Mabiala
Kevin Felipe Castro Varela
Susan MacDonald
Craig Caswell
Stephen MacDonald
Jared Catalano
Danielle MacDonald
Peter Catalano
Kerry MacDonald-Contrino
Sophia Cataldi
Ninette Macedo
Adam Cataldo
Brettany MacFarland
Alexia Cataldo
Sarah Maciag
Derek Cataldo
Jacob MacIsaac
Carrie Cataldo
Laura Madden
Rachel Cataldo
Lady Vanessa Madiedo Martinez
Katlyn Caterer
ShanQuesha Madison
Samantha Cates
Grace Mage
Jeffrey Cates-Elsasser
Cory Magill
Stephen Cathey
Alexa Magoc
Essence Catoe
Amanda Mahaney
Colby Caton
Syed Mahdi
Matthew Catron
Nadien Mahmoud
Amber Caudle
Megan Majewski
Chelsey Caulfield
Arsen Mako
Kaela Causey
Tiffany Malcolm
Shawn Cavanagh
Tony Maldonado
Christina Cavanaugh
Gabriela Mallett
Craig Cavanaugh
Dakshina Mallikarachchi
Renee Caves
Sada Mallory
Rebecca Cavitt
Charles Malone
Anna Cawley
Hem Malot
Kendra Cayado
Ashley Manansala
Allen Caywood
Michelle Manatrey
Adriana Cazares
Junior Mancebo
Kelly Cease
Annaleigh Manee
David Cecil
Grace Manley
Arieanna Cedillo
Farrah Mann
Kristen Cefalu
Justin Manning
Raelene Ceja
Ashley Mannisto
Kerri Ceklarz
Adam Manolis
Brittany Celeste
Becky Manrodt
Saunald Celestin
Troy Mansfield
Corinne Celotti
Roger Many
Alexandra Cempe
John Manzi
Anizabel Centeio
Jessica Maples
Laurencia Centeno
Blake Marable
Justin Centifonti
Vito Marcello
Dawn Cerasiello
News-Johanne Marcellus
Megan Cereceres
Jonas March
Brendan Ceres
Ryan Marchesseault
Santino Cerino
Nicholas Marchetti
Alexei Cerneavii
Ashley Marconi
Oxana Cerneavii
Joseph Marconi
Gina Cerone
Jose Mares
Korteney Ceroni
Raymond Marineau
Maisha Cerqueda
Savannah Marino
John Certo
Brandon Marion
Daniela Cerullo
Christopher Marion
Jack Cerulo
Lisa Marks
Antonio Cervantes
David Marks
Kayla Cervera
Linda Marks
Karen Cesarini
Kerry Markvenas
Jeffrey Cetoute
Jacob Marlatt
Justin Chabot
Kristina Marlowe
Andrew Chace
Kara Marmen
Kristin Chacko
Sabrah Marmie
Angelo Chacon
Rachel Maron
Humphrey Chadbourne
Rachel Marquez
Angela Chadwick
Earl Marrow
Courtney Chadwick
Amy Marshall
Jasper Chae
Anthony Marshall
Corey Chaffee
Abigail Martell
Shane Chafin
Sherene Martensen
Cameron Chagnon
Stephanie Martin
Vanessa Chai
Angel Martin
Allison Chairez
Trayveon Martin
Antonio Chairez
Bailey Martin
Michael Chalkey
Megan Martin
Madison Chamberlain
Emma Martin
Andrew Chamberland
Robert Martin
Kori Chamberlin
Riley Martin-Cooney
Tammie Chambers
Isaura Martinez
Courtney Chambers
Jesus Martinez
Kevin Chambers
Brittany Martinez
Bre'Onna Chambers
Mayra Martinez
Julie Chambers
Raymond Martinez
Ame Chambers
Gustavo Martinez
Dustin Chamlee
Mark Martinez
Gabrielle Champagne
Laura Martinez
Kara Champagne
Melissa Martinez
Hannah Champagne
Geovanni Martinez
Rebecca Champion
Marco Martinez
Shannen Champlin
Angela Martinez
Kwun Chan
Tamaran Martinez
Calvin Chan
Jarrad Martinez
Meenakshi Chand
Matthew Martinson
Kiran Chander
Kayley Martley
Gidget Chandler
Edward Maruna
Iesha Chandler
Cody Marvin
Stephanie Chandler
Meritiana Masaniai
Mack Chandler
Kimberly Mastrobuono
Lauren Chandler
Kayla Mathews
Yolanda Chanea
Lance Mathis
Travis Chaney
Rebecca Matos
Tanner Chaney
Jesenia Matos
Christopher Chaney
Stephanie Matte
King Chang
Taran Matthews
Javina Channer
Tyler Matthews
Danny Channita
Erin Matthews
Cathleen Chanta
Carmen Matthews
Teo Chanthasak
Richard Matthiesen
Patricia Chaoul
Victoria Mattoon
Deanna Chapa
Manuel Mattz
Ashley Chapdelaine
Natalie Matusiak
Marcus Chapin
Shea Maulding
Marissa Chapkounian
Christopher Maultsby
Tasha Chapman
Paul Maurer
Lerald Chapman
Amelia Maurer
Ky Chapman
Kaylen Mawdsley
Samantha Chapps
Lisa Maxfield
Nate Charais
Laverne Maxius
Victoria Charbonneau
Shannon Maxwell
Lyndsey Charbonneau
Elizabeth Mayfield
Megan Charest
Liam Mayfield
Chasity Charette
Isabella Mayo
Thea Charleston
Debra Mazelin
Anthony Charleston
Robert McAbee
Adam Charlette
Christian McAllister
Stacy Charlton
Kiera McArthur
Stephanie Charney
Larry McBee
Cody Charpentier
Anna McCahill
Shane Chartier
Isabella McCann
Jenna Chartier
Samantha McCarthy
Calli Chartrand
Brian McCarthy
Christina Chase
Broderick McCarthy
Adam Chase
Britney McCarthy
Michael Chase
Madison McCaul
Denise Chase
Grover McChristian
Kate Chase
Devon McClain
Teri Chase
Adam McClellan
Robert Chase
Danelle McClendon
Ryan Chasse
Stephine McClenney-Lopez
Adam Chastain
Christopher McClung
Austin Chatigny
Luke McClure
Cassandra Chatman
Robert McCool
Amanda Chatterjee
Jordan McCormick
Bijal Chauhan
Chelsea McCoy
Gaurav Chavda
Racheal Mccoy
Julio Chaves
Tamara McCrater
Kaitlin Chavez
Bryanna McCraw
Josalyne Chavez
Carolyn McCrystal
Chelsea Chavez
Margaret Mccullough
Hector Chavez
William McCullough
Jennifer Chavez
Edwina McCullough
Iliana Chavez
Stephanie McCummings
Liliana Chavez
Kristen McDaniel
Rosysabella Chavez
Darius McDaniel
Thi Nguyet Che
Justice McDaniel
Jennifer Chea
Hannah McDavid
Jamie Check
Ansley McDonald
Amy Cheek
Natascia McDonald
Steven Cheeseman
Valarie McDonald
Joshua Cheever
Katelyn McDonnell
Amanda Cheltenham
Tiffany McDonough
Wilda Cheng
Kaitlyn McDonough
Lillian Chepke
Emilee McEachon
Joshua Cherry
Christopher McFadden
Aharon Chesler
Marah McFarland-Bourque
Bria Chesley
Demetria McGarity
Kari Cheslock
Dharma McGarr
Adrianna Cheslosky
Madison McGee
Qima Chestnut
Brooke McGinnis
Justin Chevalier
Donna McGoldrick
Josue Chevez
Lauren McGonagle
Michealar Chhat
Robert McGregor
Anieda Chhouk
Lyrisha McGuire
Sara Chiaramonte
Shelby McGuire
Michael Chiazza
Raechel McGuire
Kiri Chiba
Hannah McGuire
Krystalyn Chico
Kevin McHugh
Ethan Chierepko
Thomas McHugh
Anthony Chiesa
April McIntosh
Allison Child
Kristina McKay
Bridget Childs
Hannah McKelvey
Melinda Chilson
Andrea McKenna
Tiffani Chin
Alexandria Mckenzie
Samantha Chiodi
Jake McKenzie
Amber Chippendale
Dillon McKenzie
Shingirai Chiremba
Dominique McKinney
Gaetano Chirichiello
Edwina Mckoy
Alejandro Chirino
Julie McLaughlin
Maggie Chirwa
Mathew McLean
Matthew Chisholm
Ross McLellan
Jevon Chisholm
Gabriela McLeod
Alexandria Cholewinski
Kendall McLeod
Seth Chouinard
Richard McMahon
Sarah Chowdhry
Hana McMahon
Roxanna Choza
Zachry McMann
Jennifer Christensen
Emily McMasters
Gabrielle Christensen
Andrea McNally
Jordan Christensen
Tyler McNeil
Emily Christian
Laren McPhail
Jackqueline Christianson
Trenten Mcpherson
Demis Christodlous
Gita McPherson
Bret Christofferson
Paula McRae
Jennifer Christopher
Cailin McRae
Sarah Christopher
Celeste Mcvea
Zachery Christopher
Sarah McWhirter
Craig Christopherson
Kevin Meade
Patrick Chu
Connie Meadows
Rayna Chucka
Jessica Meas
Joella Chung
Bryan Medeiros
Corynne Church
Martin Medina
Melinda Church
Emily Meek
Nazareth Church
Joanna Meek
Derika Church
Shaila Mehta
Victoria Church
Carli Meil
Sean Churchill
Amanda Melendez
Carly Churchill
Michael Melendez
Jennifer Churey
Sabrina Melendez
Gregory Churlik
Michael Melendez III
Corey Ciesielczyk
Bobby Melvin
Michael Cieslik
Leah Melvin
Scott Cihlar
Austin Men
Anthony Cincoski
Jasmine Menard
Tara Cincotta
David Mende
Tina Cinko
Jessica Mendes
Malia Cintron
Sofia Mendez
Anne Cioffredi
Adam Mendez
Meleny Ciolkosz
Samantha Mendoza
Megan Cipollone
Keelee Menina
Samantha Cipriano
Joshua Mercado
Andrew Cipriano
Matthew Mercado
Vincent Cirigliano
Vinet Mercado
Arica Cisneros
Anais Mercedes
Brittany Cisneros
McKayli Merha
Mary Cisneros
Kelly Merrell
Eduardo Cisneros
Adam Merriam
Bianca Ciulla
Vanessa Merriweather
Sarah Ciz
Christopher Merry
Rachel Claflin
Aynsley Meshanic
Nichole Clair
Andrew Messier
Katherine Clair
Amanda Metzger
James Clairday
Diana Meyer
Stephanie Claman
Joel Meza
Eric Clancy
Beatriz Michael
Renell Clarence
Nicholas Michaels
Evelyn Clark
Diego Michel
Stephanie Clark
Dionne Michel
McKenzie Clark
Cassandra Miles
Britney Clark
Courtney Miles
Tayamka Clark
Devin Miles
Lois Clark
Sarah Milholland
Gary Clark
Chrystalene Millan
Jack Clark
Katie Miller
Andrew Clark
Keirra Miller
Alexarae Clark
Elena Miller
Matthew Clark
Nicole Miller
Alexander Clark
Onna Miller
Darlyn Clark
David Miller
Sharleen Clark
Kayla Miller
Rosemarie Clark
Brittany Miller
Sara Clark
Stephanie Miller
April Clark
Kristy Miller
Crystal Clark
Cheyenne Miller
Dane Clark
Adam Miller
Stephanie Clark
Savannah Miller
Teryne Clark
Rachel Mills
Lindsay Clark
Laura Mills
Tila Clark
Troy Mills
Cynthia Clark
Joseph Milone
Salina Clark
Sarah Milton
Vanessa Clark
Michelle Milton
Allison Clarke
Nickolas Minard
Terri Clarke
Matthew Minecci
Phillip Clarke
Melissa Minenna
Rose Clarke
Zannah Mingo
Jennifer Clarke
Anthony Minnucci
Peta Gaye Clarke
Corrine Minya
Kasey-anne Clarke
Angelo Mirabito
Cailee Clarke
Katherine Miranda
Amber Clarkson
Johnny Miranda
Casey Clary
Shogofa Mirzai
Lyle Clason
Yuri Missenheim
Claudia Claudio
John Missihoun
Laurie Clawson
Amber Mistisshen
Hannah Claxton
Clarissa Mitchell
Shawn Clay
Danyale Mitchell
Zane Clayburn
Colby Mitchell
Teara Clayton
LaShawn Mobley
Erika Clayton
Alyssa Moccia
Robert Clayton
Christian Molina
Trista Cleary
Saramie Monaco
Joey Cleary
Kyle Monastiero
Benjamin Cleinman
Natalia Moncayo
Zachary Clem
Heather Money
Claudia Clemente
Emily Monge
Sarah Clements
Caine Mongeau
Tavaja Clements
Brie Monis
Deven Clemet
Katherine Monroy
Ryan Clemmons
Raquel Montanez
Constantine Clemons
Marta Monteiro
Bethany Clemons
Veronica Montgomery
Kameron Clemons
Alyssa Montoya
Kimberly Cleveland
Lindsey Montpelier
Jessica Cleveland
Christopher Monzon
Emma Cleveland
Alyssa Moody
Kristin Cleveland
Derek Moody
Bobby Cleveland
Christina Mooney
Howard Clevenger
Kera Moore
John Cleverly
Ryan Moore
Eric Clifford
Katlyn Moore
Mackenzie Clifford
Chris Moore
Tanner Clinton
Andrea Moore
Michael Clisbee
Angela Moore
Elizabeth Clisbee
Ashlyn Moore
Matthew Clockel
Deonya Moore
Rileigh Cloonan
Bladimir Mora
Kathrine Cloud
Danielle Morales
Jayde Cloud
Isamar Morales
Monique Clough
Christina Moran
Nathan Clouse
Nathan Moran
Hollie Clouse
Jillian Morani
Nathaniel Clouser-Simerlink
Miranda Morehead
Megan Cloutier
Ashlee Morel
Ravan Clowers
Matthew Morgan
Christopher Clute
Kenneisha Morgan
Sara Coache
Shiloh Morgan
Bridgette Coady
Stacey Morgan
Jessica Coakley
Susan Morgan- Foley
Sandra Coan
Brittany Morin
Kymberlie Coapland
Tabatha Morin
Gregory Coates
Anthony Morio
Torya Coates
Shauna Moroney-Hamade
Kimberly Coats
Alison Morquecho
Vernetta Coaxum
Nicolas Morrey
Jessica Cobb
Ashley Morris
Maya Cobb
Kathleen Morris
Alysia Cobb
Devin Morris
Keith Cobb
Brittany Morris
Laticia Cobb
Ashlee Morris
Sarah Cobb
Christopher Morris-King
Chance Cobb
Brett Morrison
Christopher Cobbs
Ashley Morrison-Franklin
Katherine Coble
Brittany Morrissette
Lydia Cochrane
Brooke Morrissey
Olivia Coco
Anthony Morrone
James Cocoris
Sydney Morton
Faith Coderre
Haygen Morton
Keira Codey
Emilie Moss
Shaun Cody
Bernetha Moss
Patricia Cody
Jason Mota
Timothy Coert-Lemaitre
Morgan Motroni
Judith Coetzee
Denin Moul
Daniel Coffey
Stephen Mucci
Kelsey Coffey
Jennifer Mueller
Justin Coffey
Paige Mueller
Tomika Coffey
Danielle Muepo
Carrie Coffey
James Muhlenbruch
Sara Coffield
Kiala Muir
Steven Coffin
Lauren Mulholland
Madison Coffing
Paul Mullen
Jeremy Coffman
Edward Mullen
Bryce Coffman
Allyson Muller
Thomas Cogley
Nicholas Mullett
Taylor Cognato
Leann Mullins
Victoria Cogswell
Joel Mulvihill
Hannah Cohen
Phillip Mumford
Zachary Cohen
Chase Mungo
Sam Cohen
Melissa Muniz
Cavan Cohoes
Angela Munoz
Sandra Coiner
Edward Murillo
Ashleigh Coker
Brian Murphy
Alyson Colantuoni
Sean Murphy
Lisa Colarusso
Kara Murphy
Cindy Colbert
Victoria Murphy
Lindsay Colboch
Shayla Murphy
Paula Colburn
Markette Murphy
Julia Colby
Kayla Murphy
Joshua Coldwell
Jared Murray
Amanda Cole
Shawndra Murray
David Cole
Jordan Muse
Michelle Cole
Nathan Musgrave
Matthew Cole
Darrien Musser
Rebekah Cole
Alesia Mustico
Leslie Cole
Gavin Myers
Jessica Cole
Catherine Myrga
Courtney Cole
Marcus Myrick
Gage Cole
Joyce Nagel
Heather Cole
Austin Nagle
Michele Cole
Jacqueline Nagode
Faith Cole
Pradeep Nair
Casey Coleman
Nida Najeeb
James Coleman
Tiana Nakaya
Yejide Coleman
Cynthia Nangoo
Clay Coleman
Lloyd Nantt
Karen Coleman
Vangela Naputi
Rebecca Coleman
Emily Narahara
Rheannon Coleman
Abimalec Narvaez
Jason Coleman
Nikita Nash-Morris
Antony Coleman
Kenya Nation
Brittany Colfer
Amanda Nations
Menucha Colish
Naimatullah Nawabi
Ibiana Collado
Mary Neal
Romy Collado
Dante' Neal
Luis Collado
Hunter Neale
Yvania Collazo
Larry Nedens
Juanita Collazos
Regan Neely
Shelley Collert
Mitchell Neis
Brittany Collett
Lindsey Nelson
Nicholas Collette
John Nelson
Lori Colley
Travis Nelson
Darian Collier
Samantha Nelson
Bradley Collier
Larry Nelson
Paige Collier
Gregory Nelson
Erin Collins
Rebecca Nelson
Rosanina Collins
Chad Nelson
Brett Collins
Ishwor Neupane
Jacob Collins
Tessa Neverett
Emma Collins
Douglas New
Shawn Collins
Andriana New
Kyle Collins
Teagan Newhall
Haylee Collins
Aubrey Newman
Andrew Collins
Dale Newman
Tiley Collins
Nathan Newsome
Theresa Collins
Sonjia Newsone
Kelli Collins
Samantha Newton
Lacie Collins
Julianna Ng
Desiree Collinsworth
Tung Nguyen
Gina Colon
An Nguyen
Saviel Colon
PollyAne Nichols
Sarah Colone
Stephanie Nichols
Bryanna Colony
Demerry Nielson
Cesar Colotla
Joseph Niemczyk
Ciaria Colson
Arquidalis Nieves
Rose Colvin
Ivettelis Nieves
Brent Colyer
Julio Nieves
Megan Combatti
Jennifer Nikolova
Aaron Comden
Keirsa Nimmons
Jasmin Comeau-Santana
Taylor Nitti
Jeanette Comire
Ian Nix
Jennifer Comparda
Kihungi Njoki
Matteo Comparini
Rachael Njoku
Mark Compean
Rhianna Noble
Victoria Compoccio
Philip Noel
David Compton
Kari Noftsinger
Marilyn Comstock
Jonathan Nolan
Olivia Conant
Shannon Norman
Kevin Condardo
Teniki Norman
Yudis Maria Conde Bandera
Brittney Norman
Jennifer Condiff
Jennifer Normand
Pam Condon
Iahnna Norman-Weaver
Kaitlin Condry
Zachary Norris
Dakota Condurso
Cordelia Norris
Casey Conforti
Kiarra Norris
Emma Congdon
Emma Norris
Adam Conger
Kristie North
Renee Conger
Kayla Norton
Morgan Congrove
Makayla Norton
Molly Coniski
Shanna Norwood
Kathryn Conkle
Paige Novak
Carolyn Conklin
Hayden Novak
Danielelle Conklin
Heath Nowak
Kate Conley
Andrew Nowak
Linda Conley
Eric Nunn
Rachel Conley Pierce
Brandon Nurmi
Colin Conneally
Timothy Nydegger
Jordan Connell
Myles Obenza
Sean Connelly
David Obi
Madison Connelly
Sidney OBrien
Nicolette Connelly
Monique O'Brien
Erica Conner
Sarah O'Brien
David Conner
Maureen Oconnor
Christian Conner
Patricia O'Connor
Justin Connolly
Heather O'Connor
Abigail Connolly
Micaela O'Donnell
Abigail Connor
Elizabeth O'Driscoll
Mason Connor
Tyler O'Flinn
Carla Connor
Zakia Ofori
Michaela Connor
Xuma Ogaro
Courtney Connor
Kayla Oigbokie
Samantha Connor
Adetomiwa Ojo
Kaitlin Connor
Ruth Olavarria
Julie Connors
Molly Oldham
Madelyn Conover
Benjamin Oliver
Caitlin Conrad
Ted Oliver
Rochelle Conrad
Christopher Olsen
Ariel Conrad
Braxton Olson
Sherri Conrad
Katherine Olson
Christopher Constant
Gregory Olwynne
Kataryna Constantino
Bruce O'Malley
Jessica Conte
Caroline Omick
Tiana Content
Tamara O'Neal
Courtney Contente
Laetitia O'Neil
Christian Conteras
Shannon O'Neill
Lanna Conti
Richard Ontiveros
Frank Contino
Timothy O'Quinn
Amy Conton
Jordan Oravetz
Cinthya Contreras
Bethany Orcutt
Sirena Contreras
Rafael Oriques
Erica Contreras
Melody Ormsby
Jackie Contreras
Arturo Ornelas
Caitlyn Converse
Carrien Orr
Jared Conway
Joey Orta
Lisa Conway
Jeremy Ortiz
Erika Cooeyate
Oscar Ortiz Acosta
Christopher Coogler
Dichel Ortiz Jimenez
Lauren Cook
Heather Osborne
Devin Cook
JoLean Osorio
Amanda Cook
Madison Oster
Stephanie Cook
Alexis Ostman
Ryan Cook
Daniel Ostrin
Kimberley Cook
Adedayo Otokiti
Phillip Cook
Alexus Ouellette
James Cook
Michael Ours
Alexandra Cook
Madison Ovitt
Kerry Cook
Tamaya Owens
Caitlin Cook
Amanda Owens
Cameron Cooke
Wesley Owens
Brittney Cooke
Frank Oyston
Megan Cooke
Kisha Pace
Marlin Cooks
Taylor Pace
Brandon Cookson
Sharon Pacheco
Jeremiah Cooley
Emily Pacifico
Gabriel Coombs
Alexa Padgett
Angela Coombs
Amber Padgett
Bianca Cooper
Christian Page
Ariel Cooper
Robert Palechek
Brittany Cooper
Joseph Palimeno
Shernitta Cooper
Devon Palko
Kevin Cooper
Annaca Palmer
Stephanie Cooper
Sherri Palmer
Patrick Cooper
Michael Palminteri
Crystal Cooper
Jose Palomino
Aimee Cooper
Carissa Palomino
Nicole Cooper
Umesh Paneru
Tiara Cooper-Burnham
Kendra Paolilli
Hannah Cooperrider
Maura Papalia
Rashad Cooper-Rollins
Melissa Paquette
Lauren Cope
Rachel Paquette
Jennifer Cope
Robert Paquin Varnum
Shaun Copeland
Kelly Paranich
Katherine Copeland
Clarissa Parent
Destiny Copeland
Marissa Parise
Anna Copeland
Dailey Parish
Marissa Copin
Grace Park
Tyler Coplan
Kiera Parker
Alexandria Coppinger
Kristin Parker
Lilibel Corado
Telisha Parker
Ashley Corbett
Ryan Parker
Richard Corbin
Sarah Parker
Frances Corbin
Craig Parker
Ashley Corcoran
Jennifer Parks
Jenny Corcoran
Tommy Parks
Erina Cordeiro
Mariana Parra Palacios
Jennifer Cordero
Anna Parsley
Vanessa Cordero
Kaitlin Parthum
Nikki Cordosi
Mackenzie Partyka
Ruben Cordova
Alexis Pascoe
Iris Cordova
Jessica Pasqua
Melissa Cordova
Sergio Passos
Eugene Cordwell
Cole Patarroyo
Colton Coreschi
Bijal Patel
Megan Corey
Suresh Patel
Brittany Corley
Megha Patel
Mitchell Cormier
Keyur Patni
Allison Cormier
Destiny Patrick
Eliana Cornejo
Garret Patti
Wesley Cornelius
Jessica Patton
Taylor Cornellier
Jacqueline Patton
Vivienne Cornett
Ryan Paul
Brant Cornish
James Pavlik
Amanda Cornish
Claire Paycer
Christopher Cornwall
Edgar Payes
Jessica Coronado
Gerald Payne
Renee Corpus
Jessica Peach
Reuben Corpus
David Peche
Amanda Corr
Cara Peel
Hannah Corral
Kelsey Peirce
Miguel Correa
April Pelayo
Elizabeth Correale
Sharidy Pell
Monica Correia
Wilhelmina Pellegrin
Timothy Correia-Fonseca
Kaynen Pellegrino
Jordan Correll
Malorie Pelletier
Anthony Corrente
Lauren Pelletier
Joshua Corse
Heather Pelton
Lindsey Corsi
Patric Pemberton
Karla Cortes
Max Pendl
Jennifer Cortes
Rebecca Pendleton
Cassidy Cortes
Meagan Pennie
Trinity Cortes
Kelsey Pennison
Jennifer Cortes
Tashia Penrice
Ryan Coscarella
Kimberly Penza
Gabrielle Cosgray
Bonnie Penzin
Raquel Cosico
Rosa Peralta
Kerryann Cosom
Maira Peralta
Diana Coss-Delgado
Heather Pereira
Matthew Costa
Christopher Perez
Salvatore Costa
Alexander Perez
Courtney Costa
Alejandro Perez
Danielle Costabile
Kenneth Perez
John Costanzo
Michael Perez
John Cote
Jason Perez
Cameron Cote
Rosa Perez
Nathan Cote
Georgina Perez
Matthew Cote
Peter Perez
Hannah Cote
Marta Perez
Abigail Cott
Amber Perkins
Natasha Cottemond
Rachel Perkins
Daniel Cotter
Dorothy Pero
Maci Cottle
Jennifer Perpignand
Sandra Cottle
Kelsey Perreira
Gilberto Cotto
Garnet Perrin
Tyler Cotton
Tenille Perring
Lisa Cottone
Colby Perron
Tiffany Cottrill
Camille Perry
Tamara Couch
Brianna Perry
Kevin Coughlin
Autumn Perugini
Crystal Coughlin
Nicola Pesce
Laura Coulombe
Katrina Peters
Brandon Coulter
Alexander Peters
Dylan Coulter
Avery Peterson
Candy Counter
Kendrick Peterson
Haley Counts
Tamika Peterson
Arthur Counts
Willie Peterson
Aimee Cournoyer
Bridget Peterson
Ashley Courtney
Alexia Peth
Justin Courtney
Lauren Petrello
Ariana Cousins
Michael Petrillo
Jose Covarrubias
Najib Pettis
Julia Covell
Michael Pettus
Cody Covert
Julianne Petty
Megan Covert
Alexis Pezzelle
Steven Covey
Allison Pfannenstiel
Curtis Covington
Jameson Phalante
Henry Covington
Lionisia Phelps
Alexander Cowan
Shelby Phillips
Cody Cowan
Kimberley Phillips
Jake Cowee
Julia Phillips
Erika Cowell
Johnathan Phillips
Shannon Cowgill
Shamara Phillips
Abigail Cowles
Brandon Phillis
Ashlyn Cox
Wendy Phung
Megan Cox
Courtney Picanso
Tiffany Cox
Kelsey Piccirillo
Brian Cox
Ashley Pickard
William Cox
Brooke Pierce
Jon Carl Cox
Blake Pierce
Marvalisha Cox
Christana Pierre
Kierra Coxwell
Roshanda Pierre
Brandon Coy
Barbara Pierre
Sandra Coy
Matthew Pietrangelo
Ruth Coyne
Alexander Pimentel
Reyna Cozad
Christina Pimentel
Samantha Crabtree
Kayla Pinard
Denne Craddock
John Pinckney
Brianna Craddock
Clyde Pingree
Alexis Cradlebaugh
Channing Pinkerton
Keith Craig
John Pino
Kameko Craig
Ceola Pinson
Diane Craig
Brandan Pinyan
Cheyenne Craig
Ashley Piper
Cherelle Cramer
Andre Piper
Aaron Crampton
Darnella Piper
Melissa Crane
Natale Pipitone
Jonathon Crane
Jackielou Pisanelli
Katherine Cranford
Prezli Piscopo
April Crater
Samantha Plakke
Nancy Crawford
James Plumley
Leighanne Crawford
Roy Plunkett
Kathryn Crawford
Noah Pockoski
Taylor Crawford
Diana Poe
Darren Crawford
Victoria Poindexter
Jalynn Crawford
Nathan Poirier
Alyssa Crawford
Amanda Poitras
Rae Crawford
Benita Pol
Jenifer Crawford
Carrie Poldrack
Lawrence Crawford
Mireille Polis
Raven Crawford
Ashley Polk
Aaron Crawley
Ashley Pollack
Christopher Crayton
Abbie Pollard
Walter Crayton
Ethan Poole
Todd Creamer
Mandy Poore
Mary Creech
Alissa Pope
Preston Creek
Cole Porras
Tanya Creightney
Kristin Porras Coutin
Kathleen Creighton
Chad Porter
Whitney Cremeens
Hope Porter
Tonya Crenshaw
Stephani Porter
Bradley Crenshaw
Joshua Porter
Treesa Creps
Miranda Porter
Caitlyn Cressley
Steven Posey
Melissa Cresta
Katelyn Potasnik
Diane Creswick
Richard Pothier
Harriet Creyer
Jared Potter
Austen Crim
Chad Potter
Meagan Crim
Emily Potucek
Matthew Crisci
Brandon Potvin
Anthony Criscuolo
Garrett Powell
Samantha Crise
Taylor Powell
Camille Crisostomo
Delisha Powell
Belinda Crisp
Sharon Powell
Jalena Criss
Alaya Powell-Davis
Brandon Crist
Kyle Power
Gabrielle Cristiano
Samuel Powers
Emily Critch
Hannah Powers
Zachary Crites
Yasmine Prasad
Madison Crocker
Kara Pree
Deirdra Crocker
Ciarra Prenatt
Riley Crocker
Eric Prendergast
Thomas Cronin
Matthew Prescott
Courtney Cronin
Elsie Prespolis
Angelica Cronk
Anna Prestopino
Paige Crook
Clarence Prevost
Earl Cropp
Jordan Pribanic
Brian Crosby
Alana Price
Christopher Crosby
Kelsey Price
Ashlie Crosby
Emily Price
Angela Crosetti
Krista Prickett
Rebecca Crosley
Tyanna Prince
Dusty Croson
Jasmine Pringle
Amy Cross
Ciarah Pritchard
Klint Cross
Lisa Privitere
Kristi Cross
Quintin Privott
Holli Cross
Melanie Probst
Katherine Cross
Christine Proctor
Kayla Cross
Reuben Provencio
Kyle Crossley
Jaylah Prude
Taylor Crosson
Lianna Psillis
Gerad Crosswy
Margaret Pszenny
Jaelynn Croteau
Falon Pulice
Wendy Croteau
Richard Pulisciano
Chloe Croteau
Yvonne Pumnea
Michael Crouch
Jessica Purington
Chandler Crough
Nathaniel Purses
Ryan Crovetto
Taylor Pursley
Jennifer Crow
Andrew Quarnstrom
Monique Crowder
Jennifer Quig
Jessica Crowe
Allan Quiling
Stephen Crowe
Melissa Quinn
William Crowe
Madeline Quinn
Abigail Crowell
Keanu Quinn
Hannah Crowell
Patrick Quirk
William Crowell
Kelsey Raburn
Timothy Crowell
Ashante Kai Rachard
Christopher Crowell
Shane Rackley
John Crowley
Dynasty Radcliff
Katelyn Crowley
Kevin Raddatz
Matthew Crowley
Kolby Radford
Autumn Crowthers
Shohruh Rahmatov
Elise Cruden
Manjot Rai
Sherri Crum
Marcel Rak
Cathlene Crum
Nicholas Ralli
Malorie Crumpler
Quinn Rallis
William Crumpton
Fatima Ramirez
Jesse Cruse
Yvette Ramirez
Eimy Cruz
Leyla Ramirez
Megan Cruz
Kamaria Ramnanan
Genny Cruz
Ana Ramos
Shanalyn Marie Cruz
Sara Ramsay
Kristhian Cruz
Haley Ramsay
Serena Cruz
Kylee Ramsey
Elizabeth Cruz
Darian Randa
Emmanuel Cruz
Gordon Randall
Stephen Cruz
Matthew Randazzo
Evelyn Cruz
Ayesha Randolph
Juan Cruz - Ortiz
Jonathan Ranes
Paola Cruz-Rosario
Jacob Raney
Nomar Cuaresma
Morgan Ranfos
Vitalie Cucuta
Wendi Raper
Evan Cuddy
Shaun Raposo
Iliana Cuellar
Amirah Rasheed
Adrianna Cuevas
Megan Rau
James Culbertson
Wazhma Raufyar
George Culbertson
Kristen Raup
Josephine Culbertson
Barbara Ray
Nichole Cull
Arkaysha Ray
Elizabeth Cullers
Keith Ray
Tristan Cullis
Keith Raymond
Allyson Cumming
Bryce Reagan
Jake Cumming
Michael Reardon
Marylou Cummings
James Reardon
Christopher Cummings
Samantha Redd
Katelyn Cummings
Mackenzie Redimarker
Jordan Cummings
Erika Redmon
Melannie Cummings
Cameron Rednose
Alfredo Cunanan
Tabitha Reed
Garret Cundiff
Jordan Reed
Melissa Cundiff
Donald Reed
Gregory Cunningham
Andrea Reed
Emily Cunningham
Donald Reed
David Cunningham
Madison Reed
Casey Cunningham
Zayne Reese
Jennifer Curran
Cassia Reid
Shawn Curran
Tasha Reid
Kenneth Curran
Austin Reihs
Matthew Curran
Katelyn Reilly
Stas Curreri
Skylar Reilly
Brian Currie
Sarah Reilly
Daylene Currier
Kerianne Reilly
Kerrianne Curry
Jazmine Reinitz
Olivia Curry
Megan Reisenauer
Cheyenne Curry
Olivia Reksc
Nicholas Curry
Carrie Renfro
Newtondra Curtin
Charles Renfrow
Ashley Curtin
Christion Restrepo
Kirsten Curtis
Alexis Retter
Jon Curtis
Morgan Revels
Shelbie Curtis
Brandon Revels
Erin Curtis
Eleidalee Reyes
Sky Curtis
Andrea Reyes
Corvinna Curtis
Jose Reyes
Hannah Curtiss
Miriam Reyes
Chad Curtiss
Benjamin Reyngoudt
Fendley Cushing
Jenna Rhoads
Rachyl Cushman
Jordan Rhodes
Megan Cushman
Korina Riblet-Heale
Hannah Cusson
Ben Richard
Mariah Cusson
Breah Richard
Elizabeth Custer
Chevaun Richards
Kaylene Cuthbertson
Melissa Richards
Penelope Cutler
Gregory Richards
Avion Cutter
Jake Richards
Erin Cyr
Hannah Richards
Lindsey Cyr
Patrick Richardson
Olivia Cyr
Kevin Richardson
JaNae Cyr
Travis Richardson
Gregory Cyr
Crisandra Richardson
Susan Cysewski
Sheri Richelieu
Helen Czepyha
Ben Richey
Rachael Czepyha
Karen Richter
Ashley Czyzewski
Matthew Riddell
Tierra Dabbs
Ashleigh Ridenour
Oliwia Dabrowska
Tammy Ridner
Michelle Dacunha
Andrea Riedell
Amanda D'Acunto
Kaitlyn Rielly
Shawna Dade
Alexandra Rife
Jessica Dado
Melanie Riggio
Shaina Dado
Christopher Rigler
Sodaba Dadrass
Ceaira Rigmaiden
Kevin Dagesse
Frederick Riley
Jessica Dagg
Alexis Riley
Sara Daggs
Olivia Riley
Danielle D'Agostini
Roshanda Riley
Sam Dahal
Danilyn Riley
Kevin Dahl
Francis Rinehart
Andrew Dahmen
Alyn Rios
Larry Daigle
ISRAEL RIOS
Jaimee Daigle
Arianna Rios
Stephanie Daigle
Timothy Ripple
Haley Daigle
Isabella Risoni-Sweatt
Sedonia Dailey
Lorren Rivard
Jessica Dailey
Edward Rivas
Charlotte Dailey
Omayra Rivera
Jesse Daines
Bryan Rivera
Michele Daisey
Justin Rivera
Jaycee Dal Porto
Omar Rivera Cabrera
Vandala Dalbec
William Rivera Rosales
Annika Dalbratt
Tiana Rivers
Jacinta Dale
Summiya Rizwan
Bridget Dale
Anthony Rizzo
Brittany Dalessandro
Dominic Rizzo
Andrew D'Alessio
Noelle Rizzo
Liam Daley
Nicholas Robert
Jamie Daley
Liane Roberts
Porchia Dallas-Duncan
Savana Roberts
DeLores Dalmas Morrow
Abby Roberts
Paulo Dalmoura
Hailey Roberts
Sandra Dalomba
Neal Roberts
Abigail Dalton
Delaine Roberts
Micah Dalton
Nicholas Robertson
Amanda Daly
Christopher Robertson
Samantha Daly
Shamarr Robinson
Michael Daly
Edward Robinson
Cameron Damavandi
Michael Robinson
Ryan Dambek
Ayreaonna Robinson
Heather Damiano
Tshinae Robinson
Neil Damin
Isaiah Robinson
Amanda Damren
Samantha Robinson
Tabbitha Danes
Kellie Robinson
Timmy Dang
Ashley Robinson
Natalia D'angelo
Dionne Robinson
Kristin Daniel
Suhey Robles
Kaitlyn Daniel
Humberto Robles
Seth Daniel
Cayce Rocco
Zachary Daniels
Demi Rocha
Neetu Daniels
Mya Rocha
Sarah Daniels
Jasmine Rocha
Maria Daniels
Lauren Roche
Carol D'Anna
Dimaris Roche
Ariodante D'Antilio
Magaly Rodas
Dominic D'Antilio
Nicole Roddey
Nicholas Dantuono
Amber Roderick
Rodney Darare
Thomas Rodriguez
Emily D'Arcy
Catiana Rodriguez
Jerome Darden
Roberto Rodriguez
Viorica Darii
Alexander Rodriguez
Devon Darling
Michael Rodriguez
Michele Darling
Leslie Rodriguez
William Darnall
Jose Rodriguez
Julia Darnell
Steven Rodriguez
Jacob DaRosa
Victoria Rodriguez
Laurie Darr
Juan Francisco Rodriguez Alvarez
Hoda Darraj
Sarah Rodriguez-Dean
Tammy Darrell
Claire Roe
Krista Dart
Eric Roebuck
Kenan Das
Mylika Roen
Walter Dash
Gabrielle Roessler
Eric Dasilva
Hannah Rogers
Erica Dassuk
Brittany Rogers
Pierson Daub
Ashley Rogers
Patrick Daugherty
Erika Roland
Brianna Daugherty
Kaitlyn Rollins
Ethan Daugherty
Julia Romano
Brittany Dauglash
Eric Romo
Mitchel Dauk
William Ronan
Lacey Daum
Ryan Ronk
Callie Dauphinais
Keagan Roper
Mathis Daury
Gabriella Rosa
Alexander Dautel
Keishaliz Rosado
Lisa Dave
Marisol Rosales Molina
Christian Davenport
Andrew Rosansky
Brittany Davenport
Nina Rosario
Matthew Davey
Rosa Rosas-Campos
Achley David
Kiara Rose
Brandy David
Crystal Rose
Levi Davidson
Laci Rose
Jerry Davidson
Kendra Rosenberry
Shanic Davidson
Devin Rosmarinofski
Robert Davidson
Alison Ross
Elena Davidson
Chelle Ross
Cathleen Davidson
Shantel Ross
Joseph Davidson
Jason Rossler
James Davidson
Jaclyn Rossnagle
Misty Davidson
Jakob Rounds
Billie Jo Davies
Christy Rounkles
Becky Davies
Cassandra Rourke
Tiffany Davies-Nunn
Samantha Rousseau
Tatiana Davino
Virginia Roux
Jillian Davis
April Rowe
Octavia Davis
Deven Rowe
Tiyana Davis
Erin Rowland
Marissa Davis
Kristel Roxas
Hailey Davis
Katie Roy
Nicholas Davis
Lacey Roy
Matthew Davis
Ciera Roy
Shannon Davis
Ashley Rozane
Janelle Davis
Nicolas Rozzell
Trisha Davis
Albert Ruelas
Kirk Davis
Stephanie Rufo
Andrew Davis
Carah Rugg
Meghan Davis
Samuel Ruggeri
Monica Davis
Abigail Ruiz
Susan Davis
Jasmine Ruse
Gracie Davis
Jacob Rush
Amanda Davis
Shelby Rush
Tray'vion Davis
Trina Rusher
Julie Davis
Gyanna Russell
Elizabeth Davis
Patricia Russell
Adrianna Davis
Christopher Russell
Sarah Davis
Micheala Russell
Lakisha Davis
Kiley Russell
Tia Davis
Richard Russo
Madeline Davis
Anthony Russo
Angela Davis
Nadine Ruta
Brittany Davis
Kaitlyn Ruzicka
Andre Davis
Brooke Ryan
Jordan Davis
Victoria Ryder
Lindsey Davis
Luna Saccoia
Nicholas Davis
Hannah Sadler
James Davis
Ethan Saenz
Joleen Davis
Amber Sager
Leila Davis
Gissell Salas
Matthew Davis
Sulaiman Salaudeen
Richard Davis
Laura Salazar
Myles Davis
Arnee Salisbury
Maritza Davis Castro
Tavonja Salley
Christopher Davison
Kathryn Salois
Makayla Dawes
Brianna Salome
Trissha Daws
Greta Salvador
Matthew Dawson
Jeff Samack
Erica Dawson
Bradley Samay
Brandon Dawson
Jessie Sampley
Billy Dawson
Katarzyna Samsel
Teres Dawson
Woneita Samuels
Mathew Dawson
James Sanborn
Kate Dawson
Betzaida Sanchez
Melissa Day
Cyrus Sanchez
Demeishia Day
Ariel Sanchez
Sheyenne Day
Michael Sanchez
Jasmine Daye
Maria Sanchez
Amy De Almeida
Jacob Sanchez
John Michael De Guzman
Evelyn Sanchez
Reyna De la Cerda
Joy Sanchez
Karena De Leon
Abby Sanders
Monica De Leon
Ryan Sanders
James De Los Santos
Jennifer Sanders
Victor De Matos
Samantha Sanderson
Caio Leonardo De Morais
Jeffrey Sanderson
Camila De Paula
Elizabeth Sandoval
Jeline De Vera Gagnon
Emiliano Sandoval
Shelby Deal
Martin Sandoval
Isaac Dean
Emily Sands
Alexandra Dean
Nicholas Sands
Kristi Dean
Damary Santana
Michaelle Dean
Lyzamarie Santello
Colleen Dean
Dianne Santiago
Jennifer Dean
Erica Santiago
Kambrell Dean
Giavanna Santiago
Steven Dean
Erica Santilli
Jennifer Dean
Jarred Santos
Lisa Dean
Antonya Santos
Anastacia Deane
Eric Santos
Jesse Deane
Tatiana Sarrion
Katie Dear
Keiran Sass
Rebecca Deaton
Sienna Saunders
Jennifer Deaver
Michele Savedge
Crisilee DeBacker
Evan Sawyer
Erin DeBarros
Margaret Sawyer
Amanda DeBartolomeis
Jay Saxe
Alicia DeBruin
Shannon Scanlan
Rafal Deby
Michael Scarazza
Ryan Dec
Michgor Scarlett
Elan-Paolo DeCarlo
Jade Schaap
Crystal DeCaro
Michael Schaepe
Alysia Decastro
Adrianna Schafer
Alaysha deCastro
Kimberly Schafer
Kendra Decatur
Sawyer Schafer
Michael Decesare
Kaitlin Schaffer
Christopher Dechene
Kayla Scheidemantle
Avari Decicco
Niki Schelevitz
Tristen Decker
Islande Schettini
Sydney Decker
Christian Schlegel
Kyle Deckert
Camile Schmitt
Lelenapualani DeCorte
Katherine Schnebelen
Ashley Decoteau
Alexander Schneeberger
Joseph Decoto
Naomi Schneider
Michelle Decroce
Max Schneider
Eric Deditch
Dayna Schneider
Amanda DeDonato
Betty Schnoop
Amber Dee
Diane Schoales
Adam Defilippi
Kayla Schoonover
Jennifer DeFoor
Irene Schrank
Kristin Deforge
Kimberly Schroeder
Leslie Defran
Matthew Schrom
Andrew Defrancesco
Christopher Schubert
Destiny Defreitas
Skyler Schuelke
Kristen Degarimore
James Schuld
Nicolas DeGiorgio
Kyra Schuler
Holly Deglman
James Schuler
Daniel DeGouveia
Brandon Schultz
Darin Degraffinreed
Samuel Schultz
Michael DeGregorio
Melanie Schultz
Cathleen Deharo-Schisler
Kenneth Schupbach
Blake DeHart
Jamey Schuster
Kevin Dehn
Katie Schwach
Brandi Deiser
Caitlin Schwartz
Ryan Dejesus
Shane Schweikle
Luis DeJesus
Thomas Schwinn
Gisela Del Real
Hilary Scott
Salvador Del Real
Darrell Scott
Anna Del Rosario
Daniel Scott
Cesare Del Vaglio
April Scott
Oriana Del Valle
Gina Scott
Vincent Del Vecchio
Keil Scott
Lars Zaphiel Dela Cruz
Andre Scott
Jemima Gazell Dela Cruz
Ariana Scott
Jessica Dela Garza
Sierra Seader
Sierra Delacerda
John Seaman
Evette Delacruz
Codey Secrest
Christopher DelaCruz
Wendy Segaline
Jamiles Delacruz
Michael Segovia
Jacklyn Delaney
Christy Segura
David Delaney
Tabea Seidlitz
Brenden DelBene
Malinda Sellers
Jordan Delcampo
Hannah Seltzer
Milton Delcid
Veronica Semler
Jessica Delcourt
Kristen Serafin
Teresa Jennifer Delda
Basak Serin
Roman Delehant
Ruzgar Serin
Trevor DeLeo
Ethan Sewell
Tomas Deleon
Reginald Sewell
Christina Deleon Guerrero
Mariah Seydel
Sarah Deleppo
Abdul-Malik Shabazz
Pasco DelFarno
Cheyenne Shaffer
Michael Delfino
Anita Shakaldi
Cesar Delgadillo
Mohammed Shakil
Micheal Delgado
Saeda Shalhout
John Delgado
Karac Shamberger
Mayra Delgado
Alex Shanley
Logan Delgado
Jesse Shapiro
Karmen Delgado
Rohan Sharma
Juan Manuel Delgado Diaz
Crystal Sharp
Raven Deligiannis
Olivia Sharp
Patricia Delisca
Laken Sharper
Fernand Delisle
Sara Shaughnessy
Branden Dellavecchia
Shelley Shaw
Renee DelleChiaie
Ryan Shaw
Rachel Dellert-Woodson
Dylan Shea Sawyer
Laurel DeLong
Lindsay Sheley
Hope DeLorme
Jamin Shepard
Corey Delorme
Betsy Shepler
Tabitha Delossantos
Thomas Sherbondy
Kimberly DeLuca Avalos
Terrell Sherels
Marcella Delusso Lowd
Sherouk Sheshtawy
Vincenzo DeMarco
Selim Shevket
Cameron DeMarco
David Shields
Matthew DeMarino
Suji Shin
Mia DeMartino
Tally Shinder
Jerad Demay
Phillip Shirah
Samantha Dembosky
Emily Shirley
Elijah Demeo
Scott Shoemaker
Gilmara Demers
Sierra Shoop
Joelle Demers
Justine Short
Ashley DeMichelis
Morgan Shortt
Valerie Demler
Bryse Showe
Winston Demonsabert
Isis Shrader
Heather DeMont
Sarah Shumard
Taylor DeMonte
Jordan Siegel
Sherry Dempsey
Andrew Sievert
Joseph Dempsey
Maria Sigala
Alex Demskie
Eileen Sigala
Lucas Demyan
Kaitlyn Silke
Meredith DeNegris
Edwin Silva
Kimberly DeNeve
Janey Silvia
Michael Denis
Jordan Simanskas
Darian Denis
Ryan Simmer
Elias Denison
Phillip Simmons
Cecil Denison
Melinda Simmons
Sarah Denison
Lydia Simmons
Joseph Denk
Caleb Simmons
Marryn Dennis
Jaquez Simon
Anna Dennis
Anthony Simpson
Graham Dennis
Samantha Simpson
Corey Denny
Shardonnai Sims
Robert Denny
Jubal Sims
Emily Densmore
Katie Sims
Riccardo Dentesano
Kevin Singer
Rhonda Denton
Linda Sinn
Gracie D'Entremont
Julia Siperek
Courtney d'Entremont
Assetou Sissoko
Michael DePalo
Kristen Sistrunk
Christina DePetrillo
Akhil Sivaprasad
Alexander Depew
Brei Skelton
Ryan Depp
Jennifer Skikas
Frederick DePue
Samantha Skipper
Garhensnite Deriviere
Jeffrey Skocich
Yvette Dermont
Simon Skogestad
Ashley Dernbach
Hailey Slaughter
Brittany DeRosa
Annice Sloane
Lawrence Derosiers
Matthew Slosman
Anthony Derr
Jessalyn Small
Andrew Derry
Kristen Smerlas
Taylor DeRubeis
Latoya Smikle-Wilkinson
Abby Desantis
Bentlee Smiley
Holly Desautels
Jasmine Smith
Zachery Desautels
Justin Smith
Aaron Deschene
Sara Smith
Corey Descoteaux
Jonathan Smith
Connor Desharnais
Amanda Smith
Janelle Deshield
Bryce Smith
Bianca DeSimone
Mary Smith
Mark Desjardins
Teresa Smith
Danielle Desnoyers
Stanley Smith
Brandon Despres
Jerrod Smith
Brooke DesRoche
Kayette Smith
Brandon Desrochers
Jasmine Smith
Tim Desrochers
Anthony Smith
Jacob DesRoches
Lindsey Smith
Sarah Desrosiers
Katie Smith
Christine Destefano
Lori Smith
Michael DeStefano
David Smith
Vidhya Devadas
Paul Smith
Susanna Devi
Jordan Smith
Naz Devi
Paris Smith
Joseph Devine
Raiven Smith
Camila Devlin
Alison Smith
Mikayla Devlin
Sarah Smith
Kara Devney
Tasheanna Smith
Katrina DeVona
Sara Smith
Cory Devore
Taja Smith
Chelsi Devore
Travis Smith
Douglas Devore
Benjamin Smith
Nicholas DeVos
Alexandra Smith
Troy Dewald
Jacqueline Smith
Tiffany Dewall
Robert Smith
Danna Deweese
Isabella Smits
Charles Dewey
Jarvis Smothers
Jeffrey DeWitt
Shelby Smyer
Kayla DeWolf
Jill Smyth
Kaydence DeWoody
Aaron Snell
Courtney DeYoung
Xavier Snowden
Larissa Dezainde
Kirstin Snyder
Simran Dhingra
Margaret Snyder-Hoefling
Kuber Dhungana
Melisa Soares
Joseph Di Gangi
Javier Sobalvarro
Joshua Di Napoli
Brenda Soberanes
Tracy Diamantoplos
Lori Sobolesky
Anna Diamond-Tumbush
Chantel Sohayda
Joseph DiAntonio
Courtney Sohler
Macarena Diaz
Liam Sole
Lee Diaz
Ria Soler
Tyler Diaz
Jonathan Solomon
Courtney Diaz
Clara Sommer
Ashley Diaz
Tabitha Song
Susie Diaz
Jessica Sonifrank
Toni Diaz
Neve Sopeland
Katherine Diaz
Kristina Sosa
Brandon Diaz
Jessenia Sotelo
Jaime Diaz De La Rosa
Alma Sotelo
Ramon Diaz Ortiz
Janies Soto
Esmeraly Diaz Rosario
Shyanne Soto
Caitlin Diaz-Gorsi
Lena Spaulding
Brigitte Diaz-Herrera
Joshua Spaziano
Emily Dibble
Kevin Spear
Jessica DiBlasi
Preston Spear
Franklin Dicecco
Jennifer Spears
Carli DiCello
Billy Spellman
Eric Dickens
Lindsey Spencer
Joseph Dickerson
Daniel Spicer
Isabella Dickinson
Ronald Spires
Arin Dickson
Gage Spray
Katherina Dicristina
Dominic Spucches
Chase Didricksen
Madison Squires
Haley Didricksen
Anmol Sra
Julia Diede
Malinda St John
Tyler Diegel
Jef St Pierre
Papa Dieme
Ryan St. John
Megan Diestler
Nathan St.Cyr
Jared Dietrich
Chloe Stach
Matt Dietz
Faith Stacy
Doug Dietz
Rachel Stacy
Herald Difo-Santos
Kayla Staff
Kimberly Difruscia
Kyla Stafford
Elizabeth DiGesse
Heather Stafford
Cathrine Digiacomo
Murcellus Stafford-Redick
Ashley Digman
Sarah Staka
Stephanie Digregorio
Owen Staley
Daryl Dike
Tayla Stalker
Alexi Dikos
Brandi Stallard
Taylor DiLanzo
Kayla Stanley
Madison DiLeo
Stephanie Stanley
Zachary Dillard
Lucie Stanton
Vicki Dillard
Jonathan Stapleson
Kasey Dillard
Brittany Stapleton
Joshua Dillard
Jennifer Stark
Aarron Dillard
Chase Statzer
John Dillen
Gembi Stavileci
Katherine Dillman
James Steed
Karen Dillman
Sheree Steele
Sydney Dillon
Matthew Steele
Lisa Dillon
Andrew Stegeman
Kara DiLorenzo
Rachel Stein
Kristine DiLoreto
Evan Steinberg
Dominic Dimambro
Necole Stephen
Phillip Dimambro
Marissa Stephens
Sherrina Dimanche
Graison Stephens-Salinas
Meghan Dimarzio
Erica Stetson
Gillian DiMasi
Stephanie Steuer
Jason DiMauro
Raymond Stevens
Nicholas DiMeco
Christina Stevens
Anthony DiNardo
Michele Stevens
Amber Dingfelder
Scott Stevenson
Lisa Dingle
Michael Steward
Jason DiNicola
Trevor Stewart
Brennan Dinsmore
Cheryl Stewart
Greg Dionisio
Stephon Stewart
Hazel Dionne
Renda Stewart
Elizabeth Dionne
Anya Stewart
Kira Dionne
Stephanie Stewart
Jeffrey Dionora
Carrie Stewart
Birane Dioum
Alexa Stewart
Migdalia Dipietro
Daquan Stier
Mckenna Dipietro
Anastazija Stinson
Jessica DiRamio
Robert Stinson
Ashley Dirienzo
Helena Stitham
Laine Dirnberger
Ashley Stoll
Breanna Dishong
Margaret Stone
Emily DiSilvestro
Arthur Stone
Larry Diskey
Ashley Stone
Sabrina DiSorbo
Alycia Stonum
Thea Distler
Jason Story
Donald Distler
Jennifer Stott
Jamie Ditata
Marcus Stovall
Emily DiToro
Linda Stover
Antonetta Ditrocchio
Jack Stowars
Stephanie Ditto
Sasha Stpierre
Diana DiVello
Ryan Straccia
Kaitlin Divers
Lyndsey Strader
Jacqueline DiVito
Nyah Straight
Nasia Dixon
Steele Stratton
Christopher Dixon
Melissa Strickland
Shameeka Dixon
Megan Strieff
Theodore Djocky Eyoum
Leigh Strycharz
Jacob Dmyterko
Joshua Stryker
Linh Do
Martina Studevan
Alexis Doane
Mark Stuke
Philip Dobaj
Echo Stump
Hannah Dobecki
Brandon Sturhann
Tawayna Dobie
Julio Suazo
Heather Docherty
Rapheal Suber
Crystal Dockins
Dale Sublett
Allison Dodd
Kyle Sublett
Adam Dodds-Wade
Lisa Sullens
Taylor Dodge
Charles Sullivan
Michael Dodge
Conner Sullivan
Abby Dodge
Kristen Sullivan
Kaylie Dodge
Mark Sullivan
Emilia Dodge
Nathan Sum
Jeffrey Doggett
Brendan Suminski
James Doherty
Allyson Supan
Daniel Doherty
Shivraj Surujdin
Tessa Doherty
Carrie Sutton
Neil Doherty
Lianna Sutton
Cassidy Doherty
Trishelle Sutton
Elsa Doherty
Mark Suwinski
Danielle Doldo
Seth Suzelis
Meghan Doll
Lillian Svonovec
Ashliegh Dollar
Lerlene Swan
Priscilla Dombek
Skyler Swearingen
Nicholas Dombrowski
Pamela Sweatt
Brian Dominguez
Mark Swecker
Stacey Dominguez
Morgan Sweeney
Dustiny Dominique
Katelyn Swett
Sarah Dominy
Christina Swift
Shane Dommer
Casey Swimmer
Keegan Donaher
Alyssa Sword
Shannon Donahue
Natasha Sye
Katie Donahue
Nolan Sykes
Meghan Donahue
Ellen Sylvanie
Ryan Donaldson
Jamielee Symes
Heather Donaldson
Justin Szeker
Patricia Donaldson
Victor Tabb
Barbara Donaldson
Melissah Tabor
Elizabeth Donaldson
Diana Tafoyasanchez
Micaela Donatio
Eric Taft
Allison Dondero
Harris Tajudin
Holden Dones
Eric Talamini
Guillermo Dones-Vega
Wesley Talarico
Kai Dong
Miranda Tamnkang
Andrew Donkel
George Tapia
Meghan Donnelly
Dannon Tarpley
Brittney Dono
Patrischia Tate
Ariel Donofrio
Natasha Taveras
Jason Donohue
Matt Tawlks
Rose Donovan
Amber Taylor
Avery Donovan
Monique Taylor
Emily Doody
Michael Taylor
Tricia Dookie-Shaw
Sara Taylor
Samantha Dooley
Eric Taylor
Taren Dopp
Elana Taylor
Cassandra Dorer
Heather Taylor
Lori Dorian
Scott Taylor
Olivia Dorman
LaTrice Taylor
Nina Dorman
Melissa Taylor
Stephen Dorn
Kenneth Taylor
Elizabeth Dorn
Erica Taylor
Lindsey Dornbush
Daniel Taylor
Ashley Dorr
Robert Teat
Robert Dorr
Dion Teesdale
Karsyn Dorrough
Kayla Tellain
Sara Dorsey
Kathy Tellez
Kelley Dorsey
Kevin Tenkku
Brandon Dorsi
Crystal Tenorio-Guzman
Tamara Dorvilmar
Briana Terrell
Nickolas Dosremedios
Dawn Terrio
Nyiimah Dotson
Kaitlin Terry
Angela Dotson
Frank Tesla
Chad Dottery
Deonna Tesla
Jessyca Doty
Alahna Teves
Paige Doty
Elizabeth Thatcher
Jarrod Doty
Ashley Thayer
Brandon Doty
Courtney Theberge
Annette Douangphoumy
Connor Thibault
Jason Doubleday
Donald Thibodeaux
Jesslynn Doucette
Shameike Thomas
Stephanie Doud
Alyssia Thomas
Kayla Douda
Qiana Thomas
Nathan Dougan
Terrica Thomas
Margaret Dougherty
Harriet Thomas
Marco Dougherty
Michelle Thomas
Alexandra Dougherty
Jordan Thomas
Michael Dougherty
Junia Thomas
Justin Dougherty
Mychal Thomas
Jessica Dougherty
Chandler Thomas
Sydnie Dougherty
Alice Thomas
Tia Marie Doughty
Zachary Thomas-Taylor
Alicia Doughty Moore
Daevon Thompson
Tremayne Douglas
Amanda Thompson
Jonathan Douglas
Jamy Thompson
Jessica Douton
Judith Thompson
Adam Dove
Relesha Thompson
Evelin Dove
Sarah Thompson
Jacqueline Dow
Emerald Thompson
Samantha Dow
Ericka Thompson
Bryan Dowd
Glen Thompson
Kieran Dowd
Lynn Thongkham
Kathleen Dowd
Nicklaus Thrower
Colin Dowdy
Nicky Thurmond
Josiah Dowdy
Adriana Timberlake
Caleb Dowe
Megan Timmel
Leandra Dowell
Andre Tinsley
Jordan Dowell
Jessica Tipton
Rebecca Dowler
Stephanie Tirado
Stacy Dowling
Rachel Tisdom
Brandlynn Downard
Michael Tiso
Brianne Downes
Joy Titre
Synclair Downey
Crystal Todd
Lauren Downing
Spencer Todisco
Brienna Downs
Jeffrey Tolar
Cassidy Downs
Sarah Tolin
Allen Downs
Emily Tollin
Bryan Doxsee
Corinne Tolliver
Amanda Doyle
Allison Tolmasov
Justine Doyle
Cheyenne Tom
Patton Doyle
Michelle Tomlin
Jana Dozier
Juliette Tomlinson
Maylin Dozier
Richard Tonche-Johns
Aaron Dozier
Ajwinder Toor
Tyler Dozier
Cicelly Topping
Jon Dragoon
Angela Torre
Mykalah Draine
Lea Torres
Barbara Drake
Bryan Torres
Sharaea Drake
Jessica Torres
Olivia Drake
Kimberly Torres
Angela Drake
Ashley Torres
Emma Drasser
Asia Torres
Courtney Dreas
Mohamed Touahria
Blake Dremann
Holly Towers
Shaina Drew
Zackary Townsend
Jennifer Drew
Jeanna Townsend
Dawn Drewel
Roxanne Toy
Taylor Drewes
Marc Trabosh
Sean Drews
Jenny Trafka
Christianne Dreyer
Krystal Trainque
Benjamin Driscoll
Lisa Tramble
Haley Driscoll
Karla Travis
Emily Drislane
Lauren Treitman
Jack Drolet
Daniel Trejo
Isabella Droll
Brandan Tremblay
Christian Drouin
Anezma Trevino
Clinton Drummer
Tanner Trewet
Myria Dry
Alana Tribble
Shawna Dryden
Shante Trice
Hannah Dryjowicz
Andrew Triche
Gelbert Duarte
Dalton Tringali
Reina Duarte
Maricela Trinidad
Alysa Dube
Jade Troike
Heidi Dube
John Trythall
Melanie Dube
Devyn Tucci
John Dubel
Kody Tucker
Noah Dubitzky
Octavia Tucker
Rebecca Dubois
Jared Turacy
Kameron Dubois
Samantha Turgeon
Justine DuBois
Melissa Turnbull
Amanda Dubois
Malika Turner
Mirlene Dubreuze
Ashley Turner
Abigail Dubuque
Christian Turner
Kyle Duch
Colton Turner
Sean Duchemin
Amanda Turney
Michelle Duchene
Elizabeth Twomey
Chloe Duchesneau
Spencer Tyler
Courtney Duchow
Jennifer Ucci
Laura Ducran
Xiara Uliano
Steven Dudley
Kevin Unverzagt
Amanda Dudley
Frederic Urena Santos
Sierra Duenas
Jordan Uribe
Princess Duenas
Nathaniel Utecht
Adam Dufault
Ranyka Utsumi
Jeffrey Duff
Mackenzie Utzman
Kristin Duffey
Courtney Vakoc
Jason Duffield
Joshua Valenti
Taylor Duffy
McKenna Valenti
Sarah Duffy
Marissa Valentin
Andrew Dugan
Amy Valentine
Joseph Dugan
Michael Valentine
Samy Duggan
Marvin Valladares
Adam Duguay
Cathy Valley
Devin Duhaime
Crosby Van Camp
Chandler Duhamel
Matthew Van Diepenbos
Bryce Duis
Krystal Van Dresar
John Dukarm
Uneke Van Nest
Colby Dukas
Amanda Van Scyoc
Jessica Duke
Chase Van Soldt
Shelby Dukes
Jennifer Van Tassel
Emily Dukett
Carmina Vance
Kenneth Dulaney
Danielle Vandegrift
Wendy Dull
Kristina Vandenbossche
Gunnar Dulle
Brianna Vandervort
Luis Duluc Lopez
Breanna VanDyken
David Duma
Michael Vang
Ebru Dumankaya
Jarrett Vann
Aria Dumaplin-Solancho
Felix Vargas
Kevin Dumas
Victor Vargas
Jacob Dumbrill
Kristen Varghese
Autumn Dunaway
Alexander Varljen
Joel Dunbar
Justin Varney
Derek Dunbury
Joseph Varvaro
Kellie Duncan
Allengeisel Vasquez
Amber Duncan
Julia Vassallo
Kailyn Duncan
Nicholas Vautour
Gary Duncan
Amanda Vazquez
Shantrelle Duncan
Viviana Vazquez
Samantha Duncan
D'Ann Vela
Halie Duncan
Lorenzo Velasco
Heather Dunham
David Velez
Kristine Dunham
Aaron Venable
Lucas Dunham
Jorge Venegas
Chloe Dunham
Russell Ventura
Meghan Dunham
Itzel Vergara
Jacklyn Duniphan
Reanna Verone
Gary Dunlap
Jordan Vest
Dylan Dunlap
Kristina Vieira
John Dunn
Stephanie Viera
Tammi Dunn
Neil Villari
Nathan Dunn
Tim Vince
Garrett Dunn
Kimberly Vincent
Robin Dunn
Antonia Vinciguerra
Danielle Dunn
Janelle Vitello
Jerome Dunn
Peter Voland
Kimberly Dunn
Kaitlin Vollmer
Kimberly Dunnagan
Matthew Von Der Schmidt
Cassandra Dunne
Mason Voorhees
Evan Dunning
Grace-Anne Vredenburg
Brooke Dunsworth
Samantha Vroman
Nicholas Duntley
Justina Waddell
Rachel Duplechain
John Wade
Hillary Dupont
Anna Waggoner
Ashley Dupre
Emma Wagner
Dominic Duprez
Sydney Wagner
Sean Dupuis
Marshel Wagner
Rachel Dupuis
Kevin Waldman
Bryce Duquesne
Britney Waldroup
Kassandra Duquette
Aaron Walker
Danielle Duquette
Joseph Walker
Sara Duquette
Kyle Walker
Logan Duquette
Jeffrey Walker
Victoria Duran
Evan Walker
Rafael Duran
Dylan Walker
Bryanna Duran
Krushetta Walker
Christopher Durand
Courtney Wall
Amber Durbin
Manon Wallace
BreeAunna Durfee
Patricia Wallace
Jeffrey Durham
Lindsay Walls-Ott
Cameron Durham
Nicole Walraven
William Durham
Christopher Walsh
Jessica Durling
Bailey Walsh
Krista Durrance
Andrew Walter
Daniella Dusci
Ted Walton
Parker Dusick
Emily Walton
David Dusseault
Albeatrice Walton Walker
Dilbar Dustova
Madeline Wansor
Morgan Dutcher
Leticia Ward
Dawn Duterte
Kiona Ward
Braeden Dutile
Elisabeth Ward
Charles Dutka
Rhiannon Ward
Kelly Dutkiewicz
Leslie Ward
Elisabeth Dutton
Amanda Ward
Serena Duyck
Rebecca Ward
Elizabeth Dwyer
Kathryn Ward
Danyelle Dwyer
Erika Ware
Breanna Dyakanoff
Jolene Ware
Michael Dye
Bruce Warner
Corey Dyer
Frances Warren
Jeremie Dyes-Hopping
Madisyn Warren
Rebecca Dyess
Theresa Warrington
Sajra Dzelilovic
Gage Warrington
Alexander Dzhaun
Catherine Wasilewski
Sara Dziubek
Ryan Waterman
Alexander Eagle
Jonathan Waters
Celica Eagleson
Michael Waters
Rachaelanne Eakin
Kyle Watkins
Jaclyn Earabino
Steven Watson
Ryan Earheart
Kristen Watson
Mary Earle
Mark Watson
Lashandra Early
Sierra Watson
Brittany Early
Melissa Watson
Alex Early
Terry Watts
Katherin Early
Austin Wayman
Courtney Earlywine
Kathleen Wayts
Kristi Easler
Allyson Weatherby
Lethia Eason-Tate
Alana Webb
Ramsey Eassa
Reana Webb
Frances East
Micah Webber
David Easterling
Kevin Webber
Joelle Eastlick
Alexandria Weeden
Parker Eastman
Robin Wehmeyer
Benjamin Eaton
Theresa Wehrle
Amanda Eaton
David Weiss
Briana Eaton
Annalise Welch
Brianna Ebersole
Lexi Welch
Sydney Eccleston
Dale Welch
Vilma Echavarria
Nancy Welcome
Anna Lorraine Echevarria Cruz
Samiuel Welekidan
Derrick Echols
Jasmine Wells
Ethan Eckard
Joanne Wells
Corey Eckart
Megan Wells
Stephen Eckelberry
Jacob Wells
Bryanne Eckhaus
Clint Weltman
Breanna Economes
Edwin Wenner
Lauren Eddings
Madison Wentworth
Nicholas Eddings
Anna Wentworth
Christina Eddington
Kimberly Werkmeister
Hailey Edens
Michael Werner
Olivia Edic
Katherine West
Domannick Edison
Kaitlin West
Bryce Edminister
Honesty West
Crystal Edmond
Caleb West
Joseph Edmond
Ryan West
Kenya Edmonson
Greg West
Shauna Edmonson
Gabriel West
Jessica Edney
Harrison Whalen
April Edson
Kirstin Wheat
Jermaine Edward
Zachary Whelan
Nicholas Edwards
Taelyn Whisenton
Andrew Edwards
Tyra Whitaker
Jade Edwards
Alandrea Whitaker
Donnette Edwards
Tara White
Monica Edwards
Tanisha White
Neala Edwards
Connor White
Jenna Edwards
Elizabeth White
Shatina Edwards
John-Paul White
Leilani Edwards
courtney White
Christina Edwards
Marie White
Jason Edwards
Madysan White
Rollanz Edwards
Alaycia White
Nikko Edwards
Zachary White
Lucas Edwards
Aurora White
Leann Edwards
Jeremy White
Sherard Edwards
Rachel White
Amy Edwards
Kathryn White
Amy Edwards
Austin Whitehead
Nicholas Edwards
Travis Whitehouse
Denise Edwards
Natasha Whitfield
Debborah Edwards- Noweder
Lillian Whitley
Richard Egan
Shawn Whittaker
David Eggleston
Tyler Whittaker
Elsa Eiane
Madeline Whittemore
Makayla Eibach
Julissa Wick
Lori Eichhorn
Angel Widby
Melissa Eichler
Joshua Wierman
Natasha Eikenbary
Gabrielle Wiernik
Dana Eisemann
Megan Wiggins
Ross Eisenberg
Melissa Wilder
Zachary Eisenhard
Katerina Wildroudt
Nerka Eisenmann
Meaghan Wile
Andrew Eixman
Kristina Wiley
Breanna Ekholm
Urana Wiley
Sherin El Koussa
Ashley Wilke
Isabelle Marie Elacion
Mary Wilkerson
Michael Elam
Andrew Wilkin
John Elbogen
Trenton Willey
Patricia Elder
Victoria William
Kaitlin Eldred
Annabelle Williams
Sunny Elem
Jennifer Williams
Rachel Elgert
Jarrick Williams
Belen Elizondo
Erik Williams
Brittani Elizondo
Mary-Catherine Williams
Fatima Eljaouhari
Scarlette Williams
Sean Elkin
Brett Williams
Kareem Elkwae
Christopher Williams
Carolina Eller
Donald Williams
Rebecca Ellingson
Earl Williams
Olivia Elliott
Jennifer Williams
Karissa Elliott
Jessica Williams
Natalie Elliott
Heather Williams
Greer Elliott
Tanika Williams
Joshua Elliott
Deana Williams
Richard Elliott
Quinton Williams
John Elliott
Lauren Williams
Russell Elliott
Rayonna Williams
Joshua Elliott
Rebecca Williams
Joshua Elliott
Kellee Williams
Janelle Elliott
Rhonda Williams
Tyler Elliott
Shakilla Williams
Ross Elliott
Katelynne Williams
Krystal Ellis
Riana Williamson
Elizabeth Ellis
Quentin Willis
Jimmy Ellis
Sean Willis
Carol Ellis
Madeline Wills
Benjamin Ellis
Tyler Wilridge
Ariel Ellis
Sarah Wilson
Melinda Ellis
Tyler Wilson
Patrick Ellis
Kurtis Wilson
Brittany Ellis
Andrea Wilson
Conner Ellis
Markecia Wilson
Jarryk Ellis
Stephen Wilson
Shaylynn Ellis
Erica Wilson
Karen Ellison
Nikolaus Wilson
Ryan Ellison
Laurie Wilson
Nichole Ellison
Jeffrey Wilson
Jamie Lee Ellison
Jackie Wilson
Crystal Ellsworth
Kevin Wilson
Ayoub ElMekaoui
Crystal Wimberly
Yasmin Elmi
Leah Winger
Nicholas Els
Valerie Wirth
Angela Elsewisy
Oswald Wisdom
Shyller Elusma
Michelle Wise
Ashley Elzinga
Cody Wisenor
Victoria Emerson
Helen Wisner
Kendall Emerton
Courtney Witucki
Haley Emery
Savanna Wolf
Nick Emery
Zachery Wolfert
Victoria Emery
Jessica Wolfram
Sarah Emery
Ashley Wong
Adbeel Emiliano
Derek Wood
Tracy Emmanuel
Robert Wood
Antonia Emmons
James Wood
Matthew Emmons
Elizabeth Wood
Dominique Emory
Stacy Woodcock
Jahreem Encarnacion
Eric Woodcox
Melissa Endicott
Rebecca Wooden
Cindi Endter
A'Zariah Woodley
Lori Engebretsen
Marcus Woods
Zandre Engelbrecht
Kyra Woodworth
Christine Engeldrum
Nikolas Worden
Lindsay England
Lacey Workman
Dylan Engle
Taylor Worthington
Ryan Englert
Joshua Wren
Jonathan English
Quinn Wright
Heather English
Daniel Wright
Tristin English
Jeffrey Wright
Jacob Englishman
Ryan Wright
Monisola Eniolorunda
Jordan Wright
Michael Enkouang-Mekanda
Breanna Wright
Judith Ennis
Adam Wright
Autumn Enoch
Stacey Wright
Tshae Epler
Jack Wulanbatu
Ellison Epperson
William Wyland
Hayley Epperson
Andrew Yablonsky
Megan Epperson
Angela Yanagisawa
Camille Epps
Martin Yarbrough
Nichole Eral
Malik Yarde
Emma Eramo
Eddie Yates
Lonnie Erdmann
Tyler Yeakel
Spencer Erickson
Morgan Yearout
Ellie Erickson
Andrew Yefanov
Ellen Erickson
Brendon Yeich
Samantha Erickson
Amy Yeoman
Ashlyn Erickson
Eun Yi
Josie Erickson
Stephanie Yohn
Teresa Ernst
Yaasmeen Young
Danielle Ervin
Victoria Young
Emily-Ann Erwin
Christopher Young
Matthew Esancy
Dontavious Young
Shena Esannason
Jewell Young
Stephen Esch
Kyle Young
Jackson Esco
Hannah Young
Nikki Escobar
Brittany Young-Cox
Daniel Escobar
Brian Yu
Jaslyn Escobar
Winnie Yu
Johnny Escobar
Miranda Yuschock
Martha Escoto
Aimee Zabinski
Jodie Eskridge
Safraz Zainule
Denise Esper
Samantha Zaldana
Zari Espinal
McKenzee Zalewski
Hellen Espinal
Derek Zamora
David Espindola
Angelik Zapata
Arthur Espinosa
Rachel-Marie Zarba
Jose Espinoza
Benjamin Zeringue
Nariya Espinoza
Bowen Zheng
Maria Espinoza
Troy Ziemer
Guillermo Espinoza
Nicole Zimmer
Milva Espinoza
Kayla Zipron
Raquel Espinoza
Lane Zmijewski
Tara Espinoza
Aric Zoesch
Macaela Espinoza Castillo
Matthew Zombek
Robert Esponge
Joshua Zufall
Stacey Esposito
Diego Zuniga
Tyler Esquibel
Eric Esquivel
Joseph Esquivel
Hussein Essaji
Ty Estel
John Estep
Shaquayla Estes
Amanda Estey
Matthew Estey
Mickel Estime
Melissa Estinville
Nicole Estrada
Danyel Estrada
Erik Estrada Escobar
Mikala Esty
Wilda Etana
Chelsie Etchebehere
Amanda Etcheto
Benjamen Eth
Joseph Etri
Kimberly Eubanks
Miranda Eull-Shepherd
Rena Eurich
Sean Eustice
Nichole Evangelista
Jean Evangelista
Michaela Evans
Samuel Evans
Alex Evans
Kristen Evans
Danielle Evans
Tiana Evans
Nicolas Evans
Brittany Evans
Steven Evans
Sarah Evans
Laura Evans
Xavier Evans
Monica Evans
Jennifer Evans
Jody Evans
Sara Evans
Gwendolyn Evans
LaDonna Evans
Clint Evans
Charles Evans
Saundria Evans
Elizabeth Evans
Corbin Evans
Kimberly Evans
Kobi Evans
Nickalas Evans
Charles Evans
Ericka Evans-Bayer
Samantha Evard
Regina Evaro
Robin Evenson
David Everett
Jordan Everett
Alyssa Everline
Jessica Evers
Nicole Everton
Nina Kristine Evidente
Gaetan Pascal Luc Evina Biloa
Tammy Ewing
Manuel Exebio
Michael Ezell
John Fabiano
Nicla Fabick
Michelle Fabry
David Facenda
Cade Facey
Sloan Facques
Andrew Faehn
Kristina Faehse
Hunter Fagan
Robert Fagan
Samantha Faherty
Emma Fahle
Dale Fahr
Amber Faili
Brenda Fair
Felicia Fair
Daniel Fair
Miranda Fair
Katelyn Fairbanks
Amber Faire
Alan Fairfield
Jacob Fairfield
Shelby Fairweather
Alicia Fait
Adriana Falasca
Alexandra Falduti
Cejae Falk
Bethany Falu
Drew Fancher
Justin Fancher
Eliza Fandel
Victoria Fandunyan
Jake Fanelli
Megan Fani
April Fanning
Michael Farag Abdou
Gianna Faragi
Marian Farah
Deanna Farber
Marco Farfan
Yasmine Farhan
Paige Farhoumand
Kezia Faria
Colleen Farina
Ashley Farkas
Stacy Farland
Stephanie Farland
Matthew Farley
Michael Farlow
Leah Farmer
Alexis Farmer
Keith Farmer
Kristen Farmer
Jared Farmer
Jennifer Farner
Kirsten Farnham
Andrew Farnsworth
Comfort Farohun
Nicholas Farone
Audrey Farrar
Kari Farrar
Michele Farrell
Ryan Farrell
Kelsey Farrell
Faye Farren
Christina Farrington
Shante Farris
Mackenzie Farris
Madison Farris
Christopher Farrow
Michael Farthing
Melina Farwell
Linda Fasanella
Anthony Fasanella
Abiodun Fashoro
Nicole Faucher
Michael Faue
Danny Faught
Jacob Faught
Hailee Fauley
Stacey Faulkner
William Fausnaught
Alexandra Faust
Sherry Faust
Kara Faustino
Margaret Faustino
Audriana Faustino
Amanda Fauteux
Kevin Favela
Adriana Favela
Kerri Fay
Patricia Fayter
Alma Fazlic
Bailee Fear
Lesley Fearon
Matthew Featherston
Amber Fecteau
Bohdanna Fedan
Megan Fedele
Caedyn Feehan
Molly Fegter
Aaron Fehir
Victor Feight
Kenneth Feilen
Benny Feilhaber
Jeremy Feirstein
Katherine Felde
Lashawn Felder
MacKinzie Felder
Alyssa Felder
Gienah Feldman
Yilayda Feliciano
Melissa J Felio-Pettit
Tracy Felix
Brianna Fell
Mark Fellows
Jacob Feltman
Robert Feltman
Shaun Felty
Karen Felzener
Gabriel Feng
Jennifer Fengel
Elizabeth Fenner
Ashley Fenton
Kristin Feoli
Cassandra Feraco
Christopher Feraios
Ashley Ferenchak
Taylor Fergus
Maria Ferguson
Sherria Ferguson
Mercedez Ferguson
Jennifer Ferguson
Parys Ferguson
Rickey Ferguson
Samantha Ferland
Emily Ferland
Allison Fernald
David Fernald
Kirsten Fernandes
Rachel Fernandes
Joanne Fernandez
Jean-Carlo Fernandez
Alexis Fernandez
Christopher Fernandez
Julio Fernandez
LaJuan Fernandez
Stephanie Fernandez
Alexander Fernandez-Schooley
Kyle Fernish
Salvatore Ferragine
Amber Ferrandino
Ashley Ferrante
Izabel Ferrao
Meghan Ferrari
Benjamin Ferreira
Tiara Ferreira
Geanni Ferreira
Byron Ferrell
Joseph Ferrell
Stephanie Ferrell
Angela Ferrell
Tyler Ferrer
Steven Ferrezza
Arianna Ferrier
Halyn Ferris
Michael Ferris
Michael Fertitta
Teena Festa
Ashley Fetterly
Kathleen Feury
Domenic Fiano
Brandon Fichera
Ethem Ficici
Emily Fie
Katelyn Fiebiger
Jessica Fiechter
Melissa Fieck
Daniel Fiedorowicz
Jennifer Field
Brandon Fields
Christopher Fields
Kristina Fields
Charlotte Fields
Olivia Fields
Gabriel Fields
Meri Fifield
Mercedes Fifield
Reginald Figgs
Tyler Figueiredo
Joshua Figueroa
Ericka Figueroa
Remus Figueroa
Liliana Figueroa
Deborah Figueroa Perez
Ibtissame Fijlane
Alicia Fikes
Trevor Fil
Ketura Filemon-Caruth
Brady Filiault
Stephen Filichia
Cameron Fillion
Joshua Finck
Justin Findlay
Briannah Findley
Andrew Finger
Samuel Fink
Jennifer Fink
Zoe Finkelstein
Beth Finken
Amanda Finley
Daniel Finley
Jonathan Finley
Colleen Finn
Mackenzie Finn
Ian Finn
Bronwyn Finnegan
Zachary Finnegan
Laura Finney
Tyler Finno
Isabel Finston
Emilie Fiore
Jason Fiorentino
Joseph Fiorino
Tiffany Fioto
Brianna Fiquet
Cory Firestine
Hannah Firmin
Thomas Fischbach
John Fischer
Lucas Fish
Kassandra Fish
Sylvia Fisher
James Fisher
Destiny Fisher
Shawna Fisher
Laetitia Fisher
Earl Fisher
Jennifer Fisher
Ivy Fisher
Kyle Fisher
Julee Fitz
Jonathan Fitzgerald
Amy Fitzgerald
Jeanny Fitzgerald
Jack Fitzgerald
Makayla Fitzgerald
Hailey Fitzgerald
Mikayla Fitzgibbons
Gaybriel Fitzpatrick
Clarissa Fitzpatrick
Bree Fitzpatrick
Kiesha Fitzpatrick
Kaitlin Fitzsimmons-Evans
Paige Flaherty
Bridget Flaherty
James Flaherty
Tara Flakes
Ashley Flament
Kyle Flanders
Rebecca Flanigan
Edward Flanigan
Shane Flaten
Brian Flatt
Steven Flavin
Sean Flavin
Sara Flax
Amanda Flechtner
Amber Fleek
Alyssa Fleener
Crystal Fleer
Clara Fleischman
Khalika Fleming
Shayla Fleming
Joseph Fleming
Kyla Fleming
James Fleming
Van Fleming
Yvonne Flemister
Savannah Flesch
Lauren Fletcher
Adrieana Fleurmond
Hope Fleuter
Roger Flinchum
Eric Florence
Skyler Florence
Cody Florence
Martin Flores
Chelsea Flores
Matthew Flores
Jenny Flores
Alvaro Flores
Jasmin Flores-Vanegas
MaryBeth Flory
Jason Flowers
Shareina Flowers
Anthony Flowers
China Flowers
Joshua Flowers
Lateisha Floyd
Zoe Fluet
Gabriel Flugrad
Corrie Flugrad
Kedar Fluker
Craig Flynn
John Flynn
Stephanie Flynt
Twylah Fobber
Michelle Fogle
Jonni Fogleman
Jake Foley
Madison Foley
Grace Foley
Yaitza Foley
Jean Foltz
Amber Fondren
Jordan Fondren Johnson
Kyra Fong
Shane Fonseca
Sandra Fonseca
Bryan Fonseca
Harmony Fonseca
Peyton Fontaine
Clifford Fontenot
Morgan Fontes
Adam Fontes
Liana Fontes Borts
Nadia Fontus
Shannah Foo
Samantha Foo
Sally Foo
Jocelyn Foo
Samantha Foote
Samuel Footer
Sean Ford
Gaylein Ford
Ferrill Ford
Deundra Ford
Andrew Ford
Belinda Ford
Thomas Ford
Chelsea Ford
Chelsea Ford
Jennifer Foreman
Joshua Foreman
Hunter Foreman
Kacie Foreman
Christopher Forgy
Alex Forister
Jennifer Forman
Patrick Forman
Stephen Forman
Brittney Forman
Haley Forman
Alyssa Fornelli
Caitlin Forrest
Mariah Forrestal
Emily Forsburg
Haley Forte
Jeffrey Forte
Slater Fortenberry
Channel Fortes
Anna Forth
Jessica Fortier
Devyn Fortier
Shye-Ann Fortier
Noah Fortin
Michael Fortin
Avalon Fortt
Deandrew Fortune
Cameron Fosman
Jeremy Foss
Kassandra Foss
Zabina Foster
Frederick Foster
Catina Foster
Donald Foster
Cody Foster
Hannah Foster
Jacqulyn Foster
Tyler Foster
Sarah Fouch
Christopher Fought
Ryan Fourhman
Brynn Fournier
Michael Fournier
Brenna Fournier
Mckenzie Foust
Nancy Fouts
Laura Fouty
Matthew Fowler
Benjamin Fowler
Jamie Fowler
Belinda Fowler
Amberli Fowler
Haley Fowler
Janessa Fowler
Benjamin Fowler
Melissa Fowler
Wesley Fowler-Mattingly
James Fowles
Deborah Fox
Winntress Fox
Bryanna Fox
Derek Fox
Jarren Fox
Samantha Fox
Jazna Foxe
Courtney Foxworth
Amber Fragola
William Fraher
James Fraker
Mark Francalangia
Gus Franchi
Emilee Francis
Jonathan Francis
Bethany Francis
Matthew Francis
Hershuay Francisco
Luanne Francis-Picard
Alora Franco
Kelsey Franco
Gilbert Francois
Bertide Francois
Kyle Frandoni
Kyle Frane
Conor Frank
Amanda Frank
Jason Frank
Jennifer Frank
Michele Franke
Sarah Franklin
Crystal Franklin
Matthew Franklin
Erica Franks
Shira Franks
Nancy Franzen
Danielle Franzese
James Fraser
Jody Fraser
Tyler Fraser
Christine Fraser
Jennifer Fraser
Elizabeth Fraser
Carly Fraser
Ryan Fratello
Xarrack Frater
Laura Fraticelli
Chris Fratini
Samantha Frawley
Jessica Frazer
Gabrielle Frazier
Erika Frazier
Alisha Frazier
Charlotte Frazier
Brett Frechette
Junior Frederic
Meghann Frederick
Jordan Frederick
Max Frederick
Samantha Fredericks
Elise Free
Ashley Freed
Shawn Freeland
John Freeland
Payton Freeman
Talijahwan Freeman
Max Freeman
Joshua Freeman
Shonette Freeman
Patrice Freeman
Sarah Freeman
Kayla Freeman
Pamela FreemanDosSantos
Christa Freemantle
Jenna Freese
Katarina Freeze
Kalina Freier
Christopher Freitag
Melissa Freitas
Lyann French
Charles French
Autumn French
Jared French
Taylor Freundlich
Grace Frey
Maria Frias
Danica Frick
Randi Friede
Jacob Friederich
John Friedman
Cody Friend
Jessica Friesz
Robert Frigon
Amina Frisch-Nofal
Michelle Fritchle
Noah Frith
Jon Frodin
Michael Frongello
Liberty Frost
Andrew Fruci
Jaclyn Fruci
Shanaka Frueh
Stephanie Fry
Chloe Fry
Jerome Fryar
Jordan Frye
Brenna Frye
Kerry Frye
Jaime Fuchs
Deborah Fuentes
Esteban Fuentes
Kiara Fuentes
Roy Fuentes
Richard Fuer
Karmen Fuerstenberg
Alexis Fuerte
Danielle Fulgham
Tori Fullam
Kelsey Fulleda
Natalie Fuller
Suzanne Fuller
Rebekah Fuller
Andrew Fuller
Kimberly Fuller
Jayme Fuller
Rebekah Fuller
Heather Fuller
Lily Fullerton
Crystal Fullilove
Kimberly Fullmer
Taniyah Fulton
Jennifer Fultz
Eric Funk
Brendan Funnell
Tae Fuqua
Lucas Furey
Renea Furfaro
Emily Furjanic
Ryan Furlong
Meris Furlow
Katlin Furness
Kyley Fusiara
Morgan Fuson
Matthew Fussell
Nicole Futrell
Lena Fyfe
Kylee Gabriel
Steven Gadbois
Corey Gadwah
Angelia Gafford
Connor Gagan
Chrystal Gage
Olivia Gage
Matthew Gagne
Amanda Gagne
Nicole Gagne
Jamie Gagnier
Joshua Gagnier
Shannon Gagnon
Emily Gagnon
Jared Gagnon
Haley Gagnon
Sarah Gagnon
Nicholas Gagnon
Travis Gagnon
Cody Gagnon
Britnee Gaillard
Sharese Gaines
Shannon Gaines
Beverly Gainey-McKinney
Gabrielle Gaitan
Callie Gajdica
Tiffany Lauren Gajo
Laura Galanis
Dominick Galante
Megan Galarneau
Irene Galatas
Zoe Galatas
Rebecca Galati
Ashley Galati
Andreas Galatis
Samantha Galbreath
Damon Galbreath
Hannah Gale
Julian Galeano Moreno
Alexis Galeotti
Joseph Galiastro
Victor Galicia
Jose Galindez
Chelsea Galindo
Molly Gallagher
James Gallagher
Abigail Gallagher
John Gallagher
Catherine Gallaher
Ashley Gallant
Janice Gallant
Catherine Gallant
Brianna Gallant
Ciara Gallegos
Joel Galli
Amanda Gallione
Ronald Gallo
Mychaela Galloway
Amy Galloway
Melissa Gallup
Steven Galson
Nathan Galvan
Tatiana Galvez
Johnathan Galvin
Timothy Galvin
Jaret Galyen
Sarah Gamache
Foranzo Gamble
Richard Gamble
Gordon Gamble
Ana Gamboa
Izaya Gamez
Brittany Ganaway
Luis Gandarilla
Abigail Gandy
Stephanie Ganeto
Ryan Gangi
Erika Gangi
Shilpa Ganguly Biswas
Stephanie Ganley
John Gannarelli
Teresa Ganong-Wilds
Marissa Garate
Heather Garay
Sarah Garber
Anastazia Garber
Ashley Garber
Haley Garber
Samantha Garbino
Keyshumie Garcia
Johnathan Garcia
Kameron Garcia
Luis Garcia
Joseph Garcia
Sandra Garcia
Alixandria Garcia
Harold Garcia
Kyle Garcia
Miriam Garcia
April Garcia
Natalie Garcia
Sonny Garcia-Lakongpheng
Katelyn Gardella
Mirko Gardilcic
Jennifer Gardiner
Brandon Gardner
Erika Gardner
James Gardner
Paul Gardner
Jason Gardner
Bryan Gardner
Kyle Gardner
Desire Garletts
Narissa Garlock
Crystal Garman
Dhacacherel Garner
Mackenna Garner
Ruben Garnes
Jose Garnica
Cassidy Garnot
Jeneen Garr
Donna Garrett
Cassie Garrity
Alexis Garside
Daniel Garvey
David Garvin
Shaun Garvin
Traci Garvin
Stefano Garzia
Ashley Gasiorczyk
Kyle Gaskill
Kaitlyn Gaspar
Sarah Gaspar
Jonathon Gaspers
Nicholas Gaston
Stevi-Lynn Gately
Katherine Gates
Janece Gates
Sara Gates
Eva Gatewood
Milessa Gatheright
Ann Gathungu
Jason Gatison
Heather Gatwood
Emma Gaudet
Hayley Gaudiosi
Morgan Gaudioso
Chris Gaughan
Lisa Gaugush
Joshua Gaultier
Hannah Gaunt
Jessica Gaunt
Joshua Gauthier
Joshua Gauthier
Keri Gauthier
Shelby Gauthier
Jason Gauthier
Ashlynne Gauthier
Jaime Gauthier
Heather Gauthier-Sheatler
Heather Gautsch
Juste Gavelyte
Jacklyn Gavin
Philip Gavin
Amanda Gavitt
Michael Gavre
Anthony Gavrilovic
Andrea Gaxiola
Christina Gay
James Gayle
Charmaine Gayle
Megan Gaytan
Kayla Gazaille
Marsha Gearon
Jennifer Gearty
Charlene Gebo
Sahva Gebrehiwet
Sydney Geddis
Ashley Gedrich
Nancy Gee
Catherine Geer
Jennifer Gehl
Kari Gehringer
AnnMarie Geib
Dalton Geiger
Samantha Geils
Matthew Geisler
Chelsea Geisler
Kaci Gelisanga
Hannah Gemas
Armando Gemei
Gabriel Gendreau
Katlyn Genovese
Scott Genovese
Katherine Gent
Marthamarie Gentel
Kelli Gentempo
Vincent Gentile
Devon Gentile
Katie Gentile
Cherish Gentle
Cesille Gentle
Annika Gentry
Adam Gentry
Liby George
Christopher George
Megan George
Cinnamon George
Jennifer George
Evangelia Georgopoulos
Alexandria Geosits
Dillon Geradine
Raquel Gerardo
Colin Gerdes
Katie Gerdts
David Gerhart
Dean Geribo
Angela Gerlach
Melissa German
Danielle Germann
Ricky Gerolaga
Rafael Geronimo
Shalie Gerou
Mikayla Gerow
Jason Gerrish
Anna Gerstenberg
Brittany Gervais
Katherine Gervais
Madelyn Getman
Alyssa Gettings
Kathryn Getty
Elisia Geyer
Sunita Ghale
Nadim Ghaname
Arya Ghassemlou
Charbel Ghattas
Walaa Ghazal
Farah Ghazi
Safiyyah Ghouse
Heather Ghramm
Rocco Giampietro
Briana Giancola
Stacie Giannelli
Christine Giannetti
Steven Giannotti
Justin Giasson
Dwayne Gibbons
Jason Gibbons
Nicholas Gibbons
Candace Gibbs
Callie Gibbs
Kendra Gibbs
Sherrie Gibbs Cotton
Timothy Giblin
Devon Gibson
Cassandra Gibson
Zachary Gibson
Jacob Gibson
Eryn Gibson
Cody Gibson
Ashley Gibson
JeNard Gibson
Cade Gibson
Andre Giddarie
Austyn Gies
Kurtis Giffel
Taylor Gifford
Shannon Gifford
Mahalabelle Gigous
Cinthia Gil
Julianna Gilardi
Alyssa Gilbert
Margaret Gilbert
Jesse Gilbert
Mikaela Gilbert
Robert Gilbert
Kaley Gilbert
Debra Gilbertson
Christine Gilchrist
Dalton Gilchrist
David Gilfeather
Nicole Gililland
Kolby Gill
Michelle Gill
Joy Gill
Gurmon Gill
Jessica Gillan
Harley Gilles
Matthew Gillespie-Santa
Carina Gillet De St Christ
Wray Gilliam
Amanda Gilliam
Ben Gilliam
Bailey Gilligan
Shaketa Gillis
Shelby Gillis
Todd Gillum
Briana Gilman
Mason Gilmartin
Anna Gilmore
Matthew Gilroy
Jennifer Gilroy
Beth Gilson
Paxton Gimbel
Samuel Giminiani
Brittany Gingerich
Ashley Ginnetty
Joseph Ginsburg
Palma Gioeli
Courtney Giordano
Michael Giorgio
Kassandra Girkin
Mia Girolimon
Issac Giroux
Rebekah Girr
Joyce Gitanyu
Tanner Giusani
Janessa Givens
Durward Givens
Kristen Givens
Lidia Gizaw
Dardan Gjonbalaj
Elona Gjoni
Jasmine Gladney
Justin Gladue
Paige Gladysz
Carol Glagola
Samantha Glance
Anthony Glancy
Jacob Glasgow
MaRissa Glasper
Richard Glass
Kevin Glass
Emily Glass
Carly Glassbrenner
Alexandria Glasser-Brown
Djemilie Glaudin
LaKersha Gleaton
Harley Glenn
David Glenn
Zofia Glick
Hailey Gliddon
Brittani Glinski
Brianna Gloor
Devin Glover
Dejahthoris Glover
James Glover
Jessica Glover
Rachel Glynn
Riley Glynn
Alexcea Glynos
Elise Goddard
Samuel Goddard
Joshua Goddu
Serena Godek
Arielle Godina
Jose Godinez
Collin Godwin
Bobby Godwin
Alexander Goff
Michael Goforth
Terrell Goforth
Christopher Goglia
Heidi Gohl
Danielle Goin
Madison Goin
Joshua Goldberg
Samantha Goldberg
Brandon Golden
Kayleigh Golden
Sandra Golden
Nicolette Golden
Anthony Goldhammer
Jennifer Goldman
Ashlyn Goldman
Erica Goldman
Cheryl Goldsmith
Danielle Goldstein
Wren Golembiowski
Talya Golian
Shaina Golladay
Kenneth Gollaher
Tiffany Gollihue
Melissa Gomez
Wendy Gomez
Sieglinda Gomez
Kevin Gomez
Jonathan Gomez
Victor Gomez
Sergio Gomez
Angie Lorena Gomez Cubillos
Jose Gomez Liz
Joel Gomez Ruiz
Daniel Gomez Valdez
Camrin Gonder
Kym Gonsalves
Dyami Gonsalves
John Gonzales
Ellianna Gonzales
Jessica Gonzales
David Gonzales
Angelica Gonzales
Melinda Gonzales
Teresa Gonzales
Crystal Gonzales
Alfonzo Gonzalez
Brenda Gonzalez
Xavier Gonzalez
Melissa Gonzalez
Miguel Gonzalez
Sheralyn Gonzalez
Rachel Gonzalez
Janelli Gonzalez
Jazel Gonzalez
Robin Gonzalez
Zachary Gonzalez
Josue Gonzalez
Keri Gonzalez
Gabriella Gonzalez
Jose Gonzalez
Yessenia Gonzalez
Stephanie Gonzalez
Jonathan Gonzalez
Anthony Gonzalez
Sarah Gonzalez
Roberto Gonzalez
Priscilla Gonzalez
Adriel Gonzalez Luis
Jennifer Gonzalez Torres
Victor Gonzalezcotto
Raul Gonzalezvejar
Ethan Gooby
Brayden Good
Kyle Goodall
Samantha Goodall
Kenneth Gooday
Matthew Goodlaxson
Kayla Goodman
Samuel Goodnow
Kevin Goodrich
Shawn Goodson
Kara - Leah Goodwin
Patrick Goodwin
Nicholas Goodwin
Kyla Goodwin
Ariana Goolsby
Joseph Gorak
Cally Gordon
Michael Gordon
Michael Gordon
Coral Gordon
Marjorie Gordon
Jennifer Gordon
Charlotte Gordon
Molly Gores
Michael Gorham
Angelica Gorham
Kendra Gorniak
Alexander Gorr
Monique Gosha
Andrew Goshorn
Martha Goshorn
Brandy Gospodarek
Sabrina Goss
Alan Gosselin
Brendyn Gosselin
Kenneth Gossett
Ashley Gossett
Tina Gossett
Amy Gotham
Rachel Gott
Daniel Gotta
Victoria Goudreau
Elisabeth Gouker
Lauren Gould
John Gould
Chelsea Goulet
Collin Gourd
Nancy Goveia
Brittany Govindasamy
Grant Gow
Jessica Gowdy
Mackenzie Gowins
Adam Grabert
Natalie Grace
Amaris Grace
Caroline Gracely
Kevin Gracey
Kaytlynn Gracie
Carmen Gradinariu
Galechska Gradiz
Travis Grady
Austin Grady
Brendan Grady
Jenette Graf
Emily Graff
Jessica Gragg
Jeffrey Graham
Kurtis Graham
Victoria Graham
Denise Graham
Joseph Graham
Vicki Graham
Corinne Graham
Jeremy Graham
Michael Graham
Cristina Graham
Lilyne Graham
John Graham
Christian Graham
Alysia Graham
Kaleem Graham
Paula Graham
Abigail Graham
Jessica Graham
Michelle Grammer
Candace Gran
Matthew Granberg
Susahna Grande
Ruben Grand-Pierre
Morgan Grange Hanson
Thomas Granger
Ian Granger
Heather Grant
Nicole Grant
Natalie Grant
Colette Grant
Samantha Grant
Germayne Grant
Tanisha Grant
Mikayla Grant
Tanika Grant
Austin Grantham
Mindy Grantham
Lacie Grasmick
Carly Grass
Bassma Grass
Tori Grassa
Analise Grassie
Kenya Grauberger
Tyler Grauer
Ava Gravell
Peyton Gravell
Valarie Graves
Tahor Graves
Jasmon Graves
Kala Graves
Levi Graves
Derek Gray
Erik Gray
Sharon Gray
Cynthia Gray
Heather Gray
Samuel Gray
Nava Gray
Natalie Gray
Lindsey Gray
Loretta Gray
Monique Gray
Christopher Gray
Casiner Gray-Bailey
Joshua Grayson
Andjela Grbovic
Austin Greaves
Ariel Greco
Erin Greco
Jessica Green
Nathan Green
Michelle Green
Kristine Green
Davonna Green
Thomas Green
Larry Green
Jacob Green
Mark Green
Yolanda Green
Wesley Green
Keishelle Green
David Green
Logan Green
Shelly Green
Craig Green
Anthony Green
Zachary Greene
Heather Greene
Thomas Greene
Amanda Greene
Garrett Greene
Gunnar Greene
Joel Greene
Sarah Greene
Jessica Greene
Melissa Greenleaf
Johnathon Greenlee
Jacob Greenwell
Adam Greenwell
Tiffany Greenwood
Kathleen Greenwood
Jamie Greenwood
Zharia Greer
MacKenzie Greer
Estella Greer
Curtis Greer
Jonathan Gregg
William Gregg
Samantha Gregg
Kathleen Gregory
Kyrie Gregory
Brittany Gregory
Jonathan Greiner
Selah Grenewood
Kylie Grenier
Tanya Grey
Jason Grey
Christopher Grgich
Natasha Gribble
Megan Grieco
Hamisi Grier
Laura Griffieth
Kyle Griffin
Chloe Griffin
Joshua Griffin
Paul Griffin
Theresa Griffin
Marcia Griffin
Abigail Griffin
Chenice Griffith
Kortney Griffith
Justin Griffith
Makinzie Griffith
Mason Griffith
Holly Griffith
Ashley Griffith
Rachael Griffith
Bryan Griffiths
Kevin Griggs
Stacey Griggs
Raeann Grignani
Jeri Grigsbay
Alana Grillo
Leah Grimes
Dalton Grimes
Alexander Grimes
Jessica Grine
Alicia Grinstead
Shayna Grisham
Loretta Grissom
Alaina Grit
Maria Gritsaev
Jessica Gritton
Tracy Grizzle
Mollie Grobosky
Travis Groce
Ethan Groen
Loni Gronning
Morgan Grooms
Haylie Grooms
Kaitlin Gropp
Abigail Groppuso
Mason Grosko
Shelby Groskritz
Gill Grosman
Monica Gross
Nicholas Gross
Olivia Gross
Cassandra Grossoehme
David Grove
James Grove
Savannah Grove
Dallas Grove
Samuel Grover
Ashley Groves
Jennifer Grubbs
Tracie Gruening
James Gruening
Bryson Grupe
Shelby Gruver
Juan Guacheta
Ian Emmanuel Guadarrama Gonzalez
Dina Guarino
Jessica Guckert
Kathryn Guello
Ashley Guenther
Caitlyn Guercio
Raymond Guerin
Michael Guerin
Cristina Guerra
Jeffrey Guerra
Melissa Guerra
Miranda Guerra
Gerson Guerrero
Walter Guerrero
Jannina Guerrero
Karina Guerrero
Samuel Guerrero
Wilmer Guerrero-Orellana
Nicholas Guerriero
Courtney Guers
Christopher Guess
Jonathan Guffey
Rebecca Guffy
Alena Guggemos
Renae Guichard
Samantha Guida
Jon Guidi
Malissa Guidry
Taylor Guidry
Hayden Guild
Tara Guillemette
Marilyn Guillen
Casey Guilmartin
Amy Guilmette
Asdis Guimond
Jessica Guivas-Santos
Jacob Gukowsky
Sara Guldi
Christopher Gulla
Jazmin Gulliksen
Michelle Gunderson
Genevieve Gundogar
Elizabeth Gundrum
Arica Gunn
Rachel Gunnlaugsson
Samantha Gunter
Shelbi Gunter
Martina Gunter
Jordan Gupp
Garoshnie Gurcharan-Deen
Scott Gurewitz
Kyla Gurreri
Rachel Gurtowsky
Shristi Gurung
Victoria Gush
Kylee Guthrie
Elise Gutierrez
Geyma Gutierrez
Gricelda Gutierrez
John Gutierrez
Leticia Gutierrez
Maeva Gutierrez
Judith Gutierrez
Cristina Gutierrez
Paula Gutierrez
Stephan Gutjahr
Candice Gutzman
Adriana Guy
Robyn Guyette
Elleni Guzman
Jose Guzman
Stephany Guzman
Taylor Gwinn
Caroline Gwokyalya
Stephanie Gwyn
Tiffani Gwynn
Elizabeth Gwynn
Miranda Gyte
Krista Gyurik
Stephen Gyurik
Diem Phuong Ha
Tyra Haag
Scott Haakinson
Kelly Haas
Collin Haas
Aliyah Habeeb
Haven Haberer
Md Tareq Habib
Katherine Hachfeld
Tyler Hackenberg
Victoria Hackett
Maeghen Hackett
Lucas Hackett
Rachel Hackett
Tara Hackimer
Alexander Haddad
Clarence Haddix
Meghan Hadley
Chelsea Haff
Megan Hafler
Kyle Hagadorn-Aranzazu
Henry Hagan
Melissa Hagan
Cruz Hagelsieb
Denise Hageman
Kyle Hagemeier
Laura Hagens
Charles Hager
Abigail Hagerty
James Haggerty
Robert Haggerty
Caitlyn Hagy
Amber Haight
Robert Haight
Sarah Haile
Colleen Hails
Amanda Hailson
Kyle Hake
Fatimah Hakim
Bridgette Halcomb
Meredith Haldeman
Blaze Halderman
Rean Hale
Jackie Hale
Katie Hale
Jared Hale
Maranda Haley
Gregory Haley
Ethan Haley
Shon Haley
Jennifer Hall
Heidi Hall
Skyler Hall
Aurora Hall
Crystal Hall
Kerianne Hall
Alexandor Hall
Alisha Hall
Nanetta Hall
Wayne Hall
Krisanna Hall
Nora Hall
Lauryn Hall
Heather Hall
Elizabeth Hall
Kathryn Hall
Shadrick Hall
Chayla Hall
Karli Hall
Jonathon Hall
Alex Hall
Veronica Hall
Brittany Hall
Matthew Hall
Jai'la Hall
Emma Hallet
Brandon Halley
Kristen Hallinan
Carey Hall-Jaquez
Kristin Hallsen
James Halmer
Kaitlyn Halmi
Kyle Ham
Nijal Hamberg
Amber Hamby
Griffin Hamel
Matthew Hamel
Blair Hamelink
Brandon Hamiel
Cassandra Hamilton
Anthony Hamilton
Tiffany Hamilton
Hunter Hamilton
Corinne Hamilton
Daniel Hamilton
Eric Hamilton
Riley Hammer
Evan Hammer
Nichole Hammer
Cheyenne Hammill
Kailynn Hammond
Herbert Hammond
Jonathan Hammons
Joshua Hampton
Michelle Hampton
Mitchell Hampton
Elizabeth Han
Donald Hanaj
Madison Hanakahi
Erica Hancock
Erin Hancock
Arianna Hancock
Erin Hand
Nancy Hand
Gisella Handelong
Matthew Handley
Jeremy Handman
Scott Handren
Jonathan Handy
Sarah Handy
Emily Hanegraaff
Andrew Hanes
Elliott Hanes
Christopher Haney
Abigail Haney
Joshua Hanington
Wendy Hankins
Eli Hankins
Joseph Hanks
Matthew Hanley
Logan Hann
Christa Hanna
Beth Hannah
Breana Hannah
Chris Hannam
Thomas Hannan
Scott Hanneman
Erin Hannigan
Camryn Hanninen
Miken Hannon
Sabrina Hanock
Kelsey Hansbrough
Amanda Hansen
Katherine Hansen
Wade Hansen
Todd Hansen
Jolene Hanson
Ashley Hanson
Caila Hanson
Rachel Hanson
Rebeka Hanson
Valerie Hanson
Bethany Hanus
Sarah Happe
Shaikh Haque
Joshua Hara
JoAnna Hardee
Jenny Harden
Kevin Hardester
Mikaela Hardesty
Nicole Hardiman
Timothy Hardiman
Mechell Hardiman
Lacy Hardin
Angela Hardin
Chad Hardison
Jessica Hardwick
Robert Hardy
Christopher Hardy
Samantha Haren
Sammi Harer
Christopher Harkey
Kyle Harkins
Tayla Harkness
Alexis Harkness
Allison Harksen
Matthew Harless
Lindsay Harlow
Rita Harman
Jeremiah Harman
Sheena Harmer
Tyler Harmeyer
Cheryl Harmon
Ashley Harms
Hannah Harness
Sondria Harp
Timothy Harper
William Harper
Kimberly Harper
Broderick Harper
Andrea Harper
Tanner Harrell
Elizabeth Harrell
Brandon Harrell
Craig Harrigan
Leah Harrigan
Kelsey Harriman
Ashley Harriman
Patricia Harrington
Adreanna Harrington
Jacob Harrington
Dylan Harrington
Allison Harripersad
Brandon Harris
Dalila Harris
Katwana Harris
Nicole Harris
Walter Harris
Michelle Harris
Brianna Harris
Jordan Harris
Pamela Harris
Tatiana Harris
John Harris
Shalom Harris
Terrielou Harris
Dominic Harris
Patrick Harris
Ebony Harris
Rachael Harris
Chastity Harris
Emily Harris
Angela Harris
Tiana Harris
Sean Harris
Caitlin Harris
Candice Harris
Brian Harris
Kai Harris
Erin Harris
Molly Harris
Megan Harris
Katelyn Harris
Darnell Harris-Johnson
Michael Harrison
Charlene Harrison
Deanna Harrison
Camron Harrison
Samantha Harrison
Joshua Harrison
Kelsey Harrison
Anthony Harrison
Angel Harrison
Katilynn Harrison-Corey
Melinda Harriss
Patricia Harris-Sims
Joshua Harsh
Charles Harski
Skyler Hart
Kevin Hart
Savannah Hart
Aimee Hart
James Harter
Austin Harter
Randy Hartford
Amber Hartgrove
Katelyn Harth
Katherine Hartigan
Jacob Hartin
Christian Hartje
Brantley Hartley
Samantha Hartley
Allison Hartley
Danielle Hartline
Erica Hartline
Brittany Hartman
Jillian Hartman
Damietta Hartman
Hannah Hartnett
Melissa Hartwick
Sydney Hartzel
John Hartzog
Emily Harvey
Jacqueline Harvey
Abbie Harvey
Lorraine Harvey Laraque-Two Elk
Anthony Harwell
Semir Hasanovic
Devin Haseltine
Tammy Hasenflue
Jennifer Haskell
Brittney Haskett
Meagan Haslip
Zachary Hassel
Kyle Hasselman
Diana Hassett
Jessica Hastings-Johnson
Hekmat Hatab
Connor Hatch
Michael Hatch
Aaniyah Hatcher
Kaitlin Hatfield
Elizabeth Hatfield
Spring Hatfield
Katelin Hatfield
Sheena Hathorn
Brooke Hatle
Marmel Hatten
John Hauber
Esther Hauck
Alexandra Haug
LeAndra Hauge
Heather Haugh
Cassandra Haughey
Elizabeth Haugland
David Haun
Shawn Haungs
Bryan Hauser
Casey Hauser
Sandra Hauser
Lena Haushild
Shauna Hautanen
Emily Havel
Gabriel Havelind
Samantha Haviland
Hannah Hawes
Devin Hawk
Oscar Jonathan Hawken
Vicky Hawkins
Quinton Hawkins
Alexys Hawkins
Justin Hawkins
Sarah Hawkins
Steven Hawkins
Peter Hawkins
Ashlyn Hawkins
Stacey Hawkins
Ryan Hawley
Rachel Hawley
Ed Hawthorne
Megan Hawver
Brandon Hay
Daniel Haycraft
Lauren Hayden
Jason Hayden
Christine Hayden
Sarah Hayden
Tyler Hayden
Tess Hayden
Oneisha Haye
Sabrina Hayes
Trevor Hayes
Thomas Hayes
Ashley Hayes
James Hayes
Angel Hayes
Tisha Hayes
Desiray Hayes
Taunjinikia Haynes
Katie Haynes
Kerricia Haynes
Kathryn Haynes
Artricia Haynes
William Haynie
Hilary Hays-Greenhalgh
Megan Hayslett
Richardo Hayward
Lacey Hayward
Christie Hayward
Kaitlyn Haywood
April Hazelett
Evan Hazelton
Joseph Hazelton
Ivy Hazen
Ilana Head
Tanya Headdy
Sabrina Heagy
Cristina Heald
Ryan Healey
Joyce Healey-Sirois
Robert Healy
Adiva Hearn
Stephen Hearon
Heidi Hearter
Kristin Heath
Alexis Heath
Tracy Heath
Thomas Heben
Grant Hebert
Vicki Hebert
Amanda Heck
Jacob Heck
Kamila Hecka
Jennifer Heckel
Hollie Heckenliable
Christopher Heckman
Mark Hedden
Brooke Hedglin
Harlan Hedke
Judd Heeb
Te'Vawnn Hefflefinger
Aaron Hefler
Brianna Heflin
Claire Hefta
Keerigan Heg
Carina Heger
Tammie Heil
Nicholas Heilbron
Elizabeth Heinemeyer
Laura Heinrich
Alexandria Heinz-Patterson
Philip Heisse
Tyler Heist
Jay Heitink
Sarah Heitz
Kevin Heleodoro
Ryan Helferich
Hope Helgren
Joshua Helie
Jacob Helland
Efraim Hellemo
Samantha Heller
Summer Helm
Tyler Helmick
Cynthia Helms
Jakob Helsher
Rebecca Helt
Robert Helton
Stephanie Helwig
Holly Helzer
Samantha Hemkin
Canaan Henady
Charles Henbest
Jessika Henchek
Emma Henchey
Darcy Hendershott
Steven Henderson
Jerry Henderson
Allison Henderson
Reese Henderson
Jason Henderson
Trina Henderson
Jazmon Henderson
Vincent Henderson
Adam Henderson
Colin Henderson
Jill Henderson
Thomas Henderson
James Henderson
Sarah Rose Henderson
Joshua Henderson
Jillian Henderson
Reliance Henderson
Monika Henderson
Katie Henderson
Tamisha Henderson
Domonique Henderson
Xenia Henderson
Dakota Henderson
Kassey Hendricks
Autumn Hendricks
Ashley Hendricks
Carrina Hendricks
Michelle Hendricks
Janlyn Hendricks
David Henges
Nicholas Henke
Megan Henke
Peyton Henke
Bryan Henne
Ryan Hennig
Barbara Henrich
Greg Henrichs
Abigail Henry
Aaron Henry
Corinne Henry
McKenzie Henry
Donnisha Henry
Alexis Henry
Terrance Henry
Ashley Hensley
Matthew Hensley
Jacklyn Hensley
Stephen Hensley
Alex Hensley
Jessica Hensley
Grace Henson
Rachael Henson
Jeffrey Henson
Willie Hentz
Brittney Her
Khou Her
Taylor Herbek
Kyle Herbert
Alexie Herbert
Jill Herbst
Joshua Herchelroth
Alexander Herhold
Alexander Herman
Noah Hermanson-Stefanowicz
Lesli Hermreck
Donna Hernandez
Jennifer Hernandez
Dakota Hernandez
Kris Hernandez
Michael Hernandez
Joseph Hernandez
Mirka Hernandez
Michael Hernandez
Sirila Hernandez
John Hernandez
Steven Hernandez
Jennifer Hernandez
Brianna Hernandez
Adam Hernandez
Timothy Hernandez
Melissa Hernandez
Jessica Hernandez
Sabrina Hernandez
Danielle Hernandez
Daisy Hernandez
Jovana Hernandez
Brenda Hernandez
Luz Stella Hernandez Aguilar
Aide Hernandez Tellez
Jessica Hernandez-Jaimes
Janet Hernandez-Lopez
Alec Herradura
David Herrera
Noemi Herrera
Ignacio Herrera
Diana Herrera
Erica Herrera
Ashley Herrera
Cynthia Herrera
Anthony Herreres
Sherri Herrick
Devin Herrick
Karen Hershberger
Taylor Hershey
Abeir Hersi
Jenna Hertzman
Danica Hesemann
Darce Hess
Darin Hess
Mary Ann Hess
Jennifer Hesse
Connor Hestdalen
Amanda Hester
ZaRita Hetheru
Joshua Hetman
James Hewell
Veronica Hewitt
Devin Hewitt
John-Charles Hewitt
Jesse Heydorn
Amy Heyliger
Miles Heyman
Carey Heywood
Melaney Hibbard
Alison Hibit
Jillian Hibler
Monica Hickel
Elijah Hickey
Rachael Hickey
Nathan Hickle
Joshua Hickman
Jessica Hickman
Sarah Hicks
Linnea Hicks
Mbanyia Hicks
Sonibeth Hicks
Warren Hicks
Logan Hidalgo
Leilanie Hidalgo
Jameela Hietikko
Thomas Hiett
Sandra Higa
Carlene Higa
Michael Higgins
Amanda Higgins
Megan Higgins
Melissa Higgins
Bryan Highley
Tori Hilaire
Colby Hilbert
Derek Hilbert
Stephanie Hilburn
Johnathon Hill
Erica Hill
Amy Hill
Garry Hill
Shane Hill
Steven Hill
Nafeez Hill
Kathleen Hill
Giovanni Hill
Christopher Hill
Taylor Hill
James Hill
Rowena Hill
Gina Hill
Jesse Hill
Erica Hill
Amber Hill
Caitlin Hill
Alexandra Hill
Alison Hill
Marissa Hill
Tonja Hill
Timothy Hill
Brittany Hill
Khareena Hill
Kaitelynn Hill
Jesse Hill
Kelly Hillard
Marylyn Hilliard
Maleigha Hilliard
Benjamin Hillicoss
Brendan Hillman
Megan Hills
Jordan Hillyer
Kristen Hilton
Justin Hilton
Katlyne Hilton
Julie Hilton
Cassidy Himes
Sommer Himmelein
Barry Himmelhoch
Jason Hinckley
Chandra Hinds
Janelle Hinds
Michael Hinds
Jairzinho Hinds
Mark Hines
Aszhia Hines
Melissa Hines
Stacie Hines
Marc Hinkle
Amber Hinkle
Emily Hinojosa
Raymond Hinojosa
Alliondra Hinojosa
Zunner Hinojosa
Hanna Hinson
Devin Hinson
Alexis Hinson
Courtney Hinz
Cory Hirst
Brianna Hirt
Jeremy Hiser
Michelle Hitchcock
Adam Hitchcock
Curtistine Hite
Chris Hixson
Mason Hjelmeland
Peter Hjort
Hannah Hlystek
Nha Ho
Misty Ho
Duong Minh Tri Ho
Duong Minh Khoi Ho
Siena Hoaglund
Nathan Hobba
Ashley Hobbs
Jeffrey Hocking
Anthony Hodge
Adam Hodge
Shannon Hodges
ShaFawn Hodges
Tiffany Hodges
Joshua Hodges
Eric Hodgkins
Elizabeth Hodgman
Muhamed Hodzic
Tabitha Hoeflicker
Nathaniel Hoekstra
Kimberlee Hoertling
Claire Hofeld
Heather Hofer
Erik Hoffman
Leonard Hoffman
Brayden Hoffman
Martha Hoffman
Andre Hofmann
Laura Hoganson
Jessica Hohman
Lisa Hohulin
Jordan Hokit
Annaliese Holahan
Chandra Holbrook
Jessica Holbrook
Christie Holcomb
Jeffrey Holcomb
Zachary Holdcroft
Brian Holden
Kayla Holden
Mark Holden
Angela Holden
Natalia Holder
Brianna Holder
LeVar Holder
Jefferson Holder
Justin Holder
Erik Holdo
Jacob Holeman
Matt Holets
Mary Holguin
Henry Holguin
Jennifer Holifield
Kendall Holladay
Amanda Holladay
Trevor Holland
Brianna Holland
Rebecca Holland
Jesse Holland
Andrew Holland
Candie Holland
Katheryn Holland
Angie Holland
Emily Holland
Peter Holland
John Hollcraft
Drew Hollen
Haley Hollenbach
Tracey Hollenstein
Kamio Holley
Angela Holliday
Ryan Hollifield
Katlyn Hollingsead
Jennifer Hollingshead
Mikayla Hollingsworth
Kaia Hollingsworth
Tyler Hollingsworth
Sean Hollins
Siobhan Hollis
Geena Hollis
Heather Hollister
Melanie Holliway
Tyra Holloway
Amanda Hollowell
Nicole Holly
Christopher Holmes
Jordan Holmes
Nelson Holmes
Robert Holmes
Colin Holmes
Ashley Holmes
Rose Holmes
Justin Holmes
Mandi Holmstrom
Christopher Holst
Barbara Holston
Sara Holsworth
Julie Holton
Nicholas Holub
Amanda Holverson
Eric Hondel
Derek Honeycutt
Michael Honie
Jared Hood
Kristin Hood
Emily Hood
Adrianna Hook
Tyler Hookanson
Trina Hooks
Deborah Hooks
Sarah Hooley
Mason Hooley
Cindy Hooper
Victoria Hoopingarner
Alisha Hoover
Justin Hoover
Lauren Hoover
Jordan Hope
Natasha Hope
Charles Hopkins
Grant Hopkins
Richard Hopkins
Joseph Hopkins
Jonathon Hopkins
Matthew Hopper
Matthew Hoppock
Keesha Hopson
Masrur Hoque
Matthew Horant
Hunter Hordusky
Owen Horlick
Destany Horn
Michael Horne
MacKenzie Horne
Marla Horne
Brooke Horniak
Zachary Horning
David Horrocks
Abigayle Horrocks
Kevin Horseman
Mabel Horsley
Kristen Horton
Jessica Horton
Deanna Hosea
Wendy Hoskin
Melissa Hoskins
Brittany Hotte
Russell Houde
Mina Houge
Megan Hough
Madison Houle
Sally Houle
Samantha House
Andrew Housel
Alicia Houske
Ryan Housley
Eric Houston
Madison Houston
Jennifer Houtman
Brian Houts
Bry'an Hovis
Dennis Howard
Jaden Howard
Madison Howard
Jessie Howard
Rachel Howard
Monika Howard
Lori Howard
Kimberly Howard
Tyler Howard
Samuel Howard
Jessica Howard
Ashley Howard
Cynthia Howard
Hannah Howard
Tonja Howell
Sarah Howell
Ryan Howell
Jena Howell
Brittany Howellel
Charlotte Hower
Nicholas Howes
Elizabeth Howorth
Silva Hoxhaj
Logan Hoyle
Camilo Hoyos
Shanee Hoyt
Matthew Hross
Kristina Hrycuna
Juliana Huang
Keying Huang
Shannon Hubbard
Richard Hubbard
Candis Hubener
Rachel Hubeny
Kristine Huber
Elizabeth Huber
Larissa Huber
Magdalena Hubickova
Sloane Hubler
Sherrie Hubler
Carly Huckins
Dawn Huddleston
Daniel Hudgens
Rebecca Hudrick
Brandi Hudson
Brenda Hudson
Tracey Hudson
Richard Hudson
Paul Hudson-Bourdeau
Samantha Huelsenkamp
Trishaun Huertas
Jeremy Huesman
Tara Anne Huey
Morgan Huff
Mitzi Huff
Brandi Huffman
William Huffman
Rachel Huffman
Christopher Huffman
Arielle Hufkens
Elizabeth Huggins
Victoria Hughes
Rachel Hughes
Jennifer Hughes
Jessica Hughes
Shane Hughes
Zuzanna Hughes
Pamela Hughes
Christopher Hughes
David Huh
Leon Hui
Addriann Huie
Jill Huisken
Cassandra Huizar
Noah Huizenga
Safet Hukic
Paul Hulbert
DeMeeta Hulett
Melissa Hulick
Cora Hull
Brianna Hull
Amanda Hull
Jennifer Huls
Gia Hulse
Manish Humagain
Justin Humann
Cole Humber
Jessica Humphrey
Rebecca Hund
Melissa Huneke
Madison Huneycutt
Christina Hung
Allison Hungerford
Hope Hunsberger
Jacob Hunt
Mackenzie Hunt
Phoenix Hunt
Brian Hunt
Chelsea Hunt
John Hunt
Ron Hunt
Annette Hunt
Tiffany Hunt
Philicia Hunte
Matthew Hunter
Samantha Hunter
Kimberly Hunter
Aliza Hunter
Cassidy Hunter
Janita Hunter
Brenda Hunter
Rebecca Hunter
Rachel Hunter
Dylon Hunter
Sharon Hunter
Brandon Hunter
Austin Huntington
Cara Huntley
Abigale Hurd
Shane Hurdle
Brittney Hurley
MacKenzie Hurley
Sara Hurley-Worthing
Rebecca Hurni
Dana Hurst
Keith Hurst
Natalie Hurt
Zehra Husain
Samantha Husong
Nabiel Hussain
Heather Husser
Allysa Huster
Kassie Hustrulid
Nicholas Hutchens
Dillon Hutcheson
Ronda Hutt
Elizabeth Huxley
Chad Hybarger
Tina Hyde
Kimberly Hyden
Adriana Hymovitz
Haylei Hynson
Dana Hysell Alongi
Margaret Iacovano
Christopher Iannacone
Danielle Iannelli
Celeste Iapichino
Mitchell Ibarra
Esteban Ibarra
Erik Ibe
Amra Ibrahimovic
Elisabeth Ibsen
Ron Ickes
Linus Idemudia
Oghogho Idumwonyi
Michael Ieni
Megan Igwe
Kristy Ihle
Jennifer IJames
Barbara Iliff
Mickenze Illerbrun
Mbiya Ilunga
Lacy Ilyes
Kearsten Imbody
Carlos Incao
Malena Incze
Shaun Indeglia
Cynthia Infante
Christal Ingerman
Bridget Ingle
Martha Inglis Legall
Rachael Ingram
Abigail Ingram
Erica Ingram
Ashley Ingram
Brian Inman
Alexa Intong
Joanne Iokepa-Keliikoa
Jacob Iorfino
Angelina Iosso
Nicole Iovanna
Antonio Iovino
Stephany Ipock
Philip Ippolito
Michael Irizarry
Lora Irle
Kumama Irogbe
Kenneth Irons
Chrischen Irvin
Tracey Irwin
Stephen Irwin
Sheena Irwin
Loren Isaac
Alayna Isaac
Elisha Isaac
Tayler Isaacs
Jennifer Isaacson
Haideleine Isberto
Christina Iscrupe
Shawnee Isham
Ryan Ishikawa
Omobamidele Isibor
Raven Isidore
Makhfuza Islomova
Sachi Isobe
Darlene Isom
Sarah Ison
Christin Ivak
Taylor Ivers
Michael Ives
Justin Ivey
Garrett Ivie
Logan Izquierdo
Caroline Jablonski
Justin Jablonski
Timothy Jackson
Sonya Jackson
Branden Jackson
Joshua Jackson
Jazmine Jackson
Mike Jackson
Guy Jackson
Brianna Jackson
Lyle Jackson
DeWight Jackson
Aaliyah Jackson
Antonio Jackson
Austin Jackson
Abigail Jackson
Dana Jackson
Garvin Jackson
Elijah Jackson
Onika Jackson
Bria Jackson
Tiffany Jackson
Jason Jackson
Karissa Jackson
Jason Jackson
Emily Jackson
Kellee Jackson
Jamel Jackson
Makenzi Jackson
Ola Jackson
Amanda Jackson
Tanyia Jackson
Gayla Jackson
Raheem Jackson
Kimberly Jacob
Andrew Jacobi
Garrett Jacobowitz
Tyler Jacobs
Trakeia Jacobs
Jenna Jacobs
Stephen Jacobs
Adrian Jacobs
Michaela Jacobs
James Jacobson
Cheryl Jacobson
Cyndi Jacoby
Daniel Jacques
Christopher Jaeger
Jonathan Jaeger
Gabrielle Jager
Jeanae Jahalal
Matthew Jaibur
Kelene Jake
Jeremy Jakubowski
Hajar Fatimah Jalloh
Sharmarke Jamal
Sasha-Lee James
Carly James
Morgan James
Kristal James
Ashley James
Michael James
Aliyah James
Lauren James
Kenneth James
Tonya James
Barbara James
Ashley James
Madeline James
Ryan James
Bailey James
Sara James
Dayvon Jamison
Jacob Jamison
Chloie Janaro
Mark Jandreau
Joy Jannell
Alexandra Jans
Guido Janssen
Hannah Janvrin
Andrew Jardel
Matthew Jarvis
Victor Jarvis
Amber Jarvis
Lindsey Jasmin
Jose Jasmin
Richard Jasmin
Iliana Jasso
Alexander Javor
Shaheer Jawad
Ingrid Jean
Ethan Jean-Charles
Lindsay Jeff
Caitlyn Jeffers
Jeremy Jeffers
Ceisley Jefferson
Tyshawn Jefferson
Dylan Jeffery
Valery Jeffries
Samantha Jeffries-El
Mary Jeffs
Natasha Jegede
Carla Jenkins
Mark Jenkins
Edward Jenkins
Tia Jenkins
Aeriel Jenkins
Michael Jenkins
Hannah Jenkins
Tiffany Jenkins
Danielle Jenkins
Joshua Jenkins
Caleb Jenks
Kevin Jennings
Sydney Jennings
Kelsey Jennings
Michael Jennings
Vanessa Jennings
Sandra Jennings
Alyxis Jennings
Aleigha Jennings
Carlee Jensen
Dorothy Jensen
Justin Jensen
Leif Jensen
Zachary Jensen
Robert Jensen
Haylee Jensen
Troy Jenson
Austin Jeremiah
Burley Jerina
Emerson Jermstad
Ashley Jester
Julie Jett
Alexandra Jetter
Marshall Jewell
Alana Jewell
Nan Jiang
Abdisalam Jimale
Tania Jimbo Llapa
Erick Jimenez
Ricarli Jimenez
Francis Jimenez
Kailey Jimenez
Ervin Jimenez
Alejandro Jimenez
Sakshi Jimenez
Jamaci Jimenez-Goyins
Bruce Jimenez-Le
Suebin Jin
Erica Jiron
Danita Jno Baptiste
Vincent Jobson
Cedric Jocelyn
Christopher jochims
Victoria Jockel
Savannah Johanson
Kayla Johns
Katelyn Johns
Juan Johnser
Richard Johnson
Wade Johnson
Thor Johnson
Alyssa Johnson
Casey Johnson
Tisha Johnson
Dale Johnson
Christy Johnson
Artonia Johnson
Michael Johnson
Samantha Johnson
Michael Johnson
Rusty Johnson
Samuel Johnson
Benjamin Johnson
Paul Johnson
Kathleen Johnson
Letiqua Johnson
Charles Johnson
Reon Johnson
Eliza Johnson
January Johnson
Cody Johnson
Ryan Johnson
Jami Johnson
Nicholas Johnson
Matthew Johnson
Ashley Johnson
Stephen Johnson
Zachary Johnson
Samantha Johnson
Carey Johnson
Rebecca Johnson
Steven Johnson
Courtney Johnson
Taylor Johnson
Angelina Johnson
Brea Johnson
Cassidy Johnson
Anna Kristina Johnson
Caitlin Johnson
Crystal Johnson
Ryan Johnson
Dennapa Johnson
Sara Johnson
Steven Johnson
Sara Johnson
Josh Johnson
Erik Johnson
Jill Johnson
Jayme Johnson
Tychell Johnson
Harmoni Johnson
Heather Johnson
Mary Johnson
Ryan Johnson
Austin Johnson
Katlynn Johnson
Robert Johnson
Sara Johnson
Janet Johnson
Cierra Johnson
Dalton Johnson
Nicholas Johnson
Bobby Johnson
Tamira Johnson
Donte Johnson
Jesi Johnson
Dezirai Johnson
Joshua Johnson
Olivia Johnson
Brett Johnson
Devan Johnson
Patricia Johnson
Susie Johnson Paige
Lisa Johnson-Mansfield
Russell Johnston
Jessica Johnston
Courtnee Johnston
Lauren Johnston
Mary Johnston
April Johnston
Alyssa Johnston
Samantha Johnston
Landon Johnston Borboa
Rebekah Johnstone
Matthew Joiner
Larissa Joines
Ashley Jonas
Joshua Jonas
Kenneth Jones
Kelsey Jones
Artia Jones
Julie Jones
Jessica Jones
Austin Jones
Cherie Jones
Jessica Jones
Rachel Jones
Teneka Jones
Ashley Jones
La Shunda Jones
Steven Jones
Autumn Jones
Majana Jones
Benjamin Jones
Priscilla Jones
Rebekah Jones
Gail Jones
Daniel Jones
Maria Jones
Ashley Jones
Stephanie Jones
Heather Jones
Cristina Jones
Jake Jones
Janae Jones
Christopher Jones
Matthew Jones
Ashley Jones
Ricky Jones
Sean Jones
Christopher Jones
Nataleigh Jones
Rebecca Jones
Rachel Jones
Brandi Jones
Tomeka Jones
Christine Jones
Kiley Jones
Andrew Jones
Savanna Jones
Charlotte Jones
Anita Jones
Kirstie Jones
Holly Jones
Jessica Jones
Gabrielle Jones
Marlin Jones
Bryanna Jones
Tiffany Jones
Ashley Jones
Crystal Jones
Antwan Jones
Kristen Jones
Sydney Jones
Taylor Joos
Jayme Joos
Shakari Jordan
Michael Jordan
Alexa Jordan
Lea Jordan
Kelsey Jordan
Kasey Jordan
Stephanie Jordan-Cain
Tyler Jorgensen
David Jorgenson
Scarla Joseph
Lori Joseph
Suni Joseph
Emma Joseph
Marides Joseph Menager
Royce Josey
Belky Jovel
Jacoby Jowers
Troy Jowers
Peyton Joyce
Colleen Joyce
Ambia Joynes
Marisol Juarez
Gabriela Juarez
Jesus Juarez
Omar Juda
Matthew Judd
Kia Judd
Angela Judd
Susan Judd
Adam Judeh
Lois Judkins
Madison Juelfs
Kasey Juenke
Kaley Julian
Kamin Jumara
Natalie June
Lindsey Juneau
Danielle Jung
Rebecca Juracko
Camden Jurewicz
Claudia Juskalian
Nicole Justice
Tyler Justice
Kimberly Justice
Sheryl Justine
Rachel Justus
Anna Kabai
Benjamin Kachel
Jimmy Kackley
Lauren Kackley
Matthew Kaczkowski
Brady Kafka
Melissa Kaicy
Candice Kaighn
Asifa Kainat
Amber Kairos
Nicole Kaiser
Derek Kaiser
Andre Kaiser
Alana Kaiser
Michael Kaiser
Shawn Kaiser
Jerrika Kalamau
Gary Kalambayi
Jacob Kallio
Kayla Kaluzny
Jessica Kamae
Heather Kamal
Jennifer Kammeyer
Melissa Kampfer
Vijaya Lakshmi Kamsani
Kyle Kan
Shay Kana
Clotilda Kana Tsopgni
Kari Kanaan
Jordan Kanaley
Mikaela Kane
Breck Kane
Jeremiah Kane
Rebecca Kane
Ryan Kane
Mary Kane
Jennifer Kaneakua
Jennifer Kanenwisher
Katarzyna Kanet
Ashley Kangas
Rhonda Kangiser
Kira Kanouse
Aliemma Kanu
Bobby Kapel
Dylan Kapisky
Zoe Kaplan
Kaitlin Kapusta
Diana Karadas
Natalie Karas
Ayla Karasahin
Caroline Karimi
Satish Karivedha
Biran Karki
Stefan Karlberg
Farana Karlowicz
Shana Karlstrand
Nicholas Karos
Helen Karp
Teri Karpinski
Elizabeth Karst
Nicole Karthausser
Ram Kaspal
James Kasprack
Kallyn Kasprzak
Jodi Kasprzyk
John Kassekert
Russell Kassem
Tiffany Kasten
Samantha Katilus
Arunya Katoppo
Kali Katseanes
Robert Katsikaris
Sarah Katz
John Katzenberger
Amanda Katzenberger
Nathan Katzman
Renee Kaucnik
Laura Kaukonen-Garza
Anjali Kaul
Jaskaran Kaur
Aaron Kaushal
Taylor Kavaluskis
Alexander Kawamura
Krystal Kay
Cynthia Kaza
Tyler Kea
Brandon Keach
Anthony Kean
Michelle Keane
Ashley Keanu-Blanco
Tyler Kearn
Lindsy Kearney
Patricia Kearney
Leslie Keating
Andrew Keating
James Keawe
Jessica Keck
Ld Keebaugh
Matthew Keefe
Jenna Keefner
Emily Keegan
Heather Keeley
Nicole Keenan
Ashley Keenan
Sara Keene
Alexis Keene-Kaiser
Adah Keeney
Jennifer Keeter
Antonetta Keevan
Lauren Kehoe
Emma Keich
Eric Keigher
Rebekah Keim
Ashleigh Keir
Julia Keirns
Kaitlyn Keith
Rhonda Keith
Jeffrey Keith
Alex Keith
Loretta Kelhiweddle
Tamara Kellam-Washington
Lisa Keller
David Keller
Julia Keller
Jillian Keller
Arielle Keller
Clara Kellermann-Bryant
Anthony Kelley
Ryan Kelley
Jason Kelley
Kevin Kelley
Heidi Kelley
Rebecca Kelley
Amanda Kelley
Meaghan Kelley
Justin Kelley
Nicholas Kelley
Erica Kelley
Timothy Kelly
Ryan Kelly
Molly Kelly
Barbara Kelly
Ashley Kelly
Denise Kelly
Hannah Kelly
McKayla Kelly
Benjamin Kelly
Madison Kelly
Joan Kelly
Jason Kelly
Kellie Kelly
Tara Kelly-Klimecki
Frank Kelsey
Rebecca Kelsey
Matthew Kelton
Jacklyn Keltz
Kody Kemmis
MacKenzie Kemp
Nolan Kemp
Joseph Kempf
Paul Kenaga
William Kendall
Alexander Kendziewski
Brett Kennedy
Troy Kennedy
Garrett Kennedy
Rami Kennedy
Christian Kennedy
Anthony Kennedy
Taylor Kennedy
Taylor Kennedy
Allen Kennemore
Janeli Kenney
Alexandria Kenney
Garrett Kenny
Vanessa Kenny
Natausha Kentch
Jamie Kentz
Lindsey Kenyon
Christopher Keogan
Lauren Keogan
Melody Keown
Wendy Keplar
Claudia Keppler
Bethany Kern
Hannah Kern
Krystal Kern
Aimee Kerner
Jeannine Kerns
Megan Kerns
Alice Kerr
Paul Kerr
Alyssa Kerr
Zakary Kerr
Sarah Kervin
Christian Kesler
Sarah Kessel
Keith Kessinger
Samantha Kessler
Brian Kestner
Basil Ketchum
Kevin Ketchum
Chelsea Kethman
Brandy Ketter
Sarah Keulen
Joshua Kevwitch
Dakota Keyes
Leah Keyes
Stephanie Keyes
Cody Keyes
Kelcee Keyes
Nicole Keyser
Christine Khabbaz
Khajik Khajadourian
Mohamad Khalil
Lovaiza Khan
Aamir Khan
Azahm Khan
Binjan Khanal
Ahmad Kheir
Brian Khoo
Kathryn Khosravipour
Scott Kibler
Teagan Kick
Craig Kickery
Sara Kidd
Cheyenne Kidd
Heather Kidder
Alyssa Kidder
Diane Kidder
Jonathan Kiddy
Jadin Kidson-Trigg
Billianne Kidwell
Kenneth Kiefer
Katherine Kiefer
Angus Kiehle
Zachary Kiekow
Michael Kielek
Sweeni-Elin Kiely
Colleen Kientz
Crystal Kies
Lindsay Kiesewetter
Katherine Kilcoyne
Stephanie Kilcullen
Matthew Kilde
Wesley Kile
Jill Kiley
Madison Kiley
Robert Killam
Colleen Killeavy
Edward Killian
Megan Killingsworth
Camille Killip
Caitlyn Killoran
Robert Kilpatrick
Haydn Kilty
Dong Kim
John Kim
Yule-Eve Kim
Grace Kim
Jae Min Kim
Jennifer Kim
Joseph Kim
Alice Kim
Brendan Kimberlin
Danielle Kimble-Pirner
Valeria Kimbrough
Malcolm Kimbrough
Andrea Kimes
Christopher Kimm
Rose Kinard
Theresa Kincaid
Jessica Kincaid
Morgan Kincaid
Brittney Kincaid
Lacey Kincaid
Michelle Kinchen
Teddy Kinczkowski
Stefanie Kindell
Nathan King
Matthew King
Jarred King
Michael King
Jennifer King
Alexa King
Erica King
Clinton King
Nicola King
Leroy King
Jonathan King
Zachary King
Taylor King
Earnest King
Atenna King
Austin King
Joseph King
Hailey King
Robert King
Cole King
Gordon King
Joshua King
Hillary King
Stephanie King
George King
Ormon King
Jordan King
Cody King
Annie Kingcade
Madison Kingsbury
Kyle Kingsbury
Crystal Kinney
Elizabeth Kinney
Noah Kinney
Daniel Kinnibrugh
Virginia Kinsella
Harlen Kinsey
Joshua Kintzler
Amy Kinyon
Denis Kirabo
Alexa Kirby
Kendall Kirby
Thalia Kircher
Rebecca Kirejczyk
Veronika Kireyko
Amber Kirk
Theresa Kirk
Steven Kirkman
Richard Kirkner
Kacie Kirkpatrick
Alyssa Kirksey
Charles Kirman
Amanda Kiser
Tara Kisner
Zenobia Kitchens
Morgan Kittelson
Shyeeta Kittrell
Vernon Kittrell
Rebecca Kitz
Lauren Kitzinger
Kylie Kiyuna
Belinda Kizer
Jennifer Klaassen
Cole Klafeta
Claira Klaseus
Ashley Klavitter
Mackenzie Klay
Leon Kleckner
Brittny Klein
Nicholas Klein
Alexandra Klein
Lacy Klein
Brandy Klein
Jenna Kleinedler
Shanel Kleinschmidt
Julia Kleman
Amanda Klicka
Mary Klimasewiski
Lindsay Kline
Elise Kline
Jeremy Kline
Joshua Kline
Christopher Kline
Kyle Kline
Bryanna Klinetobe
Sarah Klitzke
Melinda Klug
Ashley Kluge
Ashley Klusacek
Ashley Klusman
Kamil Kluziak
Krista Kmety
Marta Kmiec
Rachel Kmiec
Ashley Knapp
Megan Knauer
Zachary Knebel
Shawn Knepp
Caleb Kneuer
Heather Knichel
Ashley Kniess
Ryan Knight
Anastasia Knight
Carlie Knight
Masen Knight
Nathan Knight
Brenna Knight
Alexandra Knight
Wesley Knight
Jessica Knight
Michael Knight
Patrick Knight
Lauren Knill
Robert Knipe
Robert Knipfer
Amber Knisley
Jane Knoble
Shane Knoetze
Bridgette Knoll
Elizabeth Knowles
Adrian Knowles
Reginald Knowles
Beth Knowles
Eufemia Knowlton
Amy Knox
Nora Knox
Ainsley Knox
Gabryel Knupp
Kyra Knuth
Chelsey Knyff
Michael Koban
Kobe Kobayashi
Alex Koble
Khevin Koch
Donald Koch
Leia Koch
Robert Kochis
Lena Kochubey
Ashlee Koehler
Holly Koehler
Isaac Koentopp
April Koerner
Andrew Koester
Caitlin Kohut
Christopher Koiner
Christina Koiner
Nikesh Koirala
Kimberlee Koki
Sara Kolak
Aleksander Kolbeck
Nastadjia Koleszar
Yuliia Kolinko
Carisa Kolovani
Kader Kondiano
Jeremiasz Konopka
Kamil Konopka
Megan Koors
Riann Kopchak
Joseph Kopec
Stephanie Korbani
Michelle Korbani
Megan Korkoleo
Alexander Korkuc
Riley Kormos
John Koron
Alexander Kors
Alexandra Kortyka
Jasper Kosa
Jeffrey Kosik
Lillian Kosome
Taylor Kost
Norma Kost
Tierney Kostiuk
Samira Kottat
Brandy Kourtney
Alex Kouvaris
Joshua Kovacevich
Daniel Kovacs
Lisa Kovacs
Kayla Kovamees
Kelly Kowalczyk
Graham Kozakiewicz
James Kraatz
Hannah Kraemer
Katie Krajenka
Victoria Kramer
Krysten Kramer
Kacey Kranich
Chelsea Krasnecky
Rob Kratoska
Matthew Kratz
Christine Krause
Chloe Krawze
Jesse Krebs
Tyler Kreis
Richard Krell
Julia Kremer
Tara Kremer
Holly Kress
Kevin Kretzenger
Luke Kreuser
Nathan Krikorian
Melissa Kristiansen
Nicholai Kropp
Eloise Krukoski
Annika Krupczyn
Kyle Kruse
Courtney Kruta
William Kruzan
Stanley Krzywonos
Andrew Kubasti
Brian Kucab
Emily Kudrna
Ashlyn Kuehmichel
Olga Kugal
Eli Kugler
Joshua Kuhn
Karen Kuhn
Logan Kuhn
Sherry Kuhns
Joseph Kulakowski
Angela Kularski
Maria Kulick
Amanda Kulikowski
Lynda Kullman
Elvir Kunica
Jimmy Kunie
Matthew Kuntz
Stephanie Kurtz
Benjamin Kurtz
Meagan Kutney
Ashley Kuykendall
Anthony KVeene
Lizaveta Kvetko
Jodi Kwan
Danielle Kwapien
Noah Kwet
Brittney Kyles
Savanah Kyllonen
Veronica La Franks Grable
Michael Lab
Diane Labadie
Hadley Labbe
Christy Labelle
Scott Laboe
Lauren LaBonne
Brett Labonte
Alyssa Labonte
Rachel Labouef
Ashley LaBounty
Cassandra Laboy
Geremy Laboy Prospere
Christina Labrador
Grant Labrecque
Jenna Lacasse
Christopher LaCasse
Eric Lacer
Brenda Lacerra
Corey Lacey
Jennifer Lacey
Sara Lach
Malissa LaChance
Amanda Lackey
Justine LaCorte
Alexander Lacourse
Alyssa Lacourse
Summer LaCrosse
Katie Lacy
MariaTatianna Laczkoskie
Alicia Ladouceur
Trista LaDue
Aukuso Lafaele
Daphne Lafalaise
Amanda Laflair
Zachary LaFlair
Darryl Lafleur
Kyle LaFoe
Jacob Lafoille
Kiley LaFond
Krystal Lafrance
Molly Lafreniere
Hannah LaFrentz
Margaret Lagneaux
James Lagner
James Lagos
Stephanie LaGrua
Sophia Lahaie
Tara Lahm
Brett Laing
Kayla Lainhart
Meghan Lajoie
Stephanie Lakawitch
Maria Lakhouili
Kaitlynn Lakus
Karl Lalanne
Christopher Lalmond
Pema Lama
Robert Lamar
Robert Lamarche
William LaMarche
April Lamb
Garrett Lamb
Sarah Lamb
Dellas Lambert
Mindy Lambert
Timothy Lambert
Rebecca Lambert
Jake Lambert
Allen Lambert
Cara Lambert
Lea Lambert
Billy Lambeth
Melissa Lamm
Chelsea Lamond
Brendan Lamont
Rufina Lamothe
Kristi LaMotte
Jennifer Lamoureux
Ariana Lampes
Kristen Lamping
Amaziah Lamumba-Carroll
Stephanie Lancaster
Amber Lancaster
Shaina Lancaster-Creech
Ryan Lanctot
Erick Landers
Heather Landis
Lexus Landis
Heath Landress
Taila-Rose Landry
Abigail Landry
Sara Landry
Betty Lands
Gary Landstrom
Naomi Landwehr
Darcy Lane
Andrea Lane
William Lane
Olivia Lane
Chrissy Lane
Corey Lane
Kelsie Lane
Christopher Lane
Tina Lane
Caitlin Lane
Andrew Lane
April Lane
Amanda Lane
Crystal Lane
Katie Laney
Charles Laney
Christen Lang
Joseph Lang
Caitlyn Lang
Kerri Lang
jacqueline Lang
Kayla Lang
Jamie Langa
Nicole Lange
Geoffrey Lange
Ryan Lange
Joshua Langer
Bryan Langer
Lisa Langevin
Kyle Langlais
Jennifer Langlais
Jennifer Langstaff
Colton Langworthy
Koti Lanier
Hannah Lanier
Debra Lankford
Michael Lanno
Jessica Lanphere
Luis Lansberry
Amanda Lansing
Taylor Lantagne
Annika Lantz
Emilee Lantz
Daniel Lanzarone
Matthew Lanzarone
Thomas Lanzarone
Hawk Lao
Melissa Lao
Emma LaPaglia
Laurie LaPan
Mykle Lape
Zachory Lapierre
Steven LaPira
Kevin Laplante
Daneka LaPoint
Leslie Lapointe
Keith Lapointe
Edward Lapotsky
Brian LaPrise
Jennifer Lara
Fernando Lara
Alexandria Lara
Daniella Lara
David Lara Chirinos
Ricky Lara Jr
Jacqueline Lara-Johnson
Nicholas Laramie
Samantha Larcy
Sylvanna Largo
Marla Larimore
Kelsey Larkin
Madelyn Larkin
Abigail Larkin
Kayla Larkin-Goldman
Christiana Larned
Graydon Larochelle
Dylin LaRock
Brandon Larocque
Brianne Laroe
Melissa LaRose
Briar LaRose
JeriLee Larrinaga
Rebecca Larsen
Lisa Larsen
Erik Larsen
Katherine Larsen
Matthew Larsen
Samantha Larson
Timothy Larson
Rebecca Larson
Dmitri Larson
Julianna Larue
Erin LaScala
Elizabeth Lasheff
Caitlyn Laskoski
Ann Laskowski
Samuel Lass
Tanesha Lassiter
Edward Latta
Loretta Latta
Steven Laubacker
Nick Lauber
Lindsey Laudenslager
Tamara Laugheed
Dustin Laukhuf
Isaiah Laurencelle
Mckayla Lauritsen
Tracie Lauver
Robert Lauzier
Taylor Lauzon
Matthew Lavallee
Joseph Lavallee
Markie Laven
Melissa Lavery
Julia Lavigne
MacKenzie Lavoie
Robert Lavoie
Eric Law
Tyler Lawhorn
Krystal Lawler
Benjamin Lawrence
Christopher Lawrence
Rachele Lawrence
Mikaila Lawrence
Malerie Lawrence
Madeline Lawrence
Russell Laws
Heather Lawson
Sonnishia Lawson
James Lawson
Ky Lawson
Sarah Lawson
Lisa Lawson
Rebecca Lawter
Anna Lawton
Emily Lawyer
Catherine Lay
Chase Layfield
Karen Layhew
Ryan Layman
Brooke Layman
Erin Layne-Martinez
Michael Layton
Corey Layton
Jeffrey Layton
Chase LaZelle
Markella Lazos
Ernie Lazos
Timothy Lazott
Quyen Le
Nathan Le
Danielle Lea
Matthew Leach
Sharon Leach
Tyler Leaf
Amanda Leahy
Christian Leal
Kimble Leanhart
Veronica Leanos
Deborah Leary
Bonnie Leathers
Krista Lebbos
Keryn Leblanc
Colin LeBlanc
Emilie LeBlanc
Jillian LeBlanc
Ashley LeBlanc
Richard Leblanc
Nicholas LeBoeuf
Brianna Lebrocquy
Curtis Lebron
Cali Lech
Mark Lecher
Ashley Lechner
Emily Leclaire
Haven LeClerc
Rachel Leclerc
Brandon LeCours
John Ledbetter
Stephanie Ledesma
Rodrigo Ledezma
Lapas Ledford
Amanda Ledger
Daniel Leduc
Justin LeDuc
Samantha Leduc
Jiwon Lee
Latisha Lee
Jacob Lee
Andrew Lee
Christopher Lee
Joel Lee
Robert Lee
Rebecca Lee
Rachel Lee
Julianna Lee
Jacob Lee
Andrew Lee
Anthony Lee
Nicole Lee
Alixandria Lee
Matthew Lee
Cynthia Lee
Tariwane Lee
Jenny Lee
Myoshi Lee
Catrina Lee
Jill Lee
Nicholas Lee
Cristin Lee
Kashina Lee
Kimberly Lee
Ji Yeon Lee
Joseph Lee
Chad Lee
YeJi Lee
Clarence Leech
Courtney Leese
Tatum Lefebvre
Corey Lefebvre
Amber Leftrict
Shane Legare
Hailey Legasse
Kayla Leger
Elizabeth Leger
Matthew Leger
Lance Legere
Jerrod Legg
Samantha Legg
Elizabeth Leggett
Dylan Legus-Sleigh
Glenn Lehman
Caitlin Lehman
Andrew Lehmann
Michelle Lehrman
Ann Leibrock
Jennifer Leiby
Shelly Leich
Michael Leigh
Ethan Leighty
Emma Leinart
Scott Leinenger
Breanne Leist
Tabitha Leith
Alexia Lekas
Debbie Leker
Kevin Leliefeld
Alexandria Lelli
Sofia Lema
Nathaniel Lemana
Julia Lemarier
Devin Lemasters
Andrew LeMay
Andrew Lembo
Adam Lemieux
Elizabeth Lemieux
Leslie Lemieux
Benjamin Lemieux
Claudia Lemieux
Courtney Lemire
John Lemire
Areanna Lemon
Kaylee Lemon
Matthew Lemoyne
Alexander Lenarchyk
Rachel Lenda
Jessica Lengfellner
Kayla Lenn
Alyssa Lenning
Michaela Lentz
William Lenz
Reny Lenzo
Joan Leombruno
Tania Leon
Marcos Leon
Maria Leon
Kyle Leonard
Trevor Leonard
Victoria Leone
Andre Leone
Nicholas Leone
Kyera Leos
Yulanda Lepps
Logan Leschak
Shelby Lesinski
Joseph Lesko
Jeremy Leslie
Nicole Leslie
Ashley Lesnik
Christie Lespasio
Brianna Lessard
Kayla Lessard
Alexis Lessard
Adam Lessard
Aaron Lesseski
Robin Lester
Nina Lester
Jeremy Lestock
Yolanda LeTang
Jeremy Letendre
Michaela Letendre
Ian Letendre
Haillie Letourneau
Nicole Letourneau
Jeremy Leuck
Amanda Leung
Katherine LeVan
Bethany Levasseur
Alynna Leveille
Garett Levenhagen
Sarah Levesque
Daniel Levesque
Steven Levesque
Michael Levesque
Stephen Levey
Ryan Levie
Max Levine
Benjamin Levine
Eric Levine
Matthew Levine
Binyomin Levy
Zachary Levy
Robert Lew
Deannie Lew
Anthony Lewandowski
Karvel Lewis
Whitney Lewis
Franklin Lewis
Teretha Lewis
Glynis Lewis
Patrick Lewis
Julisa Lewis
Nathan Lewis
Billi Lewis
Alyssa Lewis
Danielle Lewis
Jasmine Lewis
Stephanie Lewis
Amber Lewis
Savannah Lewis
Demetrius Lewis
Shirley Lewis
Susan Lewis
Seth Lewis
Eric Lewis
Chelsea Lewis
Mathew Lewis
Matthew Lewis
Rhonda Lewis
Billie Lewis-Brown
Tonya Lewis-Veasley
Jelani Lewsadder
Allyson Lezette
Kalee Li
Jennifer Libby
Joshua Libby
Ron Libby
Amanda Liberatore
Brandon Liberatore
Haley Licata
Janique Liceaga
Elizabeth Lichter
Felicitas Liclan
Patricia Liddy
Laura Liebenow
Jacob Lietz
Nicole Liggiero
Joan Light
Ashley Lightburn
Nellie Lightle
Corey Lightsey
Linsey Liles
Nicholas Liliedahl
Peter Lilley
Jordana Lima
Matthew Linarello
Michelle Lindebrekke
Nicole Lindner
Julie Lindner
Mark Lindquist
Evan Lindquist
Madailein Lindsay
Brianna Lindsay
Varese Lindsay
Macayla Lindy
Michael Linea
Edward Linehan
Brittany Liner
Brandon Lingenfelter
Danay Lingham
Cody Linhart
Russell Link
Michael Linsenbigler
Mikayla Lint
Alana Lintner
Ryan Lintz
Victoria Linvell
Joseph Lipa
Jacob Lipham
Dustee Lipumano
Luisanyi Liranzo
Arielys Liriano Trejo
Christopher Lisanti
Rachel Lisi
Garrett Lison
Chloe Liston
Alexander Littizzio
Nicole Little
Ryan Little
Scott Little
Timothy Little-Gala
Christina Liuzzo
Olga Livanos-Tahliambouris
Joe Livas
Debra Lively
Zachary Livengood
Bryce Livengood
Brian Liveoak
Joshua Livezey
Jacqueline Livingston-Alcon
Melissa LLeras
Robert LLewellyn
Kristina Lloyd
Christopher Lloyd
Angela Lloyd
Lynn Lloyd
Tyler Lloyd
Amanda Lloyd
Steven Lobert
Steve Lockard
John Lockard
Beau Locke
Kendra Locke
Alex Lockerby
Jacob Lockwood
Chonda Loder
Jason Loeser
Amanda Lofink
Melanie Loftus
Danielle Logan
Jacob Logan
Jessica Logan
Kristy Loggins
Marco LoGrasso
Hattie Logue
Ashley Lohr
Mariah Loiselle
Sarabeth Loiselle
Joshua Lollis
Brandon Lombard
Grace Lombard
Holly Lombardi
Anthony Lombardi
Julian Lombardi
Timothy Lomeli
Jessica Loney
Kaylee Long
Kelly Long
Shannon Long
Jacob Long
Crystal Long
Benjamin Long
Krista Longden
Michael Longfritz
Keola Longo
Frank Longoria
Brandon Longtin
Samantha Longval
Skylar Loomis
Heather Loomis
Joana Lopes
Melanie Lopez
Lissette Lopez
Michelle Lopez
Jessica Lopez
Mario Lopez
Miguel Lopez
Nery Lopez
Destiny Lopez
Jose Lopez
Victoria Lopez
Raquel Lopez
Joel Lopez
Roberto Lopez
Demetrio Lopez
Ayla Lopez
Erika Lopez
Ashley Lopez
Dawner Lopez
Manuel Lopez
Lala Lopez
Jose Lopez Barragan
Santiago Lopez Bonilla
Sarahymarie Lopez-Sanchez
Mark LoProto
Keera Lopusiewicz
Jennifer Loran
Bailey Lord
Michael Lord
Katherine Lord
Gregory Loreaux
Kylee Loreman
Justin Lorenz
Chantel Lorenzo
Nikki Lore-Rossi
Robee Lornson
Leonard Losch
Stefen Lotus
Lorenzo Louden
Jacob Louden
Brittney Loudin
Heather Lough
Mathew Lough
Destiny Loughner
Filesha Louis
Kelly Louis
Jessica Louthan
Meghann Love
Joshua Love
Whitney Love
Rachel Love
Gregory Love
Neasy Love
Amanda Loveless
Kyle Lovell
Richard Lowary
Steven Lowe
Florence Lowe
Rachelle Lowers
James Lowery
Brandon Lowrey
Jarrett Lowrie
Daelen Lowry
Bret Lowry
Sarah Loy
Sergio Loya
Becca Loye
Polet Loynaz
Ruth Loza
Felix Lozano
Marie Wendy Lozier
Brianna Lozzi
Marley Luangsy
Cynthia Luas
Joshua Lubell
Shannon Luby
Camden Luca
Tara Lucas
Rebecca Lucas
Sarah Lucas
Christina Lucas
Zachary Lucas
Krystal Lucas
Nicole Lucas
Katharyn Lucas
Kristen Lucas
Brandon Lucas
Brittney Lucci
Farah Luccin
Brandon Lucero
Amber Lucero
Cassandra Luchauer
Jessyka Lucia
Sandra Lucia
Brian Lucier
Kimberly Lucier
Samantha Lucier
Sa'De Lucin-Martin
Belissa Lucius
Katie Luck
Gracie Luckado
Ryan Luckowski
Valerie Ludwig
Erin Luebke
Zoe Luepke
Brandon Luff
Hollie Lufkin
Nicholas Lugo
Shuk Lui
Bridget Lujan
Amanda Lujan
Michael Luker
Nicole Lumadue
Chelsea Lumpkin
Ashley Luna
Alejandra Luna
Hilary Luna
Janice Lund
Regina Lundari
Tori Lundblad
Patrick Lundy
Chase Lunn
Sara Lunsford
Laura Lunsford
Mackenzie Lunsford
Shannon Lunsford
Boi Ngoc Luong
Sean Lupo
Nichole Lupo
Kristen Lusk
Vince Lusk
Filippo Lussana
Melissa Lussier
Rachael Lustan
April Luttrell
Traccie Lutz
Ruthann Lutz
Megan Lutze
Briana Luvisi
Tony Luzietti
Timofey Lychik
Mark Lydon
Sheree Lyerla
Michael Lyles
Celina Lyles
Heather Lyman
Karlee Lyman
Shauna Lynch
Annaleigh Lynch
Ashlie Lynch
Rebecca Lynch
Kelly Lynch
Ryan Lynch
Ari-Zhane Lynch
Laura Lynch
Jacob Lynch
Aaron Lynn
Erin Lynn
Josephine Lyon
Phillip Lyon
Keo Lyons
Raymond Lyons
Dillyn Lyons
Jeremy Lyons
Dayna Lyons
Samantha Lytle
Sarah Maara
Journey Mabalot
Andrew Mabe
Mary Nicole Dawn Mabitad
Morgan Mabry
Sabrina Macan
Annelise MacAulay
Briana Macbeth
Fred Macciocchi
Timothy Macclay
Hillary MacCready
Hannah MacCulloch
Sabrina MacDonald
Jenni-Ann MacDonald
Garrett MacDonald
Faith MacDonald
Lauren Macdonald
Abigail Macdonald
Kayla Mace
Page Macfarlan
Sara MacGaffey
Ryan MacGibbon
Jennifer Machado
Daniel Machado
Jorge Machado-Cruz
Kimberly Machiels
Alisha Machinsky
Robert Macias
Rachel Macias
Arlene Macias
Haille MacInnis
Rebecca Mack
Hayley Mack
Amanda Mack
James MacKay
William Mackay
Lindsey Mackey
Tayler Mackey
Halie Mackie
Connor MacLaughlin
Samuel MacLean
Kelly MacLean
Rebecca MacOmber
Albert Macomber
Amber Maddalena
Mark Maddon
Melissa Maddox
Shane Maddox
Benjamin Madeiras
Ryan Madera
Cierra Madison
Esele Madojemu
Jason Mador
Jill Madore
Abigail Madrigal
Claudia Madruga
Wendy Madsen
Terri Maehren
Juan Maestas
Ananda Magar
Donna Magdycz
Noelle Magee
Alyssa Magee
Richard Magill
Caitlyn Magliocco
Amy Magner
James Magner
Alexis Magnuson
Carlos Magriz
Gina Magro
Jackie Magrosky
Leigh Maguire
Jennifer Maguire
Megan Maguire
Kelly Maguire
Mary Colleen Maguire
Anna Maguire
Ashley Mahaffey
Erin Mahan
Kevin Mahaney
Atish Maharaj
Sara Mahn
Tara Mahn
Abigayle Mahnken
Brandon Mahogany
Ryan Mahon
Joanna Mahoney
Madison Mahoney
Payton Mahoney
Jiajie Mai
Kayleigh Maier
Olivia Maietta
Marissa Mailhot
Elizabeth Mailhot
Suzanne Mailhot
Taylor Maille
Christopher Main
Samuel Mainini
Francisca Mainoo
Kaitlyn Maiorana
Emily Maisonet
Nicholas Maitland
Zachary Maizel
Matthew Majchrzak
Joshua Major
Christopher Majors
Cameron Makara
Maxwell Makara
Kyle Makris
Corina Malagon
Sara Malak
William Malarich
Maximilian Malarkey
Arianna Malatesta
Aurora Malatich
Jay Malave
Emily Malave
Theresa Malcolm
Augusto Maldonado
Jodi Maldonado
Richard Maldonado Rodriguez
Maureen Malenchini
Jason Maleszewski
Sedin Malikic
Megan Malinowski
Alexis Malka
Abby Malkey
Kim Mallard
Kathryn Mallette
Lia Malley
Erin Malley
Maraya Malone
Rebecca Malone
Blake Malone
Terrence Maloney
Subashini Maloney
Dylan Maloney
Sheila Maloney
Laura Malonson
Lindsay Maloof
Matthew Maltba
Eduardo Mamut
Faith Mancil
Tionge Manda
Lillian Mandeville
Steven Mandras
Amanda Maness
Colin Mangan
Ryan Mangan
Heather Mangas
Micah Mangin
Ryan Mangino
Chloe Mango
Steven Manion
Ilona Manis
Virginia Rae Manley
Michael Manley
Emily Mann
Kayla Mann
Alex Mann
Andre Mann
Alexander Mann
Cameron Mann
Nicole Manning
Kristen Manning
Megan Manning
Natalia Manning
Rachel Mannion
Jenna Mannion
Rynne Mannion
Niall Mannion
Jodex Manradge
Rita Manser
Jeremy Mansfield
Joseph Mansfield
Nadeem Mansouri
Antonio Mantey
Evelyn Mantilla
Ashley Manucci
Briana Manuel
Paija Manzo
Carl Mapes
Shontel Maples
Paige Maples
Nathan Maples
Lindsay Maraglia
Linili Maramba
Maria Martina Marcaccio Gutierrez
Randy Marcelino
Ryan Marcengill
Lindsey March
Starla Marchant
Adam Marchant
Tiamarice Marchetti
Michael Marchetti
Jennifer Marchillo-Helmar
Taylor Marchman
Jason Marcil
Vanessa Marcolivio
Jessica Marcone
Ashley Marconi
Meredith Marczika
Aline Mardirossian
John Marendes
Lisann Maresco
Alexis Marfilius
Vernetta Mariello
Noureddine Marigh
Imari Marin
Alberto Marin Tlatelpa
Brad Marino
Brianna Marino
Laurel Mark
Ashley Mark
Jessica Mark-Anthony
Tracie Marker
Dylan Marker
Andre Markham
Sarah Markham
Jenna Markins
Tiffany Markos
Erin Marks
Justen Marks
Erica Markson
Justin Markuson
Jaymes Marler
Samantha Marley
Katie Marlin
Tina Marlnee
Carrie Marlow
Anthony Marmolejo
Eben Marneweck
Samantha Marone
Wellerson Marongio
Sharion Marotta
Kimberly Marotta
Sarah Marousek
Gabriella Marques
Thiago Marques Carneiro Ribeiro
Gleiciane Marques Dias da Silva
Kimberlyn Marquez
Kristy Marquez
Javier Marquez- Martinez
Brittany Marquis
Daniel Marquis
Jason Marr
Mercinda Marrero
Richard Marrero
Ryan Marrero
Felicia Marrero
Giovanni Isai Marroquin Ortiz
Gia Marrow
Gary Marrs
Aaron Marsh
Rachel Marsh
Kylie Marsh
Joseph Marsh
Olivia Marshall
Danielle Marshall
Tracy Marshall
Jennifer Marshall
Amber Marshall
Victoria Marshall
Gregorie Marshall
Connor Marshall
Jordan Marshall
Ashton Marshall
Crystal Marshello
Anthony Marston
Jenevieve Marston
Elizabeth Marston
Felicia Marte
Ellis Marte
Taylor Martel
Cassandra Martel
Melissa Martell
Ann Martell
Aesha Martell
Peter Martello
George Martin
Jamya Martin
Amber Martin
Shaeyne Martin
Elizabeth Martin
Isaiah Martin
Cara Martin
Tiffany Martin
Dominique Martin
Erin Martin
Kelly Martin
Arielle Martin
Tychicus Martin
Haley Martin
Blake Martin
Melissa Martin
Steven Martin
Kristin Martin
Trina Martin
Jennifer Martin
Sherry Martin
Germine Martin
Richard Martin
Jarrod Martin
Amanda Martin
Alyssa Martin
Benjamin Martin
Grace Martin
Zachary Martin
Kamri Martin
Renee Martin
Leanne Martin
Patrisha Martin
Rebecca Martin
Chelsea Martin
Ashley Martindale
William Martindale
Selisha Martineau
Vincent Martinelli
Elizabeth Martinez
Lily Martinez
Francisco Martinez
Samantha Martinez
Ricardo Martinez
Oskar Martinez
Roy Martinez
Caitlyn Martinez
Juan Martinez
Izhra Martinez
Stephanie Martinez
Jesse Martinez
Ventura Martinez
Erika Martinez
Gisselle Martinez
Elizabeth Martinez
Shara Martinez
Steven Martinez
Tiffiny Martinez
Kristal Martinez
Jairo Martinez
Elizabeth Martinez
Amy Martinez Denis
Gabrielle Martinez Sites
Thalia Martinez-Ortiz
Keishla Martinez-Soto
Batoul Martini
Amanda Martino
Gabrielle Martino
Zuzana Martins
Dave Martins
Evan Martins
Nicholas Martucci
Cody Marvin
Kimberly Marvin
Claire Marx
Tanisha Marx
Jason Marzan
Daneth Mascrier
Grace Mashaw
Madison Masi
Mmunga Masimango
Elisabeth Mason
Camille Mason
Colter Mason
Travis Mason
Tim Mason
Keri Mason
Laura Mason
Allison Mason
Luisa Mason
Siona Mason
Christie Massari
Dustin Massey
Sondra Massey
Savannah Massey
Tyler Mast
Aaron Masterson
John Mastrati
Nicholas Mastroeni
Jonathan Mastropoll
Lauren Masucci
Rebecca Mata
Paul Matachun
Johana Matamoros-Infante
Brianna Matekovich
Jessica Mathe
Geemon Mathen
Joshua Matheny
Alfonzo Mather
Caitlyn Mathes
Amy Matheson
Jitin Mathew
Collins Mathews
Nathan Mathews
Kasandra Mathews
Rinaldo Mathews
Nicholas Mathews
Sarah Mathews
Coralie Mathieu
Jorden Mathieu
Maria Mathieu
Elizabeth Mathis
Cheyenne Mathison
Lydia Mathson
Valerie Mathys
Ludwin Matias
Christopher Matney
Jordan Matsumoto
Madison Matsushima
Anastasia Matthews
Tiffany Matthews
Wesley Matthews
Randy Matthews
Emily Matthews
Kelly Matthews
Hannah Matthews
Amber Mattingly
Abigail Mattingly
Kendall Mattix
Kaylee Mattix
Renee Matton
Lori Mattox
Lindsay Mattson
Jennifer Matushak
Kyle Matuszewicz
Jinna Matzen
Victoria Mauch
Brandon Maulbetsch
Jennifer Maurer
John Maurer
Ashley Mauro
Thomas Mawdsley
Lydia Mawejje
Brian Mawhinney
Jill Maxcy
Debra Maxey
David Maxim
Hannah Maxon
Cassandra Maxwell
Victoria Maxwell
Contina May
Kateland May
Rachana May
Devin Mayes
Travis Mayes
Gary Mayes
Scott Mayfield
Emmy Mayhew
Sadie Mayhew
Jamie Maynard
Arthur Maynard
Justin Mayne
Hallie Mayo
Katelyn Mayo
Benjamin Mayo
Sean Mayo
Richard Mayor
Lindsey Mayorga
Yvonne Mayorga
Carly Mayou
Siobhan Mayrant
Jessica Mays
Megan Mays
Nailah Mays
Ian Mays
Emily Mazza
Lawrence Mazza
Pauly Mazzacaro
Edward Mazzei
Lauren Mazzola
Theresa Mazzuco
Baldwin Mbangwana
Stanislas Mbengue
Bauclair Mbouadeu
Tina MC Laughlin
Sherry McAdoo
Shelly McAdoo
Melanie McAllister
Sara McAloon
Laura McAroy
Ethan McAtee
Reanna Mcateer
Kathleen McAuliffe
Rania Mcbain
Maigyn McBeth
Michael McBreen
Colin McBride
Miranda McBride
Michelle Mcburney
karlie Mccabe
Samantha McCabe
Kyle McCaleb
Bevelyn McCall
Amanda McCallar
Madeleine McCallum
Elizabeth McCallum
Colleen McCann
Elissah McCann
Joshua Mccardle
Lynn McCargar
Dylan McCart
Cody McCarter
Courtney McCarthy
Krisy McCarthy
Lauren McCarthy
Matthew McCarthy
Olivia McCarthy
Alyssa McCarthy
Katelyn McCarthy
Kylie McCarthy
Brian McCarthy
Tempera McCartney
Jacqueline McCarty
Lawrence McCarty
Anthony McCarty
Christopher McCaul
Christa McCauley
Chelsea McCaw
Kristen McClain
Raynell McClellan
Rachel McClellan
Michael McClelland
Savanah McClemons
Thomas McClinchy
Quest McClure
Kathleen McCluskey
Jennifer Mccluskey
Jessica McCoin
Benjamin McColister
Kayla McColley
Matthew McCollin
Dane McCollum
Jason McComb
Evan McCombs
John McComiskey
Jared McConnell
Lori McConnell
Lisa McConnell
Kurtis McConnell
Nevada McCormack
Bryan McCormick
Michael McCormick
Haley McCormick
Jamie Mccormick
Sterling McCormick
Latanya McCormick
Peter McCormick
Steven McCorry
Candice Mccoy
Mitchal McCoy
Larry McCoy
Micah McCoy
Noel Mccoy
Kathryn McCoy
Jerrilynne McCoy
Chyann McCoy
Susan McCracken
Melissa McCray
Tricia McCrory
Carla Mccrory
Erik McCue
Wilbur McCullars
Kayla McCulley
Rachel McCulloch
Patrick McCulloch
Christine McCullough
Ashley McCullough
Kourtney McCullough
Alex McCullough
Geoffrey McCullough
Lashauna McCullough-Hightower
Rachel McCully
Jessie McCurley
Loren McCutcheon
Bradley McDade
Zachary Mcdanel
Maureen McDaniel
Jamal McDaniel
diann McDaniel
Julia McDaniels
Jessica McDaniels
Ashley McDermott
Jacquelyne McDermott
Karen McDermott
Randy McDermott
Taylor McDermott
Riley McDermott
John McDevitt
Joseph McDonagh
Domenique MCDONALD
Amy McDonald
Lindsey McDonald
Lizbet McDonald
Megan McDonald
Jessica McDonald
Samantha McDonnell
Colleen McDonnell
Jenna McDonough
Brendan McDonough
Damali McDowell
Michael McDowell
Michele McDuell
Keegan McDuffey
Kyle McEathron
Amber McElyea
Caleb McElyea
Andrea McEvoy
Ashley McEwan
Jessica McEwen
Bridget McFadden
Allen McFarland
Ryan McFarland
Gregory McFarland
Sean McFarland
Jordyn McFarlane
Elizabeth McGarry
Malisa McGary
Marc McGeever
Taylor McGhan
Meagan McGiffin
Melissa McGill
Katherine McGill
Paula McGill
Tristam Mcginty
Douglas McGlothlin
Mason McGonagle
Justin McGourty
Daniel McGovern
Mark McGowan
Karen Mcgowan
Savanah McGowen
Corey Mcgrain
Michael McGrath
Margaret McGuinness
Brendan McGuire
Sean McGuire
Haley McGuire
Kaleigh McHenry
Kellie McHugh
Luke McHugh
Jennifer McIlwain
Liam McInnis
Alexander McIntosh
Megan McIntosh
Jasmari McIntosh
Tanice Mcintosh
Dylan McIntyre
Katelyn McIntyre
Timothy McIntyre
Nicole McKay
Noah McKearney
Jason McKearney
Leine McKechnie
Kaelen McKenna
Topacio McKenna
Barbara McKenney
Kaleigh McKenzie
Ronald McKenzie
Kayla Mckenzie
Nikita Mckenzie
Joshua McKenzie
Vicki McKenzie
Devin McKeone
Shauna McKie
Kevin McKiernan
Quadren McKind
Richard McKinley
Courtney McKinney
Rebecca Mckinney
Alison McKinney
Tonya McKinney
Christopher McKinney
Jessica McKinnon
April McKnight
Theresa McKnight
Daniel McKnight
Casim McKnight
Ashley McLain
Kevin McLane
Timothy McLaughlin
Zachary Mclaurin
Brittany McLaurin
Patrick McLean
Jennifer McLeland
Elizabeth McLellan
Ruby McLellan
Morgan Mclemore
JoAnn McLeod
Alicia McMackin
Sarah McMahon
Allyssa McMahon
Michael McMahon
Jacob McMahon
Madison McMahon
Traci McManus
Lisa McManus
Rebecca McMellon
Molly McMillan
Christian McMiller
Erik McMullen
Juanita McMullen-Wells
Katie McMurtrey
David McNair
Billie McNamara
Sean McNamara
Mercedes McNamara
Andrew McNary
James McNeil
Chanel McNeil
Taylor McNeil
Kathryn McNeil
Roxanna McNeilan
Brittany McNeill
Jacqueline McNeill
Joshua McNicol
Katie McNulty
Erin McNulty
Jennifer McPeek
Kelsey McPhail
Joshua Mcpherson
Andrew McPherson
Kelly McQuaid
Rick McQueen
Sandra McQuillan-Dodd
Brittany McSparran
Kristi McSwain
Devon McVay
Leila McVeigh
Cameron McWain
Camron McWilliams
Eric Meade
Irene Meader
Milady Meadows
Stephanie Meadows
Emily Meads
Eric Meady
Emily Mealer
James Meddings
Tania Medeiros
Ashlee Medeiros
Elvina Medeiros
Allison Medeiros
Makayla Medina
Emerson Medina
Jean-Marie Medina
Michael Medina
Miguel Medina
Helder Medina
Christopher Medina
Xiomara Medina
Yessenia Medina
Javier Medina-Ortiz
Erin Meding
Riley Meditz
Kent Medlin
Shakira Medlock
Jason Medlock
Daniel Medrano
Sixto Medrano
Ron Medrano
James Medrano
Kylee Meecham
Jacob Meedzan
Heather Meehan
Jenna Meek
Anthony Meeks
Tessa Megling
Christopher Meharg
Dawson Meidel
Ari Meier
Emma Meier
Elizabeth Meiklejohn
Teresa Mejia
Marissa Melem
Sonyia Melendez
Tabatha Melendez
Nellys Melendez
Jarred Melendez
Noah Melker
Elizabeth Mellen
William Mello
Andrew Melms
Alexandra Melo
Patrick Melo
Karen Melott
Nataya Melton
Rhondda Melton
Barbara Melton
Dakota Melvin
Sarah Melvin
Katherine Memic
Douglas Menard
Emilie Mencer
Yanitza Mendez
Amanda Mendillo
Shane Mendiola
Noloni Mendola
Taylor Mendonca
Mario Mendoza
Yvette Mendoza
Sonya Mendoza
Angel Mendoza
Zyrus Mendoza
Tarin Mendoza
Teddi Mendoza
Sylvia Mendoza
William Mendoza
Erik Mennen
Sherry Meno
Ryan Menter
Ashley Mentnech
Michael Mento
Rachel Menton
Amberly Mentz
Alina Mercado
Andrew Mercado
Angel Mercado
Miguel Mercado Santiago
Jowan Merced Rivera
Cindy Mercedes
Isaac Mercer
Samuelle Mercer
Kenneth Mercer
Emma Merchant
Shannon Mercier
Anthony Mercurio
Morgan Meredith
Rachael Meredith
Audra Mergl
Prematie Merhai
Rosa Merino
Amairany Merino Ramos
Sophonie Merisnor
Lily Merriam
Reineta Merrick
Troy Merrill
Danielle Merrill
Brenna Merrins
Nicholas Merritt
Celeste Merritt
Alison Merten
Hannah Meschick
Robert Meshna
Alysha Mesojednik
Nichole Messam
Amy Messaros
Tina Messenger
Kali Messick
Joseph Messier
Heather Messinger
Jack Messinger
Emilie Methot
Heidi Metts
Trena Metzger
Laura Metzger
Alexus Metzler
Victoria Meuse
Kerry Meuse
Mark Meyer
Cory Meyer
Michael Meyer
Nicolette Meyer
Cathi Meyer
Jessica Meyer
Tania Meyer
Michael Meyer
Latasha Meyer
Garrett Meyers
Gary Meyers
Brady Meyers
Annemarie Miceli
Ashleigh Michael
Kassidy Michael
Kelly Michael
Morgan Michalak
Whitney Michalski
Angela Michaud
Jennifer Michaud
Cameron Michaud
Joshua Michaud
Stacy Michel
Anna Micucci
Michael Micucci
Timothy Middick
Miah Middlebrook
Kaitlyn Middlebrooks
Kierstyn Middler
Giovanni Migliazza
Kiara Mignone
Jesse Miguel
Sue Mihalovic
Caroline Mikes
Jan Mikhalek
Kristi Mikle
Paul Mikshenas
Sandra Milano
Deidre Milano
Joseph Miles
William Miles
Robert Miles
Merrill Miles
Laura Miles
Annah Miles
Lauren Miles
John Miley
Caleb Millan
Michele Millard
Catheryn Miller
Keaton Miller
Ruth Miller
Stacey Miller
Christopher Miller
Kirk Miller
James Miller
Samantha Miller
Leah Miller
Tayler Miller
McKenna Miller
Colin Miller
Nathan Miller
Melodie Miller
Peyton Miller
Nicholas Miller
Nichole Miller
Michael Miller
Patricia-Ann Miller
Jeremiah Miller
Fred Miller
David Miller
Jessica Miller
Tanisha Miller
Jacolbe Miller
Erin Miller
Riley Miller
Lisa Miller
Shari Miller
Destiny Miller
Meganne Miller
Erin Miller
Kara Miller
Ciera Miller
Shanna Miller
Gerald Miller
Michael Miller
Kelly Miller
Michael Miller
Joseph Miller
Carla Miller
Colt Miller
Kenneth Miller
Robyn Miller
Carrie Miller
Roxanne Miller
Sara Miller
McKenna Miller
Justin Miller
Michaiah Miller
Diaminique Miller-Watson
Jessica Milligan
Patrick Milligan
Taylor Milliken
Corey Milliman
Nathaniel Millina
Quincy Milloy
Laura Mills
Michael Mills
Jonathan Mills
Darlene Mills
Melissa Mills
Ryan Mills
Ester Mills
Raven Mills
Anthony Mills
Shelly Millsap
Baxter Millsap
Kristopher Millsaps
Mark Millwood
John Miloro
Khalia Milton
Donald Milton
Floraine Mincey
Sarah Miner
Brayden Miner
Michael Miner
Matthew Minigell
Ulugbek Miniyarov
Skatt Minkler
Antique Minnix
Lisa Minott
Justin Minton
Feliecha Minton
Asma Mir
Justine Miranda
Mariama Miranda
Benjamin Mireku
Christopher Mirigian
Dominic Miritello
Michelle Mirowski
Brittany Misher
Robert Misiag
Margaret Mistretta
Jessica Mitchell
Devonta Mitchell
David Mitchell
Craig Mitchell
Shellion Mitchell
Michael Mitchell
Brittany Mitchell
Payton Mitchell
Kaitlyn Mitchell
Aurelia Mitchell
Ashley Mitchell
Jonathan Mitchell
Emma Mitchell
Emily Mitchell
Heather Mitchell
Mariah Mitchell
Caitlin Mitchell
Corie Mitchell
Rasheda Mitchell
Alisha Mitchell
Lisa Mitchell
Ryan Mitchell
Dru Mitchell
Jonathan Mitchell
Janelle Mitchell
Kaytlen Mitchem
Anthony Mitrovits
Lori Mizell
Emiko Mizelle
Paige Mizener
Emily Moales
Amanda Mobley
Sarah Mobley
Wanda Mock
Amanda Mockbee
Madison Mockler
Taylor Modory
Tau Moe
Zahara Mohamed
Neisha Mohammed
Jannik Mohr
Ammar Bin Mohsen
Miriam Moise
Andrea Moix
Ally Molchan
Aasim Moledina
Melissa Molettieri
Katty Molina
Lisa Molina
Joseph Molina
Mariela Molina Santiago
Kevin Moll
Celeste Molle
Jake Molloy
Stephen Molloy
Gretchen Molyneaux
Benjamin Molyneux
Amanda Mom
Amanda Moncrief
Abigail Monday
Joseph Mondor
Nicholas Mone
Adrienne Monestere
Moise Monestime
Linda Money
Kayleigh Monis
Jamie Moniz
Amanda Moniz
Erin Monoceros
Maleka Monono
Clinton Monroe
Rebecca Monroe
Derrian Monroe
Daeja Monros
Blanca Montague
Trevor Montague
Debra Montalto
Lurismar Montalvo
Walter Montalvo
Austin Montalvo
Shantan Montalvo-Feliciano
Adrianna Montana
Nicholas Montanaro
Jennifer Montano
Krystina Montefusco
Jessica Montella
Alissa Monterusso
Paige Montes
Leticia Montes
Erin Montez
Justin Montgomery
Amber Montgomery
Lauren Montgomery
Krystal Montgomery
Bowdoin Montgomery
Mary Montgomery
Christaphor Montigny
Kaylee Montminy
Brian Montminy
Andrew Montoya
Dakoda Montoya
Ricky Montoya
Jennifer Moody
Bridget Moody
Deborah Moomjian
Charlene Moon
Kierstin Mooney
Erika Moore
Thomas Moore
Sarah Moore
Tusheena Moore
Michele Moore
Paula Moore
Jonathan Moore
Sierra Moore
Shelby Moore
Tatum Moore
Derek Moore
Lauren Moore
Kathryn Moore
Candyce Moore
Everlyn Moore
David Moore
Corey Moore
Elizabeth Moore
Rafael Moore
Alexis Moore
Autumn Moore
Carissa Moore
Bronshae Moore
Jennifer Moore
Patric Moore
Nicole Moore
Latavia Moore
Laura Moore
Greta Moore
Janette Moore
Kassondrah Moore
Jason Moore
Jessica Moore
Dillon Moore
Hailey Moore
Katie Moore
Joshua Moore
Tammy Moorehead
Marceus Moorer
Marisa Moorhouse
Mark Moorman
Cameron Moquin
Gabriel Mora
Makayla Mora
Rebecca Morais
Daniel Morales
Noah Morales
Matthew Morales
Jose Morales
Danielle Morales
Minnuet Morales
Natalie Morales
Joseph Morales
Courtney Morales
DeAnna Morales
Alyssa Morales
Isabel Morales
Sarahi Morales-leiva
Kelsey Moran
Noah Moran
Christopher Moran
Karissa Moran
Austin Moran
Dennis Moran
Cynthia Moran
Donovin Moran
Lauren Moran
Katherine Mora-Roman
Vincent Moravec
Matthew Moreau
Danielle Moreau
Samuel Moreau
Dakota Morehouse
Melissa Moreland
Daniel Morelos
Diana Laura Moreno
Sydney Moreno
Alondra Moreno
Quiana Moreno
Jorge Moreno
Jonathan Moreno
Jenna Moretto
Daynner Morfa
Avery Morgan
Sherry Morgan
Brazille Morgan
Christopher Morgan
Hilary Morgan
Rebecca Morgan
Cymber Morgan
Daisy Morgan
Sean Morgan
Michelle Morgan
Thomas Morgan
Carrie Morgan
Miranda Morgan
Charles Morgan
Robin Morgan
Daniel Morgan
Mikaela Morgan
Robert Morgenweck
Amber Moriarty
Erin Moriggi
Maria Morin
Colby Morin
Mason Morin
Jasmin Morin
Mindi Morishita
Katherine Moritz
Julie Morley
Meaghan Moro
Joseph Morreale
Amanda Morris
Gjilane Morris
Christopher Morris
Michael Morris
Joan Morris
Kyle Morris
Siobhan Morris
Michael Morris
Joshua Morris
Patience Morris
Christopher Morris
Christopher Morris
Tayla Morris
Alexander Morris
Darren Morris
Cassandra Morris
Kellan Morris
Dylan Morrison
Jared Morrison
Andrew Morrison
Joe Morrison
Melissa Morrison
Mignon Morrison
Christopher Morrison
Graham Morrison-Plumley
Nikkole Morrissette
Shannon Morrissette
Kyle Morrissey
Kathryn Morrow
Nicole Morrow
Chelsey Morrow
Derrick Morsaw
Amanda Morse
Makayla Morse
Makenzie Morse
Ellen Mortellaro
Julia Mortensen
Ivan Morteo
Dennis Morter
Craig Morton
Jackie Morton
Ashley Morway
Juan Paolo Mosca
Kristina Moscoloni
Monica Moseman
Makia Moses
Joseph Moses
Kiersten Moses
Daphne Moses
Brandon Moses
Melissa Mosher
Brian Moskow
Joseph Moskowitz
Corey Mosley
Joshua Moss
Riley Moss
Dominique Mota
Tatsuki Motoyoshi
Cesar Motta
Elijah Moubray
Logan Moulton
Jet Moulton
Donald Mowrey
Michael Moy
Acacia Moyer
Julia Moysey
Allyson Mrozek
Scott Mrsny
Erin Mshar
Karen Mudd
Christopher Mudd
Jake Mudrick
Katrina Mueller
Kellie Mueller
Nicholas Mugica
Makia Muhammad-Haywood
Saidshakhrom Mukhamedov
Luke Mulder
Michael Mulhern
Char Mullaney
Ashley Mullen
Cynthia Mullen
Luke Mullen
Karlee Mullen
Blair Mullen
Amber Mullen
Samantha Mullenax
Skylar Muller
Amy Muller
Amanda Muller
Samantha Mulligan
Samantha Mulligan
Grace Mullinax
Cameron Mullins
Ashley Mullins
Aileen Mulry
Nicole Mummey
Brittnee Muncey
Neil Mund
Matthew Mundell
Daniel Munford
Yesenia Munguia
Erica Muniz
Laken Munn
Grant Munn
Alexander Munney
Mary Munoz
Alexy Munoz
Kaitlyn Munroe
Austin Munroe
Daniel Munson
Rebecca Munster
Kathryn Murakami
Irvin Muratovic
Mariana Murby
Krista Murdock
Mae Murdock
Brent Murdough
Jenny Murillo
Gino Murin
Jessica Muro
Ian Murphey
Sean Murphy
Shannon Murphy
Kylie Murphy
Kevin Murphy
Danielle Murphy
Stephen Murphy
Melvin Murphy
Meagan Murphy
Aidan Murphy
Sile Murphy
Jillian Murphy
Ashley Murphy
Mary Murphy
Kelly Murphy
Ashley Murphy
Faith Murphy
Scott Murphy
Tiffany Murphy
Kristina Murphy
Nastasha Murphy
Alexis Murphy
Payton Murr
Peter Murr
Chelsea Murray
Emily Murray
Christopher Murray
Christina Murray
Nicholas Murray
Jacquelyn Murray
Kalib Murthy
Keenan Mushow
Christopher Music
Ann Music
Kenneth Musick
Carlos Musquiz
Brendan Musselman
Mary Musser
Sheryl Mustain
Devyn Mustard
Renaldo Musto
Christian Mutong
Nicole Mutter
William Mwisaka
Kasey Myers
Arlene Myers
Mayla Myers
Wendy Myers
Colter Myers
Kenyon Myers
Amy Myers
Madison Myers
Matthew Myers
Corey Myers
Hannah Myers
Ryan Myers
Sarah Myhre
Charrie Myles
Olivia Mynahan
Tyler Mynatt
Brooke Naatz
Alexander Naber
Bernadette Nachand
Jaelyn Nadeau
Justin Nadeau
Kyle Nadeau
Bekim Nadzaku
Husnain Naeem
Christina Nafe
Christian Nagel
Shelby Nagy
Maureen Nagy
Nehanth Naidu
Dinu Nair
Natalie Najavian
Veronica Najera
Kaitlyn Nakamoto
James Nakamoto
Kesia Nakayassu
Adrineh Nalbandian
Jeremy Nale
Anastasia Nalezinski
Shiann Nalley
Nzaih Namuene
Carlton Nance
Beverly Nanney
Dustin Napier
Randall Napier
Teresa Napier
Shawnae Naples
Ricardo Nappier
Rebecca Naser
Courtney Nash
Mia Nash
Zoey Nash-Boucher
Elaine Nassar
Frank Nata
Sharadamani Nataraj
Angela Nater
Jay Nath
Brenden Nault
David Nava
Lisa Navarrete
Candice Navarrette
Anthony Navarro
Sarah Navarro
Maria Navarro Leon
Laurene Navet
Lauren Nay
Ariel Naylor
Mario Nazzaro
George Ndegwah
Mouhamed Ndiaye
Courtney Neal
Wendy Neal
Robert Neal
Matthew Neale
Todd Neall
Gabrielle Neary-Orne
Eimi Nebrejo
Jennifer Necaise
Alex Nechvatal
Cintia Nedelcu
Erislaine Neder
Dahlia Need
Megan Needham
Madeline Neel
Bradley Neel
Garrin Neelly
Maya Neely
Michael Neely
Tommy Neet
Michael Neff
Cynthia Negrete
Raegina Negrete
Delaila Negron
Eric Neiderman
Stephanie Neil
Jason Neil
Kristin Neil
Sarah Neill
Alex Neill
Brandon Neilson
Andrew Neilson
Alexander Neitzke
Brandy Nelson
Jazmine Nelson
Jaclyn Nelson
Brittany Nelson
Sandra Nelson
Alexandria Nelson
Legend Nelson
Michael Nelson
Madeline Nelson
Brionie Nelson
Craig Nelson
Briana Nelson
Kimberly Nelson
Paige Nelson
Autumn Nelson
Hannah Nelson
Heather Nelson Lane
Natasha Nelson-Roberts
Jayde Nelson-Sapp
Patrick Nelson-Steltz
Hayley Nepean
Alex Nerio
Alexios Nersessian
Charles Nesbit
Kathryn Nesbitt
Corin Nestlerode
Robert Nestor
Joshua Nestor
Amanda Nethery
Kasady Nettles
Nicole Neubarth
Monica Neubauer
Julie Neumann
Itzairis Nevado
Stasia Nevarez
Cheryl Neveau
Zachary Nevells
Tasha Newbert
Madison Newcomb
Elorha Newcomb
Abigail Newcombe
Shante Newkirk
Nicholas Newlin
Amy Newman
Chad Newman
Shelly Newman
Ashlee Newman
Melissa Newman
Megan Newsom
Karie-Ann Newsome
Tammy Newsome
Alex Ng
Mary Ngaruiya
Elway Ngiraboi
Matthew Ngov
Alexis Nguitte-Kebongo
Hong Nhung Nguyen
Yen Phuong Vy Nguyen
Dennis Nguyen
Kevin Nguyen
Rebecca Nguyen
Evan Nguyen
Dang Khoi Nguyen
Huy Nguyen
Linda Nguyen
Zhou Ni
Bigue Niang-Konte
Katy Nicholas
Maxwell Nichols
Chelsea Nichols
Nicole Nichols
Brandon Nichols
Shannon Nichols
Jeremy Nichols
Stefanie Nichols
Tracy Nichols
Adam Nichols
Carlina Nicholson
Maxwell Nicholson
Amy Nickelsen
Eric Nickerson
Shannon Nicklas
Kristyn Nickola
Gina Nickols
Jacob Nicolaus
Adam Nicolay
Cora Nicoll
Martin Niedziejko
Briana Nieke-Gould
Christopher Nieland
Breanna Nienhaus
Patricia Nies
Luis Nieto Benitez
Marissa Nieves
Jackie Nieves
Emmanuel Nieves
Frankie Nieves
Jaylene Nieves
Ann Niklewski
Artem Nikolayenko
Austin Nikonchuk
Derek Nill
Gina Nilsen
Elizabeth Nimerofsky
Robert Nimmo
Charles Nims
Mariah Ninefeldt
Saugat Niroula
Megumi Nishimori
Ayako Nishimura
Maurice Nix
Rebecca Nixon
James Nixon
Samantha Nizer
Ajimary Njie
Mae Nkanang
Kristie Noble
Staci Noble
Brian Noble
Kayla Noble
Carmen Noe
Ciarra Noel
John Noel
Melinda Noel
Emily Noel
Rachael Noel
Kaleem Noel
Christian Noel
Scott Noggle
Alec Nolan
Janna Nolan
Chelsea Nolan
Elvis Nolasco
Hailey Nolette
Ryan Nolin
Kelly Noller
Zoe Nonweiler
Andrew Noonan
Tajuddin Noorani
Hasibullah Noori
Tiffany Nopper
Anna Nordlum
Zack Norige
Jason Norris
Stephanie Norris
Ryan Norris
Pamela Northern-Eley
Grant Northey
James Northup
Luke Norton
Anna Norton
Ashley Norton
Melissa Norton
Joshua Norton
Taylor Norton
Mairebridget Norton
Kotryna Norutyte
Jessica Norwood
Sarah Nostrand
Cody Nothaus
Matthew Novaco
Jennifer Nowlan
Jamie Nowland
Caitlyn Nowlin
Mana Nozad
Ashlyn Nuchols
Ashley Nudd
Morgan Nugent
Joseph Nunez
Thalia Nunez
Stephanie Nunez
Silvia Nunez
Vanessa Nunez
Taylor Nurmi
Ronald Nurse
Joshua Nuzzo
Jacob Nuzzolo
Adaobieze Nwankwo
Rhys Nyanfor
Shelly Nyanfor
Joshua Nye
Krystalyn Nygard
Matthew Nylund
Breanne Nystrom
Emmanuel Nzeh
Michelle Oakey
Corey Oakley
Oluwatimilehin Obalade
Gilberthe Obas
Emilie O'Beirne
Shelby Oberdorf
Joeseph Oberle
Olivia Oberlin
Kyle Obolsky
Cassandra O'Boyle
Micah Obregon
Edward O'Brien
Shamus O'Brien
Morgan O'Brien
Kelly O'Brien
Eric O'Brien
Timothy O'Brien
Averi O'Brien
Angela O'Brien
Kristie O'Brien
Carrie O'Bryan
Isaac Obutey
Lesly Ocampo Rubio
Veronica Ochoa
Holly Ochoa
Cassie O'Clair
Kevin O'Connell
Molly O'Connell
Jessica O'Connell
Tanya O'Connell
Timothy O'Connell
Matthew O'Connell
Meghan OConnor
Katie OConnor
Nicholas O'Connor
Hayleigh O'Connor
Caitlin O'Connor
Jack O'Connor
Lidet O'Connor
Brenda O'Connor
James O'Daniel
Colleen Odden
Jordan O'Dell
Shania O'Dell
Matthew Odenwald
Alexandra O'Donnell
Lindsey O'Donnell
Colleen O'Donnell
Melissa O'Donovan
Erica Oehlerich
Jennie Oestreich
Kerrian Offermann
Brianna Offutt
Andrew Ogburn
Jenna Ogden
Catalena Ogden
Baylee Ogle
Michael Oglesby
Robert O'Hanley
Reilly O'Hearn
Mary O'Hearn
Delainy Ohern
Shavel Ohia
Olachi Ohiaeri
Samantha Ohlemacher
Alisia Ohm
Arron Ohnemus
Tolayuth Ok
Kenneth Okani
Steven O'Keefe
Laura Okell
Will Okojie
Christian Okorie
Peter Okorn
Oyebolanle Olaluwoye
Astrid Olan Rodriguez
Austin Olden
Nancy Oldfield
Brent Olds
Lydia Olds
Jonathan Oleary
Caitlin O'Leary
Darren O'Leary
Ellen O'Leary
Danny Olf
Oneka Olin
Matthew Oliphant
Claciann Oliva
Odilia Olivares-Alfaro
Luis Olivas
Anthony Olivas
Matthew Olive
Dominic Oliver
Barbara Oliver
Aaron Oliver
Kira Oliver- bayliss
Andrej Oljaca
Mary Ollar
Haylee Olms
Kristy Olney
Hunter Olofson
Kate OLoughlin
Shaun O'Loughlin
Gigi Olsen
Brady Olsen
Samuel Olsen
Leslie Olsen
Matthew Olson
Taylor Olson
Abby Olson
Samantha Olson
Heidi Olson
Michelle Olson
Alison Olson
Shawnna Olstad
Adekemi Olufemi
Tabitha Olvey
Jessica O'Malley
Briana O'Malley
Emily O'Mara
Gwendolyn Omnes
Hiedi O'Neal
Nicholas O'Neal
Sabryna O'Neal
Sean O'Neill
Cormac O'Neill
Meghan O'Neill
Nicole O'Neill
Kerrin O'Neill
Kristin Oneto
Matthew Opbroek
Sarah Oppelaar
Alan Oram
Jack Oram
Emily Orciuch
Daniel Orcutt
Rylee O'Regan
Suzette Orelien
Gaudencia Orenge
Samantha Orengo
Jordan Orlandi
Natalie Orlando
Kaitlin Orlando
Lina Orlando
Lauren Orlowski
Tania Ormsby
Jessica Orne
Julia Ornelas-Glowacz
Miguel Ornelas-Morales
Sierra O'Rourke
Kaitlyn O'Rourke
Yesenia Orozco
Rose Marie Orozco
Maria Orozco-Munoz
Kate Orr
Erica Orr
Crystal Orrison
Stuart Orr-Reek
Jordan Orsborn
Arianna Orso
Edgar Ortega
Diana Ortega
Minerva Ortega Ramirez
Kristi Ortiz
Pedro Ortiz
Joshua Ortiz
Jennifer Ortiz
Robin Ortiz
Jose Ortiz
Adalia Ortiz
Aaliyah Ortiz
Nicolas Ortiz
Kayra Ortiz
Delaney Ortiz
Jennifer Ortiz
Margaret Ortiz
Joseph Ortiz
Linda Ortiz
Bruce Ortiz
Miguel Ortiz Paonessa
Alexandra Ortolaza
Carly Orton
Michael Ortu
Robin Orzo
Samantha Osborn
Amanda Osborne
Dylan Osborne
Roma Osborne
Ian Osborne
Diana O'Shaughnessy
Tia Oshel
Christopher Oski
Christopher Osmus
Britny Osnes
Alexandra Osolinski
Evelyn Osondu
Megan Ossenfort
Journi Ostergren
Matthew Osterman
Dylan O'Sullivan
Cristian Osuna Escalante
Brittanie Oswald
Eunjee Otake
Daniel Otero
Estrellita Otero
Ivette Otero
Juan Otero
Christopher Otten
April Otwell
Richard Otwell
Julia Otwell
Kristina Oubre
Sharon Ouellette
Cory Ouellette
Paige Ouellette
Angela Outlaw
Corey Outten
Johnathan Ouwerkerk
Kristina Owen
Bruce Owens
Alyssa Owens
Joshua Owens
Ainsley Owens
Tyler Owens
Christopher Owens
James Owens
Christopher Owens
Dakota Owens
Tiwatha Owens
Aaliyah Owens
Miranda Owens
Emily Owens
David Owens-Branco
Serenity Owsley
Crystal Owusu
Solomon Owusu
Stephen Oxaal
Lynda Oxner
Samantha Oyer
Emily Oyler
Desiree Ozah
Alisha Ozehoski
Anthony Pace
Danielle Pacheco
Edward Pacheco
Gina Paciotti
Taylor Packer
Alaina Padden
Giglia Padilla
Ahana Padubidri
Brittany Page
Nichole Page
Sarah Page
Verles Page
Wesley Page
Justin Pago
Ethan Paige
Jessica Paige
Noah Paige
Emmanuel Paige
Molly Paige
Anthony Paige
Chelsea Paige
Rachel Painter
Cody Painter
Matthew Paisley
Heather Pajak
Jennifer Pajak
Sladic Pajazetovic
Jennifer Palik
Robin Pallies
Jesus Palma
Joseph Palmer
Leslie Palmer
Taquasha Palmer
Kasey Palmer
Trevor Palmer
Marc Palmer
Joni Palmer
Blair Palmerlee
Kristina Palmiero
Kevin Palmquist
Christina Palozzolo
Alexander Pan
Curtis Panfil
Brianna Pangelinan
Daniel Panicucci
Danielle Pansera
James Pantemis
Kelsie Pappalardo
Elizabeth Pappas
Stacy Pappas
Kaylyn Paquette
Amy Paquette
Tanner Paquette
Amanda Paquette
Ann Paquin
Quinton Paquin
Chris Paquin
Stefanie Paradis
Trevor Paraiso
Melinda Pare
Lauren Parent
Emily Parenteau
Danielle Parham
Jayda Parham
Matthew Paris
Steven Paris
Stacy Parisella
Justin Parish
Mariah Parison
Emily Parker
Lindsay Parker
Valerie Parker
Tracie Parker
Tara Parker
Darren Parker
Ursula Parker
Jill Parker
Meredith Parker
Susan Parker
Tatianna Parker
Victoria Parker
William Parker
Tiffany Parker
Rory Parker
James Parker
Sarah Parker
Melissa Parkes
Halaina Parkinson
James Parks
Hannah Parks
Nayarid Parks
Sara Parks
Jamie Parks
Jason Parks
Ryan Parks
Keaton Parks
Weston Parks-Smith
Clarence Parler
Jessie Paron
Santiago Parra
Erin Parra
Isabel Parrack
Shelley Parris
Joseph Parrish
Amanda Parrish
Theodore Parrish
Maya Parry
Jessalyn Parsell
Kelly Parshley
Michael Parson
Sarah Parsons
Allison Parsons
Travarez Parsons-Gorden
Morriss Partee
Carolyn Particelli
Andrew Parvese
Durango Pasch
Ana Pascual
Judith Paskie
Cassandra Pasley
MacKenzie Pasos
Christopher Pasqua
Paula Pasquinelli
Kayse Passerini
Gautam Passey
Christopher Passwaters
Lauren Paster
Julius Paster
Demetria Patalano
Olivia Patch
Teresa Pate
Naresh Patel
Bhumi Patel
Manish Patel
Vyom Patel
Soham Patel
Krishna Patel
Raj Patel
Mihir Patel
Angel Pathoummahong
Brennan Patin
Veronica Patino
Rebecca Patlan
Neelima Patnaik
Cynthia Patricio
Jessica Patrick
Ella Patrick
Angela Patruno
Amy Patterson
Samantha Patterson
Allyson Patterson
Taylor Patterson
Alexandra Patterson
Amy Patterson
Brandon Patterson
Mikayla Patterson
Jennifer Patterson
Katrina Patterson
Michael Patti
Rachael Patton
Sherelle Patton
Rebekah Patton
Lyndsey Patton
Dale Patton
Stephen Patton
Angela Patton
Mark Paugh
Alyssa Paul
Angelia Paul
Jessica Paul
Bianca Paul
Timothy Paul
Courtney Paul
Joshua Paulette
Marie Pauleus
Kiara Paulino
Rickanya Paulissaint
Curtis Paulk
Nick Paulsen
Carolyn Paulson
Brandon Paulus
Samantha Pausma
Melissa Pavao
David Pavlos
Melissa Pawless
Monika Pawlowska
Matthew Paxton
William Paxton
Kristy Paxton
Jessica Payne
Shirley Payne
Alyson Payne
Amanda Payne
Danielle Payne
Pamela Payne
Laresha Payton
Jessica Paz
Sonnet Peabody
Jazmine Peak
Ciera Pearce
Stevens Pearce
Regina Pearl
Selina Pearson
Lisa Pearson
Jordan Pearson
Salina Pearson
Chance Pearson
Jeffrey Pearson
Erika Peartree
Tammie Pease
Daniel Peck
Trevor Peck
Emily Peck
Cedric Peckham
Cailyn Peddle
Melissa Pedersen
Rebecca Pedersen
Rachael Peeso
Nolan Pegues
Sophia Peguri
Domenica Pekar
Joseph Pekar
Armando Pelaez
Tal Peleg
Samantha Pellegrino
Michael Pelletier
Renaud Pelletier
Gina Pelletier
Richard Pelley
Melanie-Jo Pelley
Rachel Pelser
Jessica Pelton
Serenity Pelzl
Olivia Pemberton
Lauren Pemberton
Clara Pena
Kaylee Pena
Suzanne Pena
Anna Pena
Marina Pena
Ronesha Pena
Bryam Pena
Cynthia Pena
Arys Pena
Brittany Penaloza
Shannon Penate
Ashley Pender
Aundrea Pendergraft
Ashley Pendery
Matthew Pendleton
Samantha Pendleton
Helen Peng
Brittany Penhollow
Corey Penkala
Matthew Penman
Emmili Penn
Sadie Penn
Misten Penn
Oshea Penn
Craig Penn
Allison Pennell
Kelly Pennell
Mariana Penner
Nicole Penner
Lily Penney
Mariesa Pennine
Jordan Penninger
Bailey Pennington
Krista Pennino
Kate Penny
Gregory Pension
Charles Pentecost
Andrew Pentico
Steven Peoples
Jose Pepin
Ryan Peppe
Dawn Pepper
Jenna Pepple
David Peralta
Uriel Peralta
Justin Perault
Olga Perdomo
Elizabeth Perdue
Lindsey Perdue
Rachel Perdue
Orlando Perea
Gabriella Pereira
Jordan Pereira
Guilherme Pereira
Brandon Pereira
Maria Clara Pereira De Oliveira
Amanda Perera
Naomi Perez
Ruben Perez
Steven Perez
Julia Perez
Ina Perez
Suzanne Perez
Ingrid Perez
Lizette Perez
Angeli Perez
Carlos Perez
Alejandro Perez
Diana Perez
Joel Perez
Eveliz Perez
Marilin Perez
Michelle Perez
Stephanie Perez Gutierrez
Xavier Perez Mendez
Jose Perez Robles
Karla Perez Rodriguez
Anapaula Perez-Gaitan
Naigea Perkins
Candace Perkins
Jeffery Perkins
Leslie Perkins
Justin Perkins
Ashleigh Perkins
Ryann Perkins
Brian Perkins
Dylan Perkins
William Perkins
Jennifer Perlera
Melissa Perna
Amisha Pero
Jadzia Perosi
Jillian Perra
Justin Perrault
Megan Perrault
Lisa Perreault
Kaitlyn Perreault
Corey Perreault
Kane Perrin
Adrianne Perrodin
Nathan Perrow
Bernard Perry
Nadia Perry
Haleigh Perry
Brandon Perry
Joanna Perry
Brittany Perry
Travis Perry
Morgan Perry
Romero Perry
Sean Perry
Patricia Perry
Jasmine Perry
Daniel Perry
Jordan Perry
Kiara Perry
Drake Perry
James Perry
Celae Perry-Robinson
Veanna Persaud
Justin Persick
Jakob Peslak
Michael Pessoa
Bryan Peters
Michelle Peters
Daniel Peters
Kristyn Peters
Shawn Peters
Jenny Peters
Marta Peters
Mara Peters
Rose Peters
Brianna Petersen
Kellie Petersen
Brandon Petersen
Amanda Petersen
Emily Petersen
Donald Peterson
Alanna Peterson
Kenneth Peterson
Emmanuel Peterson
Joshua Peterson
Christopher Peterson
Matthew Peterson
Shawn Peterson
Brianna Peterson
Cassie Peterson
Brendan Peterson
Michael Petinko
Megan Petko
Pamela Petretti-Stamper
Kortnie Petrie
Tiffany Petriello
Samantha Petro
Kelly Petro
Kristy Petrocelli
Matthew Petron
Nikolas Petrov
Allison Petrullo
Kristen Petrus
Shannon Petsel
Allen Pettey
Ashlyn Pettit
Jillian Pettit
Annie Pettway
Shannon Petty
Tamecka Petty-Francis
Stephanie Peugh
Donnelle Peyton
Kelsey Pfaffinger
Lauren Pfeiffer
Travis Pfenning
Carson Pforsich
Sarah Phachansiry
Dang Pham
Tin Phan
Danny Phan
Seth Phares
Morgan Phelan
Dallas Phelps
Nicholas Phelps
Kyle Phelps
Zachary Phelps
Brandon Phemester
Elyse Philipak
Mirlene Philistin
Austin Phillip
Matthew Phillips
Dakota Phillips
William Phillips
Micayla Phillips
Brandon Phillips
Claire Phillips
Dakota Phillips
Julie Phillips
Brandie Phillips
Catherine Phillips
Bria Phillips
Terri Phillips
Grace Phillips
Bailey Phillips
Amber Phillips
Courtney Phillips
Kedrick Phillips
Shannon Phillips
Kristofer Phillips
Nathan Phillips
Bruce Phillips
Michele Phillips
Dorothy Phillips
Teri Phillips
Olivia Phillips
Leigh Phillips
Molly Phipps
Miranda Phipps
Amy Phipps
Lyndsie Phommachieng
Peter Photopoulos
Maxon Phravixay
Ju Pi
Cynthia Piantini
Conleigh Piazza
Matthew Picazio
Danielle Picciano
Jonathan Piccinini
Kyle Piccoli
Ryan Pichla
Tyler Pickard
Josephine Pickens
Athena Pickering
Grant Pickett
Luke Pickett
Averi Pickop
David Picou
Brianna Piech
Joseph Piecuch
Jeremy Pieniniemi
Amelia Pierce
Danielle Pierce
Zachary Pierce
Alan Pierce
Amanda Pierce
Sarah Pierce
Grace Pierce
Brandon Pierce
Alexander Pierce
Michael Pierce
Sean Pierce
Francesca Pierre
Amanda Pierre
Leshana Pierre
Andy Pierre-Louis
Robendjy Pierre-Louis
James Pierson
Danial Piester
Nicola Pietripaoli
Tristan Pietz
Skylar Pietz
Arlene Pighetti
Jenna Pigney
Bridgette Pike
Amanda Pike
Kayne Pike
Christian Pillot
Jason Pimentel
Alfreddy Pimentel
Dominique Pimienta
Breanna Pina
Jordyn Pina
Kelly Pina
Evelyn Pinarello
Katie Pinchac
Abigail Pinckney
Ilyana Pineda
Kaitlin Pineda
Joseline Pineda Ruiz
Chelsea Pinet
Gabriel Pinhancos
Michele Pinheiro
Daniela Pinheiro
Amra Pinkham
Christopher Pinnix
Drew Pino
Yana Pinto
Yeimi Paola Pinzon Gonzalez
Zachary Piotrowicz
Kaylyn Piper
Alexandra Piper
Wade Pirie
Isaac Pirie
Aldana Aylen Pirillo Lopez
Celeste Pirolo
Amanda Piroumian
Marcie Pisciotta
Emily Pitcairn
Samuel Pitcher
Kristina Pitchford
Jonathon Pitpit
Alexandra Pittman
Amanda Pitts
Aschton Pitts
Caitlyn Pitz
Alex Pitzi
Lisa Pizzi
Andrew Place
Susan Plaisted
Jacquelyn Plaisted
Michelle Plante
Haley Platt
Paul Platt
Makenna Platte
Jasmine Plaza
Jimena Plazola
Jaleesa Pleasant
Roberta Plichta
Skyler Pliska
Julia Plummer
Julie Plummer
Jessica Plummer
Brittany Plunkett
Nicholas Poblocki
Hannah Podrasky
James Poe
Megan Poe
Veronica Poe
Alexandra Poehailos
Noah Pohl
Jared Pohl
Tracy Poirier
Elissa Poirier
Angelina Poirier
Katie Poitras
Sarah Polachek
Dustin Polage
Sara Polakiewicz
Tyeka Polanco
Ashley Polanco
Derick Polanco
Yael Polevoy
Cody Poley
Sophie Polidoro
Grace Polk
Taryn Pollock
Destiny Polomaine
Jason Polson
Alexis Pomeroy
Shalaner POMPEY
Frankie Ponce
Ashley Ponder
Olivia Ponder
Taylor Ponds
Rebecca Ponichtera
Alice Pontes Pereira
Casie Pool
Christopher Poole
Jessica Poole
Ashley Poole
Cheryl Poole
Anthony Poole
Katie Poole
Mackenzie Poole
Kevin Poole
Jillian Pooler
Christopher Pope
Marissa Pope
Janaye Pope
Judith Pope
Loretta Pope
Zackery Popoca
Emily Popovich
Emmanyuil Popudrebko
Anthony Portelle
Casey Porter
Christopher Porter
Brooke Porter
Zoey Porter
Lora Porter
Colby Porter
Jackson Porter
Anna Porter
Sarah Porter
Nakia Porter
James Porter
Corry Porter
Ricky Portier
Michael Portilla
Steven Portillo
Theresa Portillo
Mayra Alejandra Portillo Cegarra
Maria Porto Mollinedo
Logan Posey
Cori Posey
Taylor Posik
Lakeisha Post
Gwen Post
Katherine Postma
Kimberly Potaczek
William Pothier
Michelle Potter
Matthew Potter
Brianna Potter
Christopher Potts
Justin Potts
Cassandra Potts
Michael Poublon
Naresh Poudel
Dylan Poulin
Devin Pouliot
Matthew Poulisse
James Pounds
Aysia Poupart
Christina Pournaras
Suzette Powell
Donald Powell
Megan Powell
Margaret Powell
Tammy Powell
Candice Powell
Kirsten Powell
Megan Powell-Llandez
Stefanie Power
Michele Power
Branden Powers
Joshua Powers
Kierra Powers
Samuel Powers
Hailey Powers
Nathan Prague Doyle
April Pramataris
Elaine Praphatsalang
Jaya Prasad-Slauson
Jacqueline Prashaw
Julianne Pratt
Michael Pratt
Macyn Pratt
Shanivia Pray
Lana Pray
Cindy Pray
David Praznovsky
Lindsey Prebanda
Ashley Predmore
Arden Prejean
Nicholas Premont
Katherine Prentovic
Alexa Prescott
Steven Presley
Nashua Prestan Raish
Sean Prestidge
Cassandra Preston
Nicholas Preston Ocansey
Sawyer Prestwood
Jonathon Previte
Tyler Pribulick
Franklin Price
Abby Price
Michael Price
Clarissa Price
Chastity Price
Mark Price
Kaylin Price
Krystle Price
Shari Price
Anthony Prickett
Kristen Priebe
John Prieto
Tyler Primas
Chrystal Primiano
Sarah Prince
Wanda Prince
Jason Prince
Vanessa Printz
Alyce Prisco
Brandon Pritchard
Ashlee Pritchett
Issac Pritchett
Benjamin Prive
Courtney Prochaska
Shenna Proctor
Jerri Proctor
Michael Prokopiuk
Katye Proper
Sheena Propes
Toby Prosser
Kyle Proulx
Grant Prouty
Dayle Provencher
Brianna Provencher
Tayler Prowell
Dawn Prudhomme
Joshua Pruitt
Christina Prunier
Ian Pruter
Maryna Prymak
Melissa Pryor
Alexandria Pryor
Jarod Przywara
Taylor Pszczolski
Alyssa Pszenny
Jenny Puckett
Frank Pudlo
Jessica Pueschel
Melissa Puga
Michael Pugh
Isaac Pughes
Lauren Pugmire
Daniel Pujada
Summer Pullam
Ashley Pullen
Carol Pulley
William Pulliam
Michal Pullman
Rebecca Purcell
Michaelle Pureza
Shubham Puri
Matthew Purkeypile
Jacob Pursley
Chris Pushee
Renee Putman
Crystal Putnam
Miranda Putnam
Rebecca Puzio
Bettina Puzzo
Dawn Pyles
Aparna Pyneni
Kimberly Pyrett
Syed Qadri
Dawn Quackenbush
Dillon Quackenbush
Adriana Quadrini
Zane Qualls
Joshua Qualls
Samantha Qualls
Sydney Quario
Charles Quartey
Summer Quatieri
Karisa Queen
Philip Queen
Coley Queen
Samantha Quesenberry
Daniel Quevillon
Emily Quezada
Jessica Quick
Jennelyn Quides
Travis Quigley
Makayla Quigley
Jesse Quijano
Michael Quilici
Michael Quinn
Ayla Quinn
Jocelle Quinn
James Quinn
Mari Quinn
Justin Quinones
Nicholas Quinones
Alexa Quintal
Natasha Quintal
Luis Quintanilla
Brandon Quinten
Olivia Quinton
Justin Quinton
Tegan Quinton
Luis Quirindongo
Naomi Quirk
Heather Quirk
Demi Quiroa
Shannen Quiros
Christine Quist
Erica Quow
Courtney Raaf
Sahsha Rabago
Daneca Rabassa
Edward Raber
Chreston Rabtoy
Andrew Racicot
Amanda Rackey
Brian Racki
Timothy Rackley
Hannah Racle
Alicia Radcliffe
Erika Rael
Whitney Ragan
Shelby Rager
Luke Raghoo
Samir Ragih
Ricky Ragsdale
Ashleigh Raguso
Nicolas Ragust
Hannah Rahm
Tyunkia Raiden
Aaron Raidt
Sarah Raighn
Taylor Raikes
Rita Raines
Christopher Rainey
Alexa Rainey
Brittny Rainey
Danielle Rairdon
Jonathan Raisor
Samantha Rajkowski
Aaron Raleigh
Brittany Ralston
Abby Ramatowski
Robert Ramer
Kenna Ramey
Olivia Ramfort
Melissa Ramirez
Carlos Ramirez
Oneil Ramirez
Jonathan Ramirez
Alexander Ramirez
Ruby Ramirez
Alma Ramirez
Michelle Ramirez
Kevin Ramirez
Rosa Ramirez
Sara Ramirez
Eric Ramirez
Gilberto Ramirez
Lindsey Ramirez
Santiago Ramirez Jimenez
Ana Laura Ramirez Martinez
Edilberto Ramirez Olguin
Courtney Ramirez-Beck
Ashleigh Ramjohn
Lilawatie Ramkishun
Edward Ramlal
Steven Ramos
Meagan Ramos
Edgar Ramos
Adalys Ramos
Jonathan Ramos
Burnette Ramos
Corinne Ramos
Nirvana Ramos
Andrea Ramos-Diaz
Yolanda Ramos-Guistizia
Naomi Ramsaroop
Dana Ramsay
Dylan Ramsdell
Cari Ramsey
Joshua Ramsey
Shelby Ramsey
Alexandria Ramstein
Chalerie Rand
Kevin Randall
Ryan Randall
Kirstie Randall
Sean Randall
Katherine Randle
Felicity Randol
Joseph Randolph
Francisco Rangel
Dennis Rangolam
Jamie Rankin
Joshua Ranson
Meri Rantamaeki
Joseph Rapole
Rafael Raposo
Alyssa Rapp
Eliezer Rappoport
Ian Rarick
Hannah Rarick
Heidi Rash
Logan Rasmussen
Dakota Rasmussen
Eva Raszkiewicz
Charles Ratazak
Kaitlin Ratcliff
Christopher Ratcliff
Sondra Rathe
Kiera Rausch
Crystal Rawls
Roderick Rawls
Wendle Rawls
Danielle Ray
Sarah Ray
Tera Ray
Andrew Ray
Heather Ray
Sabrina-Lee Raymond
Patricia Rayner
Katie Raynor
George Raynor
Gibran Rayo
Issa Rayyan
Darrell Reading
Steven Readling
Christopher Reagan
Shannon Reale
Brian Reapp
Sean Reardon
Lilly Reardon
Elizabeth Reaves
Alfred Rebara
Andrew Rebelo
Ellen Rebne
Gloria Reboyras
Jonathan Reburn
Tara-Jean ReCasino
Elexia Record
Mira Recta
Mallory Reczko
Maddison Reczko
Linekie Redd
Brooke Redding
Matthew Reddinger
Katerina Redfield
Krista Redfield
Hannah Redin
Keith Redlin
Justin Redman
Ronald Redmon
Cynthia Redmond
Sarah Redmond
Daphne Redmond
Isaac Reducindo
Clarissa Reece
Hunter Reed
Mitchell Reed
Tyree Reed
Caitlan Reed
Kareem Reed
Kassandra Reed
Kayla Reed
Kendra Reeder
Seth Reeise
India Reels
Patricia Reep
Rachel Reese
Jessica Reese
Carla Reese
Robert Reeser
Chet Reever
Amanda Reeves
Kathy Reeves
Emily Reeves
Elizabeth Reeves
Tiffanie Reeves
Joseph Reffitt
Jose Regalado
Madeleine Regan
Christopher Regan
Sarah Regan-Kelley
Nina Regino
Emilee Register
Suraj Regmi
Brandon Rego
Pamela Rehal
Rebecca Rehe
Bianca Rehner
Dorothy Reich
Lillian Reichel
Raymond Reichert
Joshua Reid
Brett Reid
Leslie Reid
Gwyndylyn Reid
Kristian Reid
Taylor Reid
Brytni Reid
Dakota Reider
April Reidy
Quinton Reihman
Stefanie Reiling
Madeline Reilly
Jamison Reilly
Aaron Reilly
Allison Reimer
Amanda Reinhardt
Maddie Reinsel
Savannah Reis
Carrie Reisenauer
Lindsey Reitano
Robert Rekemeyer
Joshua Remerowski
Caleb Remion
Connor Remy
Skylar Renaud
Alberto Renderos
Kristi Rendo
Yahir Rendon
David Rendon-Chavez
Megan Renison
Veronica Renna
George Renze
Austin Repack
Kathryn Reph
Eric Resendez
Keisha Resendiz
Joshua Restelli
Shaun Rester
Justin Rettstatt
Pieter Reukema
Andrea Rex
Mikayla Rex Trojeski
Lauren Rexroad
Shelby Rexrode
Diana Reyes
Florencio Reyes
Leah Reyes
Gabriel Reyes
Rachel Reyes
Antoine Reyes
Victoria Reyna-Rodriguez
Tom Reynolds
Tyler Reynolds
Gary Reynolds
Kayla Reynolds
Melissa Reynolds
Lisa Reynolds
Adric Reynolds
Ashley Reynolds
Kourtney Reynoso
Jacob Rezac
Ashlyn Rhea
Brittany Rheaume
Adrienne Rhodes
Ramon Rhodes
Vaughn Rhodes
Dustine Rhodes
Mistilynn Rhodes
Jack Rhodes
Gregory Rhodes
Eric Rhyno
Brooke Ribeiro
Katherine Ribley
Ebony Rice
Christyann Rice
Christen Rice
Morgan Rice
Courtney Rice
Alan Rice
Kristina Rice
Chloe Rich
Demion Richards
Matthew Richards
Malika Richards
Janet Richards
Andrew Richards
Karley Richards
Alyssa Richards
Jodi Richards-Auld
Shaun Richardson
Sarah Richardson
Rebecca Richardson
Emily Richardson
Andrea Richardson
Magdalen Richey-Daynes
James Richmond
Jessica Richmond
Lindsey Richmond
Jodie Richter
Morgan Richter
Kathryn Rickabaugh
Sean Rickett
Tosaint Ricketts
David Rickman
Jenna Riddensdale
Richelle Riddick
Kenneth Rider
Hosanna Rider
Jae Ridley
Shae Riedinger
Amanda Riegel
Christopher Riehl
Jacquelyn Riel
Elizabeth Riendeau
Sergio Riera Fernandez
Andrea Rife
Tabatha Rifflard
Tyler Rigg
Lanai Riggin
Jennifer Riggins
Stephanie Riggins
Trina Riggs
Rodney Rigsby
Joseph Rihl
Cynthia Riley
Brynia Riley
Nadine Riley
Andrew Riley
Morgan Riley
Christopher Riney
Alex Ring
Jake Ringer
Abigail Rinker
Ashley Riordan
Hailey Rios
Jose Rios
Ruben Rios
Sarah Rios
Natalie Rios
Sondra Ripp
Sarah Risotti
Carissa Ritchie
Felicia Ritter
Michelle Rittmeyer
Jose Rivas
Christopher Rivas
Afton Rivas
Jeffrey Rivera
Jessica Rivera
Manuel Rivera
Richard Rivera
Kristen Rivera
Ravyn Rivera
Sally Rivera
Fernando Rivera
Francesca Rivera
Amara Rivera
Yireth Saray Rivera Hernandez
Clara Rivera-Colon
Misty Rivera-Sabala
Glendalis Riverasoto
Laureen Rivers
Paul Rizzi
Victoria Rizzitano
Jose Roa
Karina Roach
Elizabeth Roark
Ashley Robalino
Alexis Robarge
Joshua Robb
Scott Robb
Caitlyn Robb
Samantha Robbins
Letitia Robbins
Kyle Robbins
Matthew Robbins
Trever Robbins
Rebekah Robell
Jess Roberson
Matthew Robert
Jason Roberts
Sonja Roberts
Tiffany Roberts
Nicole Roberts
Mary Roberts
Daniel Roberts
Emily Roberts
Audrey Roberts
Tyquan Roberts
Brandy Roberts
Dax Roberts
Kyra Roberts
Shawn Roberts
Emily Roberts
Nichole Roberts
Cheyanne Roberts
Nathan Roberts
Cory Roberts
Elizabeth Roberts
Nicholas Roberts
Debra Roberts
Scott Roberts
Lauren Roberts
Logan Roberts
Kirsten Roberts
Qiana Robertson
James Robertson
Matthew Robertson
Mia Robertson
Bryce Robertson
Samantha Robertson
Alexander Robertson
Andrea Robertson
Nicole Robertson
Katrina Robertson
David Robey
Michael Robidoux
Elana Robidoux
Rachel Robillard
ZoeLynn Robinette
Sherry Robinson
Ray-Mond Robinson
Doreen Robinson
Stephanie Robinson
Rosario Robinson
Eric Robinson
Jamesia Robinson
Priscilla Robinson
Chloe Robinson
John Robinson
Sharon Robinson
Christian Robinson
Chance Robinson
Jason Robinson
Jerry Robinson
Alexis Robinson
Matthew Robinson
Christopher Robinson
Itzel Robinson
Janita Robinson
Renea Robinson
Melisha Robinson
Douglas Robinson
Daniel Robinson
Miguel Robinson
Kaylee Robinson
Miles Robinson
Seth Robinson
Sabrina Robinzine
Christine Robison
Jasmine Robles
Jennifer Robles
April Robles
Dawn Robles
Indiana Rocco
Renee Rocha
Karisa Rocha
Juan Carlos Rocha
Brad Rock
Charles Rockwell
Andrew Rodenhiser
Samantha Roderos
Jenny Rodgers
Leslie Rodrigo
Lauren Rodrigues
Francis Rodriguez
Elton Rodriguez
Neomis Rodriguez
Christian Rodriguez
Thomas Rodriguez
Steven Rodriguez
Rebecca Rodriguez
Lori Rodriguez
Melissa Rodriguez
John Rodriguez
Andres Rodriguez
Gretchen Rodriguez
Christopher Rodriguez
Dominic Rodriguez
Rosanna Rodriguez
Ajane Rodriguez
Isaias Rodriguez
Natalia Rodriguez
Jose Rodriguez
Randy Rodriguez
Vance Rodriguez
Gisel Rodriguez
Erin Rodriguez
Ken Rodriguez
Eric Rodriguez
Bethsalee Rodriguez
Yali Rodriguez
Mark Rodriguez
Tiana Rodriguez
Irma Rodriguez
Johnny Rodriguez
Dora Rodriguez
Edgardo Rodriguez
Bryanna Rodriguez
Daniel Rodriguez
Brittani Rodriguez
Yurintzi Rodriguez
Andrea Rodriguez
Melissa Rodriguez
Loymarie Rodriguez
Shanna Rodriguez
Luz Rodriguez Lopez
Dylan Roe
Sara Roe
Erica Roe
Geneen Roederer
Maileine Roefs
Brittany Roehl
Michael Roets
Gabrielle Rogers
Zachary Rogers
Jaime Rogers
Rebecca Rogers
Rebecca Rogers
Megan Rogers
Timothy Rogers
Michael Rogers
Jena Rogers
Hannah Rogers
Nicholas Rogers
Ryan Rogers
William Rogers
Victoria Rogers
Richard Rogers
Amy Rogers
Lindsey Rogers
Cheryl Rogers
Mia Rogic
Rebekah Rogier
Stephanie Rohn
Emily Rohrbach
Felicia Rojas
Taylor Rojas
Samantha Rojas
Ingrid Rojas Gonzalez
Yaosca Rojas-Genao
Susan Rojee
Nicole Rojowski
Bradley Roland
Abigail Roland
Brittnee Roles
Emily Rolinger
Bryce Roller
Samuel Rollick
Andrew Rollins
Tara Rollins
Kathleen Rollins
Jessica Rollins-White
Meghan Rolon
Christian Rolon
Clark Romain
Holly Roman
Matthew Roman
Nick Roman
June Romano
Cara Romano
Natalie Romano
Emily Romano
Alex Romanov
Nicole Romeo
Josette Romeo
Yudith Romero
Ralph Romero
Amanda Romero
Claudia Romero
Hailee Romero-Fredes
Natasha Romo
Wiley Rook
Mathew Rooks
Kathy Roque
Bryan Roque
Theresa Rosa
Oscar Rosa
Ruth Rosado
Lisa Rosado-Leyland
Michelle Rosales
Tonneila Rosamilia
Summer Rosario
Jisaris Rosario Paulino
Jennifer Rosati
Monica Rosco
Christopher Rose
Macy Rose
Jennifer Rose
Stephen Rose
Hannah Rose
Kenneth Rose
Josie Rose
Raphael Rose
Jeffrey Rose
Sarina Rose
Kari Rose
Katherine Rose
Amber Roseblossom
Joshua Roseboro
Nathaniel Rose-heim
Miles Rosen
John Rosen
Kyle Rosendahl
Ashley Rosick
Andrew Rosko
Thomas Rosoff
Nathan Ross
Samantha Ross
Colton Ross
Crystal Ross
Julie Ross
Kristen Ross
Ryan Rosser
Nicholas Rossi
Natalie Rossi
Keeley Rossittis
Mark Rossmiller
Kaitlyn Rostron
Victoria Roth
Erika Roth
Abigail Roth
Kenneth Rothbart
Rachel Roth-Eldridge
Elizabeth Rothering
Zachary Rothers
Michael Rotholtz
Rebecca Rothrock
Cameron Rounds
Aimee Roundy
Melissa Roush
Jalante Rouzan
Matthew Rovaldi
Jennifer Rovegno
Walter Rowan
Ashley Rowe
Michael Rowe
Robert Rowe
Tiffany Rowe
Randall Rowland
Laura Rowland
Sally Roy
LeeAnn Roy
Jamie Roy
Christian Roy
Jordan Roy
Jacob Roy
Kristofer Roy
Sophie Roy
Hunter Roy
Ethan Roy
Haley Roy
Jeremy Roy
Hilary Roy
Amelia Royal
Thomas Royea
Rheana Royer
Paige Royer
Katarzyna Rozalski
Davids Rozitis
Diana Carolina Rozo Rodriguez
Cheranna Rozzelle
Caroll Ruano
Kristy Ruark
Annie Rubenstein
Batyah Rubenstein
Nathan Rubery
Gabriel Rubico
Rosa Rubio
Ali Ruble
Matthew Ruby
Stacey Ruby
Kaitlin Rucci
Mindy Rudicel
Mary Rueb
Angela Ruel
Collette Ruelle
Krystyl Rufenacht
Darcel Ruff
Audrey Ruff
Diana Ruff
Michael Ruffalo
Trevor Ruffen
Lauren Ruffin
Andrew Ruffing
Brooke Rufo
Marie Rugg
Steven Ruhe
Karla Ruiz
Christie Ruiz
Janella Ruiz
Nayda Ruiz
Cruz Ruiz Sierra
Alan Rumrill
Spencer Runde
Christopher Runnels
Kaytie Runyan
Brianne Ruoss
Carrie Rupe
Giselle Ruperto
Kylee Rus
August Ruscher
Hagos Rush
Ann Rush
Brittany Rushing
Caprice Rushing
Leah Rusinko
Brian Russell
Parker Russell
Lauren Russell
Travis Russell
Kelli Russell
Mackenzie Russell
Amanda Russell
Toni Russell
Michael Russell
Kylie Russo
Rusty Russom
Arish Rustami
Stephanie Rustami
Meagan Ruszyk
Randa Ruth
Marisa Rutherford
Bonnie Rutherford
Jennifer Rutkowski
Kaitlyn Rutland
Ryan Rutledge
Amy Rutledge
Rachel Rutledge
Joseph Rutledge
Rowland Ruto
Elizabeth Ry
Erika Ryan
Kellie Ryan
Jill Ryan
Kimberly Ryan
Stephanie Ryan
Jessica Ryan
Jason Ryan
Carolyn Ryan
Allison Ryan
Tiffany Ryan
Molly Ryan
Amy Ryan
Michael Ryave
Steven Rybak
Jennifer Ryczek
Cassandra Rye
Leland Ryea
Bryan Rykowski
Kayla Ryman
Meghan Ryzy
Jessica Saathoff
Abigail Saavedra
Corinne Sabando
Brittany Saben McCabe
Rachael Sabin
Angela Sabiron
Nalda Sablon
Chrystal Saccavino
Emily Sackler
Richard Sacks
Ahmed Sadek
Jessica Safavimehr
Abigail Saffron
Jordan Safreed
Victoria Sagar
Ashley Sage
Joyce Saghbini
Ekta Sahay
Simon Sahilu
Abygail Saieva
Loudra Saint Julien
Eric Sakala
Gayle Sakiewicz
Mark Saku
Alyssa Salas
Ryan Salazar
Joie Salazar
Jamie Salazar
Nathan Salazar
Angela Salazar
Luisa Salazar Zapata
Melissa Salcedo
Erik Salcedo
Roberto Saldana
Davor Saletovic
Noemi Salgado
Ashlynn Salimu
Julian Salinas
Holden Salisbury
Andrew Salisbury
Keely Salmeron
Thomas Salmon
Tanner Salmonson
Stephen Salnaitis
Matthew Salts
Lydia Salud
Christian Salvatore
Lisa Salzano
Paulina Samaniego Dellovo
Devin Samarin
Ramona Samaroo
Diego Samayoa
Samantha Sammartino
Oleg Samoilov
Damon Samoska
Julie Sample
Michael Samples
Morgan Sampson
Rhonda Sams
Jazmine Samujh
Elicia San Nicolas
Anthony Sanabria
Kyle Sanborn
Aaron Sanchez
Anexis Sanchez
Elizabeth Sanchez
Andrew Sanchez
Jasmine Sanchez
Melissa Sanchez
Marisol Sanchez
Destiny Sanchez
Christian Sanchez
Christopher Sanchez
Richard Sanchez
Ishayka Sanchez
Victoria Sanchez
Laura Sanchez
Alexis Sanchez
Soraya Sanchez-Aponte
Steven Sanchezgomez
Diana Sanda
Shawn Sandahl
Laura Sandborg
Paloma Sande
Tyler Sandell
Travis Sanders
Shana Sanders
Tatyana Sanders
Kyle Sanders
Isaiah Sanders
Christian Sanders
Dominik Sanders
Samantha Sanders
Carley Sanderson
Alyssa Sanderson
Daniel Sandford
Paige Sandler
Meaghan Sandler
Danielle Sands
Mamie Sands
Fern Sandstedt
Robert Sanford
Amber Sanford
Jordan Sanger
Dalvinder Sangha
Robert Sankey
Alyssa Sansone
Damian Santana
Nicholas Santana
Yoenid Santana Morales
David Santiago
Jonathan Santiago
Charline Santiago
Katarzyna Santiago
Charisse Santiago
Carlos Santiago
Samantha Santiago
Juan Santiago
Brittany Santiago
Alie Santin
Brody Santini
Aaron Santini
Nikki Santisouk
Ashley Santo
Abigail Santoro
Kara Santos
Victor Santos
Jeniffer Santos
Enmanuel Santos
Herbert Santos
Joshua Santos
Kristina Santos
Gabriela Santos
Danil Santos
Maria Therese Santos
Edward Santoyo
Rachel Sanville
Angelo Sapienza
Joey Sapp
Alan Sarabeev
Binki Sarbin
Ashlyn Sardisco
Kristen Sargeant
Katelyn Sargent
Joseph Sargent
Carriann Sargent
Leighton Sargent
James Sargent
Breanna Sargent
Sloane Sarmanian
Jason Sarra
Brenon Sarratori
Dharmik Sarvaiya
Seija Sarvela
Mary Grace Sasedor
Erika Sasso
Sirena Satterfield
Julissa Saucedo
Julianna Saucier
Jesse Sauer
Bryan Saulis
Kaitlyn Saulnier
William Saunders
Demetrius Saunders
Jose Mauricio Saurith Escobar
Alexander Savage
Kayla Savage
Jennifer Savant
Glenn Savarese
Gina Savela
Regina Savidge
Danielle Savoy
Dustin Sawejka
Rebecca Sawicki
Jennifer Sawicki
Maggie Sawyer
Brianna Sawyer
Brandon Sawyer
Deborah Sawyer
Steven Sawyer
Meghan Sawyer
Zachary Sawyer
Heather Saxon
Emily Sayarinh
Anna Sayers
Sarah Sayers
Nazneen Saylawala
Tiffani Saylor
Christina Saylor
Evan Sbory
David Scacchi
Jessica Scafuro
Katie Scalf
Emma Scanlon
Helda Scarano
Ian Scarberry
John Scarborough
Amanda Scarcello
Joseph Scardina
Marisa Scaringello
Tracy Scates
Nicole Scatina
Shawn Scattergood
Jacob Scavarda
Daniel Schachter
George Schade
Shaina Schaefer
Jessie Schaefer
Kevin Schaefer
Kayla Schaeffer
Nicholas Schaepe
Colin Schafer
Richard Schall
Cameron Schaller
Benjamin Schamberg
Ben Schamel
Anna Schardt
Cameron Schaufenbil
Kristin Schauren
India Scheetz
Aimee Scheibley
Melonie Schellhas
Autumn Schemery
Michael Schemick
Felicia Schenkelberg
Christian Scherer
Taylor Scherling
Melissa Schienvar
Jessica Schikore
Rudolph Schilhab
George Schilling
Andrew Schindel
Rachel Schindorff
Matthew Schipani
Leslie Schlag
Markie Schlake
Steven Schlake
Stephen Schlatter
Nancy Schlecht
Raymonn Schley
Jeannine Schley
Jeremy Schlimgen
Ashlee Schlosser
Nathan Schlund
Ryan Schmale
Naomi Schmid
Devin Schmidt
Abigail Schmidt
Jared Schmidt
Adam Schmidt
Joseph Schmidt
Kristin Schmidt
Michaela Schmidt
Erica Schmidt
Drahnier Schmidt
Megan Schmidt Concepcion
Samuel Schmir
Roxanne Schmitt
Leslie Schneiker
Paul Schnizler
Mandy Schnorr
Patience Schoene
Robert Schoenfeld
Jeremiah Schoenherr
Kathryn Scholl
Deborah Scholl
Joshua Schoolcraft
Chelsey Schott
Kaitlyn Schott
Kathryn Schottl
Catherine Schrader
Angela Schreiber
Stephanie Schreiner
Sydney Schriefer
Courtney Schrock
Kyle Schroeder
Megan Schroeder
Allison Schroeder
Cole Schroeder
Britain Schroeder
Cari Schroeder
Kevin Schroeder
Nichole Schuldt
Zachary Schuler
Alex Schulte
Nicholas Schultz
Ryan Schultz
Caitlyn Schultz
Bailey Schultz
Heather Schultz
Allison Schultz
Makayla Schulz
Amber Schupp
Jeremy Schuster
Arum Schut
Michelle Schutt
Stacy Schwager
Justin Schwartz
Joel Schwartz
Kimberly Schwartz
Greta Schwartz
Adam Schwarz
Kristen Schwarzman
Sean Schwedhelm
Brysson Schweitzer
Amena Schwierking
Michael Schwirtz
Samuel Sciabarrasi
Kylie Scoggins
Jessica Scoggins
Shelby Scola
Rusty Scopano
Anthony Scopteuolo
Viktoria Scott
Caroline Scott
Tabatha Scott
Camille Scott
Gavin Scott
David Scott
Nikkila Scott
Tasheema Scott
Courtney Scott
Chelsea Scott
Jeremy Scott
Donald Scott
Tyler Scott
Jamaal Scott
Sydnie Scott
Lisa Scott
Jordan Scott
Samantha Scott
Kimberly Scott
Derek Scott
JoLynn Scott
Jessica Scott
Natasha Scott
Sara Scott
Brittiney Scott Liddelow
Edward Scribner
Akemi Scruggs-Smith
Kyle Scudiere
Elise Scudmore
Sarah Scully
Kevin Sczech
Alexandria Sczuroski
Garrett Seader
Matthew Seale
Danielle Sealock
David Seals
Kelsey Seamans
Stetsen Searle
Eric Searles
Kai Sears
Mallory Sears
Kristina Seaver
Gabriel Seaver
Brent Seawright
Aja Secheslingloff
Jennifer Secrist
Emily Seddon
Robert Sedlatschek
Anthony See
Emily Seebaugh
Glenora Seecharan
Caleb Seekell
Matthew Seelig
Alicia Seely
Amanda Seenarine
April Seepersad
Jenna Seery
Jennifer Segard
Carlos Segarra
Olevia Segree-Wilson
Matthew Seibert
Edward Seidman
Allison Seigler
Kayla Seip
Anthony Seiter
Joreen Self
Ashley Sellman
Mutinta Selmi
Brooke Selph
Dezaray Semer
Sam Semiyari
Jared Semonin
Michael Sempowski
Brittny Sena
Rohun Sendhey
Jennifer Senecal
Jaime Senquiz
Shaelynn Senquiz
Sabrina Sepulveda
Tyler Sepulveda
Samantha Serapio
Mitchell Sergent
Angelina Sergent
Roudcha Serizier
Hailey Sermon
Yarlin Serrano
Regina Serrano
Andrea Serveny
Charles Sessions
Jessica Sessody
Inderpreet Sethi
Malia Settle
Connor Sevack
Scott Sevacko
Victoria Sevastos
Robin Sevedge
Brenna Severin
Sara Severino
Maximillion Severson
Aaron Sewell
Zion Sewell
Robin Sexton
Elisabeth Sexton
Phoebe Sexton
John Seymour
Jessica Seymour
Robert Seymour
Richard Seymour III
Michelle Sfakianos
Tamir Shabazz
Oksana Shabelnik
Raina Shackford
Blake Shadden
Haley Shadid
Laura Shafer
Kimberlee Shaffer
William Shaffer
Kyle Shaffstall
Talha Shafiq
Jennifer Shammas
Stephanie Shangraw
Michael Shank
Melissa Shankland
Megan Shanks
Jamie Shannon
Katie Shannon
Jerico Shape
Brandon Sharer
Zaineb Sharif
Tiffany Shariff
James Sharkoff
Bimala Sharma
Kaitlyn Sharp
Edward Sharp
Kyla Sharp
Bryan Sharp
Kyle Sharp
Christopher Sharp
Kyann Sharp
Morgan Sharpe
Jessi Sharples
Keith Sharron
Jessica Shattuck
Kaelen Shattuck
Hayley Shaver
Angela Shaver
James Douglas Shaw
Lisa Shaw
Angela Shaw
Kevin Shaw
Jonathan Shaw
Benjamin Shaw
Christin Shaw
Sarah Shaw
Samuel Shaw
Kelsie Shay
Amanda Shea
Madison Shea
Tyanna Shea
Mackenna Shea
Courtney Sheaffer
Chandler Shearon
Thomas Shedd
Daniella Shedenhelm
Rachel Sheehan
Shawn Sheehan
Nicholas Sheehan
Kieran Sheehan
Zachary Sheeley
Cynthia Sheeley
Stephen Sheffer
Sara Sheffey
Debra Shelfo
Bailey Shelhorse
Hannah Shelley
David Shelt
Ronald Shelton
Daniel Shelton
Ryan Shemanski
April Shemchuk
Percy Shepard
Andrew Shepard
Kelsey Shepard
James Shepard
Stephanie Shepard
Adrien Shepherd
Adam Sheppard
Chessa Sheppard
Nancy Sheppard
Kori-Marie Sherburne
Jessica Sherman
Andrew Sherman
Devon Sherman
Ryan Shero
Stephanie Sheronovich
Lakpa Sherpa
John Sherwood
Jami Shetler
Diana Shia
Evan Shick
Zachary Shields
Kearby Shields
Elizabeth Shieler
Casey Shiepe
Marisa Shiland
Sarah Shim
Zachary Shinall
Megan Shingler
Felicia Shingles
Dustin Shinn
Brianna Shinn
Aaron Shinn
Nora Shipe
Vardhini Shipley
Aaron Shipley
Cara Shipman
Richard Shipp
Holli Shipp
Joshua Shiraef
Frank Shirley
Madilyn Shirley
Jessica Shives
Dipak Shiwakoti
David Shoemaker
Sabra Shoemaker
Dale Shoenfelt
Lexie Shore
Devin Short
Samantha Short
Zachary Short
Zachary Short
Nicole Shorter
Marnesa Shorter
David Shortman
Rebecca Showalter
Wesley Shown
Tammy Shoyeb
Danielle Shreckengost
Shankar Shrestha
Sarala Shrestha
Supriya Shrestha
Pamela Shriver
Sammy Shuck
Teresa Shuerger
Amanda Shufelt
Colby Shull
Corinne Shultis
Michael Shults
Jacob Shultz
Samuel Shumski
Michael Shunk
Brittany Shute
Kara Shutterly
Mathes Shvanda
Konstantinos Siannas
Skylar Sicard
Leisa Sickles
John Siddall
Masroor Siddiqui
Jessica Siebel
Morgan Siechen
Mark Siecinski
David Siegel
Rivka Siegel
Kimberly Siemers
Aleksy Sienkowski
Jorge Sierra
Luis Sierra Reyes
Carmela Sigala
Tamra Sigler
Geoffrey Sigley
Benton Sigsbee
Christopher Silva
Matthew Silva
Jake Silva
Cassandra Silva
Kimberley Silva
Robert Silva
Jonathan Silva
Justin Silva
Kayla Silva
Ruby Silva
David Silva
Andre Silva
Christa Silva
Jesse Silva
Ambyre Silvabarros
Kristin Silverman
Melinda Silvernale
Felicia Silvers
Katherine Silvers
Nicholas Silvin
Carly Simard
Alyssa Simard
Ryan Simas
Katie Simbeck
Brooke Simerson
Anthony Simister
Keyshaun Simkins
Aleathia Simmonds
Dara Simmons
Amanda Simmons
Calla Simmons
Jay Simmons
Brandon Simmons
Elizabeth Simmons
Tracy Simmons
Amy Simmons
Chelsea Simmons
Dylan Simoes
Kara Simon
Vanessa Simon
Chad Simon
Max Simon
Haris Simon
Camille Simonds
John Simone
Christine Simons
Dilon Simpkin
Corey Simpson
Katie Simpson
Amber Simpson
Cory Simpson
Angela Simpson
Wendi Simpson
Tudie Simpson-Boyle
Glynis Sims
Rebecca Sims
Donovan Sims
Jennifer Sims
Peter Simunovich
Rebecca Sinclair
Mary Ann Sinde
Paul Singarella
Elisha Singer
Navjot Singh
Michelle Singletary
Raymond Singleton
Andre Singleton
Aaron Sink
Isaac Sipes
Jeffrey Sirdashney
Michelle Siria
Danielle Sirois
Mason Sirois
Aaron Sissom
Randy Sitler
Sylvia Siu
Krystle Sivak
Emmy Sivira Gimenez
Daniel Sixbey
Ryan Sizemore
Hunter Sizemore
Jill Sjogren
Orlagh Skafas
Cody Skaggs
Merika Skahill
Hope Skajem
Andre Skala
Tesla Skeels
Jenna Skeen
Jennifer Skelt
Charles Skelton
Kelsey Skinner
Kevin Skinner
Elisabeth Skorski
Brooke Skouras
Rosemary Sladky
Sara Slagle
Allen Slater
Nathan Slater
Evan Slates
Justin Slaugh
Shelby Slaughter
Ashley Slesser
Jacob Sloan
Grace Sloan
Charles Sloat
Rachel Slone
Hannah Slone
Joshua Sloter
Amelia Slover
Autumn Slupek
Michael Slyk
Emily Small
Gianna Small
Nicholas Small
Kristi Small
Sarah Smallwood
Cheyenne Smallwood
Twila Smallwood
Nailah Smallwood
Alexandra Smerekanich
Thom Smiech
Johan Smit
Heather Smith
Meredith Smith
Derek Smith
Christian Smith
Blake Smith
Lavonte Smith
Marcus Smith
Zachary Smith
Jade Smith
Justin Smith
David Smith
Trey Smith
Kimberly Smith
Tanner Smith
Terry Smith
Jacob Smith
Matthew Smith
Angela Smith
Robert Smith
Sarah Smith
William Smith
Jamie Smith
Jacob Smith
James Smith
Brady Smith
Justin Smith
Alec Smith
Albert Smith
Laura Smith
Samantha Smith
LaShaundalyn Smith
Shiffany Smith
Donald Smith
Chicary Smith
Kelsey Smith
Blake Smith
Shawna Smith
Chrishel Smith
Tracey Smith
Brandon Smith
Alexa Smith
Keitione Smith
Rachel Smith
Krystal Smith
Stephanie Smith
Robert Smith
Harold Smith
Embre Smith
Benjamin Smith
Sara Smith
Emily Smith
Michelle Smith
Marion Smith
Meghan Smith
Jessica Smith
Justin Smith
Gregory Smith
Devyn Smith
Jered Smith
Luke Smith
Alvera Smith
Jessica Smith
Matthew Smith
Sean Smith
Stella Smith
Alexandra Smith
Lyndsey Smith
Nicole Smith
Samantha Smith
Sierra Smith
Monica Smith
Mckenzie Smith
Cierra Smith
Lauren Smith
Kelsey Smith
Nicholas Smith
Makayla Smith
Karly Smith
Kendall Smith
Brittany Smith
Tia Smith
Charles Smith
Samuel Smith
Erica Smith
Rachael Smith
Michelle Smith
Tawain Smith
Jake Smith
Mekenzie Smith
Elena Smith
Hunter Smith
Shawn Smith
Kieran Smith
Elizabeth Smith
Rachel Smith
Robin Smith
Eric Smith
Kevin Smith
Scott Smith
Daniel Smith
Nina Smith
Samantha Smith
Amayrani Smith
Christopher Smith
Ryan Smith
Brian Smith
Diana Smith
Almira Smith
Brionna Smith
Andrew Smith
Ebonie Smith Cooper
Jonathan Smithers
Shanae Smith-Jackson
Benjamin Smith-Trevail
Bobbi Smyser
Kurt Smythe
Stephanie Snapp
Donavon Sneed
Shinkona Sneed
Bianca Sneed
Angela Snell
William Snelson
Nicholas Snider
Katie Snipes
Kristie Snoddy
Alexias Snow
Cameron Snow
Riley Snowe
Scott Snuffer
David Snyder
Keely Snyder
Keith Snyder
MacKenzie Snyder
Michael Snyder
Marissa Snyder
Jordan Snyder
Jessica Snyder
Angel Snyder
Michael Snyder
Kristine Soares
Corey Sobke
Brett Soden
Laura Soelle
Falepau Sofe
Ahmed Sohail
Casey Soileau
Danielle Soine
Jonathan Sokoll
Omar Solache
Jaime Solis
Dagmar Solis
Regina Solis
Naomi Solodovnik
Kimberlyn Solomon
Daniel Solomon
Kirk Soltau
Kassandra Soltero
Gabriel Soltero
Cassandra Soltis
Lynnette Soltwedel
Jennifer Somers
Corey Somervold
Mathew Sommer
Jared Sommers
Kerilyn Sommers
Sharon Somogyi
Jennifer Son
Amith Soney
Yang Song
Amber Sood
Mengkhu Sopa
Michael Sorensen
Lauren Sorensen
Daniel Sorensen
Mark Sorenson
Ryne Sorenson
Martha Soria
Maria Shelita Soriano
Santwon Sorrells
Chantel Sosa
Kyle Soscie
Kayla Sotka
Nicole Sotka
Tequilla Soto
Lemuel Soto
Aida Soto
Ishmail Soto
Quinn Soucy
Kaitlin Soucy
Jacob Soucy
Isabella Souliere
Yashene Souroy
Christopher Sousa
Judith Sousa
Nathan Sousa
Christopher Sousa
Nicole Sousa
Angel Southall
Jason Southard
Samantha Southard
Bryce Southard
David Souther
Holly Southworth
Heather Souza
Jocelyn Souza
Carmela Souza
Joseff Souza
Michael Sovath
Emily Sovay
Levi Sowell
Justine Spadea
Edlexis Spady
Austin Spain
Maegan Spampinato
Alisha Spangenberg
Nicholas Spangler
Amy Sparks
Cody Sparks
Tyler Sparks
Zachary Sparrow
Julia Spaulding
Ryan Spaulding
Heather Speaker
Emanuela Speal
Joseph Spear
Tina Spears
Thomas Speck
Nichole Speck
Cameron Spell
Rachel Spellman
Tina Spelman
Sarah Spence
Jennifer Spence
Rebecca Spencer
Elizabeth Spencer
Isaiah Spencer
Catherine Spender
Megan Spiegel
Dalton Spikes
Skyler Spillers
Alexandria Spilotro
Justin Spingel
William Spirdione
Joshua Spitaleri
Kaitlyn Spitler
Elizabeth Spoering
Sean Spolarich
Keith Spoon
Karen Sprague
Charles Spratley
Darcy Spring
Brittany Spring
Thomas Springer
Christopher Springer
Jacklyn Springer
Jasmine Springfield
Jazzlyn Springs
Bradley Sproul
Madison Sprouse
Olivia Spuhler
Benjamin Spurlock
Shelby Spychalski
Ciera Squires
Catherine Squires
Lisa Sroufe
Rami Srour
James St Denis
Victoria St Martin
Kaely St Onge
Nicole St Onge
Michelle St Pierre
Kerby St. Amour
Charles St. Cin
Patricia St. Clair
Alix St. Hilaire
Christopher St. John
Alex St. John
Jaclyn St.Onge
Erin Stack
Michael Stack
Bradley Stacks
Nicole Stacy
Joshua Staff
Thomas Stafford
Sarah Stafford
Natalia Stafford
Jasmine Stafford
Ryan Staggs
Lori Stahlberg
Keith Stahr
Todd Staires
Heather Stake
Chelsea Stake
Amanda Stalder
Stevie Stallbaum
Haley Stallings
Rebekah Stallings
Griffin Stambaugh
Crimson Stambaugh
Wayne Stambaugh
Samantha Stamnos
Robert Stamper
Jessica Stamper
Michelle Stamper
Roshounda Stamps
Lisa Stanchick
Meghann Stancil
Chelsea Standifer
Blair Standring
Nicholas Stanich
Megan Stanko
Samantha Stanko
Charnay Stanley
LeGrant Stanley
Justin Stanley
Ebony Stanley
Branton Stanley
Samuel Stanley
Patrick Stanley
Helen Stanley-Serrano
Renee Stanton
Charles Stanton
Patrick Stanton
Merideth Stanton
Tyler Stapleford
Audra Staples
Olivia Stapleton
Alaina Stapleton
Jaimelyn Staraveci
Nick Starcevic
Kolton Stark
Michelle Stark
Michele Starkey
Lashundra Starks
Abigail Starnes
Annabelle Starosta
Daniel Starozytnyk
Matthew Stasio
Terrance Staten
Kristin Staten
Kollin Stathas
Paul Staudenmeyer
James Stauffiger
Joseph Steadman
Joshua Stearns
Brittany Stearns
Danessa Stebbins
Molly Stec
Alexis Stedman
Bowen Steele
Jesse Steele
Ashley Steenbergen
Lindsey Steenkamp
Krystiana Stefanile
Emiliya Stefanova
Nicholas Stefanovicz
Carrie Steffen
Ainsley Stein
Michael Steinaway
Cherie Steinbaugh
Dakota Steinberger
Zachary Steinbrecher
Marrissa Steinbrink
Elijah Steindl
Cameron Steinhilpert
Cicily Steinle
Melissa Stellhorn
Ashley Stelloh
Nicholas Stelzer
Karen Stene
Ani Stepanyan
Dale Stephanos
Terah Stephens
Jon Stephens
Andria Stephens
Shannon Stephens
Nicole Stephens
Jolynn Stephenson
Ania Stephenson
Stacey Stephenson
Amanda Stephenson
Rachel Stephenson
KaDe Stephenson
April Stepter
Lisa Sterling
Andrew Sterling
Griserl Sterling
Zachary Stern
Lilly Stern
River Stern-Carney
Jolene Stetz
Amy Steullet
Shelley Steuwe
Kendra Stevens
Aleisha Stevens
Scott Stevens
Brittany Stevens
Tammy Stevens
Christopher Stevens
Amanda Stevens
Makayla Stevens
Samantha Stevens
Kyle Stevens
Jonathan Stevens
Michell Stevens
Julian Stevens
Emma Stevens
Daniel Stevens
Stacey Stevens
Macy Stevenson
Rose-Marie Stevenson
Douglas Steward
James Stewart
Alice Stewart
Sabrina Stewart
Amy Stewart
Kayla Stewart
James Stewart
Sherene Stewart
Kimberly Stewart
LaTamara Stewart
Jill Stewart
Abigail Stewart
Debra Stewart
Stephanie Stewart
Josiah Stewart
Lionel Stewart
Brian Stewart
Christina Stewart
Kimberly Stewart-Rzepka
Stephanie Stewart-Vinson
Adlide Stfleur
Richard Stianche
Megan Stiasny
Michael Stickevers
Brenden Stickevers
Tiffany Stickings
Shayla Stickney
Kayla Stickney
Charnice Stidhum
Pieter Stienstra
Colton Stiff
Justin Stiffler
Ashley Stiger
Nichole Stiles
Chadd Stillabower
Joshua Stillman
Joshua Stillwagon
Chelsey Stillwell
Lora Stiltner
Ryan Stilz
Kerry Stinson
Karen Stirling
Lauren Stitt
Megan Stitzel
Tyler Stivers-Spitz
Lindsey Stlaurent
Jeffrey Stochel
Brittany Stocker
Shelby Stockseth
Kristy Stockton
Justin Stoddard
Colette Stoflet
Amanda Stogsdill
Griffin Stokel
Cole Stoker
Paige Stokes
Shanette Stokes
MacKenzie Stokes
Megan Stokes
Shauntel Stoller
Sarah Stoltenkamp
Samuel Stone
Kelsey Stone
Christian Stone
Ella Stone
Margaret Stone
Stephanie Stone
Jordan Stone
David Stoneburner
Kassidy Stopfer
Brenda Storcz
Cassidy Storjohann
Ryan Stork
Shawn Storm
Michelle Story
Elizabeth Stotts
Mia Stoudt
Haley Stough
Lindsey Stoughton
Tyler Stout
Angela Stout
Brandon Stout
Paula Stovall
Kristin Stover
Matthew Stover
Kyle Stoycoff
Olivia Strasser
Deborah Stratman
Melissa Stratton
Isabelle Strauch
Ioanis Straw-Kourtis
Jerome Strawser
Curtis Stray
Amaris Strayhorn
Mary Streble
Vauna Streeper
Edward Streeto
John Stricker
Benjamin Strickland
Victoria Strickland
Elijanee Strickland
Amber Strickland
Heather Strickland
Mackenzie Strickland
Jillian Striebich
Dennis Stroba
Deborah Stroble
Alexandra Strobl-Harr
Meghan Stroh
Nicholas Stroh
Shaun Strom
Aaron Strong
Matthew Stroot
Tiffany Strope
Amy Strother
Skyla Stroupe
Breonna Strozzi
Cassie Strunk
Makayla Struyk
Andrew Strzepek
Brandy Stuparits
Keith Sturdevant
Jacob Sturgeon
Jonathan Sturgill
Brennah Sturgill
Devin Sturm
Ashton Sturtevant
Zachary Sturtz
Maya Suarez
Dora Suazo
Sonia Suazo
Shameeza Subtil
Leanne Suesse
Courtney Sulken
James Sullivan
Madison Sullivan
Matthew Sullivan
Noah Sullivan
Shavawnte Sullivan
Mackenzie Sullivan
Maureen Sullivan
Kerri Sullivan
Christopher Sullivan
Hannah Sullivan
Jacob Sullivan
Emily Sullivan
Sean Sullivan
Brenna Sullivan
Olivia Sullivan
Brittany Sullivan
Nicholas Sullivan-Friedman
Amber Summers
Shana Summers
Tristen Summers
Sintari Summers
Jessica Summers
Yasumin Sunavinvivat
Peter Sunkenberg
Jill Sunshine
Alexis Supitilov
Zheen Suseyi
Jonathan Sussan
Breelyn Sustrik
Kelsie Sutherland
Christopher Sutherlin
Sherry Sutphin
Melissa Sutton
Calvin Sutton
Sara Sutton
Suzette Sutton
Olafur Sveinsson
Taylor Svenconis
Myya Swainbank
Brian Swales
Matthew Swann
Kimberly Swanson
Ashley Swanson
Colby Swanson
Maria Swanson
Kyle Swartz
Amber Swartz
Laura Swedberg
Krystn Sweeney
Patrick Sweeney
Cassandra Sweeney
Patrick Sweeney
Kerri Sweeney
Cheyenne Sweeney
Michael Sweeney
Daphine Sweet
Jeffrey Sweetman
Sarah Swiatek
Kayleigh Swierk
Tesa Swift
Heather Swift
Kari Swincicki
Lauren Swinford
Melissa Swint
Lisa Switlick
Stefanie Swope
Kaden Swords
Sean Swyers
Tylee Sylvers
Daniel Sylvester
Lei Sylvester
Daryl Synstelien
Patrick Syring
Megan Syrovy
Meghan Szefler
Frances Szetela
Stephen Szostak
Josalyn Szwejbka
Chase Taake
Christine Tabias
Kyler Tabor
Vintrece Tackett
Natalie Tackett
Tiffany Tadlock
Charis Tafaovale
Nathan Tafe
Martha Tafoya
Sienna Taggart
Eman Taha
Suzan Taha
Kianoush Tahamtan
Lovelyn Taiwo
Eoi Takagi
Ido Tal
Jose Talamantes
Micaela Talarico
Sarah Talarico
Kaitlyn Talavera
Paul Talbert
Tracie Talbert
Taylor Talbot
Skyler Talbot
Matthew Talbot
Gabrielle Talbot
Dakota Talbott
Hannah Talcott
Vince Taliaferro
Theodorsius Talkpa
William Tallant
Drake Talles
Deanna Talton
Matthew Tamba
Reginio Tan
Mao Tanaka
Robert Tanguay
Samantha Tanguay
Krystal Tanguma
Julia Tannenbaum
Joshua Tanner
Daisy Tapia
Jeffrey Tapponnier
Sarah Tarango
John Tarantino
Erick Targia
Humna Tariq
Whitney Tarkington
Max Tarkington
Claire Tarlton
Tonia Tarlton
Jose Tarnate Alicando
Theresa Tarnowski
Trevor Tarr
Dawne Tarver
Emi Tasellari
Bruna Tatarow
Jessica Tate
Stella Tate
Stephanie Tate
Michael Tateishi
Carol Tatom
Elisabeth Tatro
Terrence Tatum
Fiasama Taua
Leslie Tavarez
Stephen Tavary
Anthony Tavella
Idelson Taveras
Shawn Taylor
Pierre Taylor
Ashley Taylor
Dane Taylor
Leander Taylor
Tawn Taylor
Matthew Taylor
Ash Taylor
Samuel Taylor
Donald Taylor
Amy Taylor
Kaitlyn Taylor
Jessica Taylor
Brendan Taylor
Tijonna Taylor
Kimberly Taylor
Grace Taylor
Gina Taylor
Alan Taylor
Christopher Taylor
Hollie Taylor
Victoria Taylor
Sheyenne Taylor
Dylan Taylor
Erin Taylor
Fletcher Taylor
Christina Taylor
Charles Taylor
Heather Taylor
Darren Taylor
Melissa Taylor
Kaemoni Taylor
Nancy Taylor
Carie Taylor
Len Taylor
Frederick Taylor
April Taylor
Georgia Taylor
Ryan Taylor
Philesha Teachey
Lisa Teagler
Molly Teal
Dawn Teal
Gayle Tebeau
Alexis Tedder
Brittany Tedford
Frankie Tedford
Christopher Tedor
Rodnie Tedrow
Alexandrea Teigeler
Jordan Teigman
Katie Teixeira
Nicholas Teixeira
Wesley Telgenhof
Michael Tello
Elizabeth Tello-Llerena
Walter Telschow
Laura Tempesta
Nakayla Templeman
Amber Tennis
Brittnie Terhune
Jack Terrones
Andrew Terry
Eric Terry
Karen Terry
Donisha Terry
Tanae Terry
Victoria Terry
Angela Terry
Grace Terwilliger
Laura Teske
Ashley Tess
Mary Ellen Testa
Jamie Testa
Dustin Textor
Abigail Thalacker
John Thaler
Sandhya Thapa
Hunter Tharpe
Michael Thatcher
Matthew Thatcher
Dai Thawnghmung
Richard Thayer
Abigail Theberge
Zachary Theilen
Tarah Theis
Jacob Theisges
Janell Theodoroy
Melissa Theriaque
Jocelyn Theriault
Anthony Theriault
Albert Theriault
Amber Theriot
Leslie Therrell
Ryan Therrien
Brian Therrien
Grace Therrien
Emily Therrien
Jacob Theveny
Brandon Thibeaux
Carolyn Thibodeau
Shalina Thienes
Alexia Thieret
Kiara Thierry
Trent Thill
Olivia Thirkill
Sean Thissen
Makayla Thiv
James Thivierge
Brooke Thoen
Timothy Tholen
Jackson Thomas
Erica Thomas
Michael Thomas
Brian Thomas
Danielle Thomas
Stacey Thomas
Brian Thomas
Megan Thomas
Alyssa Thomas
Carrie Thomas
Kalyn Thomas
Gabrielle Thomas
Ashley Thomas
Andrea Thomas
Tyler Thomas
Kyle Thomas
Tigi Thomas
Kathleen Thomas
Caroline Thomas
Laurie Thomas
Jasmine Thomas
Cindi-Ann Thomas
Alexander Thomas
Joseph Thomas
Andre Thomas
Karissa Thomas
Betsy Thomas
Brianna Thomas
Destanee Thomas
Edward Thomas
Tucker Thomas
Chava Thomashev
Clarice Thomasy
Curtis Thommen
Andrea Thompson
Nora Thompson
Anthony Thompson
Colton Thompson
Rebecca Thompson
Haley Thompson
Lillian Thompson
Johnathan Thompson
Blake Thompson
Matthew Thompson
Jennifer Thompson
Kelly Thompson
Devon Thompson
Kiya Thompson
Katherine Thompson
Latasha Thompson
Amber Thompson
Kelly Thompson
Anne Thompson
Tracie Thompson
Taylor Thompson
Jason Thompson
Rachael Thompson
Tyesha Thompson
Desiree Thompson
Tanysha Thompson
Anna Thompson
LaShonda Thompson
Rodney Thompson
Valerie Thompson
Jessica Thompson
Ashley Thompson
Kianna Thompson
Robert Thompson
Isreal Thompson
Madison Thompson
Danielle Thoms
John Thornburg
Jasmine Thornburg
Jami Thorne
Jeffrey Thornton
Emily Thornton
Amie Thornton
Robert Thornton
Toni Thorson
Sierra Thrasher
Taylor Throckmorton
Alexis Thurber
Ryan Thurgood
Alexandra Thurstin
Courtney Thurston
Dorothy Thurston
Matelyn Thygesen
Elizabeth Tibbals
Alexandria Tibbert Green
Lisa Tibbets
Meagen Tidmore
Carey Tiedeman
Stewart Tiernan
Kelcie Tierney
Matthew Tietz
Aisling Tietze
Stefan Tihenea
Ana Tikomaimaleya Keletakona
James Till
Catherine Tillery
Shane Tilley
Brianna Tilton
Milay Tilva
Matthew Timek
Kristen Timmins
Jarod Timms
Piriya Timratana
Mary Tincher
Tenesha Tinker
Philip Tinsley
Damon Tinsley
Amanda Tinter
Jordan Tipton
Daniel Tipton
David Tisue
Rachel Tittle
Jasmine Titus
Taylor Titzer
Winston To
Benjamin Tobeler
Shaun Tobin
Collin Todd
Sydney Todd
Keri Todd
Alyvia Todd
Tyler Todd
Zancran Togbe
Sean Tognetti
Christian Tokunaga
Gilberto Toledo
Tatiana Toledo
Christopher Tolson
Kody Tomasegovich
Victor Tomasini
Patrick Tomasino
Matthew Tombeng
Stephanie Tomchak
Courtney Tomes
Madeline Tomlin
Brittany Tomlin
Christopher Tompkins
Michael Toms
Cortlin Tonn
Danielle Tonnessen
Jacob Tonon
Brian Toomey
Gabriela Topete Gonzalez
Jennifer Topping
Alexander Topping
Tina Torbert
Geoffrey Tordt
Danielle Torgerson
Kevin Tormey
Xhefri Toro
Christopher Torralba
Yolanda Torrance
Lisette Torres
Heriberto Torres
Yessinia Torres
Autumn Torres
Jeremiah Torres
Caridad Torres
Jesus Torres
Rosemary Torres
Gilsia Torres
Abdul Torres
Tamera Torres
Juan Pablo Torres
Katie Torres
Jose Torres Hernandez
Lennis Torres Morales
Maura Fernanda Torres Vega
Reynaldo Torres-Almodovar
Rachel Torrico
Bianca Toscano
Daniella Toscano
Judith Toscano
Dana Tosh
Natasha Toth
Sean Toth
Nicole Totorello
Jason Touchette
Maria Toupin
Melissa Tourney
MacKenzie Tousignant
Gerardo Tovar
Catherine Towe
Nicholas Tower
Zachary Tower
Nicholas Towne
Karley Towne
Keaton Townley
Hannah Towns
Craig Towns
August Townsend
Lorraine Townsend
Teri Townsend
Karissa Townsend
Christopher Townsend
Djinefa Townsend
Cyleste Townsend
Adam Toy
Corey Tracey
Jonathan Traeger
Calvin Traffie
Anna Trafton
Lyndsay Trahan
Morgan Trahan
Morgan Trampert
Kenny Tran
Vinh Tran
Caleb Tran
Anh Tran
Cindy Tran
Dalena Tran
Sarah Tranfa
Cynthia Traore
Judith Trask
Daniel Trask
Angela Traub
Lucas Traurig
Tara Traver
Amanda Travers
Joseph Travers
Lisa Travis
Deirdre Treacy
Ian Treasure
Robin Trebec
Nikolaus Treffert
Ashley Treharne
Jeffrey Tremain
Hailey Tremaine
Matthew Tremblay
Matthew Trembley
Crystal Trementozzi
Macayla Trenck
Margaret Trendyk
Kayla Trenkamp
William Trescott
Patricia Trevino
Francis Tricamo
Christina Trice
Jennifer Trickett
Daniel Triebwasser
Devon Trimble
India Trimble
Daniel Trimble
Dustin Trimble
Samuel Trimiar
Olivia Trindade
Diana Tringl
Hanna Trinh
Allyson Triplett
Jane Michelle Tripp
Stephanie Trippett
Adriana Tritel
Gina Troiano
Nickolas Tromblee
Matthew Trombley
Amanda Trompler
Anthony Tropeano
Alexandra Trosan
Elizabeth Trost
Chynna Trott
Jamie Trottier
Jacqueline Trottier
Tara Trottier
Robin Trottier
Leah Trottot
Karen Trout
Paula Trout
Leo Troy
Jeffrey Trudeau
Kimberly Trudell
Nya Trudelle
Matthew Truitt
Justin Truitt
Zachary Trujillo
Hannah Trujillo
Uvaldo Trujillo
Hannah Trull
Whitney Trump
Bao Truong
Nicholas Truong
Peter Truscinski
Genita Trusclair
Auston Trusty
Eric Truver
Stephanie Tsouprakos
Tayza Tu
Makenna Tucci
Jessica Tuccinardi
Julie Tuccolo
Ryan Tucker
Jasmine Tucker
Melissa Tucker
Aaron Tucker
Nathan Tucker
Jeffrey Tucker
Corey Tucker
Toya Tucker
Melissa Tucker
Joseph Tufano
Gregory Tufts
Jonathan Tullis
Jade Tullo
David Tulloch
Latasha Tumlin
Richardson Tumulak
Anastasia Tunberg
Omar Tunusi
Jonathan Tuomey
Louis Turcotte
Feize Turkmen
Trevor Turmel
Ben Turner
Derrick Turner
Tekelia Turner
Lexi Turner
Tori Turner
Johnny Turner
Daykendra Turner
Kandace Turner
Jeremy Turner
Meagan Turner
Arianna Turner
Robert Turner
Chelsea Turner
Kaylyn Turner
Davonte Turner
Kelly Turner
Stephanie Turner
Sabrina Turner
Amy Turner
James Turner
Jenna Turner-Marks
Joseph Turrentine
Zarina Tursunkulova
Emile Tusk
Jenny Tuthill
Shawn Tuthill
Christopher Tutt
Deseree Tuttle
Cymbria Tveit
Madeleine Tveter
Maria Tvrdy
Zenna Twiggs
Olivia Twitchell
Whittney Twomey
Angela Tycenski
Ruby Tye
Melissa Tyler
Samuel Tyler
Saafi Tyler
Stacie Tyler
Joseph Tyler
Chris Tyndall
Graham Tyrrell
Timothy Tyrrell
Nicholas Tzannos
Exzha Beah Ubogan
Amber Ubovich
Sergio Udave
Elsie Udo
Kieran Ueberfluss
Barbara Uhl
Faith Uicker
Ryan Ulcickas
Brook Ullum
Carlie Ulman
Makenzie Umbenhaur
Wilma Unciano-Romena
Stephanie Underhill
Alexandra Underwood
Bregje Underwood
Leann Ung
Kenneth Ungerman
Austin Unowitz
Jill Unruh
Lydia Unruh
April Upham
Angela Uphus
Madison Uram
Justin Urban
Cole Urban
Sarah Urbanek
Johnny Urbanek
Lucie Urbanova
Danielle Urbanski
Tiffanie Ure
Steven Uren
Abby Ureste
Devin Urgent-Mitrano
Melissa Uribe
Evan Urquhart-Martinez
Samantha Urrata
Aziz Urrutia
Joseph Urso
Katelyn Urso
Timothy Usalis
Erik Ustruck
Carmen Uzquiano
Marian Uzzell
Patrick Vaden
Kevin Vahdat
Michael Vail
Taralin Vaillancourt
Cecilia Vaillancourt
Erica Vaillancourt
Jillian Vaillancourt
Ingrid Valanzuolo
Alessondra Valdes
Lorraine Valdez
MaryAnn Valdez
Paolina Valdez
Daniel Valdivia
David Valdivieso Lemus
Jacob Valdiviez
Francisco Valencia
Theresa Valencia
Patrick Valencia
Juan Valencia Orozco
David Valencia Viveros
Jennifer Valente
Michael Valenti
Anthony Valenti
Nicole Valenti
Feliciti Valentin
Jenny Valentin Prieto
Kathleen Valentine
Jaylene Valentine
Amy Valentine
Elisa Valenzuela
Angela Valerio
Andrew Valle
Molly Vallee
Emily Vallescorbo
Michael Valnert
Julia Valotto
Christopher Valton
Grace Van Buren
Nicholas Van Buren
Vanessa Van Buskirk
Soumy Van den Mooter
Benjamin Van Der Harst
Andrew Van Der Kleut
Hailee Van Dyke
Linda Van Dyke
Tracy Van Eijl
Tami Van Ert
Amanda Van Hoesen
Karla-Jonelle Van Huyssteen
Dalia Van Lom
Jacob Van Stelle
Rebekah Van Vlack
Gabrielle Van Wyk
Justin Vanasse
Iesha VanBuren
Cameron Vance
Alia Vancrown
Nathan Vandegrift
Christopher VanDenAcre
Adam Vandenburg
Peter Vanderberry
Christina Vanderburgh
Tiffany VanderGalien
Tanya Vanderpool
Sadie Vanderstelt
Michael VanDeusen
Luis Vanegas
Christina Vang
Mai Chia Vang
Yang Vang
Cynthia Vanhnarath
Chyieda Vanhook
David Vanhoose
Hilary Vankrimpen
Amber Vanlandingham
Chelsea Vannurden
Valorie Vanover Gomez
Shannon VanPatten
Rachel VanRyswood
Natalie Vant Land
Kayce Varano
Daniela Varela
Vivienne Varga
Brenda Vargas
Michael Vargas
Yesenia Vargas
Nayeli Vargas
Peter Vargo
Rachel Varley
Alexander Varley
Howard Varner
Kelsey Varron
Cindy Vasquez
Britni Vasquez
Paola Vasquez
Evelyn Vasquez
Robert Vasquez
Crimson Vasquez
Lisa Vasquez
Christopher Vasquez
Kara Vaughan
Nathan Vaughn
Aidan Vaughn
Ashley Vaughn
Terra Vaughn
Katie Vaughn
Taylor Vavasour
Jenitza Vazquez
Teresa Vazquez
Michael Veale
Deirdre Veale
Ellis Vedar
Maureen Vedder
David Vega
Vicki Veiga
Karina Veirs
Rick Vela
Joshua Vela
John Velasco
Donna Velasquez
Jose Velasquez
Samantha Velasquez
Anthony Velazquez
William Velazquez
Ruby Velazquez
Sandra Velazquez
Marionn Vanessa Velazquez Perez
Sarah Velchek
Jacquelin Veldhuizen
Wilfredo Velez
Defkarle Velez
Cynthia Veliz
Samantha Veltry
Bladimir Vences
Victoria Venditti
Amanda Veneskey
Diana Venkersammy
Hailey Venner
Jason Veno
Brendan Venti
Jennifer Ventola
Jonathan Venturini
Jesus Vera
Hugo Vera
Yinerys Veras
Maryn Verbeck
Paula Verduzco
Luis Vergara
Madelyn Vergos
Jordan Veridiano
Andrea Vernale
Blaine Vernon
Jordan Vernon
Benjamin Verrill
Jason Verrill
Cory Verschueren
Darla Vescovi
Cassandra Viado
Foster Viau
Samantha Vicens
Michael Victa
Noelia Victa
Gabriella Vidaurri
Bethany Videto
Eduardo Vidrio
Charlene Vieaux
Alex Vieira
Paola

Andrea Vieira
Brisa Viens
Alex Viera
Caylin Viets
Viridiana Vigil
Shelby Vigliotta
Destiny Vilchis Sanchez
Gremarfi Villa
Valeria Villa
Carmen Villa
Edward Villabona
Jenesis Villalta Mejia
Beatriz Villanueva
Avel Villanueva
Andrea Villanueva
Victoria Villarose
Lorenzo Villarreal
Frank Villarreal
Damaris Villarreal
Andres Villarroel Inturias
Briana Villei
Eileen Villeneuve
Amanda Villwock
Justin Vincent
Nora Vincent
Heather Vink
Kayla Vinson
Terry Vinson
Brianna Vio
Deanna Viola
Robert Viray
Bhavdeep Virk
Nicholas Visco
Donna Visconti
Stephanie Vital
Adam Vitale
Michael Vitchers
Alicia Vitello
Aja Vitti
Zachary Vlasich
Minh Nini Vo
Sara Vogt
Caroline Vogt
Logan Vogt
Julianne Volpe
Annmarie Volpe
Leah Volpe
Angie Von Bank
Kathleen Von Clef
Brandon Vonbank
Dylan Vongsa
Caraline Vongunten
Robert Vrana
Pamela Vreen
Mylan Vu
Cree Vu
Shawn Vuksta
Alyssa Wacharamai
Anthony Wachendorf
Samuel Wackett
Michelle Wade
Steven Wade
Nina Wade
Ryan Wade
Ashley Wade
Noelle Wade
Cheryl Wade
Stacey Wade
Jamey Wadleigh
Eva Wadsager
Jennifer Wages
Tommie Wages
Melanie Wagner
Drew Wagner
Catherine Wagner
Gerrit Wagner
Miranda Wagner
Jamie Wagner
Erin Wagner
Melissa Wagoner
Frederick Wahab
Tanveer Wahid
Hayley Wahl
Jennifer Waidelich
Stephanie Waite
Ryan Waite
Jesikah Waite
Kyle Walbert
Brooke Walbridge
Melissa Walby
Philip Walby
Asher Waldman
Matthew Waldron
Samuel Waldschmidt
Tanner Wale
Paige Waleryszak
Jennifer Walizer
Deleshea Walker
Ryan Walker
Aniah Walker
Lisa Walker
Shonda Walker
Heather Walker
Leanna Walker
Blake Walker
Kimberly Walker
Sara Walker
April Walker
Josie Walker
Corey Walker
Tonya Walker
Kaysyn Walker
Luke Walker
Channelle Walker
Adair Walker
Jennifer Walker
RaSheeda Walker
Abigail Walker
Reynold Walker
Rory Walker
Bailey Walker
Ronald Walker
Sterling Wall
Olivia Wall
Leslie Walla
Nicole Wallace
Charles Wallace
Danaya Wallace
Chenele Wallace
Shayna Wallace
Andrea Wallace
Kimlow Wallace
Jacob Wallace
Danae Wallace
Jabez Wallace
Terri Wallace
Amanda Walls
Christine Walls
Annie Walmsley
Mickayla Walsdorf
Riley Walsh
Kaitlin Walsh
Victoria Walsh
Meghan Walsh
Renee Walsh
Jason Walsh
Mathew Walsh
Rebecca Walsh
Tori Walsh
Sharon Walsh
Tessa Walsh
Sara Walston
Owen Walter
Ashley Walters
Julie Walters
Alexis Walters
Freedom Walters
Jordan Walther
Keili Walton
Harlie Walton
Christopher Walton
Kimberly Walton
Courtney Walton
Emily Walton
Kayden Walton
Michele Wambach
Caitlin Wambold
Jessica Wamsher
Jonathan Wandel
Jim Waniss
Caroline Wanjiru
Dustin Ward
Amanda Ward
Vickie Ward
Nicholas Ward
Genee Ward
Brigett Ward
Michael Ward
Jonathan Ward
Abigail Ward
Stephanie Ward
Derek Ward
Jason Ward
Caitlin Ward
Karina Ward
Shelley Ward
Ryan Ward
Lauren Ward
DArcy Ward
Emily Ward
Heather Ward-Dehne
Jonathan Warden
Devin Wardle
Skye Warner
Daniel Warner
Emily Warner
Shannon Warner
Tanisha Warren
Jonathan Warren
Phillip Warren
William Warren
Michael Warren
Scott Waselik
Jerry Washburn
Norma Washington
Malik Washington
Britney Washington
Valerie Washington
Eddie Washington
Monica Washington
Denise Washington
Ishmael Washington
Ashley Washock
Ethan Wasiejko
Corey Wasley
Jaelyn Wassouf
Darren Watanabe
Brian Waters
Zachary Waters
Collin Waterston
Shannon Watkin
Jessica Watkins
Tyrell Watkins
Ian Watson
Simone Watson
Lisa Watson
Tristin Watson
Trace Watson
Samantha Watson
Raevyn Watson
Joel Watson
Isabella Watson
Tracy Watson
Dominique Watson
Holly Watson
Deana Watson-Blackwell
Lakeshia Watson-Harney
Kimberly Watt
Katerina Watts
Deidra Watts
Azya Watts
Katharine Watts
George Watts
Steven Watts
Jacob Wawrzyn
Shelby Wayland
Tiffany Wayment
Grace Weaks
Lindsey Weaks
Andrew Weatherly
Brandon Weatherstone
Robert Weaver
Julian Weaver
Vanessa Weaver
Morgan Weaver
Dylan Weaver
Lynsey Weaver
Elizabeth Weaver
Jessica Weaver
Dorothy Weaver
Victoria Webb
Jacobson Webb
Jessica Webb
Jada Webb
Cody Webb
Paige Webb
Henry Webb
Kaitlyn Webber
Brian Weber
Alexander Weber
Liberty Weber
Julia Webster
Mark Webster
Hannah Webster
Courtney Webster
Linnea Webster
Kevin Webster
Blake Webster
Erin Webster-Chambers
Ryan Weekley
Michael Weeks
Shelby Weeks
Destry Weeks
Logan Weeks
Charles Weeks
Curtis Weems
Joseph Wehbe
Ines Wehling
Michael Weida
Jacob Weidner
Alexis Weimer
Tiffany Weinberg
John Weinbuch
Sean Weinmann
Jeannine Weinstein
Lee Weintraub
Micaela Weinzierl
Wesley Weir
Declan Weir
Samantha Weir
Rickey Weisenmuller
Haleigh Weiss
Quinn Weiss
Samuel Welch
Julianna Welch
Anita Welch
Jack Welch
Lowell Welch
Delana Welch
Jazmyn Welcome-Audet
Jackie Wellman
Lindy Wellner
Victorya Wellons
Steven Wells
Kelly Wells
Brock Wells
Corey Wells
Christopher Wells
Kelly Wells
Jared Welsh
Stacey Welsh
Brian Welter
Jessica Wendt
Erica Wennerberg
Valeria Wentworth
Lily Wentzell
Katherine Wenzel
Matthew Wenzlaff
Andrew Wepplo
Maniah Werber
Karla Werner
Quentinn Wertz
Joshua Wescott
Dayla Weskamp
Joshua Wesley
Riley Wesolowski
Megan Wessner
Percy West
Lane West
Elizabeth West
Jacob West
Eric West
Allison West
Justin West
Heath West
Justin West
Megon West
Thomas West
Alexis West
Crystal West
Shonticia West
William Westcott
Cole Westerman
Heather Westervelt
Gina Westra
Kristin Westrope
Shaylyn Wetherbee
Sheila Wetherington
Stephanie Wetteland
Alexis Wetzel
Joshua Wetzel
Anthony Wexler
Brice Wexler
Stacey Weyenberg
Elizabeth Weyler
Christopher Whaley
Roland Wheat
Brandi Wheaton
Philip Wheeler
Eriel Wheeler
Dean Wheeler
Gregory Wheeler
Roane Wheeler
Rebecca Wheeler
Katherine Wheeler
Melinda Wheeler
Brittany Wheeler
Jaime Wheeler
Jeffery Wheeler
Codie Wheeler
Emilie Wheeler
Michael Wheeler
Cameron Whelan
Aiesha Whidby
Patricia Whisenant
Mikayla Whiston
James Whitaker
Kathryn Whitaker
Jennifer Whitaker
Jessica Whitaker
Margaret Ann White
Erica White
Thomas White
Leah White
Steven White
Leandrea White
Meagan White
Ashley White
Jarmain White
Zachary White
Rachel White
Kimberly White
Benjamin White
Tori White
Jessica White
Sara White
Lauryn White
Bruce White
Matthew White
Sarah White
Jahvorn White
Carlie White
Jonathan White
Bryan White
Andrew White
Nicholas White
Cheyenne White
Christopher White
Christopher White
Haley White
Theresa White
Marina White
Zoe Whited
Stevan Whitehurst
Jensen Whitfield
Melissa Whitford
John Whiting
Christian Whiting
Alyssa Whitis
Jonathan Whitlock
Shelby Whitlock
Michael Whitney
Justin Whitney
Monica Whitney
Denise Whitney
Cameron Whitney
Michael Whitsel
Nathaniel Whitson
Kirk Whittle
Jolene Whittom
Alan Wiatrowski
Logan Wicki
Zachary Wickline
Desiree Widener
Devin Widmer
Michele Widomski
Christopher Wiedemann
Kari Wiegand
Tania Wiegand
Michael Wiegmann
Robert Wiemer
Kristen Wiemers
Darryn Wiesner
Raven Wiggan
Diane Wiggins-White
Gloria Wik
Bailey Wike-kowatch
Phillip Wikina
Calie Wilbar
Sasha Wilber
Heather Wilbourne
Kevin Wilbur
Madison Wilchinski
Carol Wilcox
Lauren Wilcox
Marilyn Wild
Abby Wild
Trevor Wilde
Wendy Wilder
Joseph Wilder
Zachary Wildman
Brooke Wildman
Ashley Wiley
Jackson Wiley
Shana Wilhelm
Daniel Wilhelm
Michael Wilhelm
Sarah Wilhite
Kelley Wilkerson
Joseph Wilkerson
Shelby Wilkerson
Nikki Wilkerson
Keone Wilkes
Reid Wilkins
Madison Wilkins
Mindy Wilkinson
Erin Wilkinson
Garrett Wilks
Alyssa Will
Morgan Willard
Ashley Willcox
Eric Williams
Niressa Williams
Antonio Williams
Emily Williams
Bret Williams
Jeremy Williams
Kaitlyn Williams
Quadriqua Williams
April Williams
Taylor Williams
Cynthia Williams
Shanell Williams
Geovonti Williams
Brittany Williams
Benjamin Williams
Renata Williams
Brandon Williams
Melanie Williams
Gage Williams
Cavin Williams
Zachary Williams
Alexis Williams
Penny Williams
Michael Williams
Ashley Williams
Michael Williams
Jordan Williams
Devon Williams
Josie Williams
Caitlin Williams
Brandy Williams
Sarah Williams
Hailey Williams
Xander Williams
Rebekah Williams
Aidan Williams
Stuart Williams
Michael Williams
Jordan Williams
Autumn Williams
Antoine Williams
Bernina Williams
Rodney Williams
Collin Williams
Idrena Williams
Isabella Williams
Edward Williams
Amanda Williams
Duvall Williams
LaMisha Williams
Tabetha Williams
Monique Williams
Trevice Williams
Mia Williams
Jennifer Williams
Richard Williams
Tyler Williams
Valerie Williams
Caitlyn Williams
Whitney Williams
Rebecca Williams
Michelle Williams
Brandy Williams
Amanda Williams
Myla Williams
LaShanda Williams
Matthew Williams
Alesia Williams
Lauryn Williams
Alexandra Williams
Shaquawn Williams
Portland Williams
Taylor Williams
Tiffany Williams
Jessica Williams
Clinton Williams
Trinity Williams
Clyde Williams
Raneka Williams
April Williamson
Sara Williamson
John Williamson
Toure Williamson
Timothy Williamson
Anthony Williford
David Williford
Ben Willis
Monique Willis
Colby Willis
Cassandrae Willis
Deja Willmott
Rachel Willoughby
Jasmine Wills
Christopher Wills
Amy Willse
Melinda Willsey
Hunter Wilson
Destynee Wilson
Kayla Wilson
Burleigh Wilson
Ashlee Wilson
Scott Wilson
Miranda Wilson
Matthew Wilson
Stephanie Wilson
Siobhan Wilson
Amylea Wilson
Joseph Wilson
Amanda Wilson
Benjamin Wilson
Nicholas Wilson
Sarah Wilson
Joshua Wilson
Michael Wilson
Andrew Wilson
Sonia Wilson
Susan Wilson
John Wilson
BreAnna Wilson
Faith Wilson
Anna Wilson
Heather Wilson
Alexis Wilson
Andrew Wilson
Aaron Wilson
Melissa Wilson
Mark Wilson
Angie Wilson
Paige Wilson
Belinda Wilson
MaKenzie Wilson
Cassandra Wilson
James Wilt
Tanisha Wimbish
Kimberly Winalski
Brittany Winchel
Andrew Winckler
Eric Windmon
Felix Windt
Thomas Wine
Mikayla Winegar
Brianne Wing
Holly Wingert
Patricia Winkler
Autumn Winkler
Loren Winne
Alesandra Winnett
Cameron Winningham
Chelsey Winsor
Patricia Winston
Cloud Winter
Sarah Winter
Jourdan Winterhof
Seth Wintermote
Brittany Winters
Shuneeka Winters
Vivian Wiri
Shawn Wirkler
Timothy Wise
Patrick Wise
Saranne Wise
Courtney Wise
Vincent Wishard
Dylan Wishner
Ashley Wisner
Lyndsay Wisneski
Thomas Wisniewski
Nathaniel Wissekerke
Branalyn Wiswell
Michael Witham
Cole Withers
Shamika Witherspoon
Cara Witt
Jessica Witt
Ebony Witt
Shelby Witt
Stephanie Wittenbreder
Rose-Marie Witter
Kendall Wix
Heather Wixson
Aaron Wogan
Abigail Wogoman
Kirstie Wohlfeil
Claire Wohlleber
August Woiken
Haley Wojcik
Angela Wojtkiewicz
Natalia Wolak
Lisa Wolanski
Daniel Wolf
Alyssa Wolf
Michael Wolf
April Wolfe
Arielle Wolfe
Ashley Wolfe
Daniel Wolfe
Melissa Wolfenberger
Aubrii Wolff
Vanessa Wolff
Thomas Wolfinger
Shayne Wolfley
Natalie Wollmann
Cole Wollner
Sofie Wolters
Caden Womack
Brittany Womack
Jim Wonders
Christopher Wong
Ryan Wong
Roxanne Wong
Philip Wood
Brandon Wood
Jerimiah Wood
Emily Wood
Rebecca Wood
Nicholas Wood
Raeven Wood
Samantha Wood
LaDel Wood
Timothy Wood
Edward Wood
Matthew Wood
Laura Woodard
Terrence Woodard
Kendra Woodbridge
Lori Wooddell
Troy Woodginski
Patrick Woodhams
Lyette Woodke
Diana Woodman
Mark Woodruff
Jeremy Woods
Meghan Woods
Jeremy Woods
Kaleigh Woods
Conner Woods
Sherryl Woods
Jacqueline Woodward
Stacy Woodward
Michael Woodward
Jenna Woodwick
Brett Woodworth
Mariah Wooldridge
Sara Wooley
Emily Woolf
Dionne Woolley
Brent Woosley
Eleesha Wooten
Marlee Wooten
Jenna Worcester
Matthew Worden
Robert Worker
Benjamin Workman
Rylee Workman
Brook Workman
Ashleigh Worley
Jennifer Worrell
Brianna Worrell
Stacy Worsham
Joshua Worster
Rachel Worth
Khaiman Worthey
Jonathan Woyke
Bridget Wragg
Amber Wren
Meagan Wright
Camillia Wright
Tara Wright
Ashley Wright
Portay Wright
Jeremiah Wright
Ashley Wright
Patrick Wright
Abigail Wright
Eden Wright
Claudette Wright
Rebecca Wright
Alecia Wright
Alanna Wright
Landon Wright
Amanda Wright
Michelle Wright
Christian Wright
Alicia Wright
Desyre Wrightington
Austin Wrighton
Grant Wrobel
Sophia Wrobel
Caitlin Wroten
Wenjie Wu
Nicholas Wunsch
Nathan Wyatt
Rebecca Wyble
Clayton Wyman
Alexys Wyne
Payton Wyner
Alexa Wyszkowski
Konstantina Xafenias
Lucy Xayavong
Peter Xiong
Cynthia Xiong
Fulong Xu
Yiwen Xu
Eric Yablonsky
Stephanie Yackovich
Krysti Yakonick
Kameesha Yamagata
Jazmine Yancey
Jin Mo Yang
Aaryanna Yang
Julie Yang
Joshua Yang
Bradley Yanka
Ryan Yanuszewski
Sadie Yarbrough
Abir Yarce
Annemarie Yarmy
Miranda Yarnall
Viktoryia Yatchuk
Katelyn Yates
Tiffany Yates
Tyrone Yates
Justin Yates
William Yates
Lauren Yates
MaryBeth Yates
Hunter Yates
Thea Yatras
A'Shanti Yazzie
Blitz Yeager
Alan Yearby
Katie Yeiter
Edmund Yi
Cara Yinger
Jennifer Yingling
Regina Ylvisaker
Andrew Yockman
Michael Yocom
Robert Yoder
Rachael Yoder
Devon Yogman
Cassidy Yohn
Alan Yoneda
Yina Yoon
Sarah York
Drake York
Lacey York
Michelle York
Amanda York
Dani Yosopov
Douglas Yost
Natasha Youman
Margaret Young
Stephen Young
Rodney Young
Anna Young
Jessica Young
Jacob Young
Andrew Young
Tuesdae Young
William Young
Patrick Young
Raquel Young
Erica Young
Tate Young
Terabitha Young
Mitchell Young
Alexis Young
Lovey Young
Wendy Young
Keyaira Young
Rachel Young
Zachary Young
Axel Young Romero
Autumn Youngberg
Austin Youngblood
Hannah Youngquist
Kera Youngren-Woods
Ashley Yount
Cortney Yount
Emma Yow
Steven Yune
Casey Yunker
Josie Yurich
Ella Yurk
Robert Yuska
Kayla Zabel
Caitlin Zabielski
Candice Zablan
Robin Zacharyasz
Maira Zafar
Nicholas Zahansky
Kegan Zahn
Rabab Zaidi
Andrew Zajkowski
Allison Zaletel
Desiree Zalot
Oscar Zambrano
Audrey Zamorano
Ryan Zander
Katherine Zander
Millicent Zanders
Robert Zaniewski
Anna Zanin
Angela Zanolini
Kristen Zanotelli
Brandon Zappanti
Sarah Zarakotas
Elizabeth Zaranka
Vickie Zarebi
Jack Zastowny
Julia Zavaleta
Vincente Zazueta
Mark Zdelar
Alyssa Zell
Erika Zeller
Danielle Zeller
Rhonda Zellweger
Michelle Zeno
Anthony Zeppieri
Betty Zequeira
Jennifer Zeringue
Sami Zerkle
Samantha Zermeno
Megan Zettler
Meredith Zettler
John Zhang
Yizhi Zhang
Eirwyn Zhang
Chunxiao Zhong
Ruijie Zhu
Kayla Ziakas
Noah Ziegenfuss
Courtney Ziegler
Ashleigh Ziesmer
Blair Zigler
Sophie Zigmont
Natalie Zilberman
Holly Zimmerman
Timothy Zimmerman
Matthew Zindler
Alexander Zink
Victoria Zinke
Xavier Zinssner
Jennifer Zintel
Madyson Ziskin
Alex Zizzo
Jo-Ann Zodkowic
Jessica Zoeller
Kaycee Zona
Grace Zona
Anthony Zotynia
Zoie Zubia
Melissa Zulon
Lauren Zuppardo
Anna Zuray
Denise Zuver
Seth Zwiefelhofer
Matthew Zyroll
Explore more content like this article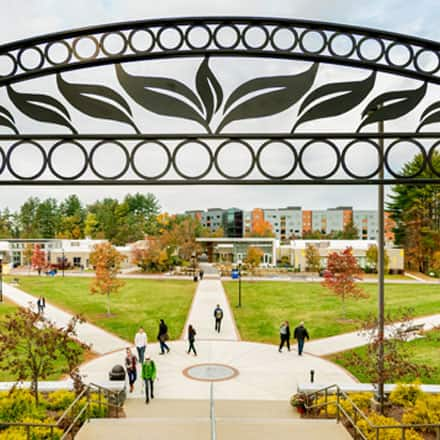 It is with great pleasure that Southern New Hampshire University (SNHU) recognizes the following students' academic achievement in being named to the President and Dean's List for the winter 2022 semester.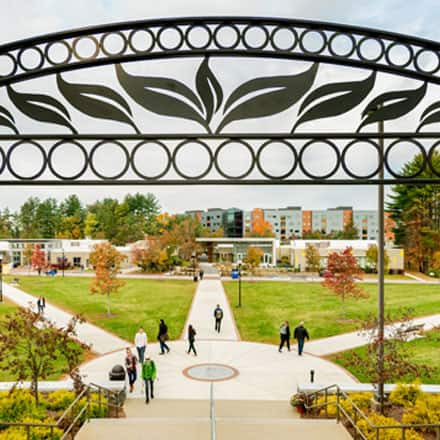 In recognition of its commitment to support military-affiliated learners, Southern New Hampshire University (SNHU) has been named a top 10 Military Friendly® School for 2022. The University earned the second spot on this year's list of private institutions that offer doctorate degrees.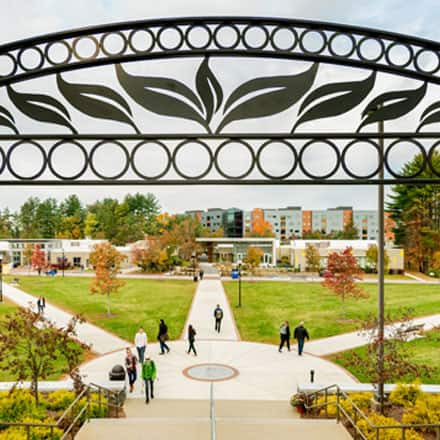 More than 750,000 Amazon hourly employees will be eligible to pursue degree pathways at SNHU as part of the expansion.
About Southern New Hampshire University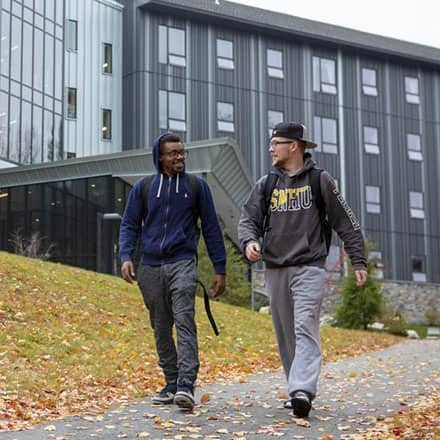 SNHU is a nonprofit, institutionally accredited university with a mission to make high-quality education more accessible and affordable for everyone.
Founded in 1932, and online since 1995, we've helped countless students reach their goals with flexible, career-focused programs. Our 300-acre campus in Manchester, NH is home to over 3,000 students, and we serve over 135,000 students online. Visit our about SNHU page to learn more about our mission, accreditations, leadership team, national recognitions and awards.