School On Your Schedule
Find the flexibility you've been looking for with Southern New Hampshire University online.
Undergraduate Programs
Bachelor's and Associate Degrees
8-week terms | 6 terms per year
Graduate Programs
Master's Degrees
10-week terms | 5 terms per year
With rolling admission, you don't have to wait to jump into class. You can even register up to the day before the term starts. Fill out SNHU's free 5-minute online application, and get your degree sooner than you'd think.
Undergraduate Terms
Bachelor's and associate programs consist of six 8-week terms per year. Applications are reviewed on a rolling basis.
Undergraduate Terms

| Term | Term Begins | Term Ends |
| --- | --- | --- |
| January 2024 (24EW3) | January 08, 2024 | March 03, 2024 |
| March 2024 (24EW4) | March 04, 2024 | April 28, 2024 |
Graduate Terms
Master's programs consist of five 10-week terms per year. Applications are reviewed on a rolling basis.
Graduate Terms

| Term | Term Begins | Term Ends |
| --- | --- | --- |
| December 2023 (Dec - Feb) | December 04, 2023 | February 18, 2024 |
| February 2024 (Feb - May) | February 26, 2024 | May 05, 2024 |
| May 2024 (May - Jul) | May 13, 2024 | July 21, 2024 |
Frequently Asked Questions
Many colleges start their academic year with a fall term followed by a spring term, especially in a traditional campus setting. Online courses often run on a different schedule with shorter, more frequent terms.
At Southern New Hampshire University, online undergraduate programs have 6 terms every year, which means 6 opportunities to get started. SNHU online graduate programs have 5 terms, likewise giving you 5 dates to choose from when beginning your degree.
You can apply at any time for any one of the upcoming terms. Because here, college is on your time.
How long is one college term?
College term schedules will vary from school to school.
At Southern New Hampshire University, online undergraduate terms are each 8 weeks long and graduate terms are 10 weeks. Many campus settings have longer term structures, depending on where you're enrolled.
The frequency of terms at SNHU enables you to complete courses at your own pace. You can choose to take one or two courses per term, depending on what works best for your schedule and goals. If you take two per term, that could speed up your graduation date.
"Some students come into their program with the mindset of getting their program done as quickly as possible," said SNHU graduate academic advisor Colin McGahan. "With the terms set up this way, it's really easy to see the finish line as they can chart out their program from the start."
He gives the example of a student enrolling in the MA in Communication program, which is 12 courses.
"If a student in the program wants to finish their program in under 2 years, they can map it out and say, 'OK, I'm going to take two courses per term and it will only take me 6 terms to finish.' They don't have to account for a summer break or a winter break," he said. "They can really see the finish line right from the start."
Is there time off between terms?
Yes! There are scheduled breaks between terms throughout the year. It will vary depending on your degree level.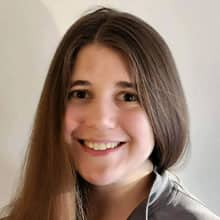 Graduate programs have one break week between each term, while undergraduate programs have one week off every other term. You'll want to monitor the term schedule to keep track of your break weeks. This way, you can plan ahead for upcoming courses.
"The one-week break in between terms is just enough time to catch your breath, but not too long as to make you lose sight of your goals," said Kayla Morrison, a graduate academic advisor at Southern New Hampshire University. "Many learners like to get ahead during the break week and will begin the reading for their next class."
And if you need to take a term off, you never have to wait too long before getting back into class.
Just ask graduate advisor Colin McGahan.
"We all know how challenging it can be to stop something and then pick back up again," he said. "With our setup, it doesn't allow too much time to pass when taking a break, allowing students to hop back into courses and still feel like they are still in the swing of things."
How many terms will it take to earn my degree?
That will depend on a few things. Your program level, credit requirements and course load will all play a role in how long your degree could take.
Because you can choose how many courses you take per term throughout your program, you're really in the driver's seat. Plus, if you have prior credits that you're transferring in, it'll take even less time to finish.
The good news is you'll have a dedicated academic advisor that will go through your degree plan and map out your program with you. They'll check in with you each term to make sure you're on track for your next classes. If something comes up, they can always help adjust your plan.
What's the difference between a college term vs. semester vs. quarter?
Each school follows an academic calendar with terms marking the start and end of each session of classes.
A semester typically consists of two 15-17 week terms in the fall and spring, while a quarter system may be closer to four 10-week terms in the fall, winter, spring and summer.
At Southern New Hampshire University online, there are six 8-week undergraduate terms throughout the year, as well as five 10-week graduate terms. This means you never have to wait long for an opportunity to start your degree.
"SNHU packs a lot of information into 10 weeks, but it's all broken down into manageable one-week learning modules," said graduate academic advisor Kayla Morrison. "Carving out time to study amidst life's other demands is easier for a short 10-week term rather than a 15-week semester."
Need a term off? Get right back into class the following term without missing a beat.
"Students who must take a term off benefit from having the opportunity to return to classes quickly," Morrison said. "Instead of waiting a full semester to jump back into their courses, they only need to wait a few weeks. The term structure is designed to help students reach their goals quickly and efficiently."