Short Story Contest Winner Finishes Degree with Scholarship Prize
When Mary Wroten finished reading the last book in her 5th-grade classroom, her teacher handed her a notebook and told her to "write the story you want to read." While she only remembers that first story she wrote featured a dragon, she's been writing ever since.
When she turned 40, she enrolled in Southern New Hampshire University's (SNHU) online BA in Creative Writing and English program and began sharing her writing with others for the first time. Less than a year later, she won SNHU's 4th Annual Fall Fiction Contest.
First Place in the Fall Fiction Contest
Since 2015, SNHU has hosted its Fall Fiction Contest, inviting writers to submit their short stories for the opportunity to win a scholarship and have their work published in The Penmen Review.
A panel of experts scores short story submissions based on:
Originality
Thought process and structure
Character arc
Grammatical correctness
Whether it's engaging
Once the finalists are selected, the general public has a chance to weigh in by voting for their favorite story. Their voices, combined with the judges' scores, determine the winners each year.
"I almost didn't enter," Wroten said. "I was thinking, 'wow, with all those writers out there, there's no way (I could win).'" Thanks to some encouragement from her husband, Jeremy, she decided to enter "David's Cookies" into the contest and realized her doubts were unnecessary.
Wroten was easing into a vacation on the day the finalists were scheduled to be announced. "I hadn't had a vacation in over a year," she said. "My sister was coming to visit, so I decided to take some time off."
She spent the day refreshing her email, waiting to hear whether the judges selected her story for the public voting round.
Not only was "David's Cookies" selected as a finalist, but she found out a few weeks later that it placed first. "When I saw 'congratulations,' I freaked out a bit, honestly," she said. Her husband was the first person she wanted to tell the news.
The Inspiration Behind 'David's Cookies'
"David's Cookies" is a 1,136-word short story inspired by Wroten's time working at a San Francisco bakery. It follows a David, a regular at the narrator's bakery. The older man picks up a dozen sugar cookies for his wife every Tuesday – until one week he doesn't come.
While the story isn't anything Wroten experienced while working at the bakery, David is based loosely off of one of her regulars.
"He was this older man who would come in several times a week, and, you know, he was nice enough, but he always had some sort of complaint," Wroten said. "He would always preface his complaint with, 'well, I thought it was great, but my wife…'"
She first submitted the story for a project in her Introduction to Creative Writing class, where she worked on it throughout the term, from rough draft to final product. "I got a perfect score," Wroten said.
Finishing Her Degree
Last winter, Wroten left the bakery when she and her family moved to Georgia. She took this transition as an opportunity to complete her BA in Creative Writing and English and spend more time with her children as a stay-at-home mom.
Though she began her college journey years ago, she never finished it. She was following a path her family envisioned for her, enrolled in a program that didn't match her dreams. "I never wanted to do it, so I never really finished," she said.
Citing a mid-life crisis, she realized she wanted to go back to school, even though she was raising four children – Jeremy, Lily, Bella and Tyler – and working full-time.
"I want to say 'look, I finished. I got my college degree,'" Wroten said.
Receiving a $3,000 scholarship for winning the Fall Fiction Contest allowed her to give her classes her full-attention as she approached the finish line.
"It came as we were moving, which is a financial burden in and of itself," Wroten said. "Having that scholarship significantly lightened the load for several terms, and allowed for greater focus."
In August, she submitted the last assignment toward her bachelor's program degree, and now she's returning to the writing she did throughout her time at SNHU.
"I am now dedicating my time to finishing my novel," Wroten said. "The idea for which came from my final project in (the) Context of Writing last year."
Enter the 2019 Fall Fiction Content
This October, SNHU is accepting submissions for its 5th annual Fall Fiction Contest. Writers across the country are invited to submit an original short story to vie for a scholarship prize.
Short story submissions must be:
Double-spaced
Submitted as a Word document
Formatted with the writer's name and contact info at the top left of the page
No longer than 1,500 words
Limited to one per writer
Review this information for the list of prizes and to learn how to submit your short story. Be sure to read all the guidelines before submitting.
If you're thinking about entering the contest, Wroten recommends you do. "You just never know," she said. "I thought my writing wasn't good enough. I'm still in school. I'm still learning." She had a good story to tell though, one that she crafted and honed as a student. She got it to a place that put her in contention as a finalist and ultimately take home the top prize.
Rebecca LeBoeuf '18 is a staff writer at Southern New Hampshire University. Connect with her on LinkedIn.
Explore more content like this article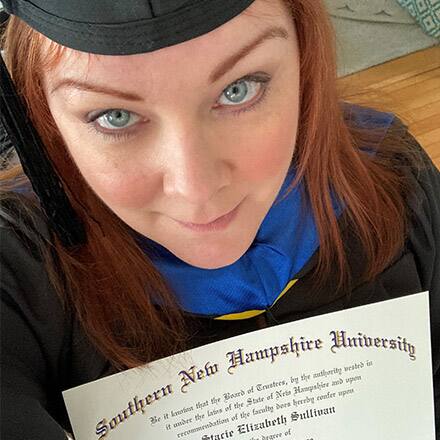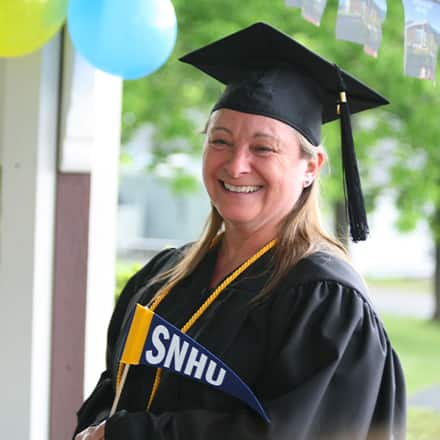 A Special Diploma Delivery for New Hampshire Grad
August 03, 2020
When SNHU's Commencement was postponed, Dr. Gwen Britton decided she would arrange a special ceremony for her longtime friend who had earned her bachelor's in information technology.