Always Learning: Online Educators Continuing Professional Development
Thousands of Southern New Hampshire University (SNHU) educators, from various disciplines, virtually convened for the university's second annual Gather Conference this winter. The three-day conference, which emerged from a faculty spotlight series, focused on online instruction approaches and other developmental opportunities.
"Gather is truly meant to be a gathering of our online teachers, sharing their best practices and learning from one another," said Alexis Morton, the assistant director of faculty engagement.
Organized by SNHU's Center for Online Teaching and Learning, academics throughout the online programs, including those from Latin America, led presentations and discussions that their colleagues could tune into live or access later in the conference hub, along with networking forums and other materials.
"With so much talent in our community, it was important to us that this conference be a platform for our teachers to share their vast expertise, as well as for those newer to our community to see the depth of experience they could lean into with SNHU," Morton said.
Anyone who participated in the Gather Conference received a digital badge they could share on social media sites, such as LinkedIn. It was also a chance for the academic team to introduce Dr. Jennifer Batchelor, the interim senior vice president of SNHU Global Campus, to faculty.
There were 43 sessions across three tracks and 12 ePoster discussions faculty could choose to attend, Morton said:
Optimizing Online Learning & Teaching, the primary track, showcased tried and true instruction methods. "Our talented learning and teaching community (has) such an amazing wealth of experience in online education," she said. "... They are truly masters of the trade."
Life Balance recognized the challenges faculty face, especially in tumultuous times. "Including the Life Balance track was really important to us to not only acknowledge and honor all that they do but also have peers share their strategies for achieving a better balance," she said.
Professional Engagement, meant to encourage others to share experiences and explore their interests: "So many of our community are involved in research and writing, serving on industry boards, and have publications to their credit," she said.
Faculty Professional Development Experiences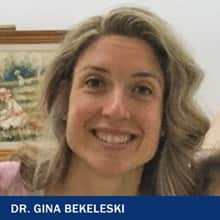 Dr. Gina Bekeleski, an adjunct instructor for SNHU's interdisciplinary studies and social sciences programs, found the session offerings to be diverse and the schedule flexible. "Gather allowed me to feel closer to the SNHU community, network with fellow colleagues and expand my own educational growth and learning," she said.
She especially enjoyed the "Integrating Mindfulness in the Online Learning Environment" presentation, finding that it aligned nicely with her teaching philosophy and the courses she facilitates. In this session, Dr. Irina Zlatogorova-Shulman, a business adjunct instructor, "discussed valuable methods in reducing students' anxiety, stress and fears as well as creating an empathetic environment to allow students to comfortably engage with their peers and professor," Bekeleski said.
Dr. Brandi Megan Granett, who has been an online instructor at SNHU since the early 2000s, also found the Life Balance track to be beneficial. As an adjunct in the creative writing programs, Granett said "Beyond the Broken Record: Using Polyvagal Theory to Make Self-Care MINE," presented by Dr. Metoka Welch and Dr. Karena Heyward, director of counseling programs and clinical faculty at SNHU, respectively, introduced methods to help navigate stress and better support stressed students.
"Learning more about how the science of our bodies and our neurology impacts our response to the world can help educators be more aware of their own stressors as they serve students during this particularly challenging time," Granett said.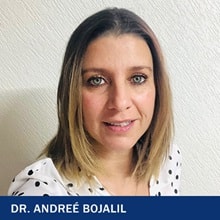 For Dr. Andreé Bojalil, the Gather Conference was an opportunity to share her experience as a faculty member for SNHU's Spanish-language Latin American programs. She was a panelist for "Challenges and Opportunities of the SNHU Online Learning Model in Latin America," and spoke primarily about the cultural differences and online adjustments she encounters.
Cultural differences: The students she works with may speak Spanish, but there are many regional differences – both with slang and formal Spanish. "We discussed this since it is a very interesting challenge to try to first understand and translate meanings all over the continent," she said. "Also, because one of the main objectives from the course I teach is to help them develop critical thinking through reading and writing."
Online adjustments: Online programs are a learning curve for some accustomed to face-to-face learning, according to Bojalil. "They are facing (challenges) in time management and technology since they are used to another kind of learning," she said.
Bojalil also had an opportunity to attend a session in Spanish about insights from SNHU's transnational education practices. "What I learned is that no matter which courses we are teaching, we are going through similar challenges since we are getting 'glocal,'" Bojalil said. "This means we have an amazing education world, which opens great opportunities to solve local problems through global perspectives."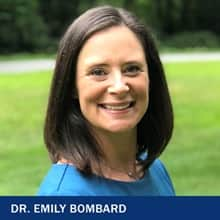 Dr. Emily Bombard, a clinical faculty member in the master's in nursing program, took advantage of the professional engagement sessions in her field. She particularly liked the ePoster session, "Undergraduate Nursing Faculty Doctoral Projects." "As a nurse educator, I appreciated learning about a variety of current, nursing-specific topics while gaining insight into my colleagues' scholarly work," she said.
Bombard also attended practical sessions geared toward improving online instruction, hoping to gain new information and teaching approaches. One webinar, led by Dr. Crissy Hunter, showed her how to maximize her use of Turnitin software to offer feedback. "I learned a new technique from her presentation, which I now use daily; it feels transformative," Bombard said.
As she incorporates new practices in her work, Bombard is already excited to attend next year's conference. "Overall, the ideas presented in Gather 2021 helped me grow both personally and professionally, and I look forward to Gather 2022," she said.
Rebecca LeBoeuf '18 is a writer at Southern New Hampshire University. Connect with her on LinkedIn.
Explore more content like this article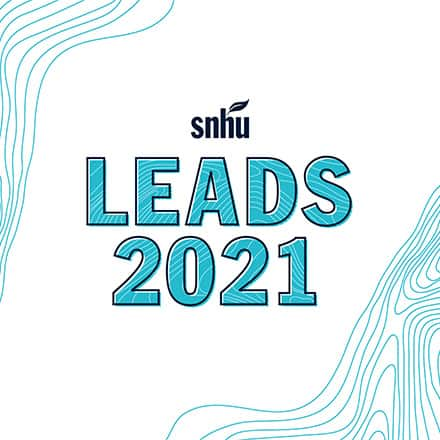 April 22, 2021
SNHU students, staff and alumni worldwide dropped by the 7th annual LEADS Conference earlier this month for personal and professional development that focused on academic achievement, leadership and career advancement.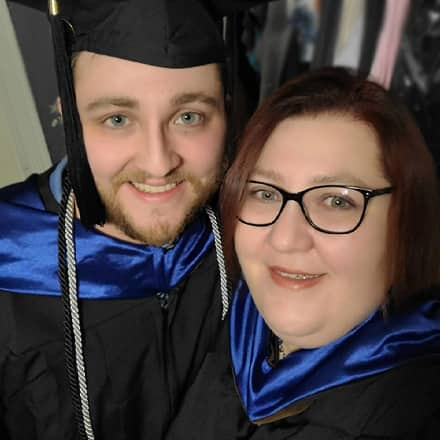 April 09, 2021
Tara and George Conrad – mother and son – began their degrees at the same time. Now they're celebrating their journey and accomplishments as graduates.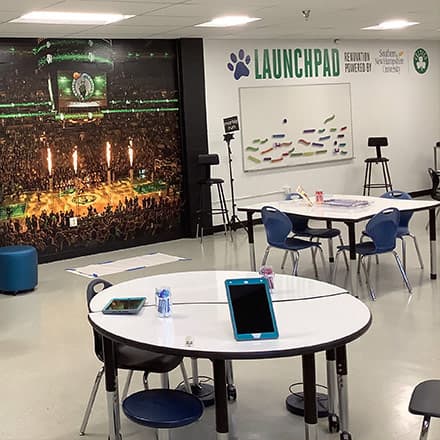 April 02, 2021
The Boston Celtics and Southern New Hampshire University recently unveiled their 14th tech lab, this time, the "Wildcat LaunchPad" at Webster Elementary School in Manchester, New Hampshire.