SNHU's Inclusive Innovation Grants in Action

In early 2019, Southern New Hampshire University's Office of Diversity and Inclusion (ODI) announced the first recipients of its Inclusive Innovation Grants and have since awarded another 11 recipients in round two of grant funding. According to Maria Aguirre, ODI project coordinator, the purpose of these grants is "to provide an opportunity for all within the SNHU community to personally connect with diversity, equity and inclusion (DEI) efforts and impact the SNHU community at the most organic level."
Through these grants, Aguirre said, SNHU wants people to see that efforts related to DEI are not just something other people can do – that it's there for all of us to participate in. "We believe that everyone can make a difference," she said. "We prioritize proposals that reach across different departments, groups and communities as the goal is to maximize the impact of each initiative."
With the next round of grant applications review soon to come, Aguirre shared a few of the projects that have come to fruition thus far, with the hope of encouraging others in the SNHU community to apply.
Creating Positive Impact
Some of the initial grant projects are already experiencing impact beyond the anticipated outcome. "The first round of grants funded an adaptive sports showcase that we are actually bringing back again this semester, along with a Unified Jamboree event to host our first Inclusive Recreation Day on campus on November 9," Aguirre said. The first showcase not only had a great turnout but also raised awareness in new ways of the sports opportunities available for people with disabilities.
Other projects have included funding for a white anti-racism group, the advancement of work done by SNHU faculty on education of incarcerated populations and two childcare facilities in refugee camps so learners can focus on their studies, Aguirre said, among many others.
Several grant recipients shared their 'why' in applying for an Inclusive Innovation Grant and what they've learned along the way.
Becoming More Aware, Treating Students with Respect and Sensitivity
SNHU Experiential Education Certified Instructor in Communication Jon Boroshok applied for the ODI grant with the hopes of attending the Association of American Colleges & University's 2019 Diversity, Equity and Student Success Conference. "I wanted to learn more about diversity and working with a diverse population of students," Boroshok said, who teaches a 'rock and roll' edition of Media Literacy and Visual Communication. "It's impossible to address media literacy and rock and roll without looking at issues that include segregation, and how the media portrayed certain cultural norms." Most of all, he wanted to be sure he treated these topics and his students with respect and sensitivity.
With the grant, he was able to attend the conference and later wrote about his thoughts in the AACU&U News about what he experienced. "I became aware of many more types of diversity than my limited understanding had seen," Boroshok said. "While SNHU is still predominantly white, we have so much diversity here, including things like financial diversity, first-time college students, gender, orientation, mental health and more. It goes so far beyond my limited scope of race and ethnicity." He hopes to bring and share some of that awakening in his classroom and his life in general, and perhaps turn his experiences into a new workshop at the 2020 AAC&U Conference.
Celebrating Diversity, Developing a Sense of Belonging
For Tess Diver, assistant director of account management and learner experience at SNHU, the grant award provided her with "a unique opportunity to get funding for a project that may not fall into my typical role." She said it was an opportunity as well to expand her impact.
"I have focused on creating a resource for orientation courses at SNHU," Diver said. "This resource contains personal statements and photos from real students – they answer the question: "What makes you, you?"
She hopes this resource is seen by thousands of new students each term in their first-year experience courses. "They will read these statements from other students and see something of themselves in their peers – and it will help them to realize that they belong at SNHU," Diver said. "Research shows that developing a sense of belonging is critical to student success, especially in the first term."
Creating Space, Tapping into Strengths and Resources
Jasmeial "Jazz" Jackson applied for an Inclusive Innovation Grant with the hopes of creating a space for minority transplants to New Hampshire who didn't have a supportive network to tap into for strengths and resources.
With a focus on networking and fellowship, Jackson envisioned an event that included a guest speaker to share a personal story and strategies on how to navigate New Hampshire as a minority (person of color). In planning for the event later this month, he learned that while there are small people of color groups throughout the state, there wasn't much synergy in place since many weren't aware of each other.
"As a result of this event, we can develop a more comprehensive mailing list to invite communities of color to local events and activities where they can continue to meet others like themselves, develop a list of cultural resources in which people of color will be able to leverage to better acclimate to New Hampshire, and lastly, attendees will be able to meet with at least two people that they can connect with to develop a long-lasting relationship," Jackson said.
He hopes that "this event will be an annual legacy event that can grow and expand to bring this important population together. By developing a space, it will allow this group to provide support and mentorship to one another in a state the reflects limited diversity."
Strategies to Promote Diversity and Inclusion in Online Classrooms
For Barb Lesniak, associate dean of social sciences at SNHU, the grant allowed her to work with colleagues to create a highly interactive two-part series – for both instructors and students. Her focus is on providing strategies for promoting DEI principles in the classroom, addressing hidden prejudices and offering education on how to apply key topics in everyday life.
Lesniak is also an adjunct, teaching psychology classes and sees firsthand how hidden and not-so-hidden prejudices still exist and are present in course settings. "I'm sure other instructors run into this same issue so I'd like them to learn from experts how to handle this and promote sensitivity and inclusion in the online classroom," she said. "I had a very close family member whose life was negatively affected by being gay, but having to remain closeted and not being able to live a genuine life in an era when you didn't dare speak of such things. So, it saddens me when I still see negative attitudes seeping through in today's world."
The sessions associated with her grant project will be held in November, so Lesniak said the learning is still to come. Her anticipated outcome is for instructors to learn strategies to promote diversity and inclusion in their online classroom. "I've partnered with Erica Allen, president of PFLAG-NH (a nonprofit organization of parents, families, friends and allies united with the LGBTQ+ community to move toward equality in the Granite State), who will share her expertise and add a real-world perspective," she said.
"I believe this is particularly important because students in the LGBTQ+ community may feel safer in online classes, and we want to fulfill those expectations," Lesniak said. "Many disclose in discussion posts, and we want to ensure an accepting and supportive environment."
She feels it's even more critical given she teaches and is a dean within the Psychology program, where many of the students will eventually work with diverse populations. "We're doing them a disservice if we don't teach to respect diversity," Lesniak said. "Even our instructors can stumble when navigating these waters, so we want them to have the tools to handle these students respectfully, too."
She also wants instructors to know about some of the inclusivity initiatives currently underway at SNHU. "I'm proud to work for a university that takes this seriously enough to have a chief inclusivity officer and I believe our adjuncts will feel the same," she said.
Lesniak hopes to have a deep impact by arming instructors with the tools to promote inclusion and by educating students on this topic, raising their awareness and, hopefully, broadening their perspectives. "With tens of thousands of students interacting with our instructors, think of the positive ripple effects we can make even if we just enlighten a few," she said.
Those positive ripple effects will magnify with this next round of ODI grants. Grant guidelines are available for members of the SNHU community, and applicants should ensure their project goal is one that fosters a culture of welcoming and belonging, increase awareness around important DEI topics and embrace a culture of inclusivity for all.
Pamme Boutselis is a writer and content director in higher education. Follow her on Twitter @pammeb or connect on LinkedIn.
Explore more content like this article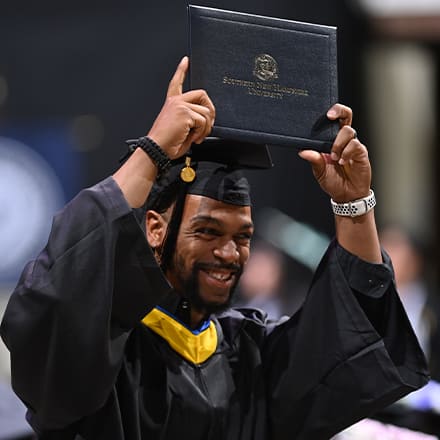 This weekend, the SNHU Arena welcomed students from 50 different countries and every U.S. state and territory to celebrate their new degrees. The ceremonies marked an important chapter for more than 22,500 eligible graduates who joined a community of over 230,000 SNHU alumni.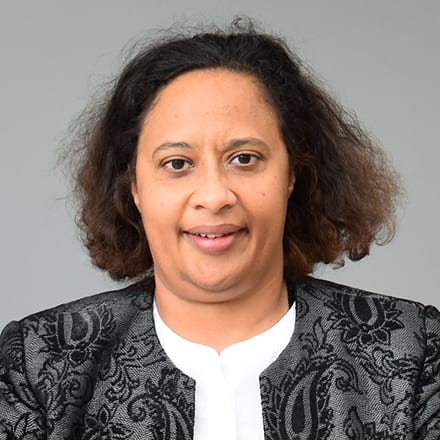 Joan Garner, daughter of late civil rights pioneer John Burrell Garner, is earning a master's degree in English and creative writing while writing a book about her family's legacy — including the Garner v. Louisiana Supreme Court case. And now, she's finally in charge of how the story will be told.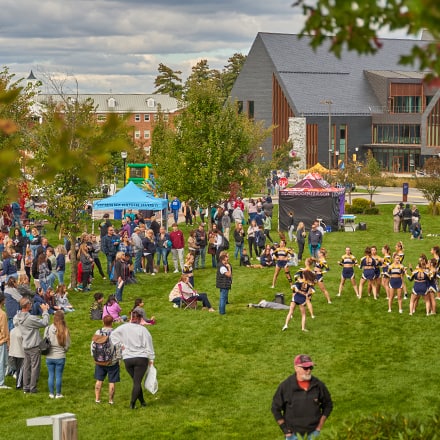 With an alumni network of more than 230,000 people and a student population that just surpassed the 200,000 mark, SNHU's Homecoming Committee and planning teams brought a variety of in-person, virtual and on-demand activities to its alumni, campus students, online students, faculty and staff.
About Southern New Hampshire University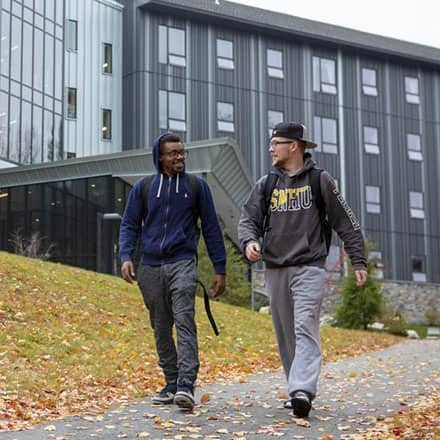 SNHU is a nonprofit, accredited university with a mission to make high-quality education more accessible and affordable for everyone.
Founded in 1932, and online since 1995, we've helped countless students reach their goals with flexible, career-focused programs. Our 300-acre campus in Manchester, NH is home to over 3,000 students, and we serve over 135,000 students online. Visit our about SNHU page to learn more about our mission, accreditations, leadership team, national recognitions and awards.