Loss of Vision Doesn't Deter IT Student from his Master's Goal
When Ricardo Scarello '19 crossed the stage to accept his diploma, his service dog Puck was by his side. Scarello didn't just earn his master's degree; he earned a Master of Science in Information Technology, by all accounts a challenging program for anyone, let alone someone that's vision impaired. But he did it, online, and graduated with a 4.0, too. He credits Southern New Hampshire University (SNHU) with "giving me the ability to be an equal to any other student" -- and now, he's using his skills and knowledge to allow others to experience the same through the work he does every day as a senior software developer.
Losing His Sight, Finding His Future
Scarello's vision was affected by retinitis pigmentosa, he said, the CERKL gene to be specific, which also caused him to suffer from early onset of macular degeneration. His vision had been on a steady decline until his mid 20s or so, and now, he has very little vision left. It wasn't an easy transition, he admits, and for a time said he "lived a challenging life." His wife helped him through a lot of those difficult years, as he went through a long period of not accepting what was happening. "I finally accepted it and let go of anger and frustration," Scarello said.
Prior to his diagnosis, Scarello worked as a forklift truck driver, a job he took on directly after high school. Eventually his loss of sight resulted in the loss of that job and he turned to the Massachusetts Commission for the Blind, who he said helped so much, to get on his feet again. He earned an associate degree at a local community college and then completed a bachelor's degree at a Massachusetts state university, graduating from both schools with high honors. As he ventured back into the workforce, the Commission for the Blind helped him figure out his career path, he said.
New Opportunities, Big Changes
While earning his bachelor's in computer information systems, Scarello worked as a help desk technician, webmaster and eventually, a systems analyst. After embarking on his master's in IT program online with SNHU, he began working with the university's career services team and participated in a virtual career fair. Little did he know that his life, along with his wife and daughter's, would soon undergo a big change.
Through the virtual career fair, Scarello connected with recruiters from General Dynamics. He was offered a software development role at the organization's Bossier City, Louisiana, location in 2017, necessitating a family move from Massachusetts. He's now a senior software developer, "progressing two job levels," he said, to a position leading a team across several states.
The team supports the Environmental Protection Agency, ensuring Section 508 compliance for the Federal agency. According to the U.S. Department of Health and Human Services, Section 508 requires that all website content be accessible to people with disabilities. His new role allowed him to readily use the knowledge he was acquiring in class almost immediately. "I would take something from a course and use it the next day," he said.
It's a job that means a lot to Scarello. "Everything I do touches on people's lives," he said. "I love my job. I get up everyday and am happy to go to work."
Finding Solutions, Together
He admits it hasn't been easy. There are many challenges. "You have to accept the things you can't change and get around the obstacles," Scarello said. That was a philosophy he adhered to throughout his time with SNHU, too, and he had staff and faculty by his side finding ways to get around any obstacles he encountered.
"This was something no other school has done for me before," he said. "Whatever came up, they said, 'We'll figure it out.'"
There were times Scarello said that it would have been easy for either he or SNHU to just give up, but both were ready to take on any challenge that came up. He worked closely with the university's Online Accessibility Center (OAC), partnering with the team to find solutions. He'd tell them that there were certain things he just couldn't do in the format they were currently in but would then offer a potential solution of how he thought he might be able to.
"His expertise, his knowledge made such a difference," Demita Furnner, OAC director, said. "He challenged us in ways we hadn't been challenged before." Finding solutions became a group effort, with staff throughout the university brainstorming and building off suggestions from Scarello.
While he often had an opportunity for a lengthier time to complete an assignment, Seth Matthews, an OAC accommodations specialist at the time, said Scarello seldom took advantage of the extra time. Given the ability to learn on an equal playing field through the support he received, he said, "I wanted to be equal to the class."
As a result of the learning that came about through Scarello's experience, Matthews said, "Pathways that have been developed have widened."
Furnner agrees. "Ricardo made us better," she said.
He's Not Done Yet
With a master's degree and a job he loves, Scarello's not done yet. He recently enrolled in an online doctorate program and is active with the Louisiana Association for the Blind as an advocate. He encourages others, regardless of their disabilities, to go after their goals. Whether it's pursuing an education or in the workplace, he said it's important to know what accommodations you need to succeed in a class or at work. He said, "Be forthcoming" and let people know the skills you have and the tools you need to accomplish what you need to do.
"I never imagined I could get my master's and a perfect 4.0," Scarello said. He did that and more -- and no doubt his long list of accomplishments will only continue to grow.
Pamme Boutselis '15, '17G is a staff writer and senior content director in higher education. Follow her on Twitter @pammeb or connect on LinkedIn.
Explore more content like this article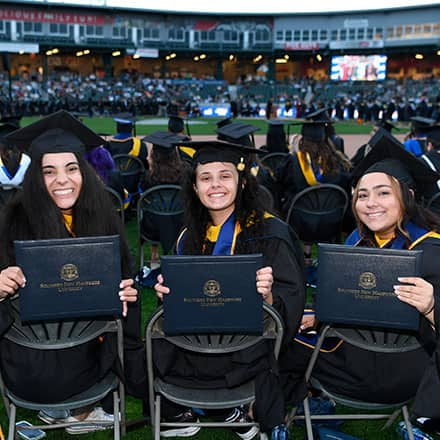 October 18, 2021
Southern New Hampshire University's Class of 2020 and 2021 campus graduates had their moment in the sun on Saturday when more than 400 celebrated their incredible achievements at Northeast Delta Dental Stadium in Manchester, New Hampshire.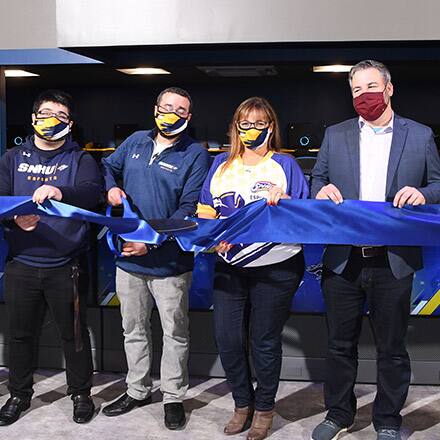 October 13, 2021
SNHU celebrated the grand opening of its esports arena on October 8th. A ribbon-cutting event marked the official opening to welcome the campus community and to see where esports players hone their gaming skills and compete against varsity-level opponents across the U.S. and Canada.
August 19, 2021
If you're wondering how to become a computer programmer, the field requires academic knowledge, a passion for math and engineering, adaptability and hands-on experience.