Earn your Master's in IT Online
$637/credit (36 credits total)
Transfer up to 12 graduate credits
Complete in as few as 15 months
Learn current IT tools and technologies
Increase your management potential
Get hands-on employable skills
Online Master's in Information Technology Program Overview
Learn to identify and implement technologies that drive growth and provide competitive differentiators for any organization. A Master of Science in Information Technology degree from Southern New Hampshire University can provide you with marketable IT skills that can help you serve as a bridge between IT and your organization's management. This program emphasizes practical skills as you'll analyze business needs, determine information systems requirements and apply current technologies.
Organizations in every industry need IT professionals who can think beyond traditional IT support functions. The master's in IT at SNHU can help you land a key IT role in a broad range of organizations.
What You'll Learn
Appropriate steps for ensuring information security
Collaborative problem-solving
Computer-based solutions to business challenges
Ethically sound, technology-informed compliance procedures
Risk assessment that informs change management processes
How You'll Learn
At SNHU, you'll get support from day 1 to graduation and beyond. And with no set class times, 24/7 access to the online classroom and helpful learning resources along the way, you'll have everything you need to reach your goals.
Concentration Options
You'll also have the option to master a specialized skill set with one of our 7 industry-driven concentrations.
Career Outlook
With the growing demand for more business professionals with IT expertise, graduates of this program will be prepared for a variety of employment opportunities. As businesses increase cybersecurity measures and integrate automation to perform repetitive tasks, IT professionals continue to be sought in high demand.1
SNHU's information technology master's program is designed to accommodate career changes as well as those already in the field looking to advance their role in the industry. Upon graduation, you'll have the skills needed to take your next step.
Where Could You Work?
Common industries that employ computer and information technology professionals, according to the BLS1, include:
Government
Develop and improve secure, effective software and hardware. Work in collaboration with engineers and other specialists to solve problems, test solutions and build new systems.
Insurance Companies
Design and build high-performing, efficient databases to house important information. Plan and implement strategies for maintaining database security.
Computer Systems Design Firms
Install, maintain and upgrade network hardware and software to fit the needs of a particular organization. Train staff to use systems properly.
Education
Support students, faculty and staff by troubleshooting and fixing computer or other technology problems.
Manufacturing
Plan and execute experiments to test new software. Identify risks, and create innovative solutions to mitigate those risks.
Self-Employment
Use computer languages, like C++ and Java, to write, test and fix programs. Use programming knowledge to make necessary updates and changes.
Job Growth and Salary
Job Growth
The U.S. Bureau of Labor Statistics projects that jobs for computer and information technology occupations will grow by 15% through 2031, a rate much faster than average.1
Salary
The median annual salary for computer and information technology jobs was $97,430 in May 2021.1
Understanding the numbers
When reviewing job growth and salary information, it's important to remember that actual numbers can vary due to many different factors—like years of experience in the role, industry of employment, geographic location, worker skill and economic conditions. Cited projections do not guarantee actual salary or job growth.
Start Your Journey Toward an Online Information Technology Degree
Why SNHU for Your Master's in Information Technology
Flexible
With no set class meeting times, you can learn on your schedule and access online course materials 24/7.
Affordable
As part of our mission to make higher education more accessible, we're committed to keeping our tuition rates low. In fact, we offer some of the lowest online tuition rates in the nation.
Prior coursework and work experience could also help you save time and money. SNHU's transfer policy allows you to transfer up to 12 credits from your previous institution. You could also earn college credit for previous work experience.
Respected
Founded in 1932, Southern New Hampshire University is a private, nonprofit institution with over 160,000 graduates across the country. SNHU is accredited by the New England Commission of Higher Education (NECHE), a regional accreditor, which advocates for institutional improvement and public assurance of quality.
Recently, SNHU has been nationally recognized for leading the way toward more innovative, affordable and achievable education:
"Most Innovative" regional university honors from U.S. News & World Report each year since 2015
A $1 million grant from Google.org to explore soft skills assessments for high-need youth
Recognition as a 2017 Digital Learning Innovator by the Online Learning Consortium
Network
At Southern New Hampshire University, you'll have access to a powerful network of more than 300,000 students, alumni and staff that can help support you long after graduation. Our instructors offer relevant, real-world expertise to help you understand and navigate the field. Plus, with our growing, nationwide alumni network, you'll have the potential to tap into a number of internship and career opportunities.
93.6% of online students would recommend SNHU (according to a 2022 survey with 17,000+ respondents). Discover why SNHU may be right for you.
Expanding access to quality higher education means removing the barriers that may stand between you and your degree. That's why you can apply at any time and get a decision within days of submitting all required materials:
Acceptance decisions are made on a rolling basis throughout the year for our 5 graduate terms.
If you're ready to apply, follow these simple steps to get the process going: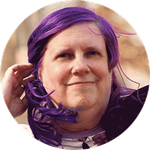 100% Online - With No Set Class Times
Linda Charlton-Gunderson '20
"I loved SNHU because I am working full time. Being online allowed me to work and study on my schedule."
Courses & Curriculum
From developing computer-based solutions to business problems to collaborating and communicating effectively, the online IT curriculum provides a look at current IT topics and applications that you'll learn at SNHU.
The skills you'll gain in this program will prepare you to step into a variety of leadership roles in the IT field. Throughout your courses, you'll deepen your understanding in crucial areas of information technology, including:
Object Oriented Application Development
Innovations in Information Technology
Technical Communication
Operating Systems
Telecommunications and Networking
Principles of Database Design
Graduate Experiential Learning
Additionally, you may also participate in Graduate Experiential Learning. You could take part in cyber competitions, learn cloud computing or analyze real-world data — and even get credit for it. SNHU's 3-credit STEM experiential learning course gives you the invaluable opportunity to gain hands-on experience and a critical edge in the workforce.
"The experiential learning AWS (Amazon Web Services) course allowed me to get real-world experience that led to a certification that will help me advance my career. The presentation of course material and support from the instructor helped to give me and my peers the tools to become a cloud professional," said Aaron Guyett, a student in the MS in IT with a concentration in Web Design and Development program.
Cybersecurity Center of Excellence
Through our Cybersecurity Center of Excellence, SNHU proudly supports cybersecurity students across the globe. To learn more about our contributions to the field, and connect with our academic leaders, visit our Cybersecurity Center of Excellence page.
List of Courses
Courses May Include
MS in Information Technology Online
IT 510
Advanced Information Technology
This course focuses on the principles and practices underlying the analysis, design, implementation and management of information technology systems. Topics include information system development methodologies, systems planning, requirements analysis, systems implementation, software engineering, project management, and interface, database and process design.
IT 511
Object Oriented Application Development
This course provides a comprehensive introduction to the principles and practices of object- oriented software development and provides a foundation for developing quality software. Students develop skills in applying object- oriented concepts to solve software problems and implement solutions. The course also teaches the concepts and design of algorithms for problem solving and includes the topics of data structures as they are related to the algorithms that use them. The course provides the technical foundation necessary to handle the material covered in the subsequent IT courses.
IT 515
Innovations in Information Technology
In this course, students strengthen their understanding of leadership theory and ethical frameworks in the context of a technology enterprise. Students will apply this understanding to business cases that reflect the need for innovative technology solutions in today's workplace in order to transform the thinking of an organization when change is required or to develop ideas that enable new business strategies.
IT 520
Technical Communication
The course focuses on the essential oral and written technical communication skills needed for producing technical documentation and presentations in many different forms for varying business situations. The course enables students to understand the needs of stakeholders in order to develop different technical documents such as white papers, design specifications, project plans, test plans, user manuals, etc. The ability to communicate research findings using appropriate academic formatting will also be addressed.
IT 600
Operating Systems
This course focuses on computer architecture and the operating systems of digital computers. Students learn about the operational methods of hardware; the services provided by operating systems' software; acquisition, processing, storage and output data; and the interaction between computers. Topics include widely used operating systems such as DOS, Windows, and UNIX.
IT 625
Information Technology Project and Team Management
This course introduces the students to the principles and practices necessary to be an effective IT project manager. The course covers project scope, time, cost, quality and human resource management techniques as applied to the kinds of project management problems and issues unique to the IT environment. Students learn how to design an actual IT project structure and will obtain hands-on experience using project management software. Emphasis is on the techniques of project management, leadership, teamwork and project risk management as applied to the IT environment. Case work is an important part of this course.
IT 640
Telecommunications and Networking
Telecommunications is a business resource that must be well managed. This includes the technical aspects and the application of telecommunications technology to solve specific business problems and enhance the strategic position of a business enterprise. Topics include the importance of telecommunication in today's business environment, the analysis, design and implementation of telecommunications systems, the scope of the telecommunications industry and current trends; telecommunications hardware, the Open Systems Interconnection (OSI) network model, networking technologies and telecommunications software, protocols and standards.
IT 650
Principles of Database Design
This course is a study of the design, development and implementation of database management systems (DBMS) that emphasize relational DBMS architecture using SQL. Students will design and implement projects and complete case exercises as they are introduced to new developments in database design.
IT 700
Capstone in Information Technology
This capstone course is the culminating experience for the M.S. in Information Technology program. The aim of the capstone is to assess students' ability to synthesize and integrate the knowledge and skills they have developed throughout their coursework, rather than introducing new concepts. This course is structured to support student success in fulfilling program requirements.
Total Credits: 36
Minimum Hardware Required Specifications
| Component Type | PC (Windows OS) | Apple (Mac OS) |
| --- | --- | --- |
| Operating System | Currently supported operating system from Microsoft. | Currently supported operating system from Apple. |
| Memory (RAM) | 8GB or higher | 8GB or higher |
| Hard Drive | 100GB or higher | 100GB or higher |
| Antivirus Software | Required for campus students. Strongly recommended for online students. | Required for campus students. Strongly recommended for online students. |
| SNHU Purchase Programs | | |
| Internet/ Bandwidth | 5 Mbps Download, 1 Mbps Upload and less than 100 ms Latency | 5 Mbps Download, 1 Mbps Upload and less than 100 ms Latency |
Notes:
Laptop or desktop?  Whichever you choose depends on your personal preference and work style, though laptops tend to offer more flexibility.
Note:  Chromebooks (Chrome OS) and iPads (iOS) do not meet the minimum requirements for coursework at SNHU. These offer limited functionality and do not work with some course technologies. They are not acceptable as the only device you use for coursework. While these devices are convenient and may be used for some course functions, they cannot be your primary device. SNHU does, however, have an affordable laptop option that it recommends: Dell Latitude 3301 with Windows 10.
Office 365 Pro Plus is available free of charge to all SNHU students and faculty. The Office suite will remain free while you are a student at SNHU. Upon graduation you may convert to a paid subscription if you wish. Terms subject to change at Microsoft's discretion. Review system requirements for Microsoft 365 plans for business, education and government.
Antivirus software: Check with your ISP as they may offer antivirus software free of charge to subscribers.

Tuition & Fees
Tuition rates for SNHU's online degree programs are among the lowest in the nation. We offer a 25% tuition discount for U.S. service members, both full and part time, and the spouses of those on active duty.
Online Graduate Programs
Per Course
Per Credit Hour
Annual Cost for 15 credits
Degree/Certificates
$1,911
$637
$9,555
Degree/Certificates
(U.S. service members, both full and part time, and the spouses of those on active duty)*
$1,410
$470
$7,050
Tuition rates are subject to change and are reviewed annually.
*Note: students receiving this rate are not eligible for additional discounts.
Additional Costs:
Course Materials ($ varies by course). Foundational courses may be required based on your undergraduate course history, which may result in additional cost.
Frequently Asked Questions
What's the difference between information technology and computer science?
Computer science is focused on the underlying theories of computer systems. When studying for a computer science degree, you can focus on developing programming skills and becoming adept at creating and refining algorithms. Information technology studies are focused on the practical application of information systems and systems administration. Studies of information technology also include learning about databases, networking and gaining an overview of cyber security
What can I do with a master's in information technology?
When it comes to career paths in information technology, examples run from tiny consulting firms to huge multinational corporations, and from highly technical specialties to management ladders that demand strong people skills.
And since it's an evergreen industry that's rapidly evolving, there's a wide range of career options available in the industry. "Everything that you touch, everything that you wear, everything that you interact with, anything that you order online, it's all IT," said Ben Steinbach, a career outreach specialist at SNHU. "It's going to be with us every step of the way until the end of human civilization."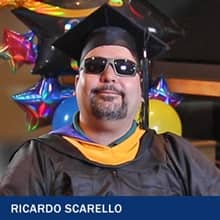 Our Career Services team can even help guide you along the way. After embarking on his master's in IT online, Ricardo Scarello '19, who is also visually impaired, began working with the university's career services team and participated in a virtual career fair. He credits SNHU with giving him the ability to be an equal to any other student. Now, he uses his skills and knowledge to allow others to experience the same through the work he does as a senior software developer.
"This was something no other school has done for me before," he said. "Whatever came up, they said, 'We'll figure it out.'"
Here are some examples of career routes you might choose:
Computer support specialist: A good entry role if you are new to IT and enjoy answering questions about computer software and hardware, setting up equipment and training computer users.
Network and computer systems administrator: Daily tasks in this job could include maintaining computer network hardware and software, backing up data and troubleshooting network problems.
Computer systems analyst: Strong computer skills, often including programming tools, database management software and development environment software are a must for this type of role, which requires an understanding of both IT and business systems.
What are the advantages to earning a master's in IT online?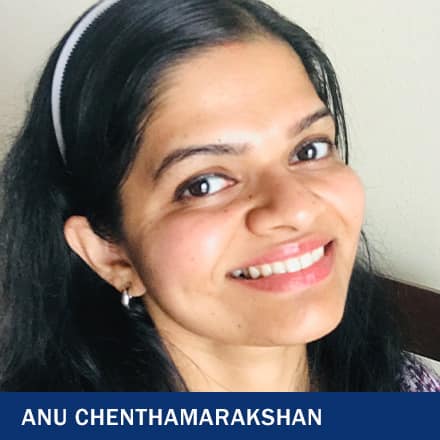 If you're looking to progress in the IT field, earning an information technology master's degree at Southern New Hampshire University is an excellent choice. After learning the foundations of information technology through SNHU's 4-year bachelor program, the online MS in IT degree could help you advance your career.
After a 5 year gap in her career, Anu Chenthamarakshan '21 decided to pursue her master's in IT online with SNHU to help gain back her confidence. "SNHU gave me the best of education and I am moving forward with an immense wealth of knowledge," said Chenthamarakshan. "My manager was happy and excited to see that I have earned a master's degree and considers me a role model."
How long does it take to get a master's degree in information technology?
Earning a master's in information technology can be done in as few as 15 months, depending on your schedule. At SNHU, you'll work closely with your academic advisor to develop a flexible timeline that works for your lifestyle.
How much can you make with a master's in information technology?
While it depends on a number of factors, according to BLS, the median annual wage for computer and information technology occupations was $97,430 in May 2021.1
Which IT jobs pay the most?
According to information pulled from BLS, the IT jobs that pay the most include:1
Computer and information research scientist: $131,490
Computer network architect: $120,520
Software developer: $109,020
Information security analyst: $102,600
Database administrator: $96,710
Note: Additional education and certifications may be required in these roles.
Related Articles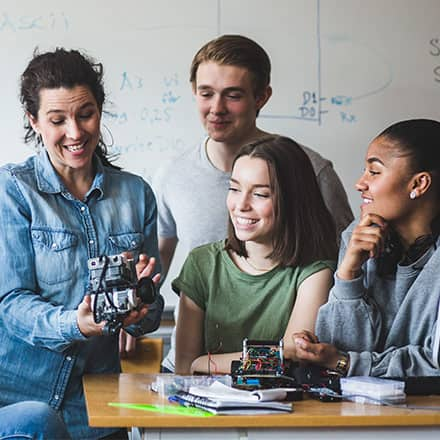 Let's start with a basic question: Exactly what does STEM mean? It's a term many are familiar with, but don't necessarily understand. STEM is a common abbreviation for four closely connected areas of study: science, technology, engineering and mathematics.
From Grace Hopper, an early pioneer in computer programming, to Katherine Johnson's contributions as a space scientist, women have been proving their value to the STEM fields for years and years. While there isn't one straight pathway into STEM, there are some general strategies that will help.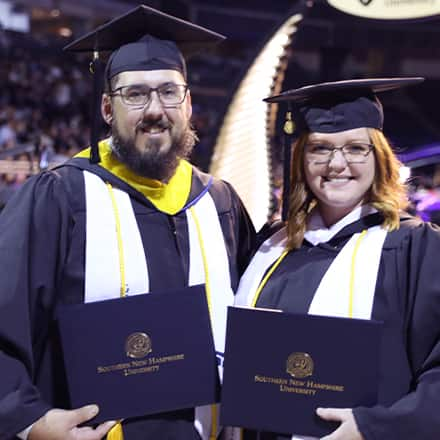 Michael and Taria Richards, both first-generation college graduates, earned their bachelor's degrees together from Southern New Hampshire University. Despite unconventional journeys, they've secured new jobs and are determined to set an example for their children.
References
1 According to the Bureau of Labor Statistics, U.S. Department of Labor, Occupational Outlook Handbook, on the internet, at:
https://www.bls.gov/ooh/healthcare/medical-records-and-health-information-technicians.htm (viewed Nov. 4, 2022)
https://www.bls.gov/ooh/management/computer-and-information-systems-managers.htm (viewed Nov. 4, 2022)
https://www.bls.gov/ooh/computer-and-information-technology/home.htm (viewed Nov. 4, 2022)
Cited projections may not reflect local and/or short-term economic or job conditions and do not guarantee actual job growth.