Meet Some of the Vets Supporting SNHU Military Students

Supporting the military has always been part of Southern New Hampshire University's DNA. Beginning with an administrative clerk's course for military personnel taught in 1941 to a series of military base centers offering college courses during the 1960s to today's discounts for military members and spouses and dedicated admission and advising staff, SNHU's focus has remained on those who serve. Here are just a handful of those at SNHU today whose roles directly support servicemembers and their families.
Michael McGandy
Army Colonel
Retired 2010 after 26 years of service
What is your role at SNHU?
"I am the Veteran Support Services Coordinator. My primary responsibility is to operate the Decolfmacker Veterans Lounge - a dedicated space on campus for our student veterans to connect with other student veterans, or to be connected to information and experts on the services, support, and benefits that they are entitled to. To facilitate assimilation of student veterans within the SNHU community and/or to enrich the college experience of our student veteran population, I organize recreational events, campus celebrations (i.e. SNHU Veterans Week) and other programming.
When student veterans need help, I work to refer them to the appropriate agency to meet their need. I work with offices within SNHU that offer services to our student veterans. I also maintain a network of government, nonprofit, and veteran services organizations. "I am the point of contact for campus faculty and staff on veteran matters. For example, I am responsible for evaluating applications for veteran scholarships and have coordinated training for faculty on accommodating student veterans with TBI or PTSD. I am the faculty advisor for the SNHU chapter of Student Veterans of America. I support the work of the Admission Office to recruit student veterans. I chair the SNHU Student Veterans Advisory Committee."

How does your military experience impact your role, and the work you do with military-affiliated students and alumni?
"As a veteran, I understand the culture, experiences and language of the student veteran community. Because of this, I can be easier for them to approach if they have questions or need assistance of any kind."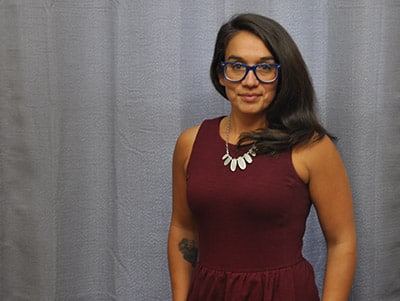 Andrea Rathbun
U.S Army Medic, E-5
Veteran and Military Spouse
What is your role at SNHU?
"I am a career advisor."
How does your military experience impact your role, and the work you do with military-affiliated students and alumni?
"Due to my time in the military my job search and education experience mirrors that of the majority of our students. I joined the army right out of high school and served for four years. When I left the army I entered a job market that I was not ready for with experience that did not seem relevant to any position I was interested in. I was employed in several capacities before returning to school (online) when it was still SNHU Online. I, like many of our students, was not the traditional 18-year-old college student. I had a husband, a daughter and one more on the way. I remember taking a statistics final in the hospital after my second daughter was born.

"Upon finishing my degree, I again entered a job market that I did not really understand. I was in the unique and challenging position of being a military spouse and needed an employer that was understanding and supportive of this role. Luckily, I was able to utilize SNHU Career Services. Through working with a military career advisor I was able to obtain a positions with College for America which eventually led to my current role.

"My time in the military prepared me to be a supportive and respectful advocate for students across the spectrum. It taught me the nervousness of encountering a new situation and the strength that comes from becoming an active participant in your future. On a daily basis this knowledge impacts not only the way I speak to students but the way I encourage them to speak to themselves."
Andrew Geske
U.S. Navy Hospital Corpsman, 2nd Class
Veteran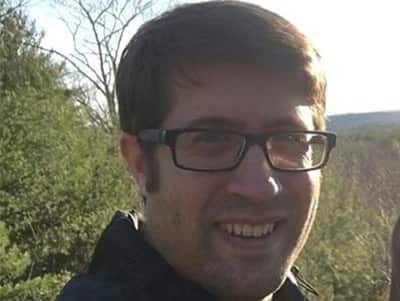 What is your role at SNHU?
"I am a military undergraduate advisor at SNHU. I support military affiliated students through their (online) experience at SNHU with the ultimate goal being graduation."

How does your military experience impact your role, and the work you do with military-affiliated students and alumni?
"I started at SNHU as a graduate student in the MBA program right after I separated from active duty service. One year later, I began working at SNHU on the military undergraduate advising team. It has been immensely helpful to use my past experience transitioning from military to civilian life to help guide my students through those same experiences.

"It can be both confusing and intimidating to begin the process of becoming a student, and this is compounded by trying to acclimate to a totally new routine. I truly believe it is comforting for veteran students to have someone relate to their experiences, positively affect their willingness to reach out to me if they are struggling."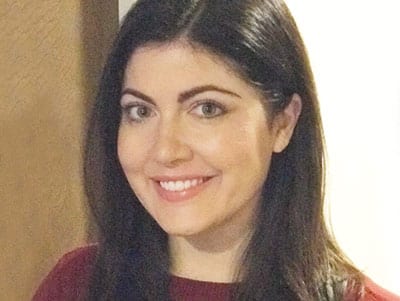 Emily Devito
U.S. Navy Lt. - Surface Warfare Officer
Veteran and Military Spouse

What is your role at SNHU?
"I am the Assistant Director of Military Initiatives on the West Coast and conduct outreach to military-affiliated personnel who are looking to pursue their higher education goals as well as help build partnerships with organizations aligned with SNHU's mission to support military students."

How does your military experience impact your role, and the work you do with military-affiliated students and alumni?
"When I was on active duty, I served as the Educational Services Officer on my ship and assisted sailors in pursuing their higher education goals even while we were deployed overseas. So many service members (and their family members) are unaware of what options are available to them and opportunities are afforded to them for their service. Now that I am a civilian, it is incredibly rewarding to be able to continue to serve the military community in this capacity. As a military spouse, it is also exciting to be able to encourage my fellow spouses to never sell themselves short and assist to put their goals into motion as well!"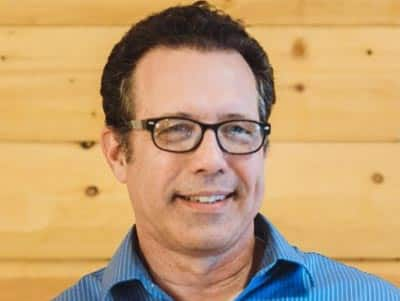 Randy Plunkett
U.S. Air Force Senior Master Sergeant (E-8)
Retired after 24 years of service
What is your role at SNHU?
"(I am the) Assistant Vice President of Military Initiatives."

How does your military experience impact your role, and the work you do with military-affiliated students and alumni?
"It is an honor to work with our students who are going through the same experiences I went through. I know what it's like to have a military career, a family and go to school. I have used veterans benefits, tuition assistance, took out loans and received scholarships along the way. But I am still amazed at how they are able to finish their degrees with deployments, training requirements, and going through or responding to natural disasters all over the world. Also the toughest job in the military is being a military spouse. The determination priority put on pursuing an education by that population is inspirational and motivates others who watch that unfold. It is very rewarding to work with such motivated and exemplary students."
Joe Cote is a staff writer at Southern New Hampshire University. Follow him on Twitter @JoeCo2323.
Explore more content like this article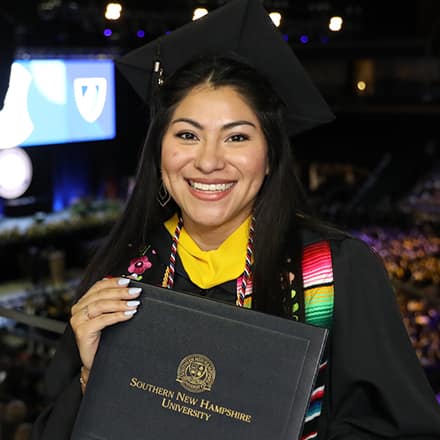 On Military Spouse Appreciation Day, SNHU honors its military spouse community and recent graduates each year. This year we are celebrating Eliana Cornejo '23, a military spouse for the past 13 years, who recently earned her bachelor's in business administration.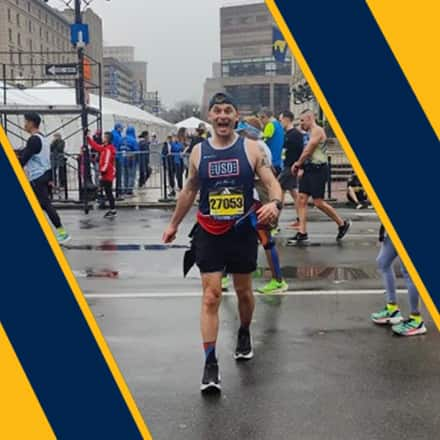 Robert Bruce is an active-duty service member and student at Southern New Hampshire University (SNHU). Despite having never participated in an official race, he ran the Boston Marathon with Team USO to support his USO mission. Bruce attributes achieving his goals to life balance and determination.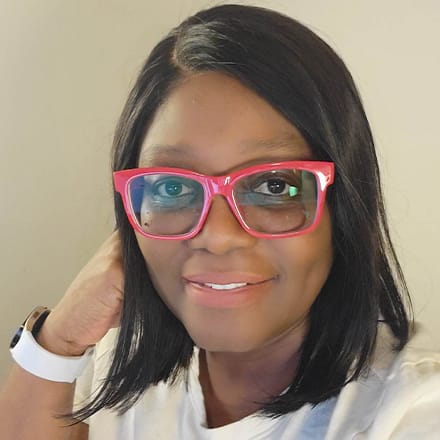 When military spouse Sallan Francis first heard about a potential full-tuition scholarship at SNHU, she knew she had to seize the moment, and it paid off. Francis is the 39th military spouse to be awarded a scholarship from SNHU and Operation Homefront to achieve her degree. 
About Southern New Hampshire University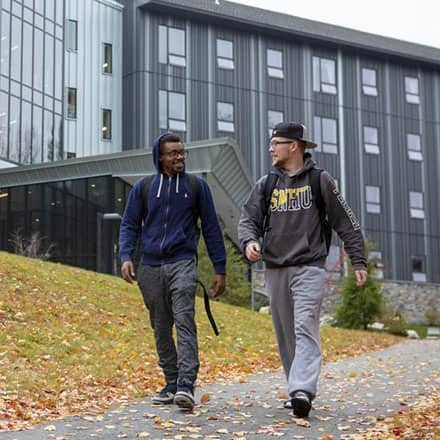 SNHU is a nonprofit, accredited university with a mission to make high-quality education more accessible and affordable for everyone.
Founded in 1932, and online since 1995, we've helped countless students reach their goals with flexible, career-focused programs. Our 300-acre campus in Manchester, NH is home to over 3,000 students, and we serve over 135,000 students online. Visit our about SNHU page to learn more about our mission, accreditations, leadership team, national recognitions and awards.