SNHU Partners with Operation Homefront in Support of Military Families Nationwide

SNHU will award five $5,000 scholarships to military spouses at a series of gala events.
Southern New Hampshire University announced its partnership with Operation Homefront, a nonprofit organization that provides emergency financial and housing assistance to military families nationwide. A key initiative in this partnership includes SNHU sponsorship of five gala dinner events for military spouses and their families, beginning in November, with the final event slated for May 2015. The university will provide additional support through the award of one $5,000 SNHU scholarship to a military spouse or family member at each of the five events.
Distinguished guest speaker Lieutenant Colonel Joseph P. Alessi, a career U.S. Army officer, author and educator, will present the keynote address at the first of the gala dinner events in San Antonio, TX, on November 15, 2014. The initial $5,000 SNHU scholarship will be awarded at this event. Additional events will be held throughout early 2015 in Washington, North Carolina, California and Kentucky.
"Operation Homefront is a nationally recognized charitable organization with a world-class reputation for supporting service members and their families," said Gary Soldato, retired Lieutenant Colonel, U.S. Army, and assistant vice president of military programs at Southern New Hampshire University. "This partnership allows us to demonstrate our longtime support for military families. The homefront celebration dinners and scholarship opportunities are an important way for SNHU to show appreciation for the sacrifices made by military spouses and provide them with a chance to enrich their lives through higher education."
Ranked among the top 20% of military-friendly schools nationwide, Southern New Hampshire University offers discounts of up to 30% for active-duty servicemembers and their spouses, as well as a generous transfer policy and consideration for military training and experience. SNHU further demonstrates its commitment to its military servicemembers and their families by providing dedicated academic and career advisors with personal military experience to support military students' success every step of the way in their academic journeys and beyond.
About Operation Homefront
Operation Homefront is a 501(c) 3 nonprofit organization that provides emergency financial and other assistance to military spouses and families, including the families of E1-E6 active-duty service members and all wounded warriors. The organization supplies food assistance, auto and home repair, vision care, travel and transportation, moving assistance, essential home items and financial assistance. For more information, please visit www.operationhomefront.org
Explore more content like this article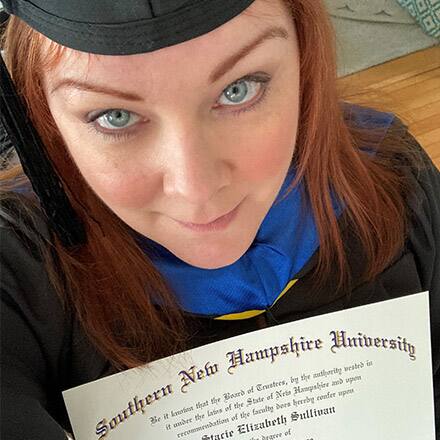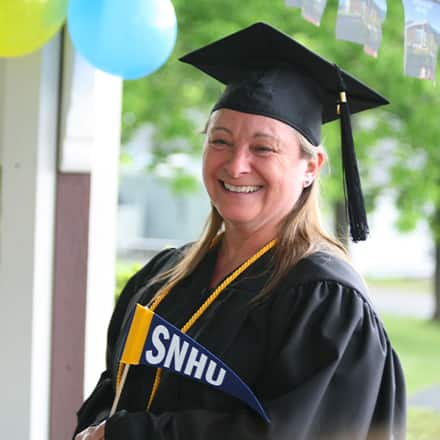 A Special Diploma Delivery for New Hampshire Grad
August 03, 2020
When SNHU's Commencement was postponed, Dr. Gwen Britton decided she would arrange a special ceremony for her longtime friend who had earned her bachelor's in information technology.