Boston Celtics and Southern New Hampshire University Unveil State-of-the-Art Technology Lab
Boston Celtics forward Kelly Olynyk, former player Leon Powe and mascot "Lucky" the Leprechaun helped to unveil a new state-of-the-art technology lab at the Hillside Middle School in Manchester, NH.
The Celtics and SNHU purchased 30 new, 13-inch Chromebook computers and a 60-inch TV for the lab, as well as a Chromecast streaming player. Additionally, the Celtics and SNHU completely renovated the room, purchased new furniture and installed wall graphics.
During the event, students used their new computers to complete an online scavenger hunt, where they researched facts about the Boston Celtics, SNHU, Kelly Olynyk and SNHU. Afterwards, the school received a school-wide pep rally featuring guest speakers, a dunk show and question and answer session.
"I am excited to be here with SNHU to unveil a new technology lab for the students," said Celtics forward Olynyk. "It means a lot to me to give back to the community and it is important to me to do so anyway I can."
The lab is now available for the Hillside Middle School students and its teachers during and after school as an educational center.
Explore more content like this article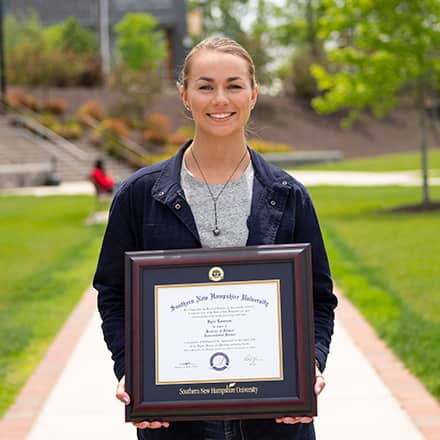 Kylie Lorenzen '19 Wants to Save the World
August 16, 2019
Kylie Lorenzen '19 said her time at SNHU was the best four years of her life. A student-athlete, Lorenzen played basketball all four years, while earning her bachelor's in environmental science. She may have graduated in May, but Lorenzen isn't done making a difference yet.
Ticket Sales 'Crash Course' Helps SNHU Grad Land MLS Job
August 13, 2019
As an undergraduate sports management major at SNHU, Aaron Therrien didn't turn down any opportunities. He worked as a residential advisor and completed four internships among other activities. That drive hasn't diminished since he graduated and has already led to a job at D.C. United.