SNHU Awards Third Military Spouse Scholarship
Southern New Hampshire University, in partnership with Operation Homefront, honored more than 150 military spouses during a joint homefront celebration at Embassy Suites in Fayetteville, N.C., on April 25, 2015. This special evening is the third of five SNHU-sponsored gala events nationwide, in appreciation of the tireless commitment to servicemembers demonstrated by military spouses. Each event culminates with a $5,000 SNHU scholarship award to a military spouse.
Guest speaker Colonel David Leach, J37, Training, of Joint Special Operations Command at Fort Bragg, spoke of his own military experiences and the vital role his wife played as a military spouse throughout his career and within their family. Acknowledging the extraordinary contributions each of the military spouses in attendance also made, Leach said, "You are part of a unique and special group of people."
Military spouse Courtney Davis was presented with a $5,000 SNHU scholarship. Earlier that day, in collaboration with her husband, SNHU and Operation Homefront surprised Davis and her family at a local coffee shop. Retired Army Lieutenant Colonel and assistant vice president of military initiatives, Gary Soldato, presented Davis with flowers and the news that she was the recipient of the scholarship - and was about to be whisked away for a full day of VIP pampering in preparation for the gala event.
Davis expressed her gratitude to Operation Homefront and SNHU at the homefront celebration, and built on Leach's message in addressing the other military spouses at the event. "You are all unique and all special," she said. Although she was the recipient of the scholarship and special day, she reminded everyone to pursue their dreams, and empower each other to succeed.
For Davis, success will mean helping others through human services or social work - and she looks forward to completing her degree at SNHU. As a military spouse, Davis spoke of the uncertainty that military life offers families. Southern New Hampshire University understands those challenges. Ranked among the top 15% of military-friendly schools nationwide, SNHU has dedicated military academic and career advisors, with personal military experience, supporting military students' success every step of the way - from admission to graduation and beyond. SNHU also offers discounts of up to 30% for active-duty servicemembers and their spouses, as well as a generous transfer policy and consideration for military training and experience.
Reflecting on her surprise VIP day and the scholarship from SNHU, Davis said, "I appreciate all of the hard work SNHU and Operation Homefront put into this. It's definitely an experience I will treasure forever. I can't wait to get started at SNHU!"
Explore more content like this article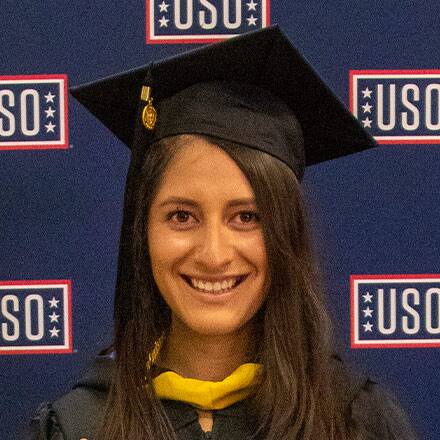 July 27, 2021
In Fort Shafter, Hawaii, Staff Sergeant Diana Tafoya Sanchez took her final steps toward her undergraduate degree. Working toward a bachelor's in business administration at SNHU while serving in the U.S. Army she celebrated her hard-earned success with a special diploma delivery.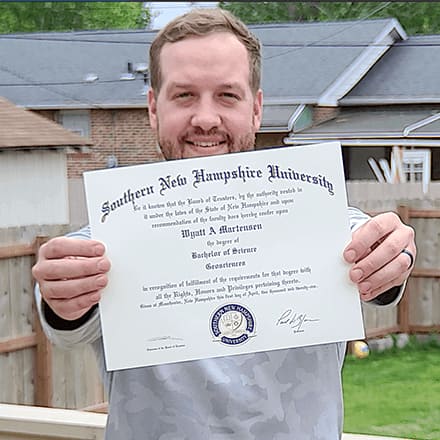 July 15, 2021
When your chief warrant officer asks you to do something with him, you're most likely going to do it. That's how Wyatt Martensen '21 tells the story of how he ended up returning to school to earn his bachelor's degree online.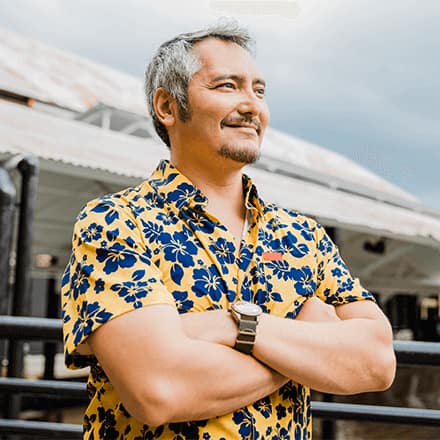 July 12, 2021
Armed with prior college credits but no degree, Derald Wise '14 '18G wanted to make meaningful connections as he finished his education. Like many military-affiliated students, he also knew he needed an online degree program that was flexible.