SNHU Students Win Art Scholarships in Virtual Art Show
Four Southern New Hampshire University students won $2,000 scholarships after being named the winners of the second annual SNHU Student Art Exhibition this month.

The winners in web design, photography, print and 3D modeling categories were among hundreds of entrants from across the country and a panel of professionals, who evaluated thought process, concept and execution, served as judges. SNHU students and friends also added the People's Choice, which accounted for 25% of the total vote. The four additional second-place finishers will each receive a $1,000 scholarship.

Bethany Entzian, who is studying business with a concentration in accounting, won first place in the print category with "Mystification." She said while she's not studying to enter a design field, creating art is her "happy place."

"It's a place where I can be totally myself and all the worries of life fade away," she said. "My favorite thing about art is that I can create something that means so many different things to so many different people."

Corwyn Wilkey, a graphic design student, is a two-time winner. He won first place in the print category in 2015 and first in the web design category this year for a site he designed for the essential oils company he owns with his wife. "I thought there were a few really strong entries, so I'm humbled to have shuffled to the top of the deck," he said. The $2,000 first-place prize is a nice addition to the recognition, too. "The scholarship is so helpful," Wilkey said. "I'm paying for my continued education with student loans, so any financial help I can get along the way means less out of pocket when it comes time to pay off my loans. SNHU is so affordable to begin with, so $2,000 really goes a long way."

Danielle Kellar, who is working on her BA in English and Creative Writing with minors in philosophy and professional writing, won the photography category with a photo called "Sunny Disposition" of a tiny green lizard curled up in a leaf in her backyard. She said the art show was an excellent opportunity to put her artwork in public view. "As a writer and artist, I believe it is important for me to submit my work to various places," she said. "This is something that I have been working more on, so when I received the email telling (me) about the contest, I decided that I might as well give it a try."

Nicholas St. Clair, who plans to graduate in the spring with a BA in Graphic Design and Media Arts, said he was "floored" when his academic advisor told him he had won first place in the 3D modeling category. "Being recognized is definitely a sign of validation for all the long hours and late nights I've done so far," he said. "Choosing to pursue an artistic career path is not for everyone and requires a lot of hard work and constant dedication. Winning the contest makes it feel like it has all been worth it."

The full list of scholarship winners for this year's SNHU Student Art Exhibition includes:
Web Design:
1st Place - Corwyn Wilkey

2nd Place - Nour Alhamwi
Print:
1st Place - Bethany Entzian

2nd Place - John Choate
Photography:
1st Place - Danielle Kellar

2nd Place - Gregory Sorenson
3D Modeling:
1st Place - Nicholas St. Clair

2nd Place - Grace Tay
Explore more content like this article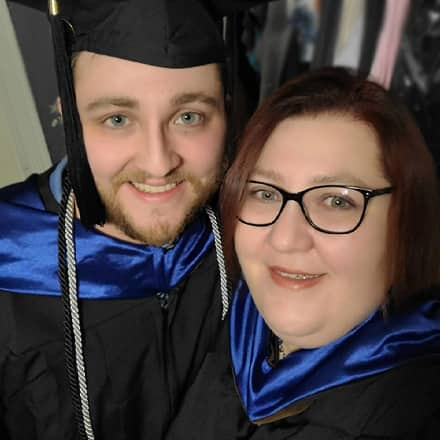 April 09, 2021
Tara and George Conrad – mother and son – began their degrees at the same time. Now they're celebrating their journey and accomplishments as graduates.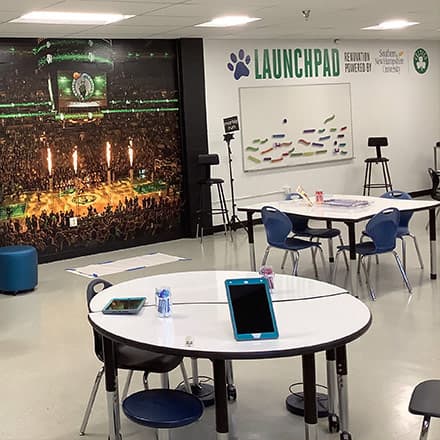 April 02, 2021
The Boston Celtics and Southern New Hampshire University recently unveiled their 14th tech lab, this time, the "Wildcat LaunchPad" at Webster Elementary School in Manchester, New Hampshire.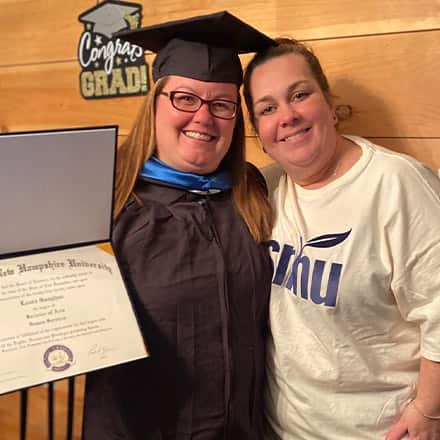 March 09, 2021
As a mom of seven, Laura Gaughan usually knows when her family is up to something. But on a windy March evening, nearly a year into the pandemic, she had no idea that a surprise graduation party was underway.